Step into the fascinating world of science and technology as KidZania Singapore brings fun and exciting activities to enrich your September school holiday. Young learners can look forward to learning how to code, building an electric circuit, trying out augmented and virtual reality, 3D drawing and many more! 
Enrich your school holiday by learning through play at KidZania Singapore!
KidZ & Innovation Event Highlights
Date: 26 August – 15 September 2019
1. Be a YouTuber with Ottodot
Venue: Main Square
Through personalised coaching, kids can pick up tips on how to be a YouTuber! Build the confidence to discuss all things science-related and record your very own YouTube video!
2. Create an Electric Dough Circuit with MuzArt
Venue: Main Street
Create a cool electric circuit with dough and watch your creation light up!
3. Drone Piloting Experience
Venue: Stadium
Time: 10am – 2pm
Get an opportunity to pilot a drone's flight path and prepare for take-off!
Limited slots are available. Register at the Stadium.
4. Role-play Quest
Complete any two innovation / technology-related role-play activities and earn 50 kidZos! Get a quest sheet from the KidZania Booth in front of the University.
5. VR Xperience
Time: 12pm – 6pm
Enjoy 20% OFF two VR game sessions at only S$8 (U.P. S$10). Limited slots available. Purchase tickets at the Parents Lounge.
6. Coding Workshop with Lenovo and Empire Code
Venue: Kindergarten
Date & Time: 26 – 30 Aug and 2 – 5 Sep at 1pm and 3pm 31 Aug, 1 Sep and 6 – 15 Sep at 1pm, 2:30pm and 4pm
Be equipped for the jobs of the future! Kids can get a flavour of what coding entails by learning about the basic coding elements. Limited slots are available per session. Register at the Main Square.
* No Coding Workshop available on 28 Aug and 13 Sep.
Date: 6, 7, 13 and 14 September 2019
Be a Drug Buster with the Central Narcotics Bureau (CNB)
Venue: Main Square
Step into the world of Augmented Reality and interact with virtual characters through this exciting anti-drug journey!
Date: 7 – 10 September 2019
Create in 3D with tinkermind
Venue: Main Street
Take your first steps into 3D printing by designing and creating objects with the 3D tinkerpen. Separate charges apply.
Date: 13 – 14 September 2019
KidZania Go! to Early Childhood Conference 2019
Time: 9am – 5:30pm
Venue: Suntec Singapore Convention & Exhibition Centre – Halls 403, Level 4
This school holiday, KidZania Singapore will also bring two exclusive role-play activities out – be a Research & Development (R&D) Assistant at the Bakery or a Consultant at the Bank! Kids will be able to pick up basic financial literacy skills while learning the nutritional value in the different types of bread.
Camp KidZania: Mad About Tech
Pack your bags and head to Camp KidZania this September school holiday!
Held within the City of KidZania Singapore, the popular 2D1N overnight camp will make kids Mad About Tech! Kids aged 7 to 15 years old can get to participate in technology-related activities such as creating your own futuristic crafts and testing out drones while interacting with like-minded campers and professionals!
Camp KidZania: Mad About Tech Highlights
 Discover the culture and story of KidZania
 Acquire vital skills of the 21st century such as Communication, Creativity, Collaboration and Critical Thinking
 Take a personality test and find out which jobs are suitable for you based on your interest
 Pick up the basic operations of a drone while operating and controlling its flight path
 Try your hand at Futuristic crafts
 Get a glimpse into the world of coding and technology
 Receive and exclusive goodie bag worth S$60 (inclusive of a Camp KidZania T-Shirt and other merchandise)
Limited slots are available. Please email the completed Camp KidZania booking form to [email protected] by 4 September 2019, 11.59pm.
For more event information, please visit www.kidzania.com.sg.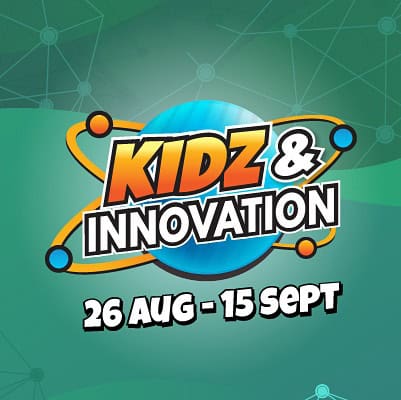 Park Opening Hours*
Daily: 10am – 6pm, closed on selected Wednesdays
*Park opening hours are subject to change.
Admission Fees: Regular admission charges to KidZania Singapore apply.
Venue: KidZania Singapore, Palawan Kidz City 31 Beach View #01-01/02, Singapore 098008
For more information and purchase of tickets, please visit www.kidzania.com.sg or KidZania Singapore's official Facebook page https://www.facebook.com/KidZaniaSingapore.