KidZania Singapore's Halloween night event SpookyTown is back for the second year after last year's successful debut of KidZania Singapore's Halloween night event SpookyTown!
This Halloween, the sequel titled SpookyTown 2: The Masquerade Hunt will take place over seven select nights from 25 October to 9 November. In continuation of last year story, a cure has been found and all the town's citizens were transformed back to their usual selves. However, it was discovered that the explosion was caused by Mayor Fabiola and she has disappeared!
Now, it is up to you to solve the mystery, look forward to participate in a range of activities such as engaging sensory walkthroughs, musical performances, masquerade mask-making, carnival booths, themed roleplay and more to solve the mystery of the missing Mayor Fabiola!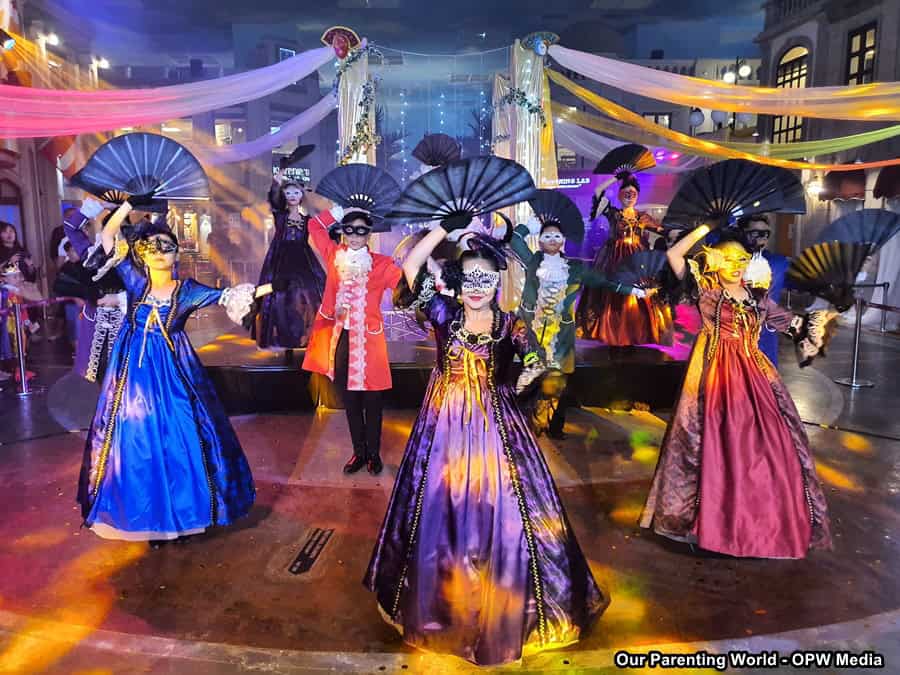 KidZania Singapore SpookyTown 2: The Masquerade Hunt's opening ceremony started at 6.30pm with a grand masquerade ball with their dancers in elaborate costumes and masks. We are excited to begin our adventure in SpookyTown 2.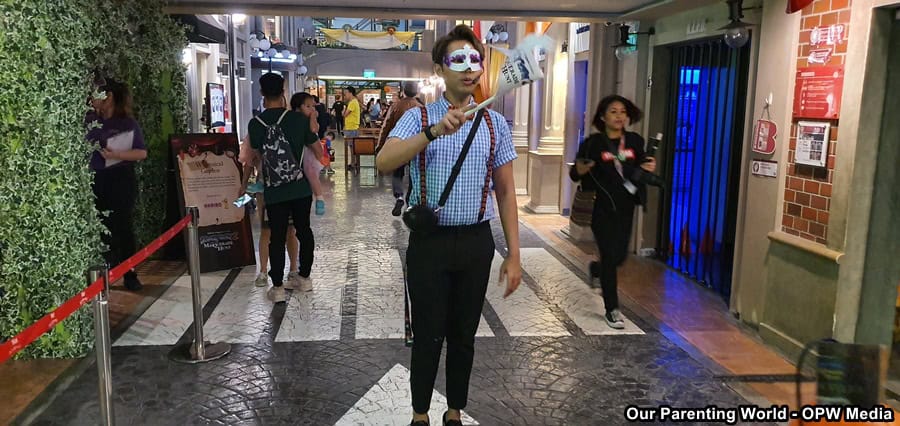 Join the WTS Travel guided tour where your friendly guide will bring you to explore the streets on this SpookyTown thrilling guided tour. Pay attention and you may pick up some clues.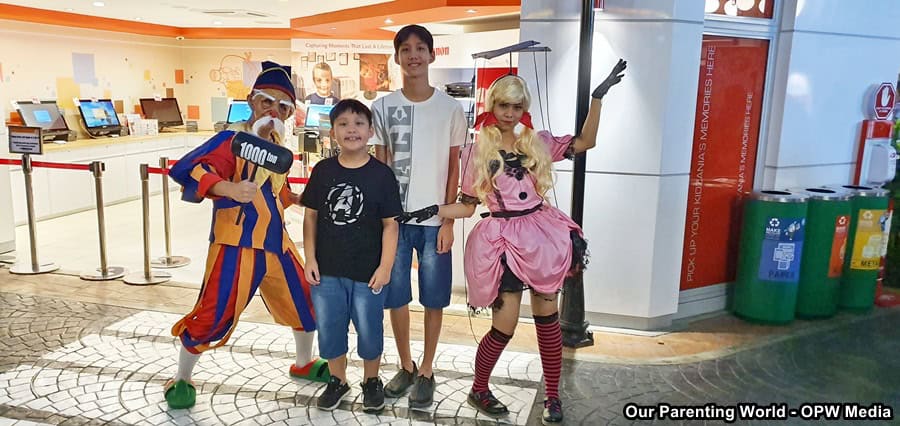 Quinn and Ginn together with Our Parenting World – OPW Media team
This year Halloween, three new SpookyTown characters are introduced, they are Quinn, the grumpy leader; Ginn, the hysterical doll; and Tinn, the oblivious monkey. They will help you on The Masquerade Hunt to find Mayor Fabiola.
Here's the highlights of SpookyTown 2: The Masquerade Hunt as follows:
Main Activities
Spooky Case Files
Visit all the locations where Mayor Fabiola was last seen to complete your Spooky Case Files and received giveaways from valued partners such as Discovery, Maybank, Sunshine, SUNSTAR and Win2 upon completion! Each Kid will receive a copy of the Spooky Case Files upon admission.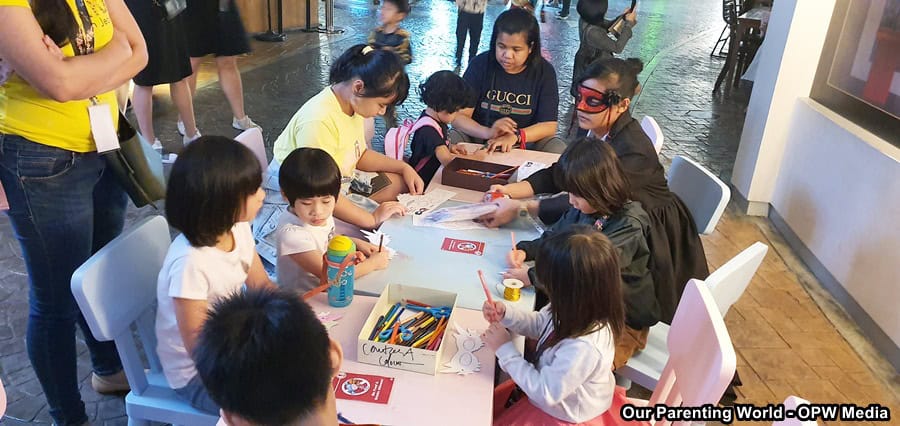 Marvellous Mask Shop by MuzArt at Job Information Centre
Craft your very own Masquerade Ball mask and look out for a clue to help you locate Mayor Fabiola.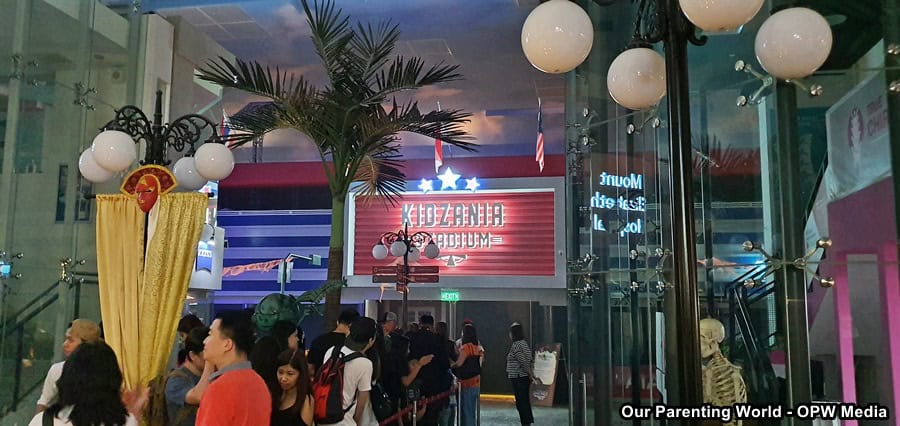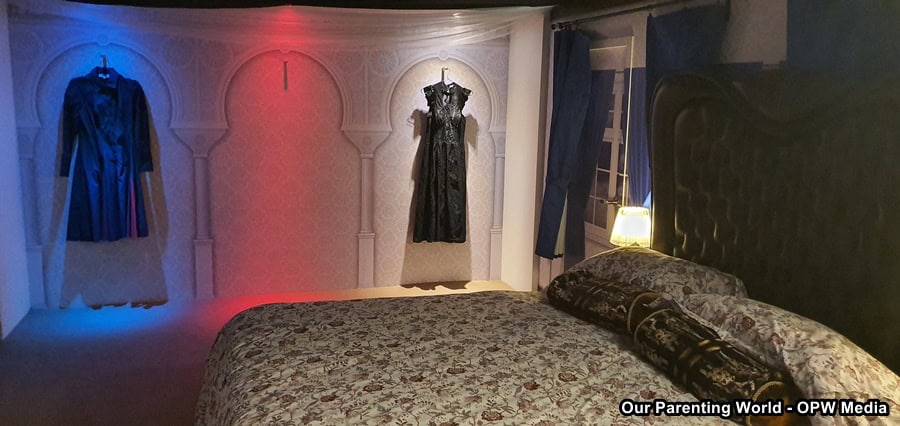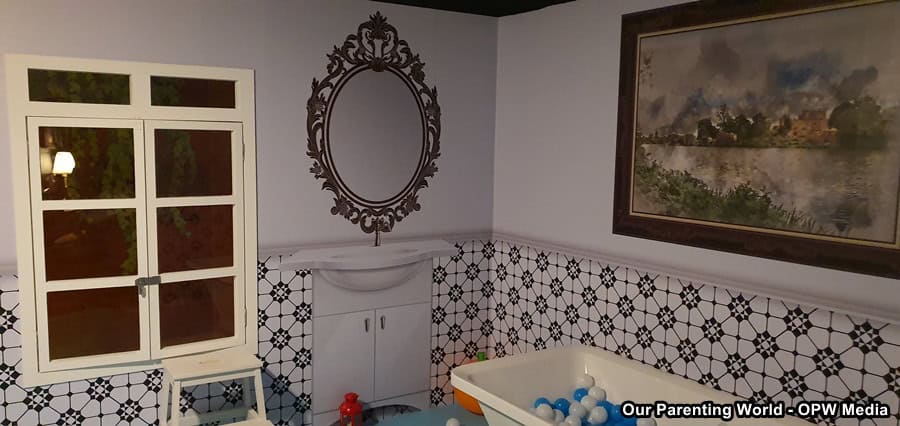 Mayor Fabiola's Mansion at Stadium 
At Stadium, this is where Mayor Fabiola lives, sneak into Mayor's Mansion and embark on a sensory walk-through of the various rooms and pick up a clue to which dress she will be wearing to the Masquerade Ball.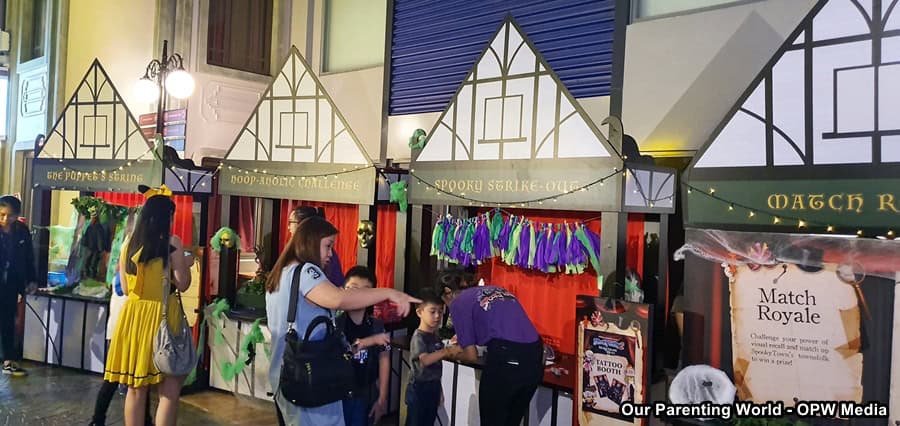 The Marketplace at City Streets
Visit The Marketplace, play carnival games and browse the stores as you try to uncover what Mayor Fabiola stole from one of them.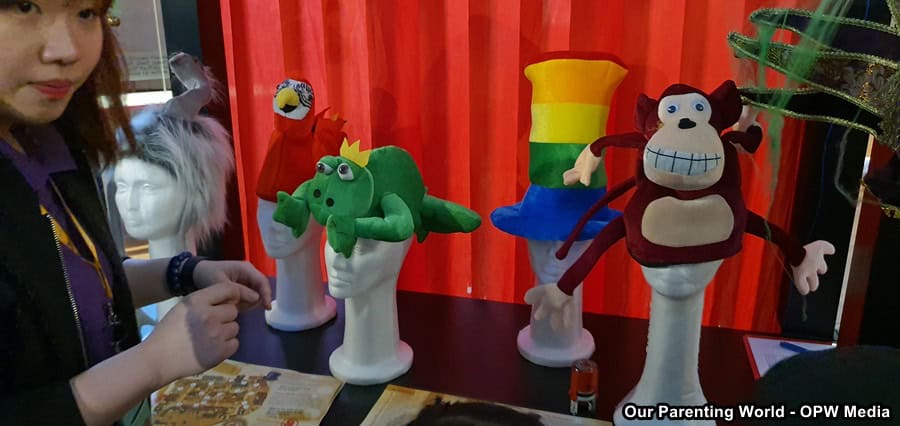 Mayor Fabiola was last seen trying on a hat from Hector's Wacky Hat Shop.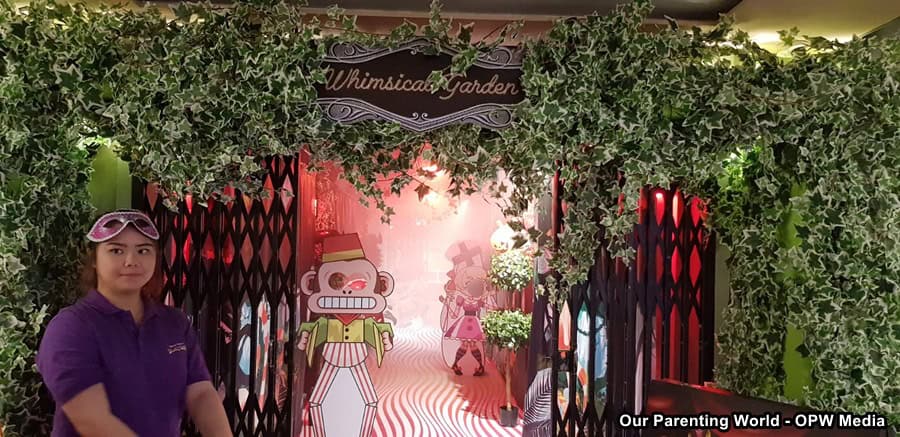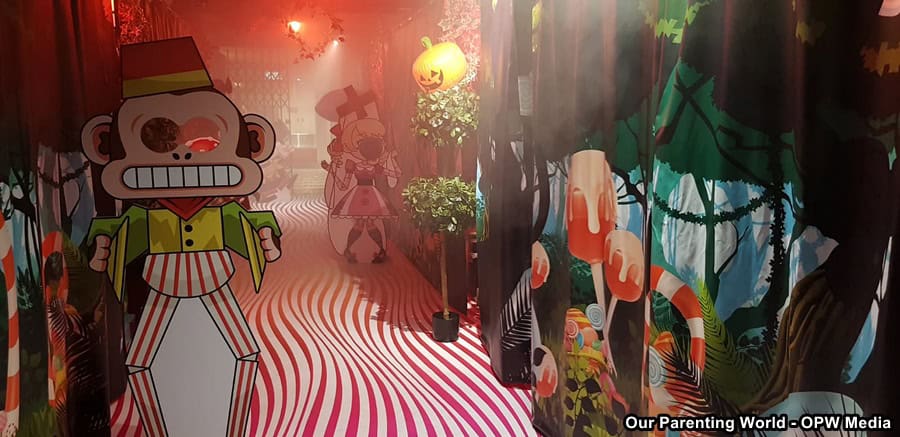 Whimsical Garden at Shopping Alley
Come to Whimsical Garden where you will find strange and wonderful plants, this is the perfect place for some photo moments and also find out what Mayor Fabiola took from here. Remember to collect your share of Haribo candies before you leave the garden.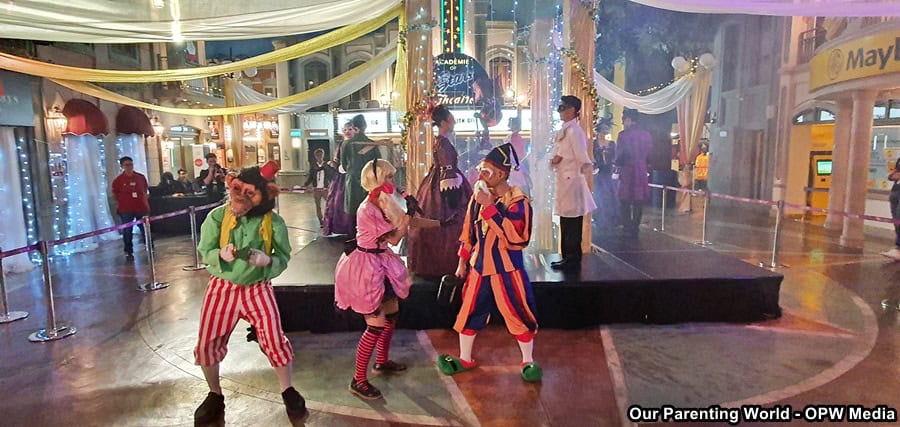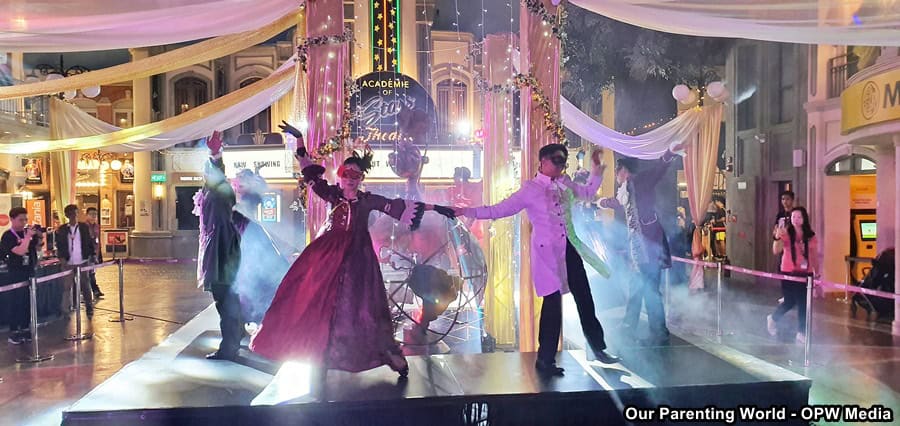 The Masquerade Ball at Main Square at 8pm and 9pm
Catch the SpookyTown's citizens, they are out to dance the night away, and rumour has it that Mayor Fabiola will be there too in disguise. Put together your clues and find out where she is from the crowd.
Be sure to catch a special pre-show performance by Académie of Stars 15 minutes before each Masquerade Ball commences.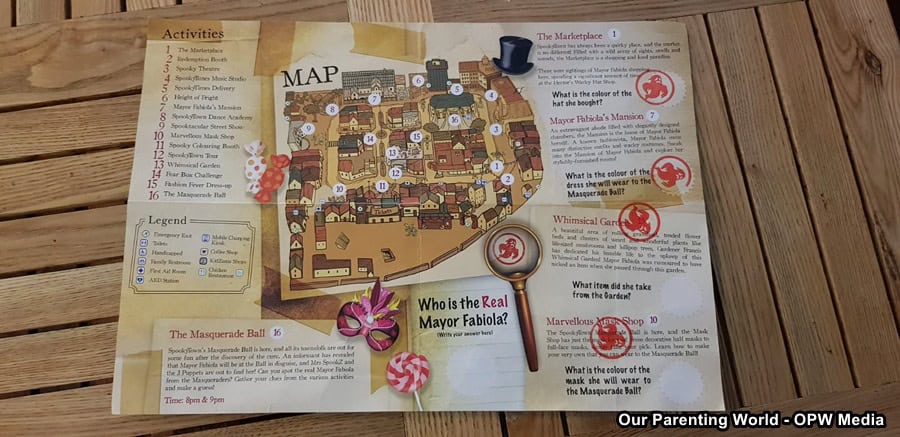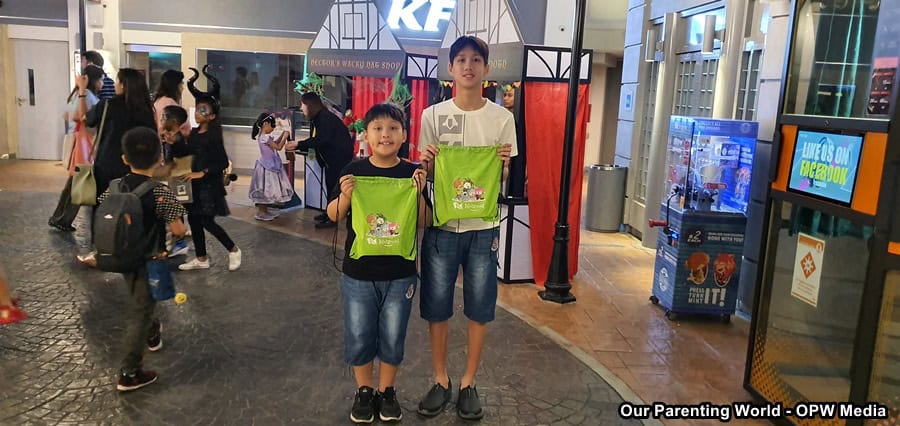 Collect the map before you start your adventure at SpookyTown and once you have completed all the activities, you will receive a surprise at the Redemption counter. 
In addition, families can participate in Fringe Activities as follows:
Ballroom Dance at the SpookyTown Dance Academy
Venue: Driving Street
Put on your dancing shoes and learn the dance steps before heading to the Masquerade Ball. Don't forget to collect your Haribo candies after the class!
Best-dressed Family Award
Come in your Masquerade best and stand a chance to win the Best-dressed Family Award at the end of each night. Stand to walk away with KidZania Singapore tickets and prizes from MILKCANANIME worth a total of more than S$300.
Fashion Fever Dress-up
Venue: Department Store
Put your memory to the test as you dress up the mannequins based on the photo you just saw. You will receive some sweet treats upon completion.
Fear Box Challenge
Venue: Newspaper Edition
Test your sense of touch as you put your hand through Tinn's box of hoarding horrors.
Halloween-themed Colouring Activity by MILKCANANIME
Venue: City Streets
Get creative and add some colours to the Halloween-themed colouring pages.
Spooktacular Street Show
Venue: Hotel Flamingo
Don't miss out on this spooktacular sight as the SpookZ couple reveal how the three puppets – Quinn, Ginn, and Tinn, were created.
Time-out with Ginn
Venue: Theatre
Find out first-hand from the SpookZ couple on how Dr. SpookZ became a famous alchemist, and what exactly happened during the explosion last year as they join Ginn, the hysterical doll, for her talk show.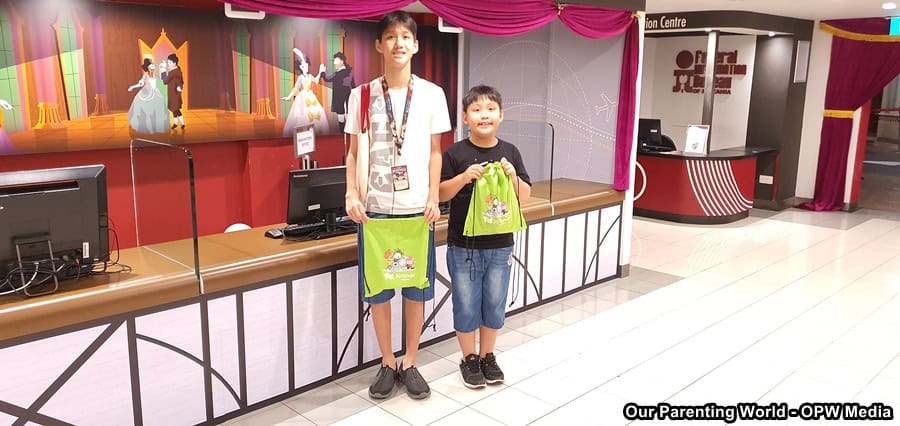 Come bring your family and children to KidZania Singapore SpookyTown 2: The Masquerade Hunt to have a fun-filled time together and embark on an exciting and thrilling adventure!
SpookyTown 2: The Masquerade Hunt
Event dates:
Friday to Sunday, 25 to 27 October 2019
Friday and Saturday, 1 and 2 November 2019
Friday and Saturday, 8 and 9 November 2019
Time: 6:30pm – 10pm
Venue: KidZania Singapore, Palawan Kidz City 31 Beach View, #01-01/02, Singapore 098008
Ticket Prices: S$43 (Advanced Purchase until 11.59pm on day before selected date) S$48 (On-site Purchase)
For more information on KidZania Singapore and updates on its latest events and activities, please visit www.kidzania.com.sg and facebook.com/KidZaniaSingapore.