Photo Credit : KidZania Singapore (KidZania Singapore and its latest partners ready to build a better world for kids from left to right: Sunstar Singapore – Yoshihiro Kaneda (Managing Director & CEO), 7-11 – Ms Michelle Lee (Marketing Director), Warung M Nasir Ms Mona Leong (Director), Kiss 92 Sim Hong Huat (General Manager, SPH Radio), Abbott – Ms Hui Hwa Koh-Minjoot (Regional General Manager), Carl Zeiss – Ven Raman (Managing Director for Carl Zeiss SEA), Nanyang Optical – Yang Wah Kiang (Chairman of Nanyang Optical), KidZania – Susanah Abdul Rani (Governor of KidZania Kuala Lumpur & Singapore), KidZania – William Edwards (Chief Operating Officer, Themed Attractions and Resorts), Camp Challenge – Joey Ng (Assistant Director (Business Development),  Sticky Singapore – Jamie Lim (Director),  KidZania Singapore – Leong Yue Weng (Mayor of KidZania Singapore)
Children and Parents can look out for a new attraction that is coming to Singapore this year! Our Parenting World is pleased to announce that KidZania, the world's fastest growing experiential edutainment attraction, will open its doors on Sentosa Island in the second half of 2015.
About KidZania, it takes on efforts to develop a holistic edutainment experience that benefits children and is best suited for children aged 4 and above. It offers diverse learning experiences that are specifically designed to aid social, emotional and intellectual growth through the development of work and study skills, positive attitudes, creative thinking and self-esteem.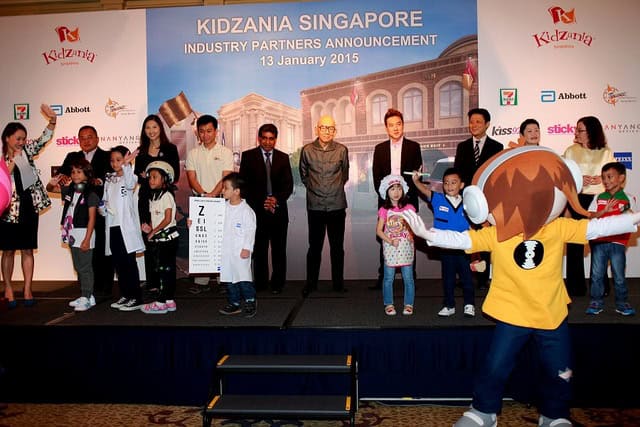 Photo Credit : KidZania Singapore  (KidZania Singapore and its latest partners ready to build a better world for kids)
Children can immerse themselves in more real-life situations and activities as KidZania Singapore announced the addition of 9 new partnerships. The various professions children can experience are:
Food & Beverage – Create their own candy as a Candy Specialist and bring hand-made candy home at the Sticky Candy Store.
Science – As a food scientist at the Abbott Milk Innovation Lab, children can learn about the science and processes behind how growing up milk is made and create their own packages of growing up milk.
Media – Go on air as a radio DJ to play chart-topping songs, present the news, and co-host programmes with Kiss92 DJs, and bring a copy of the recording home.
Retail – Take charge of a 7-Eleven Convenience Store as a store owner and be a cutting-edge entrepreneur. Or be a financially-savvy shopper and learn to spot the best deals while maximizing the budget.
Specialist Services – Offer the gift of healthy sight as an Optometrist at Carl Zeiss & Nanyang Optical, where they can give advice on how to select the right lenses and frames. Ensure their own eyes are in top condition with an eye check and learn how to care for their own eyes.
Sports – Test their courage, confidence and hone their psycho motor skills as a mountaineer with Camp Challenge. Maneuver through obstacle courses and persevere in their quest for the summit.
Health: Perform an oral hygiene health check to prevent cavities and flash a bright smile as a dentist at the Sunstar Dental Clinic.
In addition, visitors can enjoy authentic Indonesian cuisine in the Warung M Nasir cafeteria.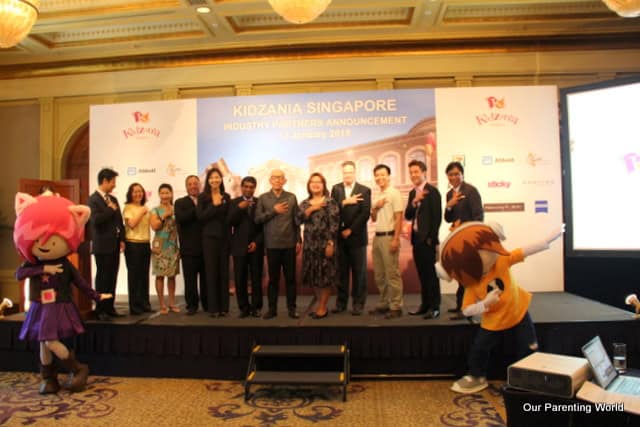 As a mark of their joint commitment, KidZania's 23 partners to date, gathered to pledge to build a better world for our kids. The partnerships mirror experiences in a real city, offering realistic establishments and career choices for the children and brand exposure for the partners. KidZania Singapore targets to achieve 30 partnerships when it opens. Previously announced partners are: Pizza Hut, The Learning Lab, LoomiFunz, KFC, WTS Travel, Spritzer, Nickelodeon, PictureAir, Maybank, Discovery Networks Asia-Pacific, Yakult, Canon, The Soup Spoon, and Killiney Kopitiam.
Please stay tuned as Our Parenting World will continue to bring updates on KidZania, the world's fastest growing educational and entertainment brand launching in Singapore. 
Additional Information:
KidZania Singapore will be operated by Rakan Riang Pte. Ltd., a joint venture company between Themed Attractions and Resorts Sdn. Bhd. and Boustead Curve Sdn Bhd. Themed Attractions and Resorts Sdn Bhd is a Malaysian company that invests in theme parks and family attractions such as KidZania Kuala Lumpur, LEGOLAND® Malaysia Resort, SANRIO HELLO KITTY TOWN, The Little Big Club and LAT's Place at Nusajaya in Johor, Malaysia.
KidZania Singapore would like to engage local educators to tap on their expertise and feedback in order to enhance the attraction's activities. From now till KidZania Singapore's launch, educators who are keen to organize group sessions or work with KidZania can also write in to [email protected]. A special preview session for KidZania in Singapore will be scheduled closer to the launch date. KidZania Singapore welcomes feedback and suggestions as it strives for continual improvement to ensure relevance of the attraction's activities to its visitors' needs. 
More details on KidZania Singapore are available at www.kidzania.com.sg.