Do you think you are clean enough?  
We are happy to share a recent commissioned survey done by Kleenex®, which the findings reveal a little bit more about the bathroom habits of Singaporeans. There are some surprising results about our current standard of clean.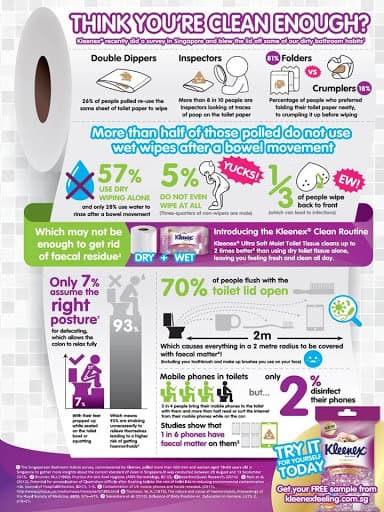 Some findings include:
3 in 4 people use their mobile phones while having a bowel movement, but only 2% of people sanitise their phones after use, exposing our phones as bacteria and germ carriers.
70 per cent of people leave their toilet lids UP when they flush. This means that they expose nearby surfaces (and themselves) to a cloud of microscopic faecal matter and bacteria which erupts up to 25cm above the flushing toilet bowl and settles onto surfaces up to 2m away! (Yes, that means breathing in our own faecal deposits, and brushing our teeth with what was in the our toilet, if a toothbrush is sitting innocently nearby.)
More than half  (57%) of those surveyed only wiped with dry toilet paper after a bowel movement, which may not be sufficient in effectively getting rid of faecal residue. Wiping with a moist tissue actually cleans 2 times better than just wiping with dry toilet tissues. Just imagine all that poop residue… Yikes!
WHY GOOD TOILET HABITS MATTER
"Any form of poor hygiene in the perianal area can affect the skin around the anus. The area, marked by fine folds and hair follicles, is a difficult anatomical area to clean, which means that improper cleansing habits may cause faecal matter to remain. This increases the risk of perianal skin irritation, redness, inflammation, unpleasant odours and in more serious cases, infections such as abscesses," said Dr. Kevin Sng, a surgeon specialising in Colorectal and General Surgery at Gleneagles Medical Centre (Singapore).
"The risk of contracting these infections could be reduced significantly by practising good personal hygiene such as wiping in the right direction, the use of a moist toilet tissue, or rinsing with water after a bowel movement. Many don't realise how a tiny lifestyle change can make a huge difference", he added.
THE KLEENEX® CLEAN ROUTINE
Leading the way to champion a higher standard of clean amongst people in Singapore, Kimberly-Clark's Kleenex® brand has introduced a simple yet convenient routine that can be practiced by both men and women. The Kleenex® Clean Routine, which combines a 'Dry + Wet' approach, can be integrated seamlessly into current wiping routines with the introduction of Kleenex® Ultra Soft Moist Toilet Tissues to complement the use of dry toilet tissues. Safe to flush and hypoallergenic, the Kleenex® Ultra Soft Moist Toilet Tissue is gentle and delicate on the skin and cleans two times better than just using dry toilet tissue, leaving 8 in 10 people feeling cleaner and fresher after use. 
KEY FEATURES
Safe to flush: The new flushable Kleenex® Ultra Soft Moist Toilet Tissue disintegrates when flushed1, meeting INDA/EDANA guidelines.
Hypoallergenic: Each sheet provides a clean and soft touch, reducing the risk of irritation.
Natural extracts: The mild and natural Chamomile and Green Tea extracts help soothe the skin.
Moistened by 9 step purified water: With 9-step purified water, even minute particles are filtered.
The Kleenex® Ultra Soft Moist Toilet Tissue is available in two sizes – a pack of 10 sheets that can be placed in one's pocket or handbag (RRP $1.25), or a family-sized pack of 40 sheets (RRP $3.80), perfect for the home. For a limited time only, the 10 sheets pack will be available at $1.00. Both sizes are now available in leading supermarkets island-wide.
Goodnews!
You can request for a free sample pack by registering your details at www.kleenexfeeling.com.sg. Users are also encouraged to share their experience using Kleenex® Ultra Soft Moist Toilet Tissues on social media by using the hashtag, #kleenexfeeling.
For more information, please visit www.kleenexfeeling.com.sg