Codomo is an educational technology start-up that aims to nurture creativity through empathy, technology and design. It strives to achieve this by conducting real-world oriented design and tech workshops for kids from 4 to 18 years old. Our Parenting World's little KW after knowing how much his older brother has learnt and enjoyed taking up the Android App Design course at Codomo, he wanted to go to Codomo too!
Little KW at 6 years old is not too young to learn about technology and coding as Codomo has classes from 4 years old onwards. KW is curious and excited to learn more about coding. He decided to take up the Kodu Game Design where he can design his very own game!
Follow KW in his learning journey at Codomo: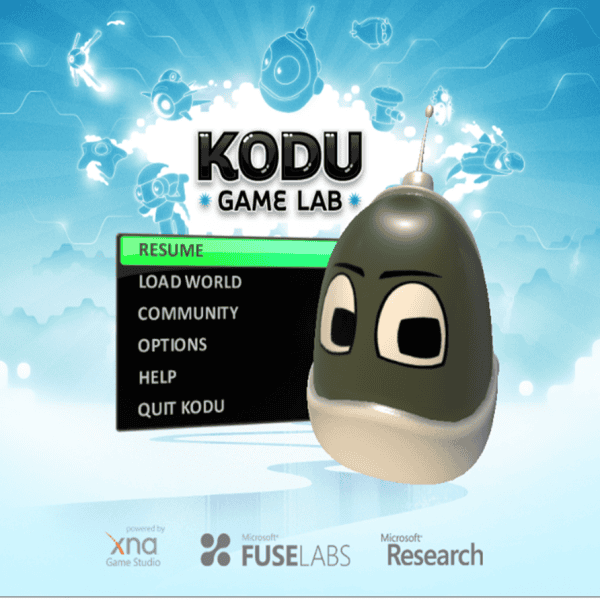 Overview
In this 5-day workshop, participants are immersed in the magical world of Kodu where they will be able to program the behaviour of virtual objects through which they will learn fundamental coding concepts. Participants will create bots to wrestle each other or make a mini penalty shootout game by coding it themselves. These are two of the many exciting games that kids can build in Kodu. Through this course, participants will also undergo game design journey, which will train them to ideate, plan, and decompose big problems to smaller chunks. By integrating Kodu with the Makey-Makey interface, participants will also get to create their own gaming keyboard using random everyday objects such as pencils and bananas. By the end of this lesson, all participants will have a firm understanding of basic programming concepts and would have developed a few awesome games solely handcrafted by them.
Duration
5 days (3 hours per day)
Objectives:
● Coding concepts:
○ Variables
○ Conditionals & Booleans
○ Human Computer Interaction
○ Testing and Debugging
● Design:
○ Planning before Executing
○ Problem decomposition
● Personal development:
○ Nurturing creativity
○ Enhancing confidence through sharing of ideas
○ Fostering good communication & respect through buddy programming
(working in pairs)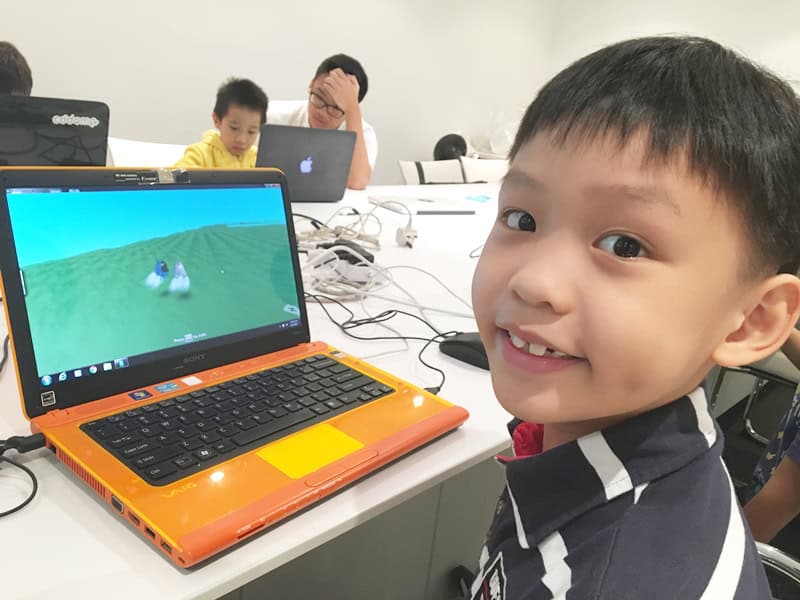 1) My First Kodu Game
KW creates his first robot called Kodu. He said the robots are fighting against each other to compete for an apple (Kodu loves to eat apples). To make the Kodu move, eat, shoot weapon, he needs to program their behaviour, just like how we give instructions to humans. It has to be logical and specific. This enhances his computational thinking on how to break big problem to smaller and manageable problems.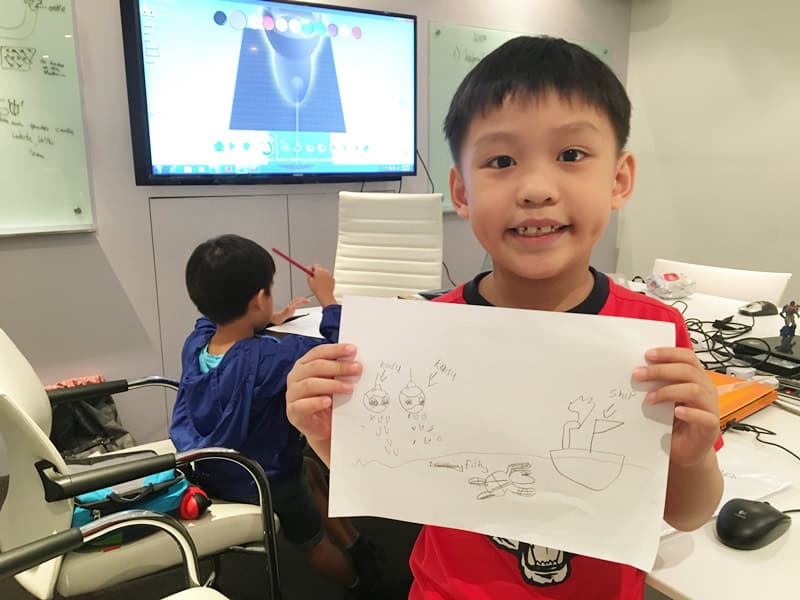 2) Game Design
In class, there are tons of unplugged activities where he learns coding without computers. He draws out his world and plans out what objects that are needed. In this drawing, he wanted a racing match between a giant ship and a jealous fish. A little unorthodox but highly creative.
With these activities, they teach KW the importance of planning before execution, which is a vital skill that is transferrable to his other academics like writing composition.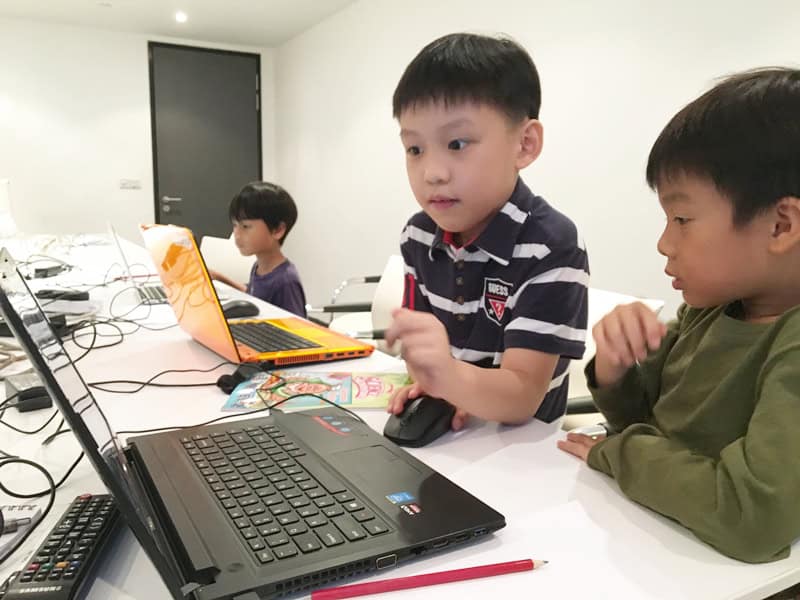 3) Peer Learning
Learning is more than just listening to the teacher. Frequently, during the coding time, KW guides his peers whenever they face difficulty in solving some problems. He also received many help from his other peers too. Being able to teach someone is a true indication that one has truly understand the concept.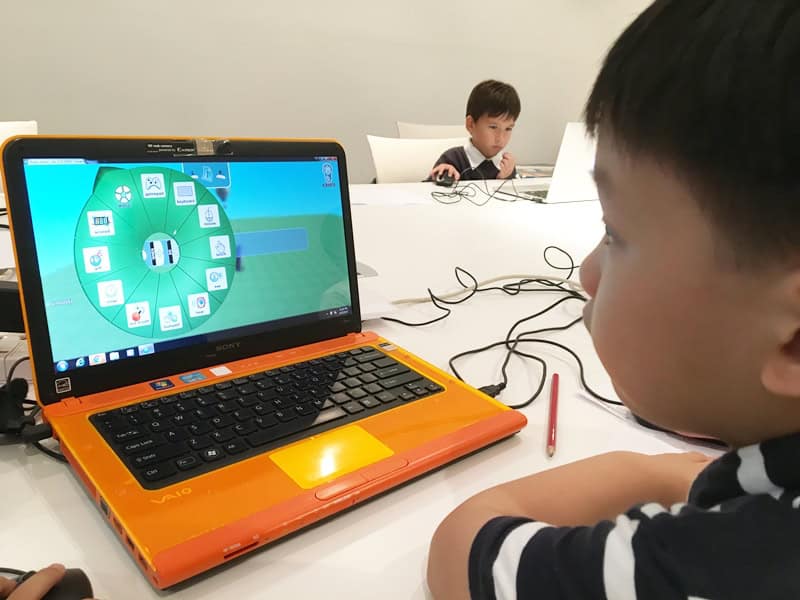 4) Coding 
KW has learnt that programming (or coding) is essentially giving instruction to the computer so that it behaves the exact way that I wanted. With coding, he can almost do anything in the Kodu world.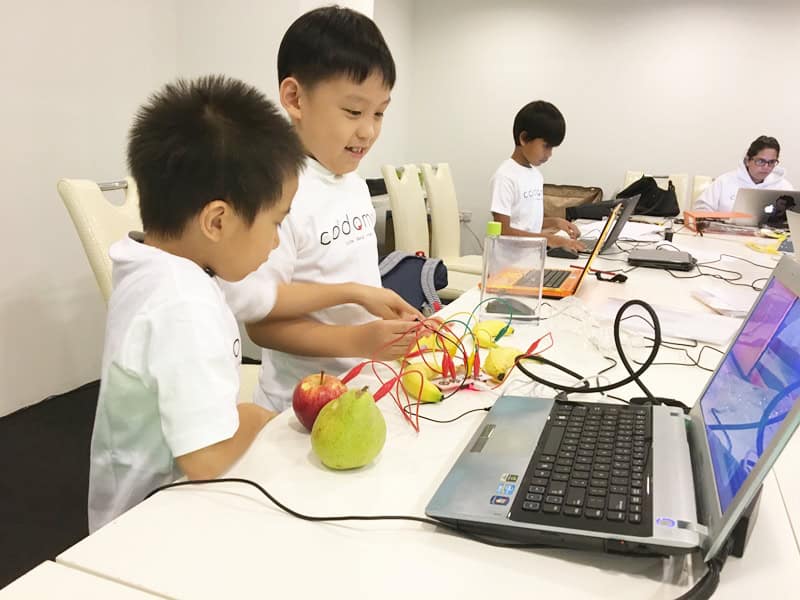 5) Banana as keyboard
KW learnt that controlling his Kodu does not need to be limited to the constraint of a keyboard. He can fly his jet plane using bananas, apples, and pears. Yes, these are real fruits bought from NTUC. 🙂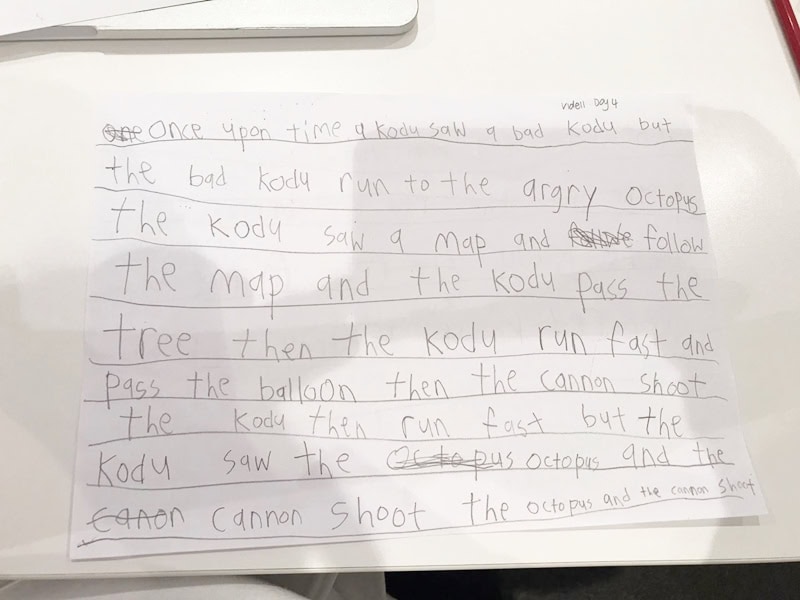 All the above images credit to Codomo (Thanks to Codomo for providing the images!)
6) Plan before Executing
KW's story:
Once upon a time, there were two kodus. One was white and one was red. They were on a journey. The white kodu found a map along the way and followed it. They past a mysterious balloon, after which a canon shot was fired. The kodus ran as fast as they could however, they ran into an evil octopus. Another cannon shot was fired and the octopus was dead. The two kodus ran for their lives. You can view KW's work HERE.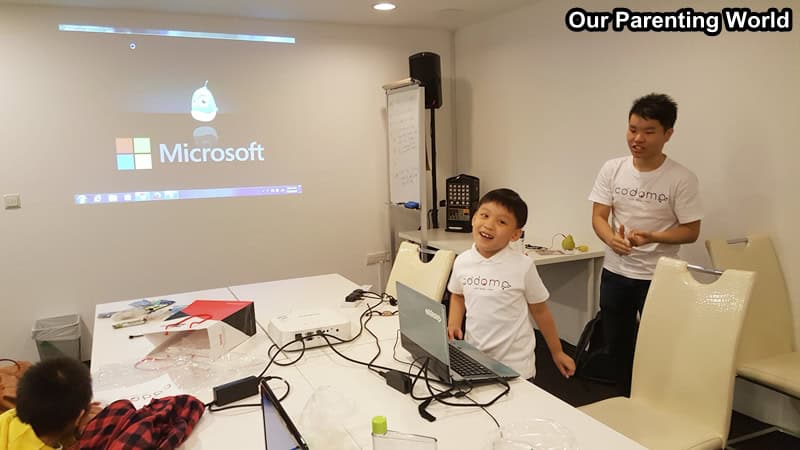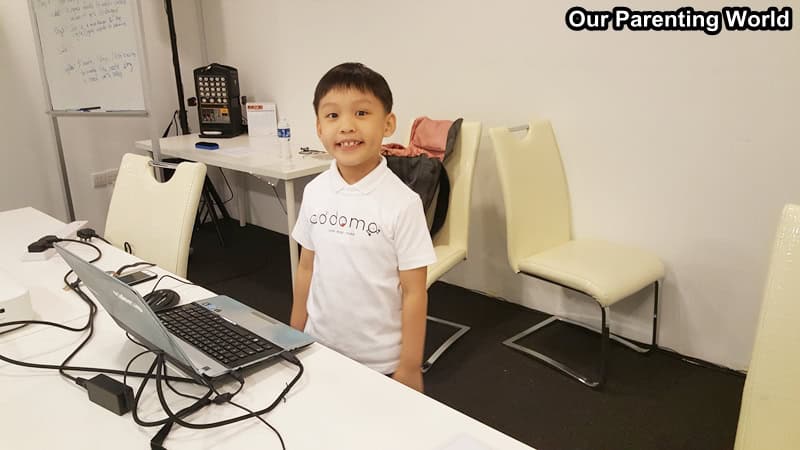 I am so excited to do my presentation to share with my teachers and classmates the game that I have created!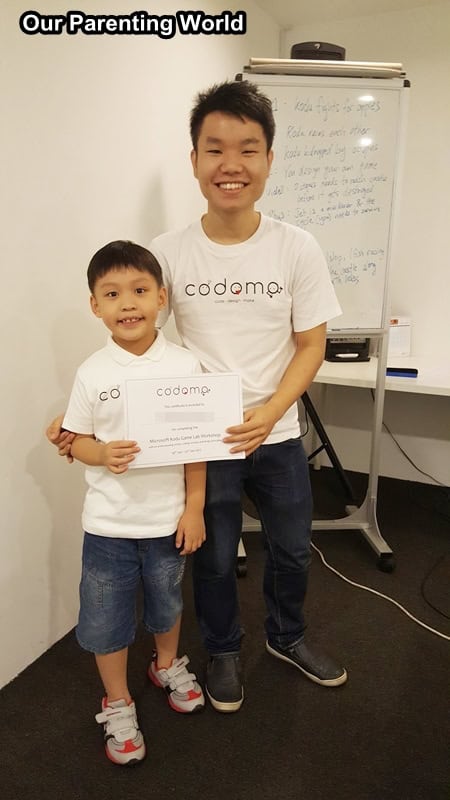 Thank you to my teacher, Fendy Lieanata! I really like my teacher, Fendy, he makes the lessons so interesting and I enjoyed coming to his class. The lessons are easy to learn and pick up, I have no problem creating my own game. Now I am keen to learn more after taking up the class at Codomo! 🙂 
Kodu Game Design (Ages 6 – 8)
Duration: 5 days, 3 hours each day 
Lectures will be held at 181 Orchard Rd, 10-01 Orchard Central, Singapore 238896
Course Value:
$49: Trial class on the Monday of the week (3hrs)
$499: Holistic game design experience (15 hrs)
Group Discount:
CODOMOBUDDY: Bring your friend and get $30 off each. Only applies to full courses.
CODOMOPARTY: Bring 2 or more friends and get $50 off each. Only applies to full courses.
For more information on Kodu Game Design at Codomo, please visit https://codomo.com.sg/product/kodu-game-coders/ 
To find out more about Codomo and its coming holiday camps, please go to https://codomo.com.sg/product-category/holiday-camps/