Korean burger bistro, Burger+ is a new burger joint located at Wisma Atria has launched their first breakfast and kids menu starting from 1 October 2019.
Now you can kick-start your day at Burger+ with its four all-new breakfast items topped with delicious fillings and wrapped with hot, fluffy brioche. Each of the breakfast set comes with a Freshly Brewed Americano.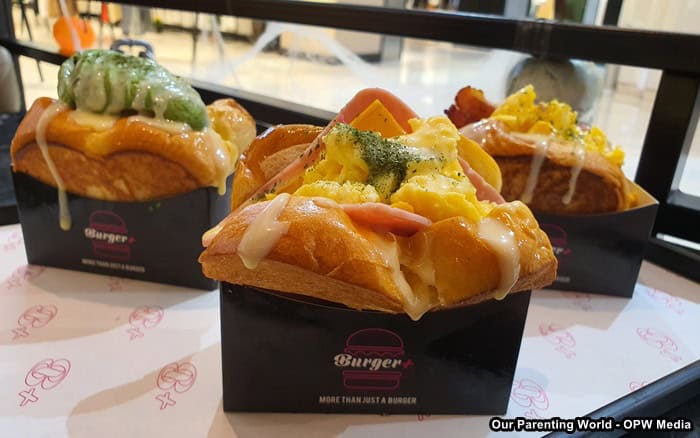 At Burger+, you can enjoy its delectable toasts like Egg Toast Avocado, classics toasts such as Egg Toast Bacon & Cheese and Egg Toast Ham and Cheese, and Korean-inspired breakfast like Egg Toast Beef Bulgogi.
Burger+ Egg Toast Beef Bulgogi
This flavourful Korean inspired toast is made with fresh minced beef, fragrant fried onions, Burger+ signature bulgogi sauce and mayonnaise topped with a perfect runny egg yolk. This is a tasty and savoury toast that is filled with marinated beef that is well-seasoned with Korean-style flavorings that we enjoyed very much!
Kids will be delighted to know that they can indulge with the new Kids Menu featuring new burgers that are Burger+'s signature burgers with sweet mayonnaise, without onions such as Kids Bulgogi Burger, Kids Cheese Burger, Kids Fish Burger and Kids Chicky Burger.
The Burger+ Kids meal also includes fries and milk in a free lightbulb cup that will light up. Kid can bring it home after that and the set is for kids aged 10 years and below. 
The Burger+ breakfast menu is available from 8am-5pm at Wisma Atria and the kids menu is available all day from October onwards.
Additional Information
Breakfast Toasts (8am-5pm):
Egg Toast Ham and Cheese (Ala Carte $7.50, Combo $8.90)
Egg Toast Bacon & Cheese (Ala Carte $7.50, Combo $8.90)
Egg Toast Avocado (Ala Carte $8.50, Combo $9.90)
Egg Toast Beef Bulgogi (Ala Carte $9.50, Combo $10.90)
Kids Meal Items: 
Kids Bulgogi Burger

Kids Cheese Burger

Kids Fish Burger

Kids Chicky Burger
Each priced at a $10.50 combo meal with fries and milk, and free lightbulb cup with lights. 
Halloween Promotions:
To welcome the Halloween season (now till 31 Oct), 6 pieces of Devil Hot Yangnyeom Wings goes for a cheeky price of $6.66. If you can't handle the heat, no worries, you can cool off with any add-on beer for only $6.66.
Come celebrate the spooky season at Burger+, as the restaurant is all dressed up and ready for Halloween! Those who come decked in their Halloween costumes are in for a treat, as Burger+ is giving away free Wooyu Vanilla ice cream from 25th Oct to 31st Oct.
Visit Burger+ for a delicious and deadly good Halloween season!
Burger+
Address: #01-37/38, Wisma Atria Shopping Centre
435 Orchard Road, Singapore 238877 
Opening Hours: 10:00 to 22:00 daily
Tel: +65 6694 1226
To find out more, please visit the following: 
Facebook: @BurgerPlusSG
Instagram: @BurgerPlusSG
Website: https://burgerplus.com.sg
Hashtag: #burgerplussg