In Singapore, we are constantly exposed to the sun and this will cause damaging effect on our skin resulting in skin's ageing, fine wrinkles and especially skin pigmentation which is one of the top concerns among Singaporeans. To address this, Kskin, Singapore's leading express facial salon, has launched a New Pigmentation Lightening & Brightening Treatment!
This new treatment can be done in 30 minutes priced at $50nett, is good for busy individual who is looking for fast and effective treatment. The whole treatment starts off with deep cleansing to remove dead skin, followed by using an ultrasonic scrubber and radio frequency to exfoliate the skin while the use of various in-house pigmentation cream and serums help to reduce dark spots and improve hyperpigmentation. After that, enjoy a quick blast of highly concentrated oxygen on your face to aid serum absorption before Kskin's specially-formulated moisturiser and protective sunscreen is applied and indulge in a relaxing facial massage at the end of the treatment. 
It is recommended to do this treatment regularly in order to have effective, long-lasting results instead of a one-off session. This treatment will help to reduce skin pigmentation and uneven skin tone, giving you a smoother, glowing and even-toned skin.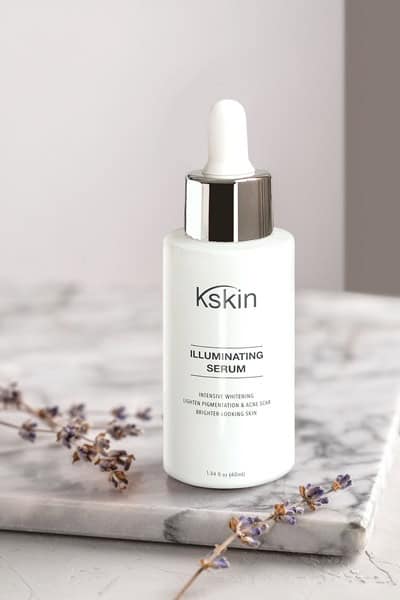 To enhance the effect further, Kskin's new in-house Illuminating Serum ($88), specially formulated with powerful triple-action ingredients, namely Niacinamide, Ethyl Ascorbic Acid and Alpha Arbutin. The serum complements the new treatment perfectly giving you the best results to help regulate melanin production and further lighten dark spots. 
Our editorial team speaks to Mr. Brian Ng, Co-founder and Director of KC Group of Companies to share more about the launch of Kskin's New Pigmentation Lightening & Brightening Treatment, key benefits of this treatment as well as about the new in-house Illuminating Serum. Read on to find out more. 
1. Tell us a little more about the new launch of the Pigmentation Lightening & Brightening Treatment and the Illuminating Serum.
Mr. Brian Ng : Our team of therapists have been eagerly anticipating the launch of the all new Kskin Pigmentation treatment. This will be a new additional treatment lined in tandem with our original Kskin signature treatments. In conjunction with the treatment, we are launching the Illuminating serum where our Kskin customers can purchase at our outlets and use it as a homecare procedure.
2. What sparked the interest to introduce this new treatment – is it due to customer's demand / beauty treatment trend?
Mr. Brian Ng : We receive many requests from our customers to help reduce the appearance of dark spots and improve the look of skin tone. Hence, our research and development team set out to formulate Kskin New Pigmentation treatment.
3. How often do you recommend to do this treatment and why?
Mr. Brian Ng : Hence, our research we recommend a weekly session here at Kskin coupled together with your home care Illuminating serum and Vitamin C serum. It is strongly encouraged to use our serums on a daily basis consecutively for a duration of 3-6 months to achieve the best results.
4. What are some of the key benefits of this treatment coupled with the serum?
Mr. Brian Ng : The key benefits of this treatment help to even out skin tone, making our skin appear smoother and more nourished. When used together with Kskin Illuminating serum, it reduces the appearance of scars, freckles, prevents dark spots from returning and enhances skin radiation. It also encourages cell renewal to reduce existing discoloration, create a radiant and even skin tone and further protects the skin from harmful external environmental aggressors such as UV radiation.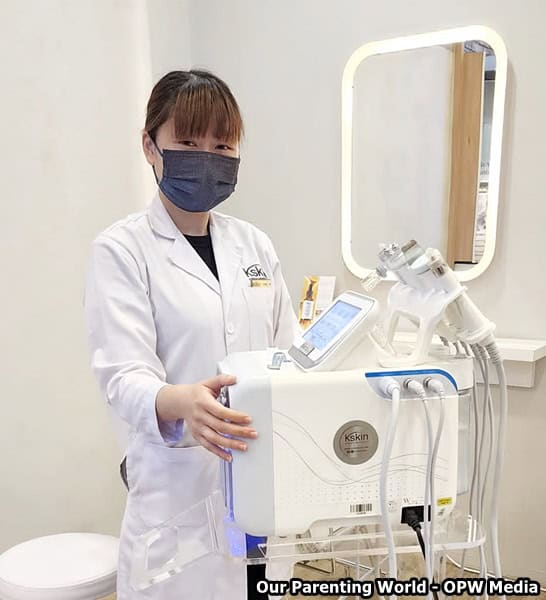 5. How does this treatment differ from the other 3 treatments and why does it take 30 mins instead of 15 mins?
Mr. Brian Ng : This pigmentation treatment takes up a full 30 minutes as it includes additional series of steps such as the use of radio frequency together with our Kskin Proprietary Brightening and Pigmentation Lightening Cream and application of Illuminating and Vitamin C Serum to achieve a radiant glow. A quick blast of highly concentrated oxygen to aid serum absorption before applying moisturiser, protective sunscreen and finishing off with a relaxing facial massage.
6. What made you decide to start an express facial salon and what were some of the concerns of customers of the treatments and how did you react to them?
Mr. Brian Ng : Over the recent years, we have seen the rise of multiple complaints over some beauty salons hard-selling and pressuring customers into purchasing exorbitant beauty packages. We have also observed a significant shift of customers buying behaviour towards a-la carte menu instead of going for packages. In a fast-moving economy like Singapore, our customers are constantly looking for services that are swift yet effective.
One of the main concerns of customers include the question of efficacy, given the short treatment
period and affordable pricing. During the start-up phase, we spent valuable resources deploying our therapists to be stationed outside every Kskin outlet to educate and assure customers of our treatment. This strategy has paid off and now we have many customers who have tried Kskin and given us glowing reviews and many became our regular customers.
7. Has Kskin "bounced back" to pre-pandemic times with people going back for facials and is it also the reason for Kskin's aggressive outlets expansion in Singapore? Any plans to bring Kskin overseas?
Mr. Brian Ng : In fact, Kskin started the first outlet right in the midst of the pandemic in August 2020. From then on, Kskin has grown to 22 operating outlets in Singapore. With further easing of covid restrictions, Kskin HQ seized the opportunity to capture strategic market share with the opening of multiple shops around Singapore. We have also seen strong demand for facial services coming not only from residential locations but also office areas. Building up to the beauty exhibition show in November, we will be meeting a number of interested foreign delegates who have expressed strong interest in bringing Kskin to their countries.
To find out more about Kskin, please visit the following: 
Website: www.kskinfacial.com
Facebook: www.facebook.com/kskinfacial
Instagram: @kskinfacial
Official Hashtag: #GlowTimeWithKskin