Kskin, leading homegrown express facial salon, has opened its 15th and biggest outlet in Singapore. The new outlet is also its first flagship outlet located in the heart of Orchard Road at 313@Somerset. 
The new outlet is set to provide the best Korean skincare solutions, which require just 15 minutes for a refreshed, prepped, and glowing skin! At only $28.00, the targeted treatments cater for both genders, ranging from hydrating, lifting and brightening, offer customers the best value for money and time-saving for effective skin care with no packages, no hidden costs and no prior appointment is required. 
As we celebrate Father's Day in June, meet Mr. Brian Ng, one of the Superdads behind Singapore's leading Korean Express Facial Salon, Kskin. Our editorial team speaks to Mr. Brian Ng to find out how he started his entrepreneurial journey, his entry into the beauty industry and how he juggles between family responsibilities and his businesses, read on to find out more. 
Exclusive Interview With Mr. Brian Ng, Co-founder and Director of KC Group of Companies, The Group Behind Kskin
1. Tell us a little about yourself and your family.
Brian Ng: I enjoy the outdoors and jog frequently at different locations including the Botanic Gardens and Gardens by the Bay. I do enjoy a game of basketball with my group of friends too. Besides that, I serve actively in church ministry. My wife, Agnes Ng, is a principal of two right brain enrichment centres. Together, we have 4 children – 1 girl and 3 boys, ages 13, 11, 7 and 3.
2. What do you think are the top three values every dad must have?
Brian Ng: Love, Nurture, Inspire
3. What do you love most about being a dad?
Brian Ng: Every child is unique and has their own personality, interests and habits. I cherish the opportunity to bond and journey with my kids, understand each of their strengths and weaknesses, offer them advice along the way, and observe how they adapt to changes, overcome challenges and blossom in life.
4. Dad guilt – When have you come across it and are there any tips to overcome it? Share with us more.
Brian Ng: Having heard from friends who experienced time constraints due to their heavy corporate work and limited time to spend with the children, it drove me to seek solutions. I've seen business owners who have done well and enjoyed the pleasure of spending time with their family. With two like-minded friends whom I met in university, Bernard Ng and Samuel Pei, we started different businesses very early on even before we graduated. I personally feel that when you are young, you have time. There is very little to lose so it's good to try and build something, maybe your own business, something you can build and leverage on. If building a business is not your interest and you have a family and career, you can also explore getting a franchise business too. And if you do it right, you will have options and plenty of time, and there is no need to worry about Dad guilt.
5. When and how did you enter into the hair and beauty industry?
Brian Ng: In 2013, with two of my business partners, Bernard Ng and Samuel Pei, we used to have our haircuts at different quick cut salons across the island. We observed that there was always a long queue at these quick cut salons. Sometimes, the waiting time can be more than an hour. With that, we saw an opportunity to introduce another quick cut brand into the market. We started the first kcuts 10-minute quick cut outlet in June 2013 at One North, Fusionopolis. Over the next nine years, kcuts has expanded to 67 outlets across Singapore and we are still forging ahead. From kcuts, our group expanded to another 8 in-house brands with more than 100 outlets including Apgujeong Hair Studio, Myeondong Hair Studio, Aoyama Hair Studio, Kerluxe Hair Studio, James Barker Barber, Clippers Barber, Hanbang Skin Solutions and Kskin.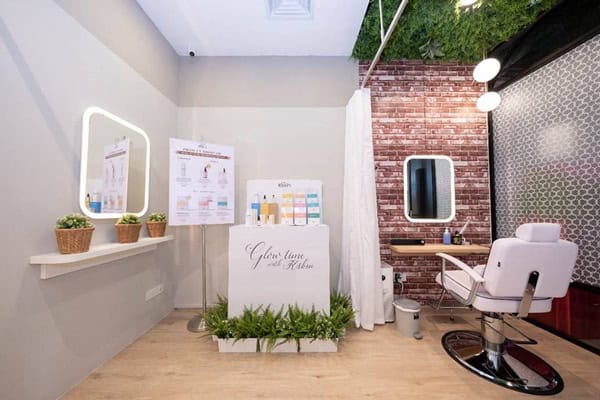 6. How did you chance upon an express facial that made you and your business partners start Kskin?
Brian Ng: We chanced upon numerous reports of other beauty salons using aggressive hard selling methods to push high value beauty packages which resulted in poor customer experience. Their customers also feedbacked that the booking of facial appointments was rather difficult as their treatment period per customer is usually quite long, between 60 to 90 minutes. We challenged ourselves to examine the possibilities of creating an express facial concept that could potentially solve these inherent problems — and that's when Kskin was founded.
7. Which is your favourite treatment from Kskin and why?
Brian Ng: My favourite is the Cleanse treatment. After the treatment, it always refreshes and rejuvenates my skin. Best of all, it's fuss free and no appointments required — just walk in anytime to get your service of choice done.
8. Which treatment would you recommend other dads to try out?
Brian Ng: I would recommend the combo consisting of Cleanse and Glow treatment. Many of us work in air-conditioned environments and over time it causes our skin to be dry and dehydrated. The Cleanse and Glow treatment helps to clear the congested pores and excess sebum, and further hydrates and optimises your skin to look healthy and radiant!
9. What is your daily skincare routine like and what are some Kskin products that you incorporate?
Brian Ng: Like many of my friends, I used to buy cleansing foam off the shelf for my daily skincare routine. It was only until we started Kskin that I began to understand and realise the importance of taking care of my skin regularly. Now, I use Kskin cleanser that hydrates and clarifies my skin on a daily basis. I started a weekly routine to use Kskin brightening mask that comes with easily absorbable nutrients and helps me achieve a glowing complexion. After cleansing, I'll finish it off by using our best-selling product, the Kskin Vitamin C Serum, infused with antioxidant, hydrating and anti-aging formula to boost collagen production and protect skin against damage from UV light rays.
10. What do you love most about your job?
Brian Ng: I get to reach out and offer our services to a wide range of customers. It makes me feel motivated and satisfied when we receive good reviews from our customers. It is also very heartening to see many regular and loyal customers come back to Kskin to have their treatments done.
11. How do you juggle between family responsibilities and your businesses?
Brian Ng: Thank God, being a business owner, it frees up time and provides the flexibility for me to plan my schedule. I choose to celebrate important milestone events of my children as I believe it encourages them when they know that their family is behind supporting them. I believe in delegating work and responsibilities among our managers so they can rise up to take on more ownership in the business.
12. With Father's Day approaching, what is one message of encouragement you would like to share with fellow dads out there?
Brian Ng: A Dad is someone who is the hero of every child, always loving, always nurturing and always inspiring.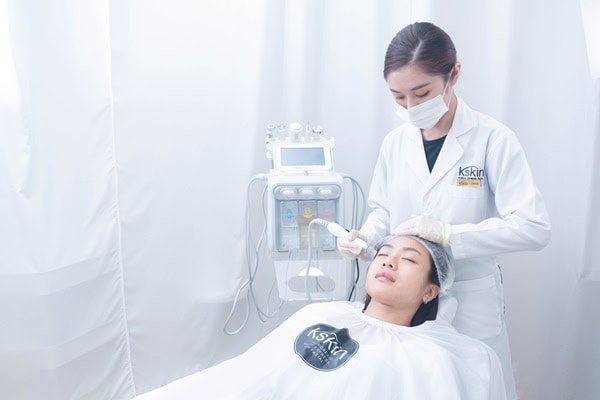 All images credit to Mr. Brian Ng and Kskin
Try out Kskin's affordable yet effective 15 minutes Korean express facial treatments suitable for all skin types and include three key treatments — Cleanse, Glow and V-Lift that are perfect for busy parents! For a little extra TLC, combo treatments are available with add-ons, such as Neck Care, Vitamin C, Mask, Eye Care and 24k Gold Serum. To find out more, please visit their website at www.kskinfacial.com.