The world renowned Cirque du Soleil is returning to Singapore and this time with its most acclaimed touring show, KURIOS – Cabinet of Curiosities from 6 July!
Our Parenting World – OPW Media team attended the Big Top raising media event hosted by Sliding Doors Entertainment recently. We were excited to be there to observe the raising of a brand new white and grey Big Top in a highly engineered move to stand tall at the site, signaling that Cirque du Soleil is in town.
During the Big Top raising event, over 60 technicians raised more than 100 metal poles in the final step of building the roof of the "grand chapiteau". This process was done within a short 15 minutes period. We witnessed the well-coordinated move, led by the senior engineers of the site, raising this huge tent up in this significant event. With the huge 20m high Big Top tent rising up at Bayfront Avenue signals that KURIOS – Cabinet of Curiosities is coming to town and will be performing in Singapore for the next few weeks. During the Big Top tent raising event, we were required to observe strict safety protocol of the site, and all of us have to wear a hard hat and safety vest that were provided when we entered the site.
Media personnel assembled inside the tent to wait for the Big Top raising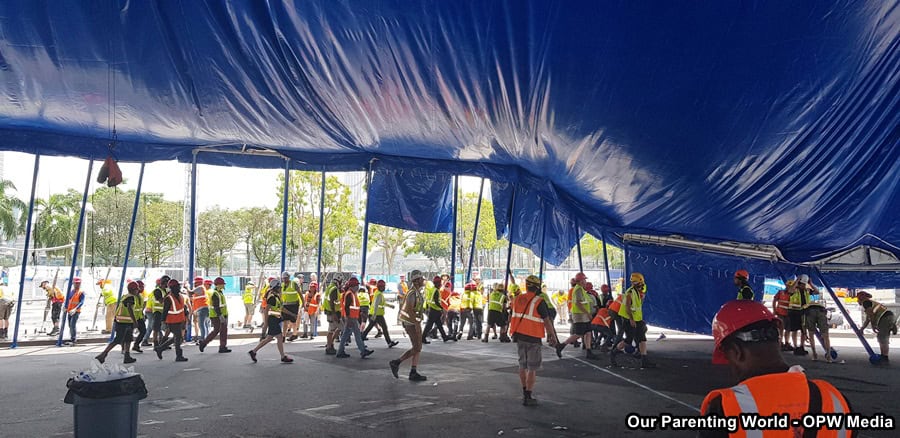 The Big Top raising process started
Coordinated move by the technicians around the Big Top to raise all the pegs up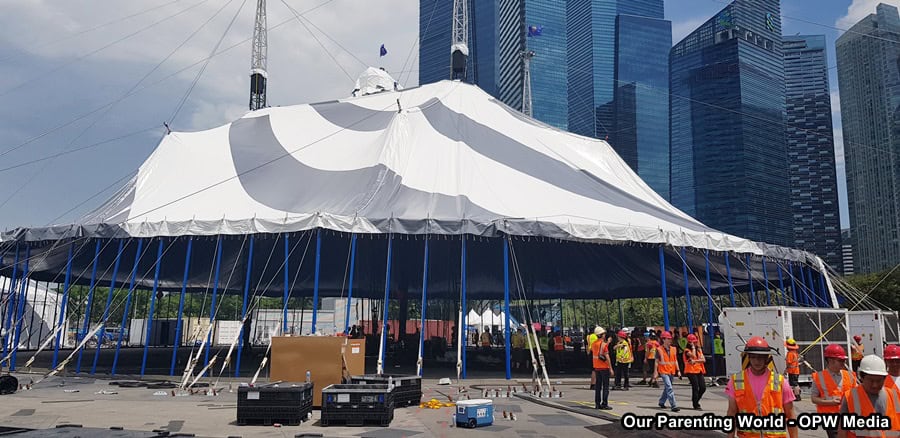 The White and Grey Big Top has been raised, Kurios has arrived in town
Fun trivia about the White and Grey Big Top and the Cirque du Soleil Village:
• The Big Top stands about 56 feet (20 metres) high and is 164 feet (51 metres) in diameter.
• It is supported by 4 steel masts that each stand at 82 feet (25 metres) high.
• More than 550 pegs are required to hold the Big Top firmly to the 4,500 square metres of asphalt.
• The Big Top can accommodate more than 2,400 people.
• The entire site set-up includes installation of the entrance, hospitality and rehearsal tents, administrative offices, workshops, and kitchen.
• The Big Top, VIP Rouge and Artistic tents are all climate controlled with air conditioning in warm seasons and heating for colder seasons.
• KURIOS – Cabinet of Curiosities travels city to city with more than 60 containers carrying the entire village.
Get ready to be transported into the captivating and fascinating world of KURIOS – Cabinet of Curiosities! Grab your tickets now! 
Ticketing details as follows:
KURIOS – Cabinet of Curiosities by Cirque du Soleil
Show Dates and Time: 
Sat, 6 Jul – Sun, 4 Aug 2019
Tues – Fri: 4.30pm, 8pm
Sat: 4.30pm, 8pm
Sun: 1.30pm, 5pm
Venue:
UNDER THE BIG TOP
BAYFRONT AVENUE, BESIDE MARINA BAY SANDS
Adult
VIP Experience: S$320, S$324*
Premium: S$195, S$199*
A Reserve: S$165, S$169*
B Reserve: S$135, S$139*
C Reserve: S$95, S$99*
Child (Age 2 – 12 years old)
VIP Experience: S$310, S$314*
Premium: S$185, S$189*
A Reserve: S$155, S$159*
B Reserve: S$125, S$129*
C Reserve: S$85, S$89*
*Applicable to these shows only: 6 July, 12 July 8pm, 13 July 8pm, 19 July 8pm & 20 July.
More details on how to buy the tickets are available at the Sistic website: https://www.sistic.com.sg/events/kurios0819
For more information about Cirque du Soleil Entertainment Group, please visit cdsentertainmentgroup.com.