The long awaited Cirque du Soleil's Kurios is finally here! After we had attended the raising of the Big Top at the event place a few weeks ago, we can't wait to catch the show. You can hardly miss the prominent 20m high white and grey Big Top that stands tall at Bayfront Avenue next to Marina Bay Sands. 
Our Parenting World – OPW Media team attended the red carpet premier night performance and we went home amazed with this spectacular and breathtaking performances from this world renowned production. The story is about a mad scientist called the Seeker who is convinced that there is an invisible world in his larger-than-life curio cabinet where the craziest ideas and the grandest dreams exist. The story continues to unfold where a collection of otherworldly characters suddenly step into his makeshift mechanical world consisting of a cast of 46 artists from 16 different countries. 
From the props on the stage, we gathered the set-up was somewhere in the latter half of the 19th century living room where the Seeker invented a machine cabinet. The machine opened up to reveal different artists comprising of acrobats, gymnasts, comedians, hand-puppeteers and others. Some of the artists were dressed in metal masks and body kits reminding us of some Star Wars characters from galaxies far, far away.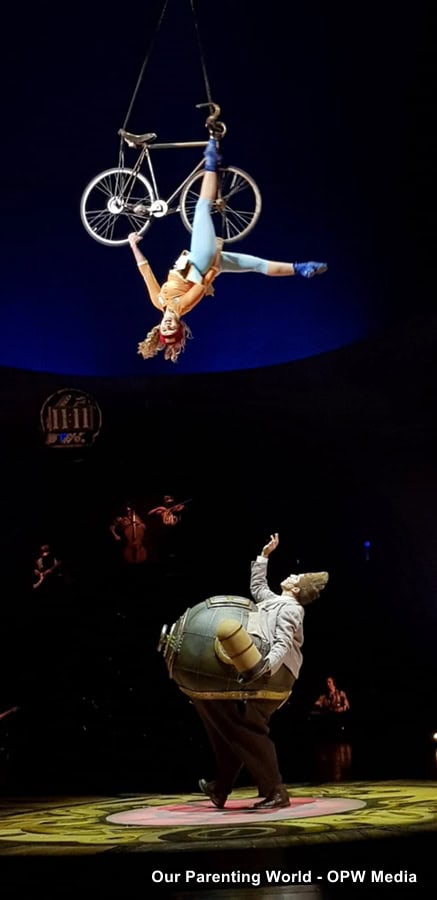 Some of the many exciting highlights of the show include aerial bicycle where an acrobat performed a variety of acts on the bicycle upside down!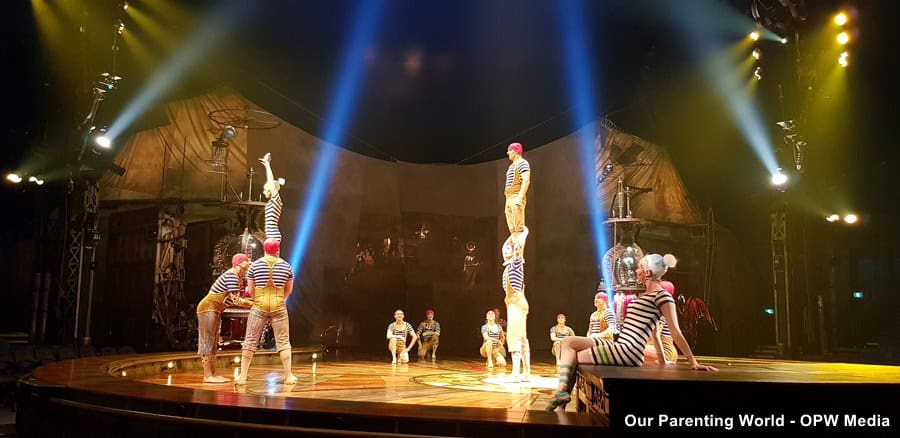 Banquine is a highly entertaining act that consists of 13 artists performing a perfectly synchronized acrobatics and human pyramids that is set to impress audience.  
The Comic act is one act that made the audience laughed throughout, the performer invited a lady from the audience up on stage where he tried to seduce her but he was interrupted by a Tyrannosaurus Rex, a parrot and a cat. It was totally hilarious seeing how the performer switched into various roles as different animals and human. 
Look out for the appearance of Mini Lili, a very small performer and we heard that she was one of the world's smallest people. She lives inside Mr. Microcosmos's overcoat and when the door opened, catch the furnished interiors of the little lady's residence that is complete with armchair and other necessities of the Victorian home right at his belly. 
How this particular Crique du Soleil's production differed from their other productions was mainly in the use of the different props for each of the main character. The Seeker who was portrayed as a mad scientist sat on an oversized chair which looked like an electric execution chair and luckily did not burn him alive, his assistants who were the Kurios were quirky robots that were built from scraps and Mr. Microcosmos had a huge barrel on his tummy. It was reported that of all the Cirque du Soleil's productions, Kurios has the most number of props on the stage. 
Get ready to be transported into the captivating and fascinating world of KURIOS – Cabinet of Curiosities! Be prepared to be mesmerized in this excellent production that is filled with jaw dropping and awesome performances. Grab your tickets now! 
Thank you KURIOS – Cabinet of Curiosities for the awesome show! 
Ticketing details as follows:
KURIOS – Cabinet of Curiosities by Cirque du Soleil
Show Dates and Time: 
Sat, 6 Jul – Sun, 4 Aug 2019
Tues – Fri: 4.30pm, 8pm
Sat: 4.30pm, 8pm
Sun: 1.30pm, 5pm
Venue:
UNDER THE BIG TOP
BAYFRONT AVENUE, BESIDE MARINA BAY SANDS
Adult
VIP Experience: S$320, S$324*
Premium: S$195, S$199*
A Reserve: S$165, S$169*
B Reserve: S$135, S$139*
C Reserve: S$95, S$99*
Child (Age 2 – 12 years old)
VIP Experience: S$310, S$314*
Premium: S$185, S$189*
A Reserve: S$155, S$159*
B Reserve: S$125, S$129*
C Reserve: S$85, S$89*
*Applicable to these shows only: 6 July, 12 July 8pm, 13 July 8pm, 19 July 8pm & 20 July.
More details on how to buy the tickets are available at the Sistic website: https://www.sistic.com.sg/events/kurios0819
For more information about Cirque du Soleil Entertainment Group, please visit cdsentertainmentgroup.com.