The ladies in our team are so happy when they found out that La Roche Posay – Serozinc which is known as the World's first Oil Blotter Mist is now available in Singapore! Throughout the day, most of us will experience the oiliness especially the T-zone on our face. We will use either tissues or oil blotter sheets to dab on our face to absorb the oil.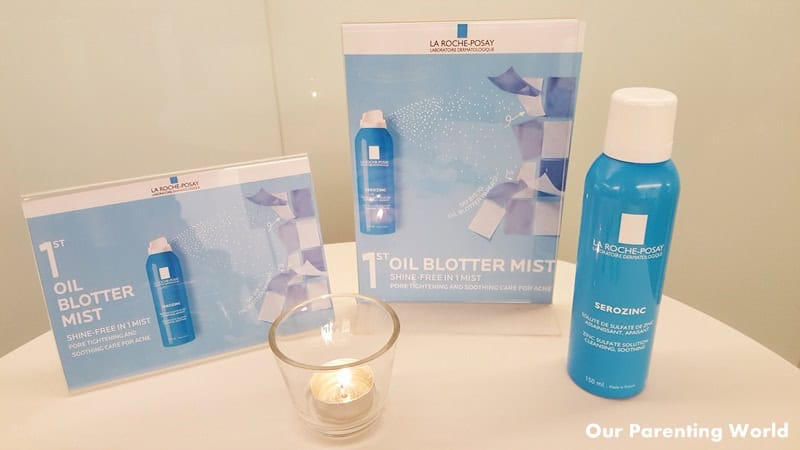 Now comes La Roche Posay – Serozinc, it is a spray that is hypoallergenic and non-perfumed that is specifically designed to target key signs of oily, blemish-prone skin. It contains three active ingredients which include its iconic thermal spring water, sodium chloride and zinc sulphate solution that are gentle enough to be used on oily blemish prone skin. If you don't have blemish-prone skin, you can use Serozinc which will help to make your skin looks and feels less shiny and greasy. You don't have to use tissues or oil blotter sheets, just spray Serozinc, it will help to reduce oil and make your skin looks matte.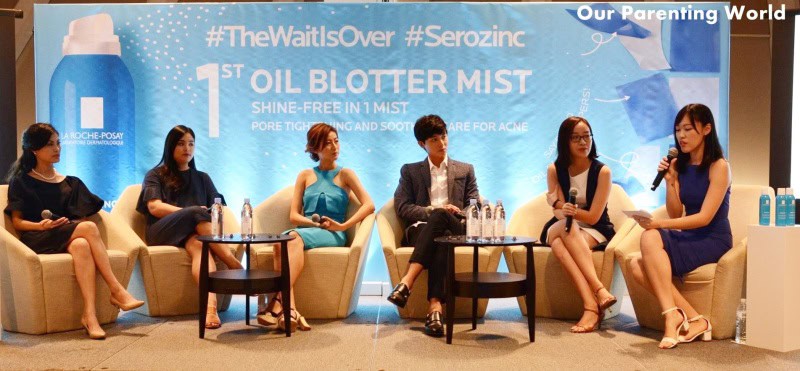 At the media launch, Dr. Lynn Chiam (Dermatologist), Roseanne Tang (Make-up Artist), Shine Koh (Local Personality) and Aloysius Pang (Actor/Celebrity) were present to talk more about La Roche Posay – Serozinc, shared about their personal encounter with oily skins and provide tips on overcoming it to invited guests.
Most of us, ladies, have been using oil blotter sheets and we learnt that using it will only help to remove oil on our face temporary. The worrying thing is that your face will become oily again very quickly. By using La Roche Posay – Serozinc, just a quick spray on our skin, it contains zinc sulphate solution with active ingredients which has anti-androgen and anti-inflammatory properties will help to purify, soothes the skin's surface irritations, regulate and control sebum.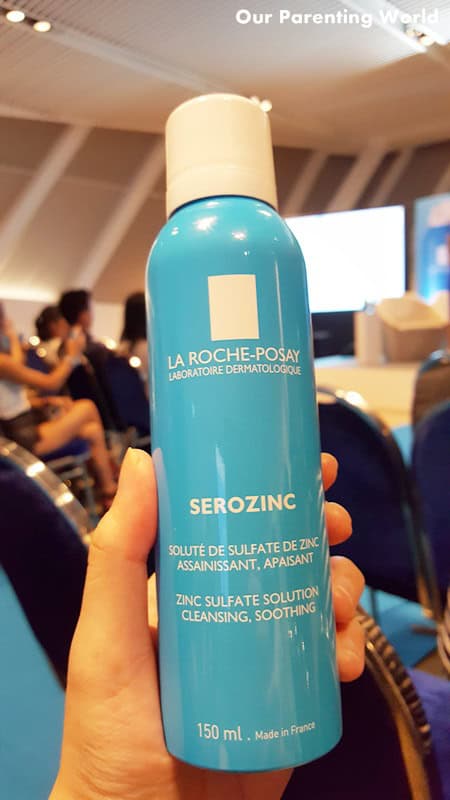 Why Our Parenting World team loves La Roche-Posay Serozinc:
It is so convenient and easy to use, just spray La Roche-Posay Serozinc onto your skin, let it absorb before patting off any excess. You can use it on clean face, it can be used as a toner after you have cleansed your face and even over your makeup, it acts as a primer to set your makeup. It will help to control the oil secretion from our T-zone. No more using tissues or oil blotter sheets to remove excess oil from our face! 
Good News! You can get your hands on Serozinc online exclusively on Lazada at a special introductory price of $9.90 (50ml) and $18.90 (150ml) from 21 till 28 October 2016 before it is launched in stores. 
From 28 October onwards, Serozinc will be available at major pharmacies like Guardian, Watsons, Unity, selected hospital pharmacies and Derma Centre (#02-33 at Westgate Mall). 
For more information on La Roche Posay, please go to http://www.laroche-posay.sg/