La Source Spa at The Shopping Gallery @ Hilton, located at the heart of the Orchard Road district specializes in providing holistic beauty and wellness treatments. The beautiful and elegantly-style spa offers an extensive range of luxury services that cover from premium hair treatments, facial treatments, skin care treatments, hair salon services, prenatal massages to eyebrow embroidery that can be customized to suit every customer's personal taste and preference.
If you are thinking of getting a facial, La Source Spa is a great place to do your facial. Using only premium products from INNI by La Source, a spa-grade, natural skincare range made with the finest plant-based ingredients that are gentle and yet effective. Your facial will be done by their in-house skilled and professional therapists.
Singapore's climate can be hot and humid, our skin tend to feel dry staying in air-conditioned environment to avoid the hot weather. If you have the problem of having dull, dry and lacklustre skin. Try the La Signature Facial Treatment – Oxygen Infusion Therapy that will help to revitalize and restore your skin to its glowing state. We understand that this is one of La Source Spa's most popular treatments.
The above images credit to La Source Spa
This ultimate 90 minutes all-in-one specialty facial is suitable for all skin types that require deep hydration. It includes all the elements of a full comprehensive facial that is both effective and relaxing. The luxurious facial uses a pressurized stream of oxygen spray that injects an infusion of 98% pure oxygen together with INNI concoction into the deepest layers of your skin. This actually allows the concentrate to penetrate deep into your skin to rejuvenate and restore proper hydration back to your skin giving it a more youthful and radiant look.
This is one pampering facial that you will enjoy and best of all, it has visible results, you can see that your skin looks brighter, healthy and even-toned.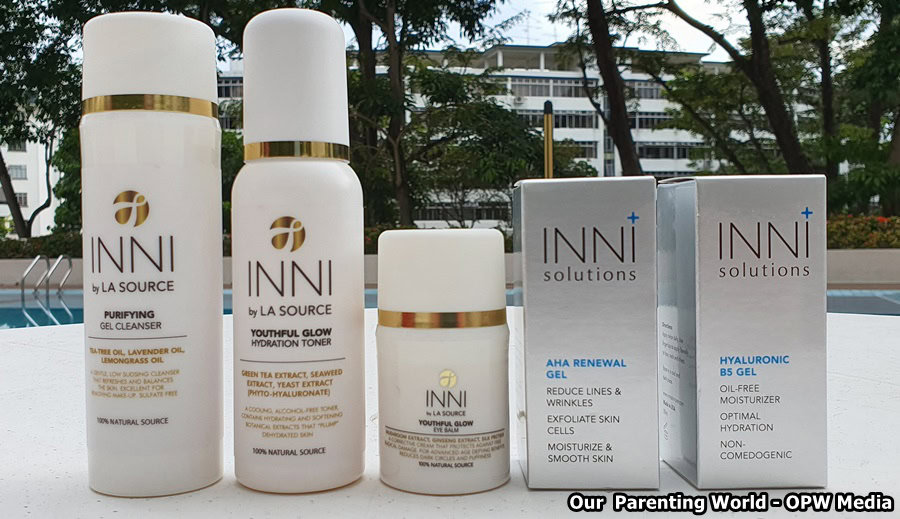 INNI by La Source
To continue to maintain great looking skin at home, you can use the Spa's Award-winning in-house brand, INNI by La Source. This all natural skincare line is researched and produced in Canadian laboratories. The products are safe and effective, contains no preservative, free of parabens, mineral oils, additives, coloring and artificial fragrances suitable for all skins types. Incorporate the products in your daily beauty routine will help to maintain your youthful skin, keeps your skin hydrated and glowing. To find out more and to purchase INNI skincare range, please visit https://www.inniskin.com/
La Source Spa
Venue: The Shopping Gallery @ Hilton
#02-17/18 Singapore 238883
Open daily from 11am–8pm
For appointment, please call: +65 6732 1318
To find out more about La Source Spa, please visit https://lasource.com.sg/