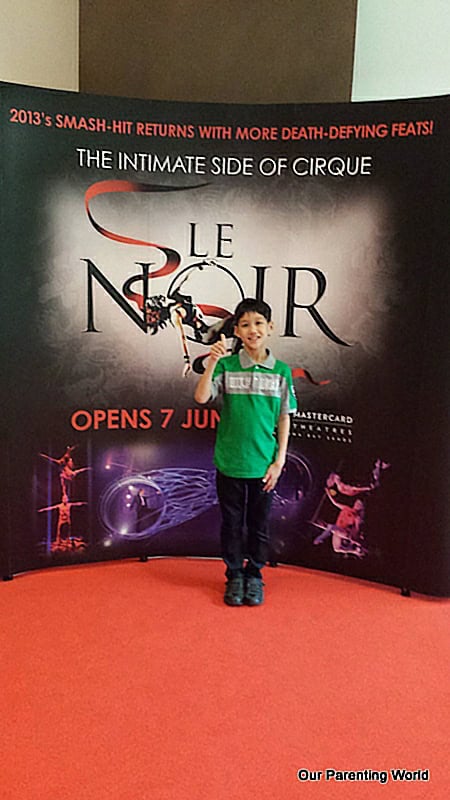 Our Parenting World team recently attended the opening of Le Noir, an intimate cirque style entertainment at  The MasterCard® Theatres at Marina Bay Sands.
About Le Noir, it gives audience a thrilling sensation of an extraordinary evening of intimate cirque-style entertainment. It comes with a cast of world-class acrobats, musicians, specialty acts and comedians at the centerpiece of a cutting edge production.
Our Parenting World team gave thumbs up to this extraordinary and smash hit performances! Here's why, more surprises can be seen at Le Noir's performances, the seating arrangement has been carefully planned and engineered to transform the theatre into an intimate arena, where the audience envelope the performers, enjoying a 360 degree perspective of all the action. 
Audiences will enjoy the one of its kind unique experiences as they will be 'enclosed' within a canopy of curtains designed from LED lights. The seating in the Grand Theatre will be limited to just over 1,300 seats to create a unique and intimate experience.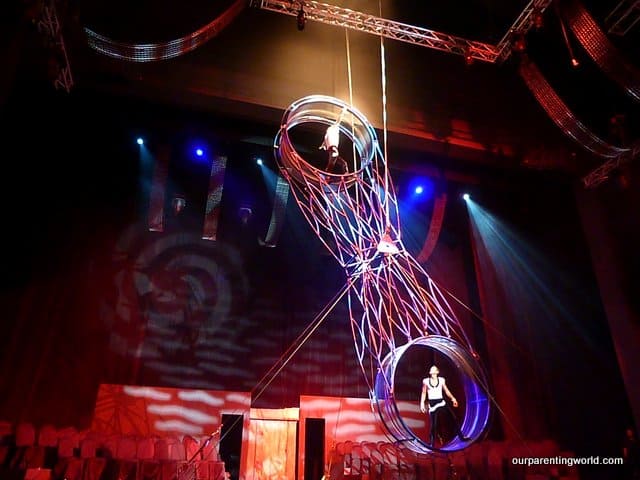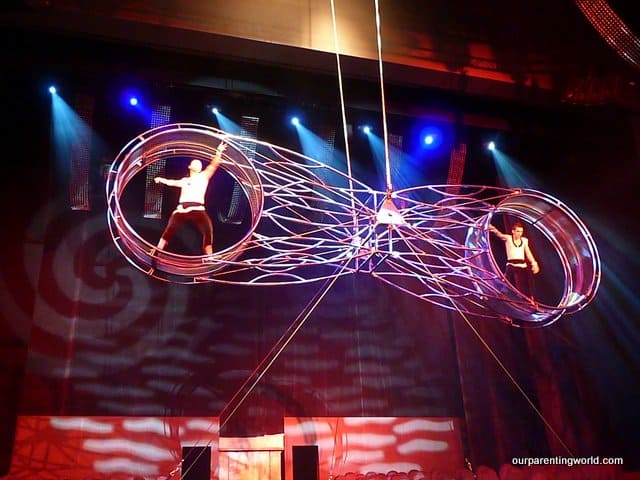 Returning from a smash hit performance in 2013, Le Noir promises to surprise and thrill the audience even further with several new acts in 2014 which include THE WHEEL OF DEATH – the name sounds terrifying and it is one of the world's most complex circus stunts!
The performances were done by two acrobats risking their lives to present a high-risk feats atop and inside a pair of spinning wheels rotating high above the stage without any protective measures! One of the acrobats will perform several high risk stunts which include skipping a rope, blindfold himself attempting to run outside and on top of the fast spinning wheel while the other acrobat will continue to rotate the wheel at a high speed. 
We couldn't take our eyes off the acrobats and were stunned by their performances. The audience rose and clapped furiously at the end of the show.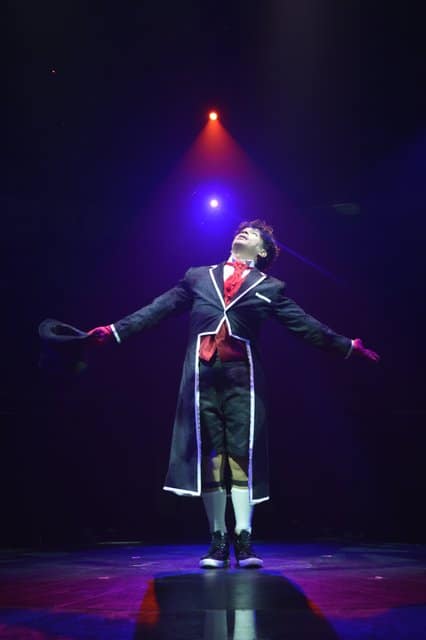 Photo credit: Le Noir
We were bursting with laughter whenever Salvador Salangsang Jr who is the emcee and the clown for Le Noir as shown in the picture above appeared on the stage.
He will appear during the transition of different acrobatic acts to perform and bring laughter to the audience. He will also spontaneously chose some audience to perform along with him. After the 20 minutes break, he surprises the audience by bringing a basket of candies and start offering to the audience. He gave Gor Gor some candies too.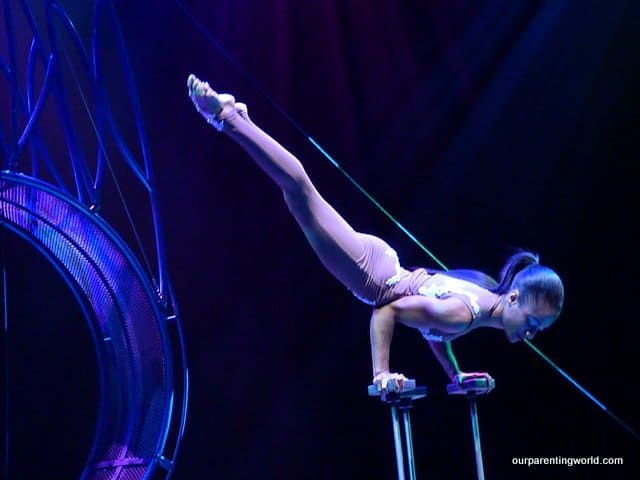 Watched in awe with the performance of Hand Balance by award winning performer as she gracefully manoeuvre around the stage on one metre tall canes.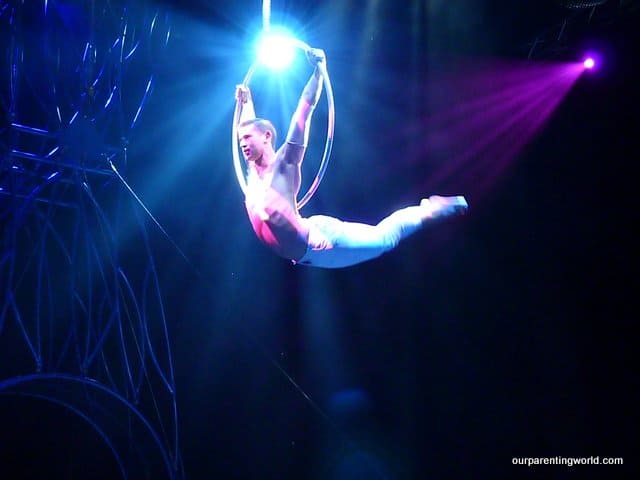 Areial Libra is an act where the performer will demonstrate the flexibility of his body, speed and carry out breath taking poetic movement on a hoop suspended from a strap carried up to 2 meters above the stage.
There are many other stunning performances by Le Noir talented cast. Hurry, you won't want to miss this smash hit performances from now till 29 June 2014!
ADDITIONAL INFORMATION OF LE NOIR:
With incredible demonstrations of balance, contortion, stamina and aerial artistry, the skills exhibited by the cast of Le Noir make this a show that audiences won't want to miss. Tickets are priced from SGD$70 and are now on sale.
Show Date: 7 – 29 June 2014
Tuesdays – Fridays: 7.30pm

Saturdays: 3pm & 7.30pm

Sundays: 1pm & 5.30pm
Venue: Grand Theatre, MasterCard Theatres at Marina Bay Sands
Ticket Pricing (Exclude Booking Fee)
VIP (For 2 Seats): S$395
includes 2 glasses of Champagne and 2 Popcorns
A Reserve : S$145 
B Reserve : S$100 
C Reserve : S$70 
VIP Box (For 4 Seats) : S$888 
includes 1 bottle of Champagne (Equivalent to 6 glasses) and 4 Popcorns
***Do note the champagne will be served in glasses.
Bookings:
www.BASEentertainmentasia.com, 
By Phone: +65 6688 8826
In Person At:               
Marina Bay Sands Box Offices (Museum, Theatres, SkyPark, Retail Mall and Hotel Tower 1 Lobby).
For more information please log onto – www.MarinaBaySands.com
For exciting ticket package options including accommodation at Marina Bay Sands please visit: www.marinabaysands.com/packages. Corporate and Group Bookings are available via Showbiz.  Email: [email protected] or call 6688 1029