Mr Bottle is certainly our favourite magician! We have known Mr Bottle for many years and seen his awesome performances since our eldest boy was in nursery school. He is always our favourite magician to recommend for birthdays and other parties.
About Mr Bottle's Magic Academy, it all started with Mr Wee Kien Meng (aka Mr Bottle) teaching his daughter Renee some magic when she was just 11 months. He wasn't surprised that she could do the magic (because it was a very simple one), what was amazing was that she learned how to reset the prop simply by watching him do it just a few times. And when the magic didn't work, she tried to figure out why and see what made it work. This sparked his appreciation in the potential of very young children and he started to play around with the idea of teaching magic to children as young as two-year-olds! 
We are so excited that Mr Bottle is finally starting his magic academy after 5 years of planning, researching and testing, and repeated requests from parents and friends! This is certainly good news for children who would like to learn magic!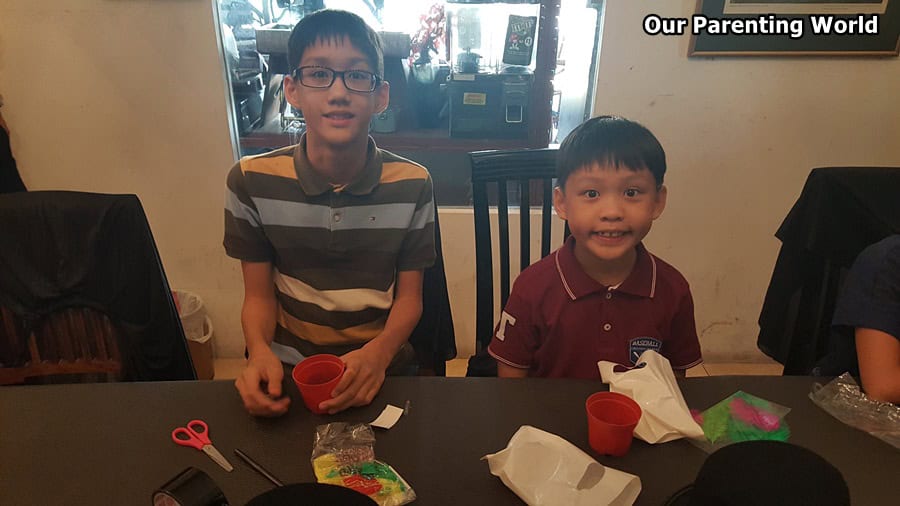 Our Parenting World's kids attended the preview class conducted by Mr Bottle where they will learn how to make a flower magically appear and learn about the value of generosity!
They are provided with the tools to construct their own magic trick and quickly set to work on creating their magic!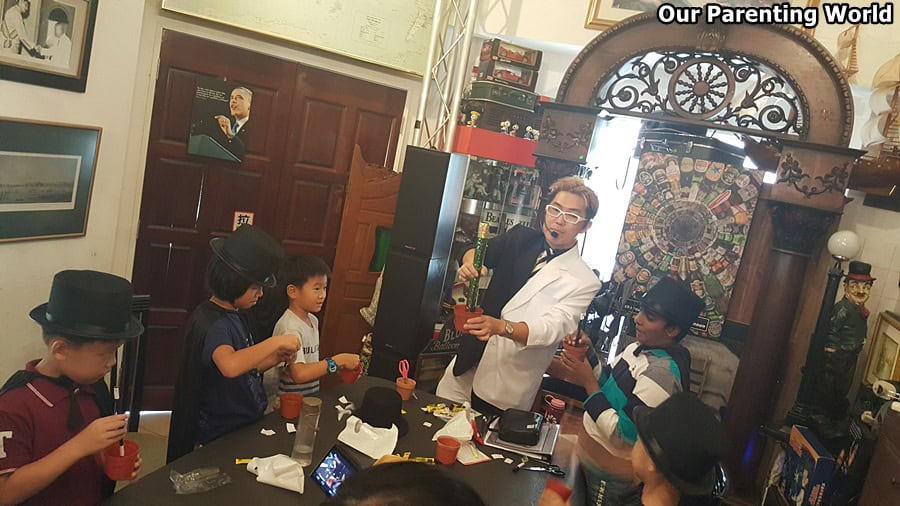 Mr Bottle makes the lesson easy and interesting for the kids to pick up and providing step by step instruction on how to perform the magic trick. 
To keep the element of magic and surprise, we shall not divulge too much on this magic trick. A magician never reveals his secrets. Want to learn magic, check out Mr Bottle's Magic Academy where Mr Bottle will be launching the magic classes for children from 4 to 9 years old because every child is different. The concept of 'magic' for 1 to 3-year-old is difficult as they are still learning about the world around them. Children will learn at their own pace, each term consists of 10 lessons and they can complete the whole term within 3 months.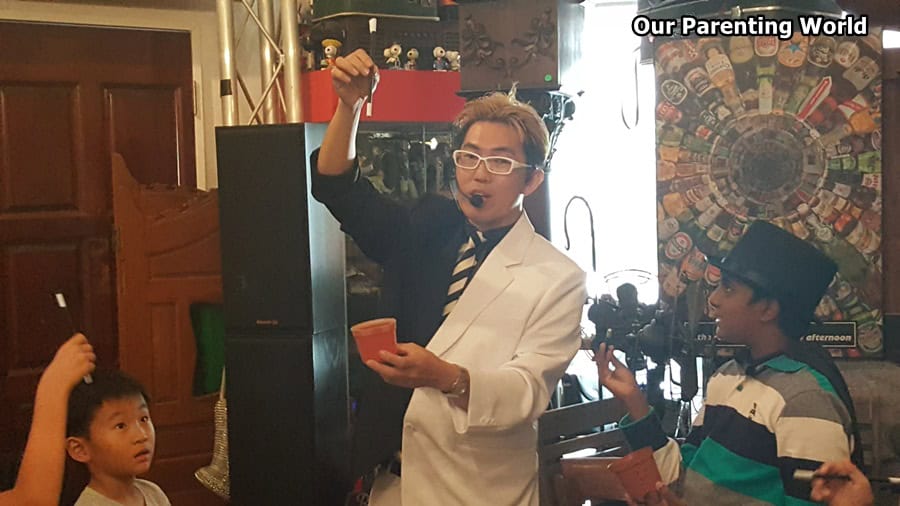 Here's what your child can expect from attending Mr Bottle's Magic Academy and what's so unique about it?
1. Children make the magic props themselves
They are not spoon-fed! Kids not only understand the principles behind the magic, they can make alterations and create new ones using what they have learned! Very often, the teachers will demonstrate variations of the same prop for them to experiment and try at home!
2. Children learn about values
Children are taught different values like empathy, generosity, perseverance and awareness while learning the magic. For instance, children need to understand from the spectators' point of view to perform the magic and hence this value of empathy is emphasised during the lesson.
3. Fun Lessons
There are games, performances and other activities incorporate into the lessons to make it fun!
4. Children learn how to perform the magic!
Children will learn that magic is not just about secrets, but a lot of different elements like presentation, psychology and much more! The participants perform as a group to build up confidence. Once they are more confident, they can also do solo performances!
5. Well-designed home notes for parent-child interaction
Learning magic doesn't stop outside the classroom. Parents are invited at the end of the lessons, so their children can perform for them. Participants are encouraged to practise and perform as much as they can. There is a checklist to guide the parents on points which the little magicians should take note of. Mr Bottle's Magic Academy also incorporate fun facts about Math, Science, History and others into the notes so children can learn more about these topics the fun way!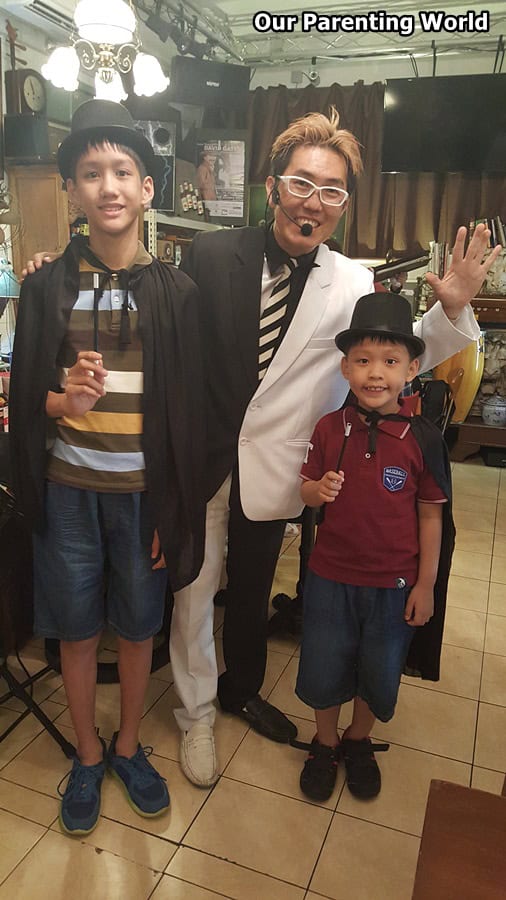 Mr Bottle's Magic Academy, a magic school like no other is starting regular classes for children who love magic.
Details as follows: 
Venue: Mr Bottle's Secret Chamber, 19 Tong Watt Road #05-10 (Vivace, 5 min's walk from Fort Canning MRT)
Date: Every Saturday (First Lesson on 18 Nov 2017.)
Time: 4-5pm
Venue: British Hainan, 75 Carpmael Road, Singapore 429812
Date: Every Thursday (First Lessons on 4 January 2018.)
Time: 5-6pm
* Trial lesson on 18 November at $10
* Fees are $520
($400 for 10 lessons + $120 materials fees)

One-time registration fee $50 (includes magic box, folder, cape and top hat)
Good News!
Parents, registration fees will be waived if registered through our website using the Promo code: ParentingWorld
Latest update on 22 May 2018!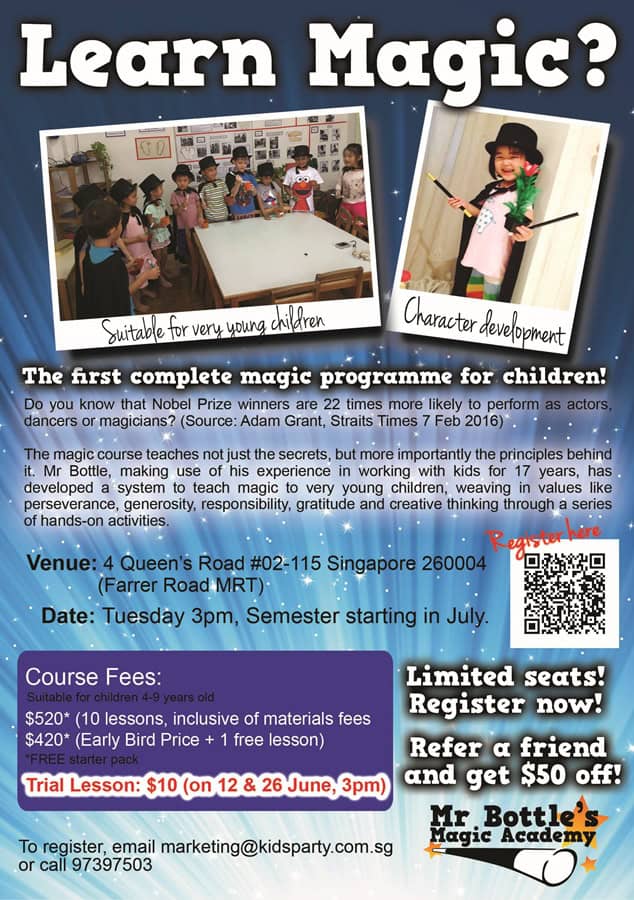 To find out more and to please register, please visit http://kidsparty.com.sg/magicschool/
You can also email your enquiry here:  [email protected] 
For more information, please contact Wee Kien Meng (Mr Bottle's Kids Party) at:
Tel: (65) 97397503 / 65155921
Fax: (65) 6561 7482
E-mail: [email protected]
Facebook: www.fb.com/mrbottleskidsparty
59 Ubi Ave 1 #05-10 Singapore 408938.