Melvados established in 2004, is a Singapore brand created to meet the needs of food-loving Singapore residents who are too busy to whip up a gourmet meal for themselves. Melvados aims to bring convenience directly to everyday consumers, with an ethos that is simple –- just thaw, heat and eat.
They are a one-stop halal-certified grocery shop and all the products are made in Singapore with high quality ingredients but at a wholesale price. Melvados hopes that by making gourmet food more accessible and convenient, it leaves more time for people to do what they love without having to worry about a sink full of dirty dishes.
New Flavour Launch For Hari Raya Celebrations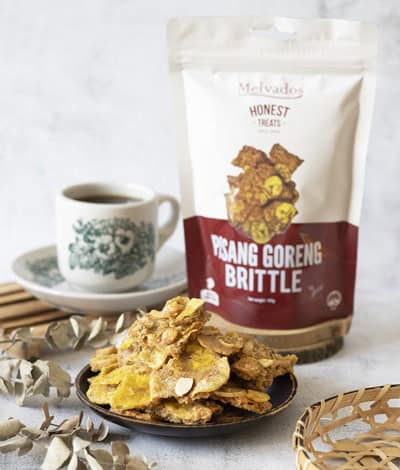 In celebration of the upcoming Hari Raya Puasa, Melvados has specially launched a new local flavour, Pisang Goreng Brittle, a unique reinvention of the well-loved local street snack. Made with fresh bananas, banana chips, and topped with a generous amount of banana cornflakes, the new Pisang Goreng Brittle promises a sweet, nostalgic taste of our favourite pisang goreng with a crunch in every bite. Available at only $3.50 per pack, it will be a conversation-starter at every party and gathering. 
The new crowd favourite was sold out in stores four days after its initial launch, accompanying its best-selling Ondeh Ondeh Brittle (S$3.50), inspired by the local traditional kueh, and made with a fragrant pandan coconut base and crunchy gula melaka coconut sprinkles. 
Gourmet Food Made Simple
In addition, the pandemic saw a change in behaviour of families to adapt to more alternatives for dining out, using delivery apps and experimenting with more home-cooked meals. Meal kits are more readily available and have become a main-stay in households as an alternative dining option, even as the economy opens up and people are faced with crowded and overbooked restaurants.
(Above (Left to Right): Chilli Crab Pie, Butter Chicken Pie)
Meeting the needs of busy working professionals, Melvados, the one-stop grocery shop for locals who seek fast and convenient ways of whipping up fuss-free and delicious meals from the comfort of their homes. Specialising in innovation and a passion for local flavours, one can find familiar local dishes featured in Melvados' catalogue – the hot favourite Chilli Crab Pie (S$8.80 for two pieces), and creamy spice blend Butter Chicken Pie (S$7.80 for two pieces).  
No Time To Waste, More Memories To Make 
With a lineup of products ranging from pasta sauces, soups, meat, cakes, and even ice cream, the full catalogue of food will surely wow you and your guests. In just 20 minutes or less, you will be transformed into a professional host presenting a five-course meal for your loved ones or guests to feast on. Difficult cooking processes are done away with Melvados' fool-proof recipes, and more time can be spent on quality conversations with your family, instead of sweating in the kitchen worrying about overbaking the chicken in the oven. 
(Above: Tandoori Chicken)
Everything available on Melvados is made easy for consumption and instant gratification, with just three steps: thaw, heat and eat. Nothing beats tucking into an aromatic Tandoori Chicken (S$9.90 for two pieces) prepared lovingly in the kitchens of Melvados after a long day at work. Gone are the days of spending hours to wash up a sink of soiled dishes.  
Built with convenience in mind, Melvados offers a myriad of food products ranging from sauces to desserts that are both family-friendly and wallet-friendly. With over 1,000 recipes in its books, there is bound to be a food of choice for everyone, young or old. Using only the finest quality of food imported globally from 15 countries ranging from Turkey to Thailand, every product is freshly made in Singapore without the use of artificial preservatives or chemicals.
The Gift Bundles
(Above: Mini Cheesecake Platter)
For those heading for parties and gatherings and are not sure of what to bring to the table, Melvados offers a series of ready-made gift bundles ranging from ice cream sets, cheesecake platters to snack packs, suitable for every occasion. Especially for festive celebrations, Melvados' theme-inspired bundle designs make them suitable gifts for every festive occasion. Even when you are on a budget, opting for their  Mini Cheesecake Platter (S$13.50) featuring an array of flavours would not go wrong for a party. 
Beyond festive specials and bundles, Melvados' retail stores are also conveniently located at selected heartland areas across Singapore such as Woodlands, Paya Lebar, Jurong and Thomson, saving extra travelling time and money for food delivery. Since 2021, Melvados is also available on delivery platforms such as Grab, Deliveroo, Foodpanda, and online for bulk orders. Free delivery services are available for orders above $50 after discounts, and for orders below $50, a delivery charge of $10 applies.
For more information and to purchase the products, please visit https://melvados.com/