Many of us know how important it is to have a good breakfast in the mornings. Having a good breakfast sets our mind and body right and gives you the essential energy you need to get things done the whole day! There is no need to spend lots of time and energy in preparing a good and nutritious breakfast, having the right ingredients will do. Milk provides calcium and protein for growth and strong bones, it is convenient, delicious and nutritious way to provide you with the essential nourishment for your body and mind that you need for breakfast. Magnolia's wide range of options from a selection of fresh milk, Lo-Fat High-Cal variants to Magnolia Plus range that combines the goodness of Oats or Omega-3 with milk that's suitable for everyone in the family and the convenience of having breakfast on-the-go especially for busy parents and adults.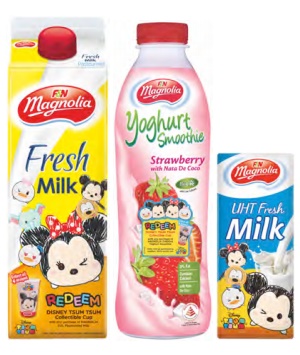 Magnolia brings more cheers by delivering nutrition and happiness at breakfasts by launching a series of adorable limited edition of Disney's Mickey Mouse and Friends Collectibles. 

Magnolia Mickey Mouse Collectibles 
Fall in love with the different illustrations of Mickey Mouse through the decades in celebration of Disney's 90 years of Magic which Magnolia is part of the celebration on tote bags that are available for redemption with every purchase of two one-litre packs of MAGNOLIA Pasteurised Milk or two 800ml bottles of Magnolia Yoghurt Smoothie. One set of charming illustrations of Mickey Mouse on sticker labels will be bundled with every multipack of six 250ml/230ml Magnolia UHT Fresh Milk. A total of four different tote bag designs and four sets of sticker labels await all ardent fans.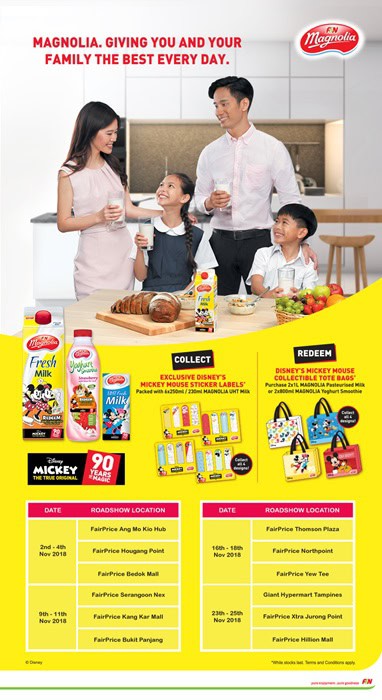 Photo Credits: F&N Foods
Redemption is available from 1 November 2018 at major supermarkets, hypermarkets and convenience stores, while stocks last. For more information, please visit www.magnolia.com.sg.