Image Credited to IKEA
Our Parenting World's Exclusive Interview Series: Yanjaa Wintersoul, 2018 IKEA 'Human' Catalogue
Mention IKEA, all of us are familiar with the world's largest furniture store that designs and sells ready-to-assemble furniture, kitchen appliances and home accessories. IKEA has recently launched its new 2018 Catalogue where it revealed its latest edition that features a renewed focus on the living room and aims to inspire readers with smart home furnishing solutions that will help them Make Room for Life. 
The 2018 IKEA Catalogue has more than 400 new products and 100 even lower priced offers, as well as exclusive IKEA FAMILY promotions. It wants customers to look beyond the walls of their homes to create a dream space for the things they love, all at affordable prices!
In line with this exciting launch of the new Catalogue, the 2018 IKEA Catalogue is truly unforgettable and IKEA Southeast Asia has found its very own 'Human Catalogue', Yanjaa Wintersoul, the 23-year-old two-time World Memory Champion. She has studied the 328-page  Catalogue in just one week and is able to recite almost every detail from any page of the Catalogue. This is the largest volume of details she has ever been challenged to memorise.
We have witnessed her amazing memory at the IKEA's media launch and are very impressed with her! Our Parenting World (OPW) team is pleased to be able to interview Yanjaa Wintersoul (YW), 2018 IKEA 'Human' Catalogue where she will share more with us and on her thoughts about the new IKEA's 2018 Catalogue.
1. Please share with us more about your background and how did you get to work with IKEA on being its first-ever 2018 'Human' Catalogue?
YW: To make the long story short, we found each other and it was all very experimental. At first we tried just a few products (the initial idea was to just memorize 2000 products), and I quickly realized it would be easier to just do the entire catalogue. They were hesitant, but we did a few test Skype sessions with the previous catalogue and we realized "hey, this could actually work!" So then we decided I should try to do it in a week as soon as the catalogue was out, and I had to memorize the entire book and fly to Singapore to film the videos.
2. What made you decide to accept the challenge from IKEA to be its 'Human' Catalogue and to memorise the entire catalogue?
YW: I said yes because it seemed like the most fun and challenging feat of memory task I had ever heard about. I usually accept challenges that seem to be on the brink of impossibility.
3. How do you prepare yourself for the challenge to memorise the catalogue?
YW: I just told myself that I could do it and to have faith that I would figure out how to do it in the limited time given. Other than that, there really is no preparation since I wasn't given the catalogue before that one week period.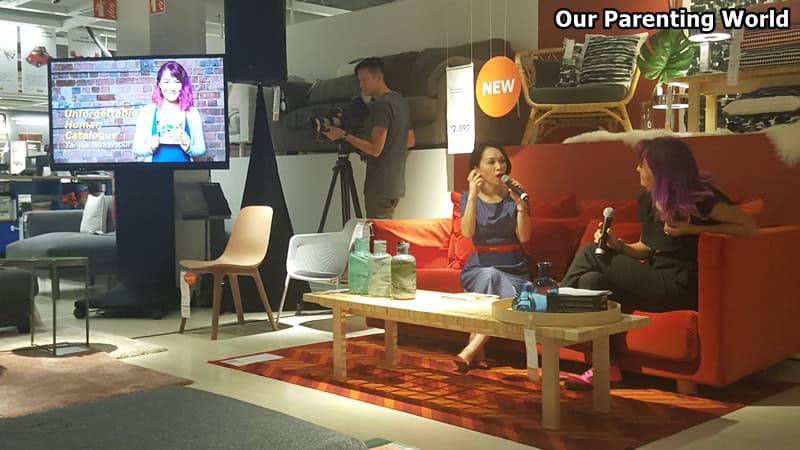 4. What's your favourite pieces from the new IKEA's 2018 catalogue?
YW: My favorite pieces are those which transform a simple, elegant piece of furniture into something dramatic – similar to what Maryam Mahdavi has done on pages 62-65 with the FLISAT dollhouse/ wall storage (that you can also find on page 140). I really like the SÖDERHAMN three-seat sofa on page 52/53 as well as the SVALNÄS wall-mounted workspace combination on the same pages, because I like the idea of work and relaxation blending seamlessly in your living room.
5. Can you share with us how did you manage to cultivate such extraordinary memory and to be a two-time gold medalist at the World Memory Championships?
YW: "Connect the dots", which refers to associating what you're learning with something you already know. Read about memory techniques (like the mind palace) and try some simple ones out. In fact, it is easier to learn the techniques than to read about them, which may sound counterintuitive but really isn't. Especially in the beginning, there will be a tug-of-war that your mind plays on you, saying that rote memorization is far easier than making creative imagery in your mind. You may feel that it can be tedious to spend all this time making elaborate, fun stories about the things you want to remember, but you are actually more likely to recall them if you use the "connect the dots" method.
6. Any tips you can share with us on improving our memory?
YW: Be kind to yourself by having a rich social life, sleeping well and taking long walks three times a week. Food that feeds your soul wouldn't hurt either.
Other than that, start telling yourself a different story about you and your memory capacity. The mind loves to affirm and reaffirm its beliefs about the world and if the belief you want to hold about yourself is that you have a good memory, you'll start noticing the times you do remember more than the times you don't.
Also, try to embed new facts with more engrained long-term memories. This is based on the "Baker/baker paradox." A researcher shows you and your friend the same photograph of a face, but she tells your friend that the woman's last name is Baker and tells you that the woman in the picture is a baker. A couple days later, the researcher shows the picture and asks for the accompanying word. You, having heard her profession, are more likely to remember the key word than your friend. Why should that be? Same photograph. Same word. Different amount of remembering. This happens because when you hear that the woman in the photo is a baker, that fact gets embedded in a whole network of ideas about what it means to be a baker: She cooks bread, she wears a big white hat, she smells good when she comes home from work. The name Baker, on the other hand, is tethered only to a vague sound. So try to make it whatever it is you're learning more rich than it might seem at first glance.
7. Lastly, do you have anything else that you would like to add on and share with our readers about IKEA and the new IKEA's 2018 catalogue?
YW: I have seen the IKEA catalogue every year since I moved to Sweden around 1999 and I must say they've outdone themselves this year, it really is an unforgettably beautiful catalogue this year. So, remember to get hold of one yourself!
Thank you Yanjaa Wintersoul for taking our interview! 
Make Room for Life with ideas from IKEA's new 2018 Catalogue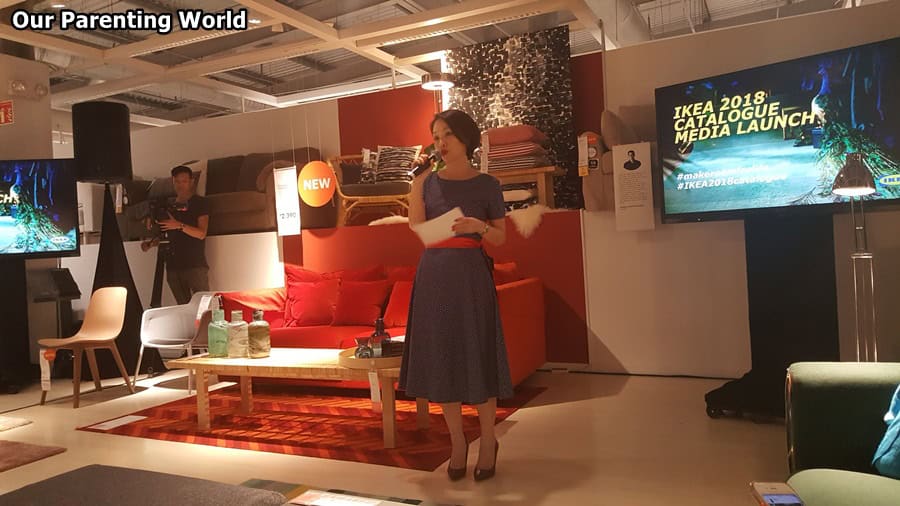 With the launch of IKEA's new catalogue, now it is a good time to look into furnishing your home with a wide range of stylish and affordable products for you to create a dream space in your house that you would love to spend time with your family and friends!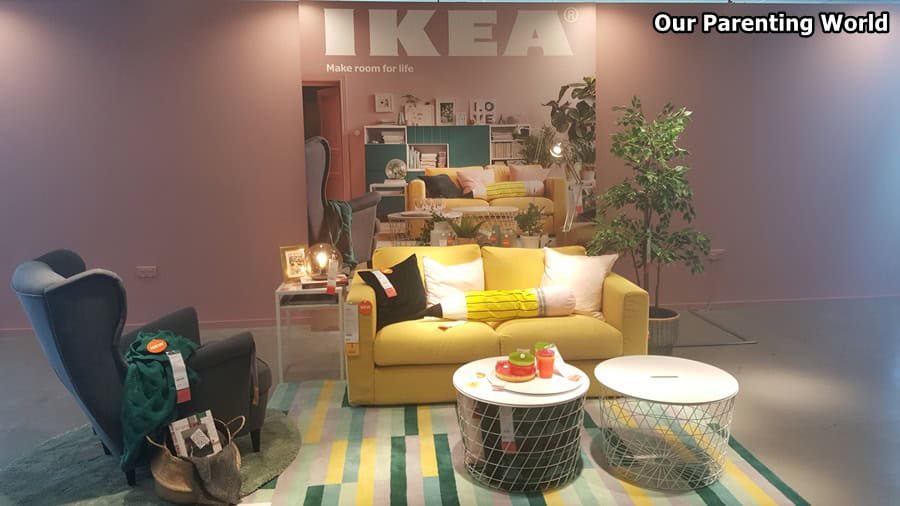 IKEA celebrates its biggest launch of the year with the release of its 2018 Catalogue which is now available for public. Most of us would agree that the living room is one of the most important spaces in a home. This latest IKEA's catalogue edition features a renewed focus on the living room and aims to inspire readers with smart home furnishing solutions that will help them Make Room for Life.
This is the space where family and friends would gather to spend time connecting, celebrating special occasions and reminding us of important moments that matter in our lives like your child taking the first step at the living room, celebrating birthdays and so on. As homes evolve over the years, there is a need to reposition the living room to meet the changing functional and emotional needs of modern living. Ms Caroline Ng, Country Marketing Manager, IKEA Singapore shared that "Today's living room is bustling with activity, and IKEA recognises it as the heart of everyday life at home. We want to encourage homeowners to make room for their needs and dreams, with easy and inspiring solutions that will enable them to make more out of their space, while showing off who they are and who they want to be."
True to IKEA's commitment to collaboration and innovation, the furniture giant also has a string of exciting launches planned for the year ahead, centered around four sub-themes to Make Room for Friends, Celebration, Play and Nature. 
For more information about upcoming collections, please visit: IKEA.sg/collections.
Here are some highlights:
YPPERLIG (early Oct 2017)
Together with Danish design company, HAY, YPPERLIG is a collection aimed at creating shared space in living areas. Combining materials, colours and production techniques to produce a collection of basics adapted to modern needs and wants, YPPERLIG leverages the creativity and production expertise of both HAY and IKEA. From larger pieces, like sofas, to smaller accessories, like an updated version of the iconic blue IKEA bag, it is truly a contemporary yet ageless collection – just like the pieces themselves. 
DELAKTIG (Feb 2018)
IKEA teamed up with British designer Tom Dixon to explore what comfortable seating means for the modern home. The result is DELAKTIG, both a seating solution and collaborative platform that can be customised with accessories and add-ons. Made of aluminum, the frame is strong enough to last a lifetime, yet also entirely recyclable.
IKEA Home Smart (1st quarter of 2018)
Taking the next step in the smart home, IKEA will be releasing its first completely digital home furnishing product. The TRÅDFRI app lets people design lighting the way they want through their phone or tablet. It is part of the smart lighting collection that includes solutions for dimming, switching from warm to cool lights, remote steering and personalisation of light.
Customers will be able to access the Catalogue in these ways:
1) Islandwide distribution: Starting from 31 August to 19 September, each home will receive a copy of the Catalogue in their mailbox. Customers can also head down to their nearest IKEA store for a copy.
2) In-store browsing copies: Available at your nearest IKEA stores from 31 August.
3) Digital version: Visit IKEA.sg/catalogue  to view the digital version of the IKEA Catalogue, where users can view extended video content and save their favourite products or create shopping lists. Available 31 August.
4) Catalogue App: Download the IKEA Catalogue App for smartphones or tablets on both iOS and Android to easily access richer, deeper content, including an augmented reality feature that allows users to virtually place IKEA products in their own homes. Available 31 August.
You can grab a copy or view the digital version of the new 2018 IKEA Catalogue from now onwards. Make Room for Life with ideas from IKEA's new 2018 Catalogue and Happy Shopping at IKEA!