The Body Shop has launched the new 100% VEGAN formulation haircare routines sporting a brand new look, and a whole bunch of other earth-friendly things. The enhanced formulas come with with Vegan Silk Protein that increased naturality with at least 90% ingredients of natural origin, and brand new packaging that's even more sustainable than before.
Whether you are having dry and flaky scalps or oily hair and scalps, frizzy or dull hair, whatever your hair concern, you can look forward to enjoy pretty hair-mazing with the 5 new and improved haircare routines cater for all hair needs from The Body Shop! Take your pick from Tea Tree, Ginger, Moringa, Shea and Banana – the familiar routines you know and love, now made 100% vegan, more potent, more natural and more sustainable.
You may be wondering why are The Body Shop's new haircare routines so powerful?
For a start, they're all made with Vegan Silk Protein, a 100% plant-based protein, which cleverly replicates the chemical structure of natural silk produced by the common European garden spider. The new formulations are designed to improve the appearance of damaged hair, repair the hair follicle from the inside out. Plus, all The Body Shop's haircare products are now made with at least 90% ingredients of natural origin!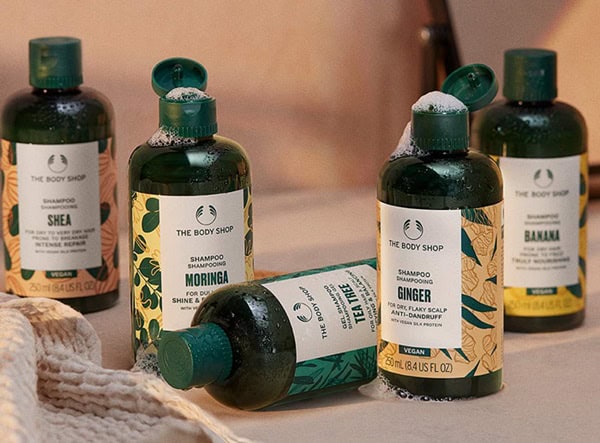 Here's a quick look at which range best suits your hair needs:
Tea Tree – Purifying & Balancing for oily hair and scalps
Moringa – Shine & Protection for dull hair
Ginger – Anti-Dandruff for dry, flaky scalps
Banana – Nourishing for dry and frizzy hair
Shea – Intense Repair for dry to very dry hair, prone to breakage
The new haircare bottles and tubs also have a brand new look and are made from 100% recycled plastic, including Community Fair Trade (CFT) recycled plastic collected off the streets of Bengaluru, India. The Body Shop's CFT partnership with Plastics For Change not only helps tackle the existing plastic problem, but also supports around 2,500 marginalised waste pickers in India with access to more sanitary working conditions and a fair price for their work.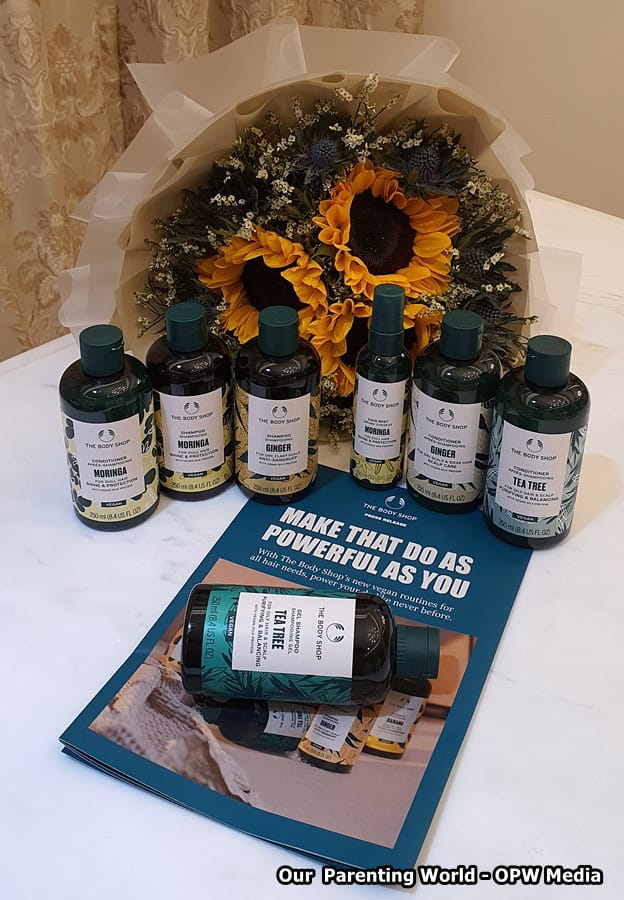 All shampoos and conditioners retail at $17.00 each for 250ml, with selected ranges available in 400ml bottles for $22.00 each. These powerful vegan haircare routines are available in stores islandwide and online on Lazada, Shopee, and foodpanda shops.
The Body Shop Announces Commitment To Be 100% Vegan Certified By 2023, And Rolls Out Its Refill Scheme
In addition, The Body Shop, the activist beauty company sets to be the first global beauty brand to set its commitment to have 100% of its product formulations certified by The Vegan Society by 2023. The Body Shop has rolled out its refill scheme, calls on consumers to join their refill and recycling revolution.
The Vegan Society represents the global gold standard in vegan certification and with a globally recognised trademark across multiple industries, it provides a trusted stamp for The Body Shop products across the world. Currently, 60% of The Body Shop products are vegan. The brand also announced that it is launching an ambitious roll-out of refill stations across 500 stores globally this year, and a further 300 stores in 2022. Locally, The Body Shop will be launching its first refill station in Singapore on 9 July at their ION Orchard store, followed by Plaza Singapura on 4 August, with plans for expansion in the months to come.
The Body Shop will extend its in-store recycling scheme Return, Recycle, Repeat (RRR) across 800 stores in 14 markets by the end of 2021. Locally, the RRR scheme is available in all 36 stores islandwide, and almost 23,000 empty plastic containers were returned for recycling in 2020!
We visited The Body Shop's first refill station in Singapore at ION Orchard store recently. Find out more and check out our experiences at http://ourparentingworld.com/the-body-shop-aims-to-be-100-vegan-certified-by-2023-and-calls-on-consumers-to-join-their-refill-and-recycling-revolution/
To find out more about The Body Shop, please visit https://www.thebodyshop.com/