To celebrate the 100th birth anniversary of Mr. Lee Kuan Yew, the National Museum of Singapore has collaborated with the esteemed local filmmaker Royston Tan to produce a new short film titled "LKY100: The Life and Legacy of Lee Kuan Yew (1923–2015)." This film pays tribute to Singapore's founding prime minister and his enduring contribution to the country.
The film, with a runtime of approximately 5 minutes, will be showcased in the concluding section of the Singapore History Gallery at the National Museum. Additionally, it will be featured in a digital trail. The film uniquely presents the late Mr. Lee, as he shares a poignant and special message crafted from a collage of key speeches spanning his illustrious career. These speeches are skillfully intertwined with Singapore's evolution into the modern and metropolitan city it is today.
The selection of speeches has been taken primarily from Mr Lee's National Day Rally speeches, which include:
Speeches delivered in English, Malay, Mandarin and Hokkien, highlighting the importance of multiculturalism to Mr Lee

The first televised National Day Rally in 1971 where Mr Lee spoke about how well Singapore had fared and its remarkable transformation against the odds.
Director and local filmmaker Royston Tan noted, "Mr Lee Kuan Yew is fondly remembered as a charismatic speaker, and I wanted to capture his essence as a strong leader through the medium of his speeches. It is an honour to pay tribute to a historic leader like Mr Lee with this film, and I hope that it serves as a nostalgic and inspiring narrative for both the older and younger generations to continue creating a better future for our nation."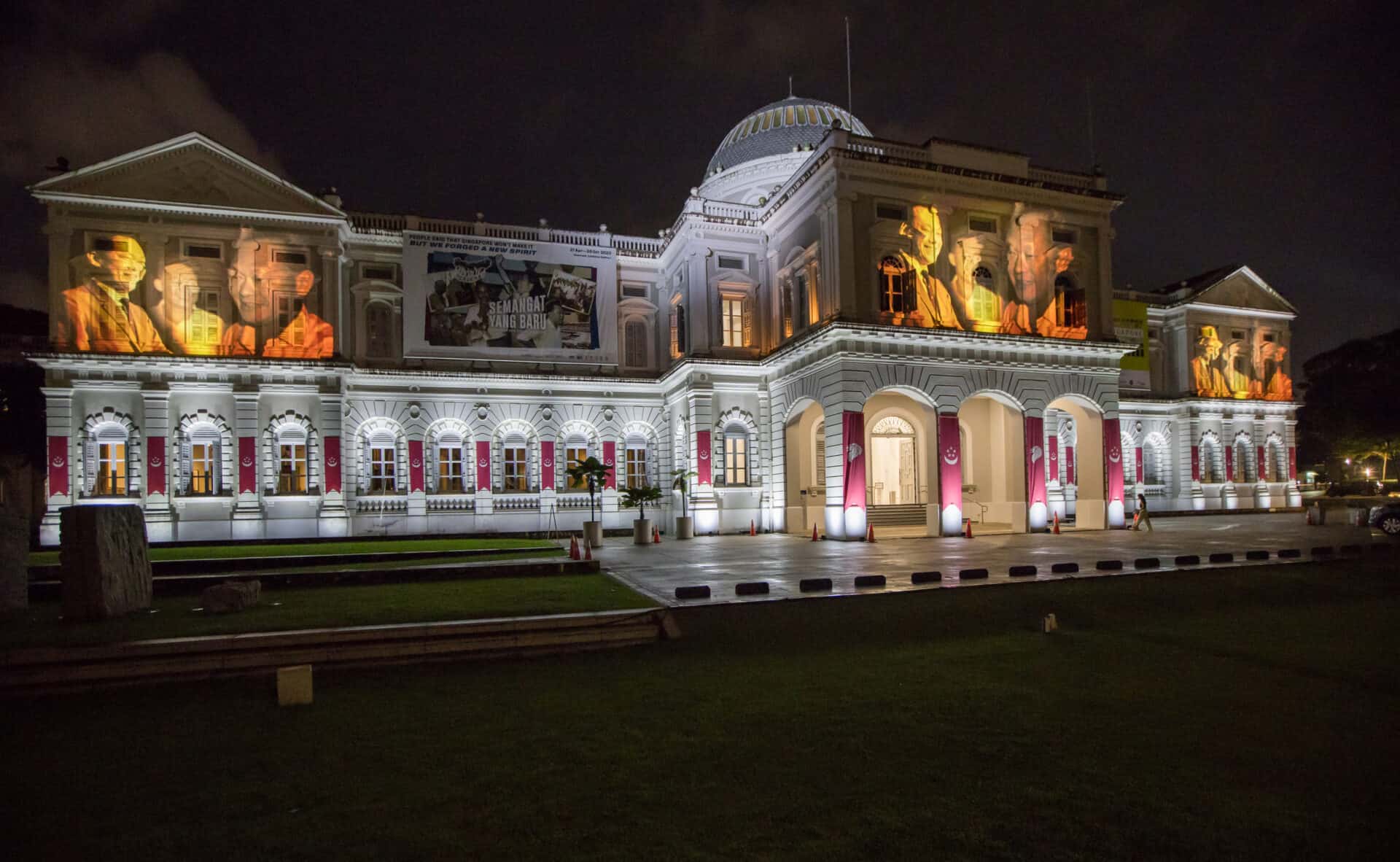 During the National Day Celebrations at the National Museum, excerpts from the film will be integrated into the museum's National Day façade light-up, creating a delightful visual display for everyone to enjoy. The light-up spectacle will be available from July 21st to August 9th, 2023, between 7:30 pm and 12 midnight.
Digital trail chronicling Mr Lee's life and legacy
The National Museum's latest film serves as a valuable addition to the museum's digital trail, where it presents the lasting legacy of Mr. Lee. This includes the values he embodied in both his personal life and illustrious career, as well as the significant impact his ideas and actions had in shaping the path of our nation.
Launched in April, this enhanced on-site experience covers both the post-war Singapore section of the Singapore History Gallery and the Semangat yang Baru: Forging a New Singapore Spirit exhibition at the museum. It offers an immersive exploration of Mr. Lee's historical and contemporary significance as a prominent political figure. Through a captivating collection of key artifacts and multimedia elements, the exhibition delves into his life and values in relation to Singapore's journey.
To participate in the digital trail, visitors can conveniently register using their personal mobile devices by scanning a QR code located at two spots within the National Museum. The first QR code is available at the Singapore History Gallery on Level 1, while the second one can be found at the Semangat yang Baru exhibition gallery, which serves as a pilot exhibition for the Founders' Memorial on the basement level.
Upon successfully completing the trail, visitors are eligible to redeem a special gift inspired by Mr. Lee Kuan Yew's iconic red box. To obtain the gift, they can head to the vending machine located at the exit of the Singapore History Gallery on Level 1.
Chung May Khuen, Director of the National Museum of Singapore, added, "Mr Lee's significant contributions and leadership in transforming Singapore into a modern and vibrant city is deeply intertwined with our nation's history. Through this special film and the accompanying trail, we hope to encourage Singaporeans young and old to come together to explore, revisit, and be inspired by Mr Lee's legacy that we can continue building upon for generations to come, and in navigating the challenges ahead."
LKY100 film screening
LKY100: The Life and Legacy of Lee Kuan Yew (1923–2015) runs until 31 December 2023 and is free for Singaporeans and Singapore permanent residents. 
For more information, please refer to: go.gov.sg/nmslky100 or the National Museum's Facebook and Instagram pages.
Images credit to National Museum of Singapore