Before we talk more about the event, let's us ask you an interesting question. Who among you do not own a smart phone (i.e. iPhone, Android operating system phone, iPads etc.)? Nowadays it is very common to have one or more of these very useful devices.
The revolution in the handphone sector in the last 10 years has been amazing. Before that, a mobile phone is just a mobile phone, it is use to call or message someone, that's all. We will not believe if someone tells us 10 years ago that you can use a mobile phone like a computer and to order a pizza on the phone instead of calling the outlet's hotline.
Back to this event: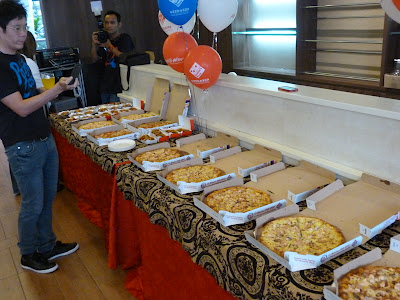 Wow! What a widespread of Domino pizzas and side orders
A closer look at the delicious pizza. Are you hungry? Order a pizza through your iPhone App now!
Domino's Pizza has selected Singapore to be the first country in Southeast Asia to launch this iPhone App because Singapore has one of the highest iPhone and iPad users in this region.
This iPhone app makes ordering pizza a very quick and easy experience. All you need is to download the free app in the apps store and then you can click on the icon and run the programme. You can select the different type of pizzas and side dishes. To order just key in your address, contact number, your selected pizza and side order will arrive in just 30 minutes! That is so easy!
For those of you who are used to ordering pizza or fast food verbally through the telephone, ordering pizza using this app is much better as you can see the meal options before you select and the app can also store your delivery address and contact number to make your next order easier. One of the exciting feature of this app is it can even tell you the location of your pizza (i.e. which part of Singapore the delivery man was at that moment in time) in real time through the GPS tracker.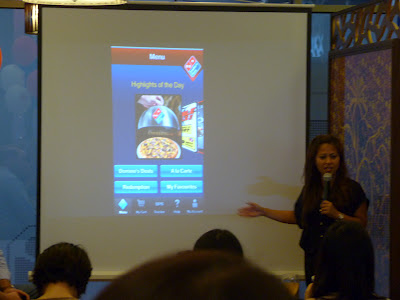 Demonstration on how to use the app
Isn't pizza considered fast food and thus unhealthy, you may ask? Well, if you know how to order the right combination, a pizza meal can be as healthy as our usual rice with meat and vegetable meals. It can be even healthier than some of our local meals like chicken rice or fried kuay teow.
How do you order a healthy Domino's Pizza meal? You can follow this advice below:
1. Order the thin crust if you are worry about excess calories as thick crust pizzas have more calories. However if you are a physically active person and needs more calories, order the thick crust one.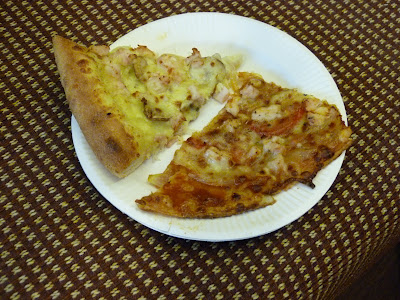 The thin crust pizza on your right has less calories than the thick one on your left
2. Order the vegetable pizza if you need to have more vegetables. If you are ordering a few pizzas for the family, we suggest that one of the pizzas could be a vegetable pizza.
3. For side dishes, you could go for plain Breadstix instead of Cinnastick to save some calories.
If you eat moderately, a pizza meal can be a healthy meal and a good change from our usual local food.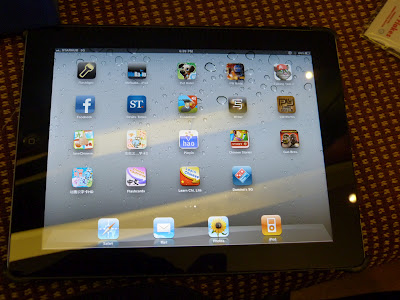 The app is also available for iPad, it is at the fourth row from the top, first icon from the right
Overall, it has been a fun night for all the bloggers, to catch up with each other and also to enjoy the nice pizzas and view from the Singapore Flyer.
One more advantage for ordering home delivery pizzas is for family bonding over a nice meal at home. Families nowadays especially those with teenage children seldom eat together as everyone has their own programmes outside home. Thus, it is important to have regular family bonding and enjoying a pizza meal at the same time.
Here, we would like to thank Omy.sg,  Domino's Pizza and Singapore Flyer for inviting us to the launch.