Our Parenting World team attended Kids Science Fest! opening organised by Science Centre Singapore. We are very familiar with Science Centre as we are members of Science Centre Singapore. 
Gor Gor loves Science and it is one of our favourite regular family outings to visit the Science Centre. We are never bored with each visit as there are so much to see and do at Science Centre. 
About the Singapore Science Festival 2013 returns this year, bigger and better than ever, with over 70 events, activities, and exhibitions designed to showcase how science can be fun. Part of the festival is the Kids Science Fest!, running from July 13 – July 19, specially designed for young kids to learn about science in a fun and engaging manner. There are many other activities going on at the Singapore Science Festival from 19 July to 4 August. Hurry do come and join in the fun! 
Gor Gor says: I am here at the Kids Science Fest and I can't wait to start my Science adventure. At the Fest, you will be able to experience a host of activities and demonstrations lined up to entertain and inform kids and adults about the world around us. The theme is  "Earth and Space Science" and there are so many things to do at the Fest. Come and join me in my adventure!
1st stop, at Wind Vane station. One of the oldest tools of measuring wind direction which is still being used today. 
I get to create a wind vane.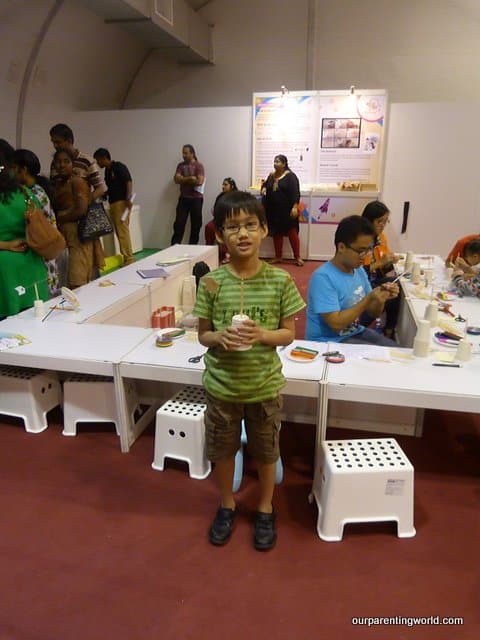 This is my wind vane. Now I have a better understanding of how to assemble a wind vane. It is  designed to point to where the wind is coming from. By using a compass, you can determine accurately for the wind vane, the direction N, S, E, W of where the wind comes from.
2nd stop, Solar System Model station.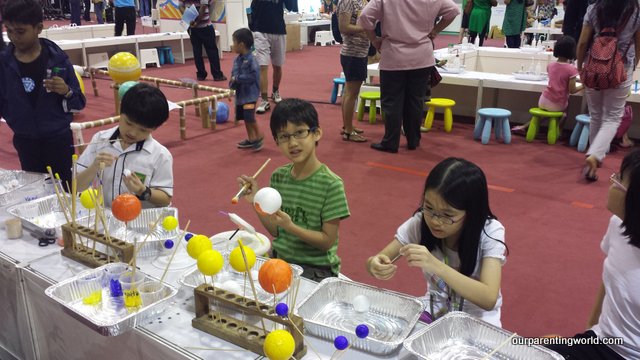 I am painting the different planets of the solar system.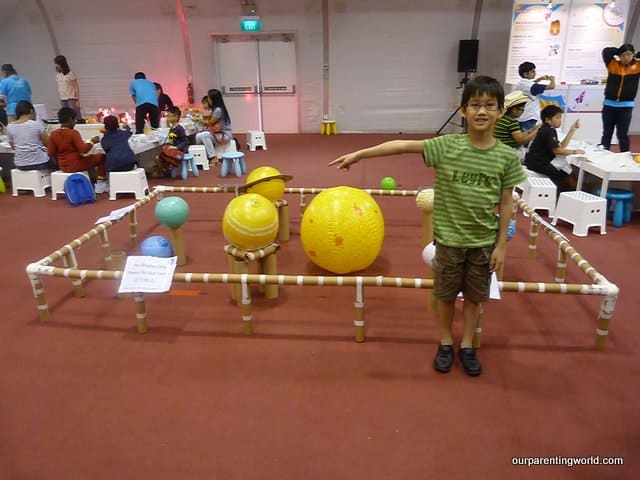 I have learnt that The Solar System consists of the Sun and eight planets. There are only eight planets because Pluto is excluded. The reason being Pluto is no longer considered a major planet. The eight planets are Mercury, Venus, Earth, Mars, Jupiter, Saturn, Uranus and Neptune. 
3rd stop, Jovian Landscape Counter.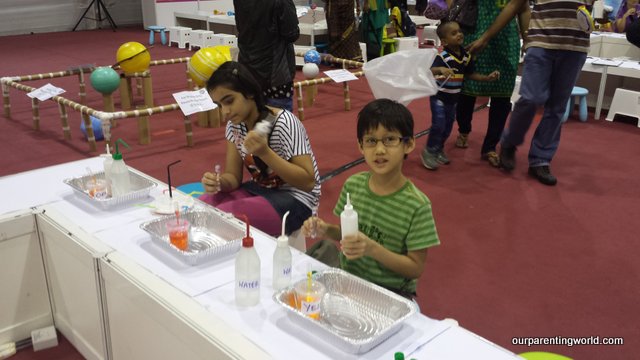 I am mixing the chemical to create rheoscopic fluids. What is that? It is a study on how the fluid which consists of liquid and gas behave. Scientists use this to study the ocean and convection current.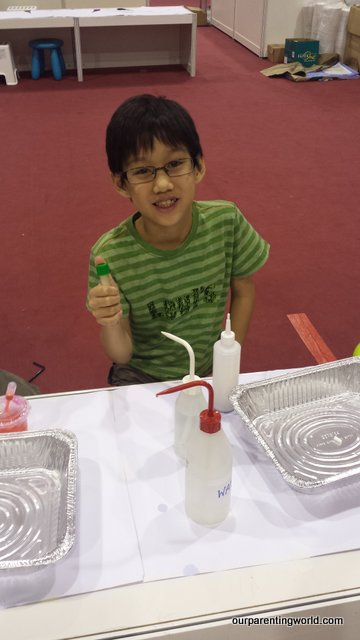 I have completed my experiment. I am told that Mica coated titanium dioxide also known as pearl powder which gives a shiny effect is a common ingredient found in ladies cosmetics like face powder and shampoo. 
4th stop, Hoopster Counter.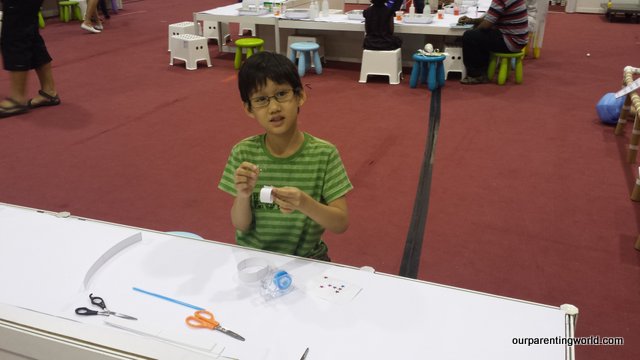 I am working on my creation. What is a hoopster? It is a design that makes use of a dense atmosphere to keep the machine flying.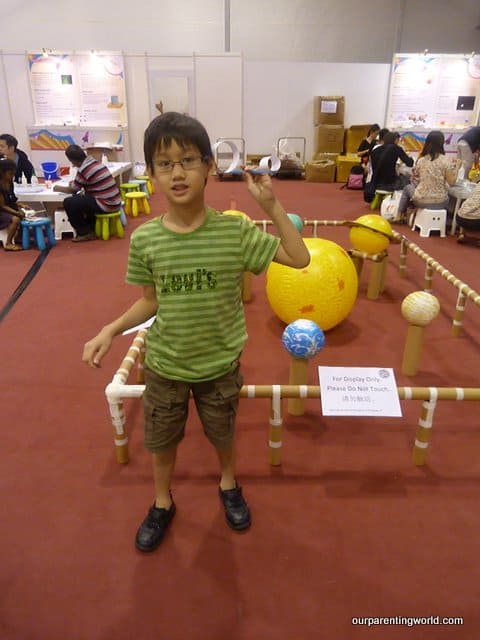 This is a hoopster. It can fly as the big hoop creates the drag or air resistance while the small hoop gives the direction and guides the plane so that it will not go off-course. I have learnt that it is very important to have different sizes as seen on my hoopster, there is a big and a small hoop to keep the plane balanced and straight as it glides.
5th stop, Hot Air Balloon counter.
We are creating a hot air balloon.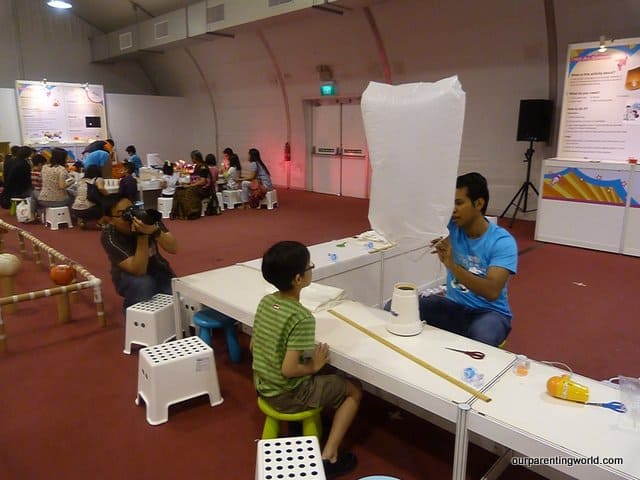 Let's see how high it can fly! 
6th stop, Shoot to the Stars counter.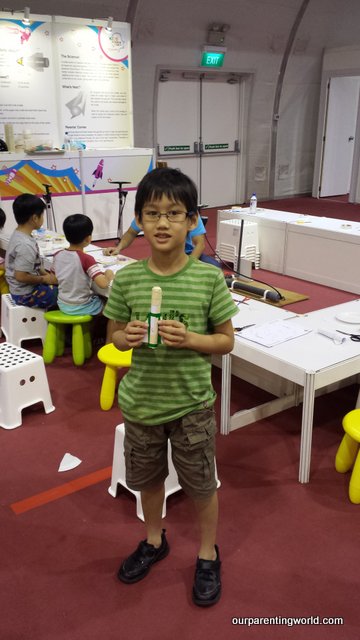 This is my rocket which I made it myself.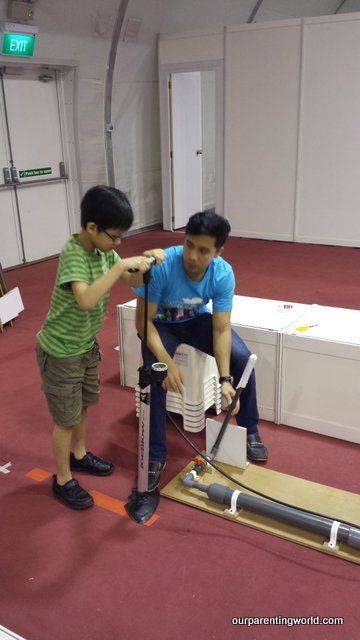 This is so cool! I can get to fire my rocket. 
Wow! Let's see how far it can fly?
7th stop, Spinning Spaceship (UFO).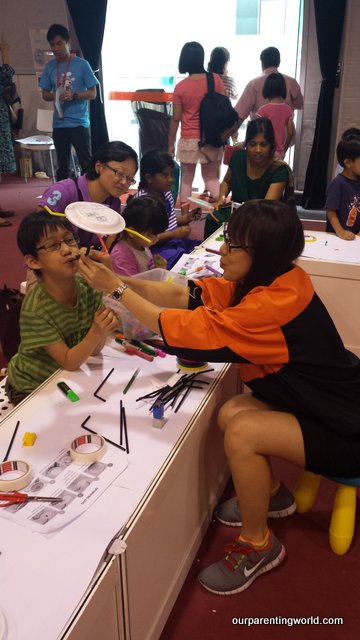 I get to build and design a space ship. It will spin and flip with strong breath by blowing into the straw. This is based on Newton's 3rd law of action and reaction where forces always come in pairs meaning action and reaction forces interact with each other.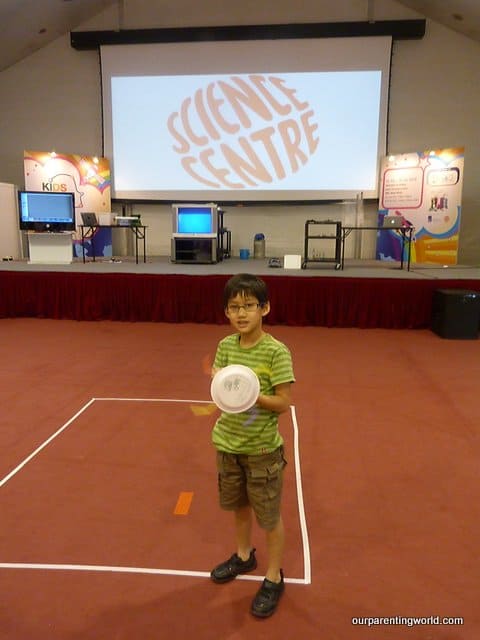 This is my completed spinning space ship!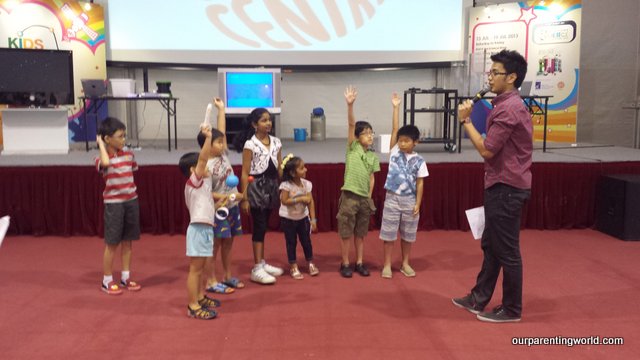 There is a stage game and prizes can be won from answering the questions correctly. Gor Gor joins in the challenge.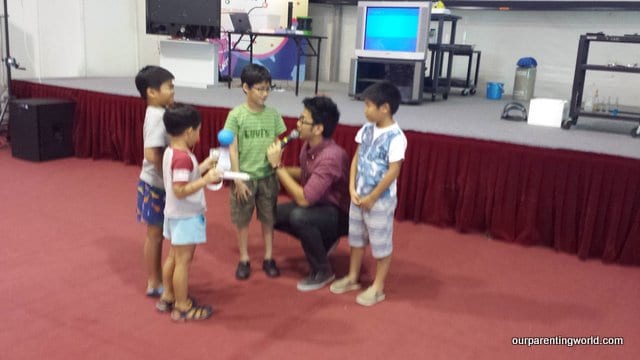 Gor Gor's turn to answer the questions from the friendly compere.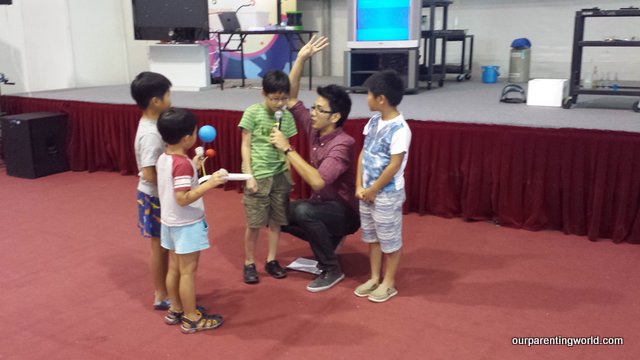 Gor Gor giving his all at the second round.
Gor Gor won! Here, I would like to thank the kind and lovely organisers for inviting us and also the dedicated Science Centre team for organising such a meaningful event. 
Thank you everyone! 
Additional information about the Fest: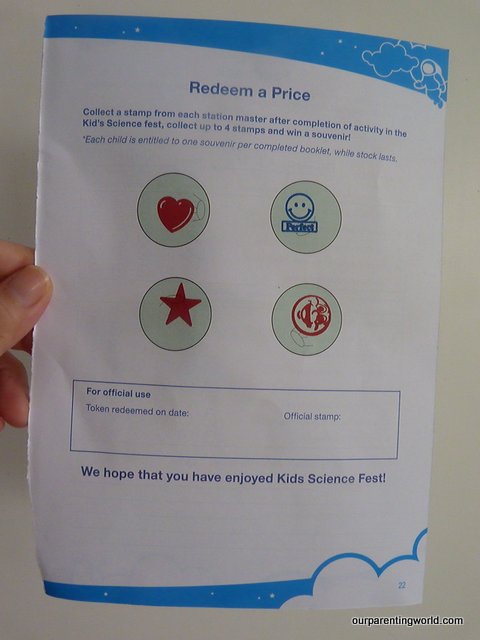 At the Science Fest, you can collect the stamps from each of the above counters after you have completed the experiments. Once you have collected four stamps, you can redeem a souvenir at the information counter (while stocks last).
Carnival
Kids & Families/Public, Primary School Students
A*STAR and Science Centre Singapore
13-19 July 2013, 10am – 6pm
Science Centre, Marquee
Free (Normal Admission charges to Science Centre applies)
Update: We have been invited to the press conference announcing the opening of the Singapore Science Festival starting from July 19 to 4 August 2013. 
Introducing the Singapore Science Festival Passport, by getting the passport, you can get to enjoy free admission to the Science Centre and not only that, you will get to enjoy more than $900 worth of discount savings from selected attractions, enrichment centres, retail, food & beverage outlets.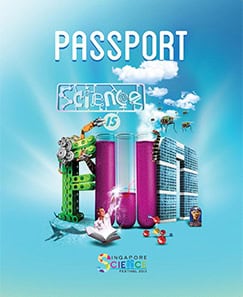 Here's how the passport looks like, image taken from this link.
Please remember to bring along this passport to enjoy the offers at different participating venues and outlets. It is a pocket sized booklet easy for you to carry it along. The passport is priced at $10 each for early bird. Please click this link to find out more about the passport and to buy the passport.
Have a Scientific good time at the Singapore Science Festival!