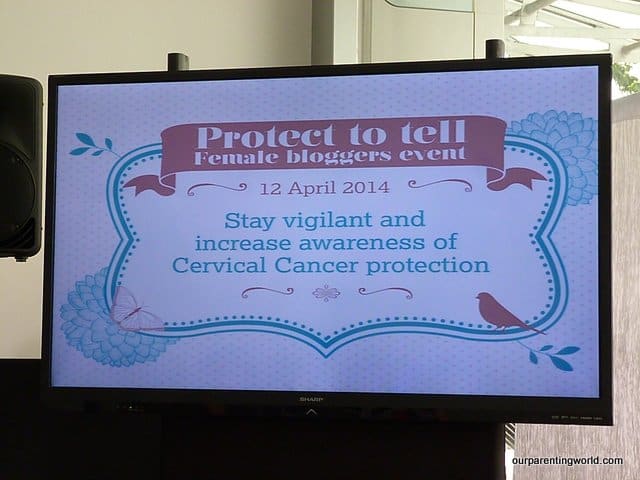 Our Parenting World, Mummy was invited to a media event titled "Protect to tell Cervical Cancer" by GlaxoSmithKline. Mummy felt that it is very important for ladies to be aware of what cervical cancer is and how to protect against it. 
Cervical cancer is one of the top 10 female cancers in Singapore. Unlike other cancers which rely on early detection to prevent death, there is actually a vaccine to prevent this type of cancer.
Vaccination is a way to introduce an antigen into our body to induce immunity against a specific infection which the vaccine protects against. For cervical cancer, the cause of the cancer is actually due to infection cause by HPV virus. Vaccination will protect the ladies from HPV infection which in turn will protect them from cervical cancer.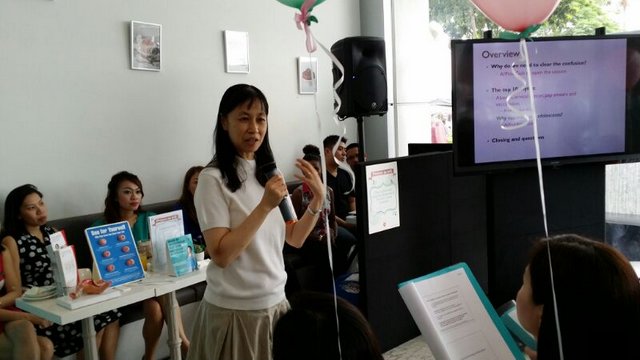 A/Prof Anne Goh, President of Singapore Pediatric Society opened the session on why do we need to clear the confusion about cervical cancer and how to protect adolescents against cervical cancer.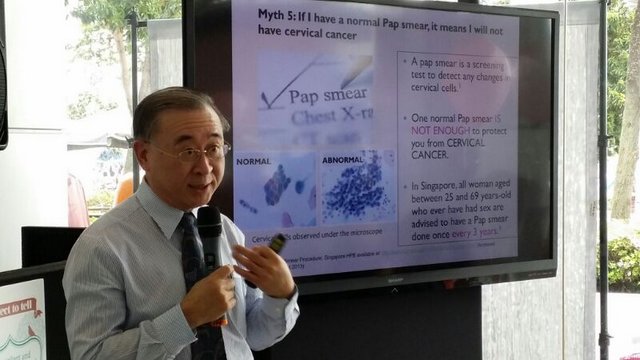 Prof  Tay Sun Kuie, Senior Consultant of Department of Obstetrics & Gynaecology, SGH went on to talk about the myths of  cervical cancer, pap smears and vaccination.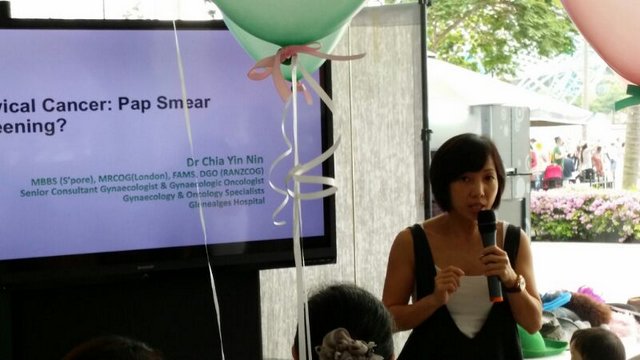 Dr Chia Yin Nin went on to cover more on Pap smear and its screening.
The speakers, A/Prof Anne Goh, Prof Tay Sun Kuie and Dr Chia Yin Nin shared information with the audience on why it is important to vaccinate ladies to protect them against this deadly disease.
Some of the interesting facts about cervical cancer and vaccination in Singapore:
– Singaporeans and Permanent Residents can use their Medisave to pay for the vaccination for their daughters.
– Although Pap smears has been used to detect early cervical cancer, vaccination is better because it prevents cancer from developing in the first place.
– Vaccination can begin in adolescent.
– 3 doses of vaccine is required for full protection.
– Vaccination is available in many GP clinics, polyclinics and also in both public and private hospitals.
Daddy was also invited to speak on a similar topic in a public cancer symposium previously. Please click HERE to read about it.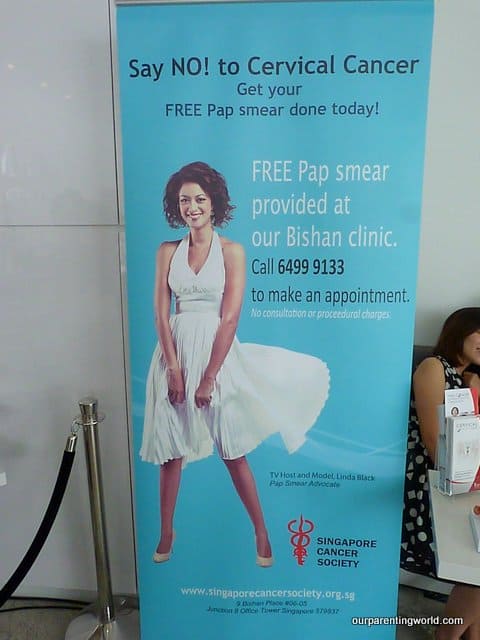 Pap smear is a screening test to detect any changes in cervical cells. In Singapore all woman aged between 25 and 69 years old are encouraged to have a Pap smear done every 3 years. 
Our Parenting World would like to share and remind our readers that we should "Protect to Tell" our mummies and girls against this diseases, cervical cancer. To create awareness and educate ladies on this topic and seek protection early, through regular screening and vaccination. 
Disclaimer : "Protect to Tell – Cervical Cancer Awareness" on 12th April 2014 Saturday (the "Event") was held as a lunch session, organised and sponsored by GlaxoSmithKline Pte Ltd. I was not paid for participating in the Event. All personal views expressed here are entirely my own."