Today is an exciting day, we are going to Rise & Shine Carnival. As we are the ambassador and partner blogger of Rise & Shine, we are invited to attend the event.
Rise & Shine organises the largest carnival for babies and young children. Its goal is to set the record for the largest breakfast picnic turnout in the Singapore Book of Records.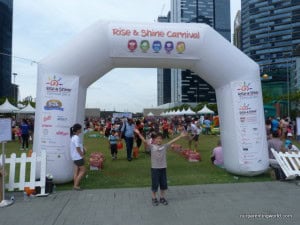 We are at the Rise & Shine Carnival.
The response is so good, look at the turn out! Gor Gor exclaimed, so many families having breakfast at the lawn together.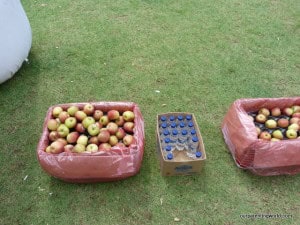 Apples and mineral water are available for all.
Play area for the kids are so popular.
Di Di having fun trying out the bicycle at the booth. He likes it so much. The nice gentleman at the booth help Di Di with the bicycle and bring him around.
Di Di decides that he wants to ride on his own without any help. Mommy, I can do it!
Some highlights at the carnival:
Gor Gor and Di Di taking pictures at the Scott's Booth holding the No.1 Champion sign.
They both went to try out the Spin a wheel at AIA Booth.
There are lots of performances on stage to keep us occupied. Gor Gor posing with the performers.
We have a good time, thank you to the kind and lovely people from Rise & Shine for inviting us to this event.