Sentosa flowers started in 2005 which showcases the many wonders of creation with thousands of tropical and spring flowers in a myriad of species presented in a natural outdoor setting. This year is the Year of the Snake and Sentosa Flowers is back with bigger and grander scale of massive carpet of over 30,000 real flowers which will awe and dazzle all its visitors. We are privileged to be invited by Sentosa to join in its events.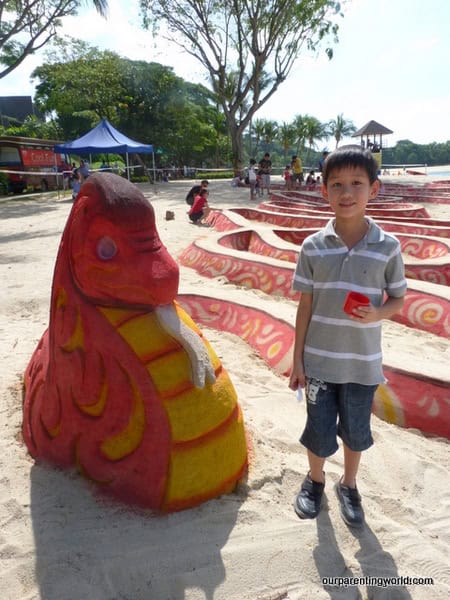 This is the rainbow snake which symbolises the river snake that serves as an important life source for the people.  
We are told that the snake is the longest snake sculpture according to the Singapore Book of Records, the boys are honored to be part of this record breaking event and help to decorate the snake.  
The renowned sand sculptor JOOHeng teaching us how to use the coloured sands to decorate the snake.
Gor Gor and Di Di working hard on their designs.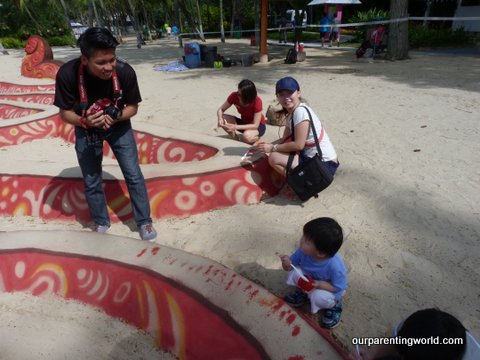 Gor Gor and Di Di put on their best smiles for the friendly photographer 🙂
After we have completed our sand designs, we are brought to Port of the Lost Wonder.
Before we entered the venue, the staff told us that it has just completed its renovation. The last time we were there is to celebrate Gor Gor's friend, Charisee's Birthday.  
The boys are given a passport and a bag of curio coins each before admission.
The instructor is teaching the children how to make their own potted plants.  Each of them get to choose a plant and fill up with soil. Gor Gor's turn to go up to fill his pot of plants with soil.
Di Di's turn, he is probably the youngest participant. The sweet instructor also helps Di Di to make his potted plants. Di Di says thank you!
Here is my plotted plants, I like it so much and I will take good care of it.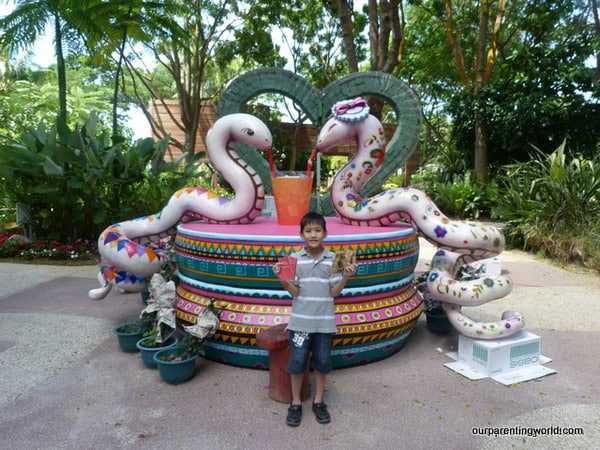 Thank you to the kind and lovely people of Sentosa for inviting us. Here, we would like to wish everyone a very Happy and Prosperous Year of the Snake!
Venue: Sentosa – Beach Station to Palawan Beach, Sentosa
Dates: 9 – 17 Feburary 2013
Time: 10am – 7pm daily
Charges: $5 per adult (Free entry for children under the age of 12)
Please take note that usual island admission charges apply