FiiTBOXX, a homegrown boutique fitness gym and one-stop strength, cardio, and functional training facility has opened its boutique high-intensity training (HIIT) studio, FOXX in December, 2022.
FOXX, a boutique high-intensity interval training (HIIT) studio, offers group fitness classes suitable for everyone, including beginners. The brand-new gym brings with it a new spark into the world of fitness, through its proprietary Into The Zone (ITZ) Series, an intensive circuit training programme combining cardio with strength and boxing, while providing a strong community experience. With a rhythm lighting system, specialised equipment, and smart technology features, FOXX aims to revolutionise the group fitness experience.
FOXX opens from 7AM to 8:45PM on weekdays and 8:30AM to 12PM on weekends (more classes will be added in Feb 2023), and youth group fitness classes (age 9-14) start from Jan 2023. All classes can be booked through the FiiTBOXX app. The FiiTBOXX app can be downloaded on the Apple Store/Google Play Store.
We speak to Ken Mok, Founder and Director of FiiTBOXX and FOXX to share about his personal and professional journey in the fitness industry, the conceptualisation of FOXX and its special features, new and exciting plans in the pipeline for FiiTBOXX and FOXX, upcoming expansion plans as well as how to stay fit and healthy and more. Read on to find out.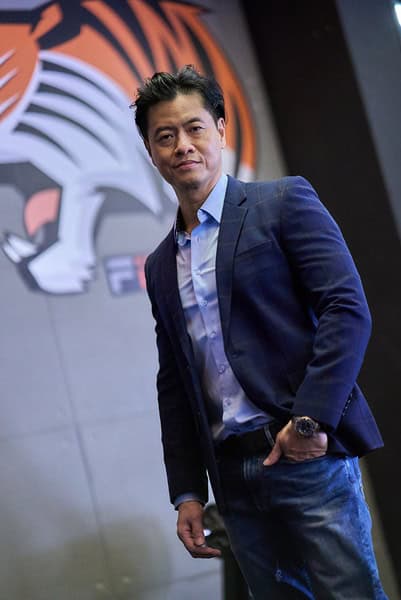 Interview with Ken Mok, Founder and Director of FiiTBOXX and FOXX
1. Can you tell us more about yourself and what inspired you to go into the fitness industry?
Ken Mok: I have managed more than 40 gyms and yoga studios across 4 countries in Singapore, Indonesia, Taiwan, and Hong Kong for the past 20 years. Being a fitness fanatic myself, I am always up-to-date on the most recent fitness trends and innovations from across the globe.
I started off in the fitness industry as a personal trainer, as I am a big fan of training and keeping fit, so to me, I am basically getting paid for doing something that I love! What makes it extremely rewarding for me is the difference I help make in people's lives. Working in the fitness industry, I get to make life-altering changes to the way people live and feel about themselves. The happiness generated when someone is confident and happy in their own skin is something to behold, and when you've helped contribute to that, it motivates me to continue helping others to achieve that.
2. How did you start up FOXX and what are some of the challenges you faced in setting up FOXX? How did you overcome them?
Ken Mok: Seeing the rapid expansion of the boutique fitness industry in Western countries over the past few years, I'm motivated to create my own boutique fitness gym and to use my expertise and creative ideas to spark change in the local fitness market. I have good connections to international manufacturers and suppliers, and am familiar with a pool of local talents, ranging from managers to fitness coaches. I decided to give it a shot and quit my corporate job.
Just last year, we launched FiiTBOXX, a boutique gym with excellent equipment, a cool environment and personalised coaching, located in the heart of the vibrant Joo Chiat. FOXX was launched a month ago, right above FiiTBOXX. Finding the right location, curating the right equipment specialised for our programme, recruiting the best coaches, and most importantly, getting members were the challenges I faced when starting an independent fitness business on my own. Brand recognition will provide a solid foundation for lead generation, but in contrast to larger gym chains or franchises, we lack the funds and resources to conduct aggressive sales and marketing. Hence, I will need to handle this aspect myself, at least for the first few years. For now, we primarily obtain new members through word of mouth and referrals from our members and community.
3. What do you think sets FOXX apart from other fitness studios in Singapore?
Ken Mok: FOXX is a boutique HIIT studio offering a proprietary HIIT training programme, the ITZ Series. We created our own programme as we wanted our participants to experience a wide range of exercises, as compared to standardised exercises in franchised HIIT studios. Our studio is designed with an industrial-chic vibe, with 5 different training zones. The modern amenities, ambience, lighting, audio sound system provide an upbeat and motivating environment to encourage working out.
We've curated a wide range of premium equipment designed specifically for our proprietary programme; it is non-bulky and safe for beginners, and easy for groups to rotate between zones. Our programme is results-driven as well. Participants are issued with Myzone heart rate trackers so that they can view key data points on the in-studio screens, such as calories burnt, heart rate, and effort put in, allowing them to monitor their fitness progress throughout the session.
4. What is the FOXX ITZ Series and what are the tailored programmes available in the studio?
Ken Mok: FOXX ITZ Series is our proprietary HIIT training programme specially created by our Master Coach Jen Goh. With more than 400 different exercises incorporated into our programme and rotating weekly, each class is not the same as the one before it, so that participants will enjoy every workout. There are two main programmes in the ITZ Series – Shred & Build, and Cardio Knockout.
Shred & Build is an athletic-based workout which aims to shred calories, build strength, and muscular endurance. It burns a high number of calories and increases metabolic rate, which allows the burning of more calories post-workout.
Cardio Knockout is a fast-paced workout blending high-intensity cardio intervals, boxing, functional, and core exercises. It burns up to 1000 calories, torches fat, while improving cardiovascular fitness and endurance level.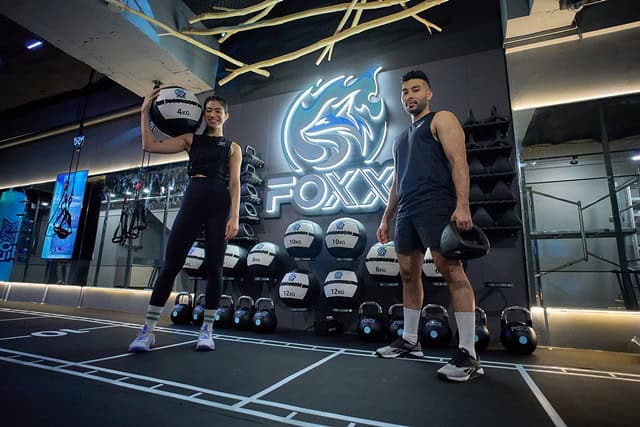 5. What's your advice for busy individuals to stay fit and healthy?
Ken Mok: To begin with, select workouts or fitness programs that you will enjoy, and routines that won't take up a lot of your time. This may depend on your level of motivation, the surrounding conditions, your level of competence, or whether you feel more at ease having someone to guide you through the process. If you find anything you enjoy doing, you need to change your mindset and make it a lifestyle. When you start to get better at something after practising it a few times, it will inspire you to keep doing it.
6. Do you have any advices, tips for parents to encourage and instill exercise regimes for their children?
Ken Mok: The biggest thing you can do to encourage your children to exercise is to exercise yourself and show them that you do it frequently. Parents are children's first teachers and role models! You exercise, and if it makes you feel happier or stronger, share it with your children. Enrol your children in different classes if possible, which will help them find a sport or fitness activity they like. They will be more inclined to continue if they find it enjoyable.
We all know how important it is for children to have active lifestyles and has many advantages for their health. At FOXX, we created a HIIT programme called FOXX Cubs, tailored for youths aged 9-14 years old. This workout is fun and safe and has parts of boxing, lifting, functional movements, running, and more. They will build their knowledge in motor skills, muscle strength, coordination, endurance, agility, balance, concentration, and confidence. Youths can grow up healthy, strong, and develop a lifelong love for fitness. FOXX Cubs will begin in February 2023, every Saturday and Sunday at 11am. Come try it out!
7. How do you exercise and lead a healthy lifestyle?
Ken Mok: I enjoy doing a variety of exercises, including strength and cardiovascular training, HIIT, bodyweight workouts, and stretching. Once a week, I'll go for a run outside to get some fresh air and sunlight. In general, I'll exercise for 1 to 1.5 hours, at least 4 to 5 days per week. During weekdays, I usually eat a clean diet for my breakfast and lunch, including a lot of greens, low carbohydrates, and moderate amounts of protein. On the weekends, I'll consume nearly anything I like, but I make it sustainable by doing so in moderation.
8. Can you share more about the conceptualisation of FiiTBOXX and what does FiiTBOXX offer?
Ken Mok: As shared above, when I decided to quit my corporate job to start my own fitness business, I decided to venture into the quaint Joo Chiat neighbourhood. The area has many cafés and eateries and since I decided to venture into boutique fitness, Joo Chiat felt like the perfect location with its community. With a high-end gym concept and premium equipment, whether you're looking for an all-in-one fitness gym or smart-tech gym where form meets function, FiiTBOXX was created for that.
FiiTBOXX offers flexible gym access packages without the long-term commitment, and all purchases and bookings can be made seamlessly through the FiiTBOXX app. Bookings are limited to 12 slots per hourly session, which means the gym will not be overcrowded at any point in time. The gym has strength equipment, cable stations, free weights, and contains a functional area with an endless rope machine, battle rope, rower, air bike, and kettlebells. There are lifting platforms, but if this isn't for you, it also contains high-end cardio kits like rowers, vertical climber, cross trainers, and treadmills, so you're covered whether you're looking to build muscle, lose weight, or if you prefer 1 on 1 fitness coaching. The equipment is cleaned and sanitised every few hours and a smart ventilation system is installed to ensure fresh air hourly.
9. What are your visions for FiiTBOXX and FOXX? Any future plans?
Ken Mok: We designed FiiTBOXX and FOXX with growth and franchising in mind; the current automation and system is easily expandable, and we intend to add a few more locations locally next year.
10. What kind of advice would you give to aspiring entrepreneurs looking to start their own business?
Ken Mok: Always choose a business that you are enthusiastic about and particularly good at. Prior to starting your own business, it is crucial to evaluate your business plan using cost and revenue assumptions. You need to have a distinct advantage over your rivals in order to build a successful brand.
11. Lastly, what would you like to say to our readers who are looking forward to visiting FiiTBOXX and FOXX?
Ken Mok: All OPW readers are welcome to come for a free trial to experience boutique fitness. Current FOXX opening promotions include a 20% discount on all regular ITZ Series packages. Simply download the FiiTBOXX app to get started! Follow us on Instagram @foxxhiit for more updates.
Use promo code READER1 to redeem 1 FOXX ITZ class.
How do I redeem my 1 complementary session?
Download FiiTBOXX app, go to 'Join', select 'FOXX GROUP CLASSES', hit on 'ITZ', 'Single ITZ Classes', then enter your promo code READER1 and 'APPLY'.
How do I book a session?
Go to 'Book', 'FOXX GROUP CLASSES', select 'Date & Class', hit 'BOOK' and you are good to go! Please take note that this promo code is only valid through 31 January 2023, so make sure to use it before that date.
About FiiTBOXX
Founded in January this year, FiiTBOXX is a premium boutique fitness gym that is a one-stop strength, cardio, and functional training facility, with proprietary equipment to empower, strengthen and transform you inside and out. FiiTBOXX is suitable for everyone, even beginners, to reach their fitness goals. To date, FiiTBOXX has 300 regular members and personal training clients, and continuing on its success, has launched their brand-new boutique HIIT studio, FOXX in December 2022. For more information, please visit https://www.fiitboxx.com/. The FiiTBOXX app can be downloaded on the Apple Store/Google Play Store.
About FOXX
FOXX is a boutique high-intensity training (HIIT) studio, designed to revolutionise traditional HIIT workouts while providing a strong community experience. Its proprietary Into The Zone (ITZ) Series, an intensive circuit training programme combining cardio with strength and boxing, utilises special techniques and equipment, which is suitable even for beginners and individuals with no prior fitness experience. Coupled with a science-backed and results-driven approach, FOXX aims to ensure an energetic and holistic fitness experience for everyone. For more information, please visit http://www.thefoxxstudio.com/ 
All images credit to FiiTBOXX and FOXX