The Body Shop has taken the bold move to change the name of its best-selling skincare range, Drops of Youth™, to Edelweiss – the resilient alpine flower with all the antioxidant power!
With a bottle of Drops of Youth™ concentrate sold every 20s, why change the name?
The Body Shop is taking a stand against beauty's anti-ageing narrative by going back to its activist roots where they believe in helping everyone age powerfully!
Introducing Edelweiss: The Tiny Flower With All The Power
Found growing in brutal Alpine conditions against extreme wind, snow and rain, the resilient Edelweiss flower thrives. It protects and repairs itself, thanks to its natural antioxidants, including Leontopodic acid, which is only produced when the flower is in distress.
The properties of Edelweiss have also been shown to maintain skin barrier health, as well as smooth the skin's surface, helping you keep a radiantly fresh face, whatever your age. That's why Edelweiss is the beauty industry's best-kept secret: it has 46% more powerful antioxidant properties in comparison to retinol!
Edelweiss is organically farmed and harvested by hand by The Body Shop's trusted supplier. It is carefully and respectfully cultivated where the flower is not endangered to respect the Alpine biodiversity. It is then extracted using zero chemical waste, first through drying the plant, and then distilled using a renewable process.
Meet The New Edelweiss Line Up: New Name, New Improved Formula
The new and improved range has been reformulated to deliver double the concentration of Edelweiss. It is vegan-society verified with even more antioxidant power.
The Edelweiss line-up still includes the legendary Concentrate and favourites from Drops of Youth range but has been extended to include two more products – Edelweiss Cleansing Concentrate (100ml, $27) and Edelweiss Intense Smoothing Cream (50ml, $60) – so all your daily skin needs are covered.
The Edelweiss Cleansing Concentrate (100ml, $27) is suitable for all skin types. This refreshing, lightweight gel cleanser wipes away daily grime and pollutants from environmentally stressed skin.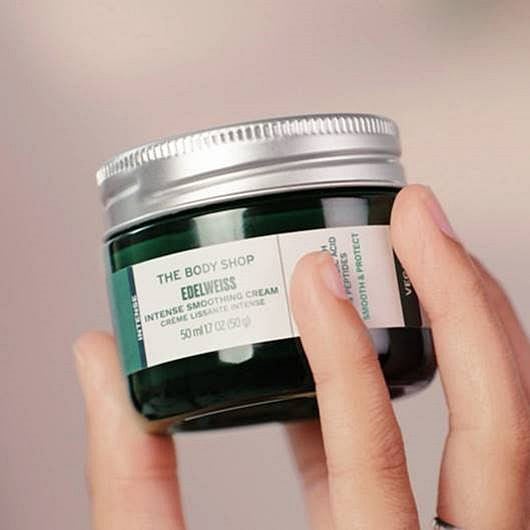 The Edelweiss Intense Smoothing Cream (50ml, $60) is clinically proven to help protect skin from pollution and enriched with Edelweiss extract. This nourishing cream is perfect for drier skin types and helps skin to look re-energized and refreshed every day and night.
The Edelweiss range is now available in all The Body Shop stores islandwide as well as online on Lazada, Shopee, PandaMart and GrabMart.
More product details are available here at https://www.thebodyshop.com/en-sg/range/edelweiss/c/c00362
Featured image and other images credit to The Body Shop