Menbaka Fire Ramen known for its jaw-dropping presentation of its ramen offerings is bringing new surprises to locals once again with its limited-edition ebi series.  
The Ebi series is launched in conjunction with the first-year anniversary of the Singapore Menbaka outlet and the upcoming festive season. Specially for this 1st year anniversary, Master Masamichi Miyazawa, Founder of Menbaka Fire Ramen has created the World's First-ever Ebi Fire Ramen, all the way from Kyoto, after multiple rounds of experiment.
The limited-edition Ebi Series features 3 new Ebi dishes and will be available from now to 31 December 2021.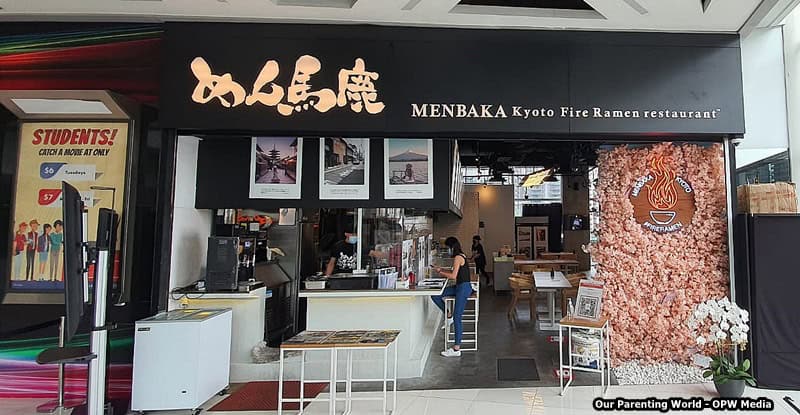 Entrance of Menbaka Kyoto Fire Ramen Restaurant
Our favourite among the 3 new dishes has to be the Ebi Fire Ramen (from $19.90). The preparation of this ramen was nothing short of spectacular. After the bowl of ramen was prepared, the chef would ignite negi oil at the open kitchen and we were invited to witness the display of soaring fire more than 1m high for a few seconds. This is a crucial step in the final preparation of the Ebi Fire Ramen to ensure the ramen has a signature wok hei flavour, quite similar to those Chinese zhi char kitchen. The strong flames from the fire creates the ever-impressive wok hei taste. In addition, the prawn broth with its rich umami note made the dish felt like a special version of Japanese prawn noodles.
The display of soaring fire for Ebi Fire Ramen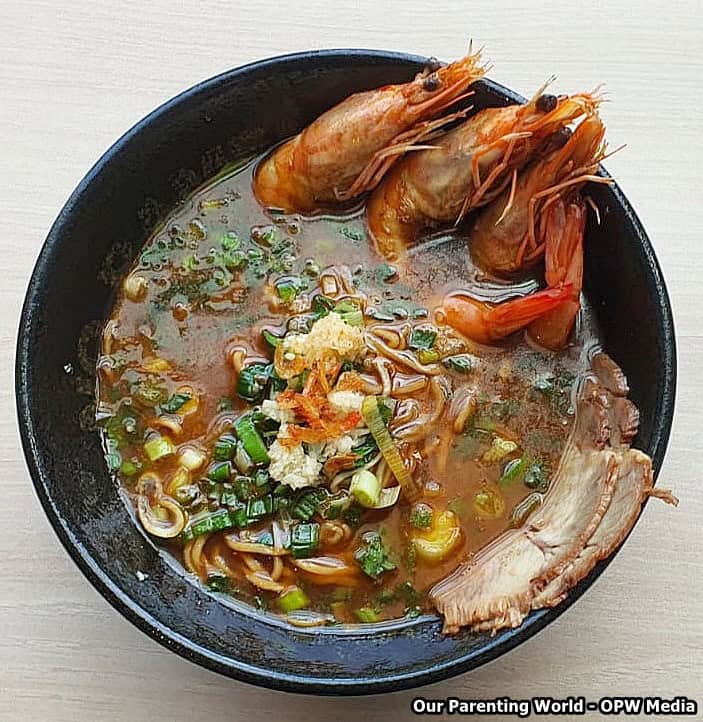 Ebi Fire Ramen ready for consumption
The other two dishes available during this period are the Ebi Mazesoba (from $19.90) and Volcano Ebi Kakiage ($7.90). The Ebi Mazesoba looks like the dry version of Ebi Fire Ramen. This version of the dry ramen comes with 3 large prawns which have been partially peeled and easy to consume. We like the soft onsen egg and flavourful minced pork that go very well with the ramen. The Volcano Ebi Kakiage consists of carrot and onion strips as well as kawa epi coated in flour mix and carefully shaped into a volcano before being deep fried and topped generously with Japanese mayonnaise, okonomiyaki sauce and bonito flakes.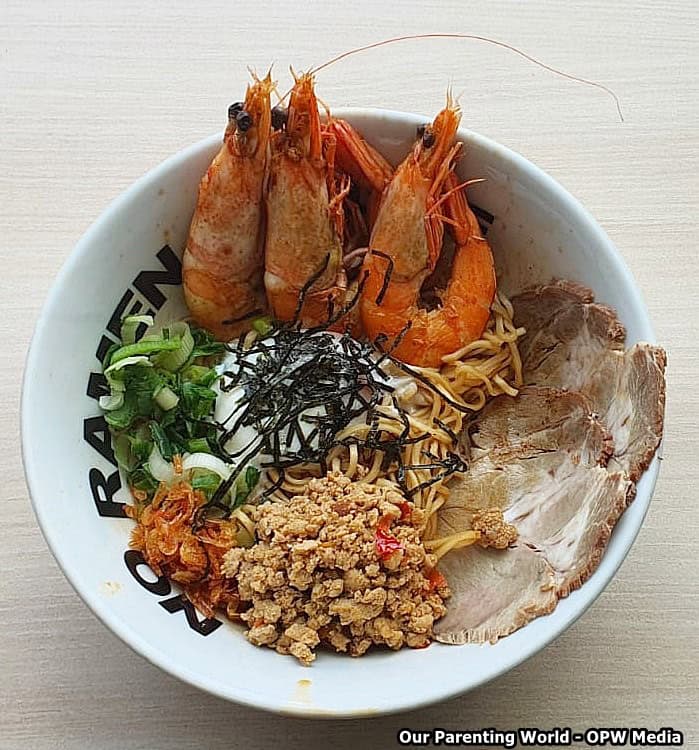 Ebi Mazesoba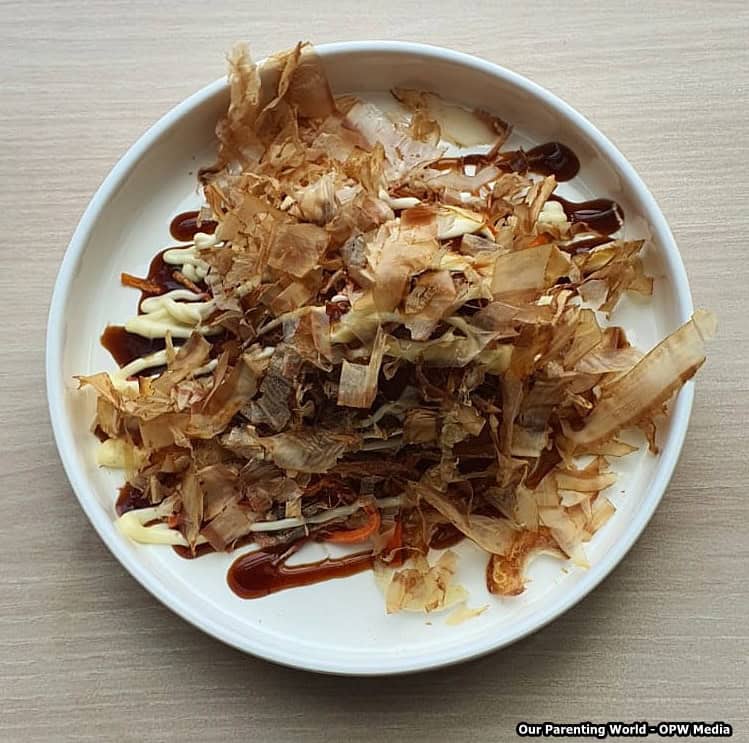 Volcano Ebi Kakiage
To end off this hearty meal, we had a glass of refreshing Yuzu Fizz and cooling Yuzu Sorbet. Enjoy this delicious meal at a promotional price of $77.30 (usual $82.30) for 2 persons, consists of the following: 
1 Ebi Fire Ramen (Premium)

1 Ebi Mazesoba (Premium)

1 Volcano Ebi Kakiage

2 Refreshing Yuzu Fizz

2 Yuzu Sorbet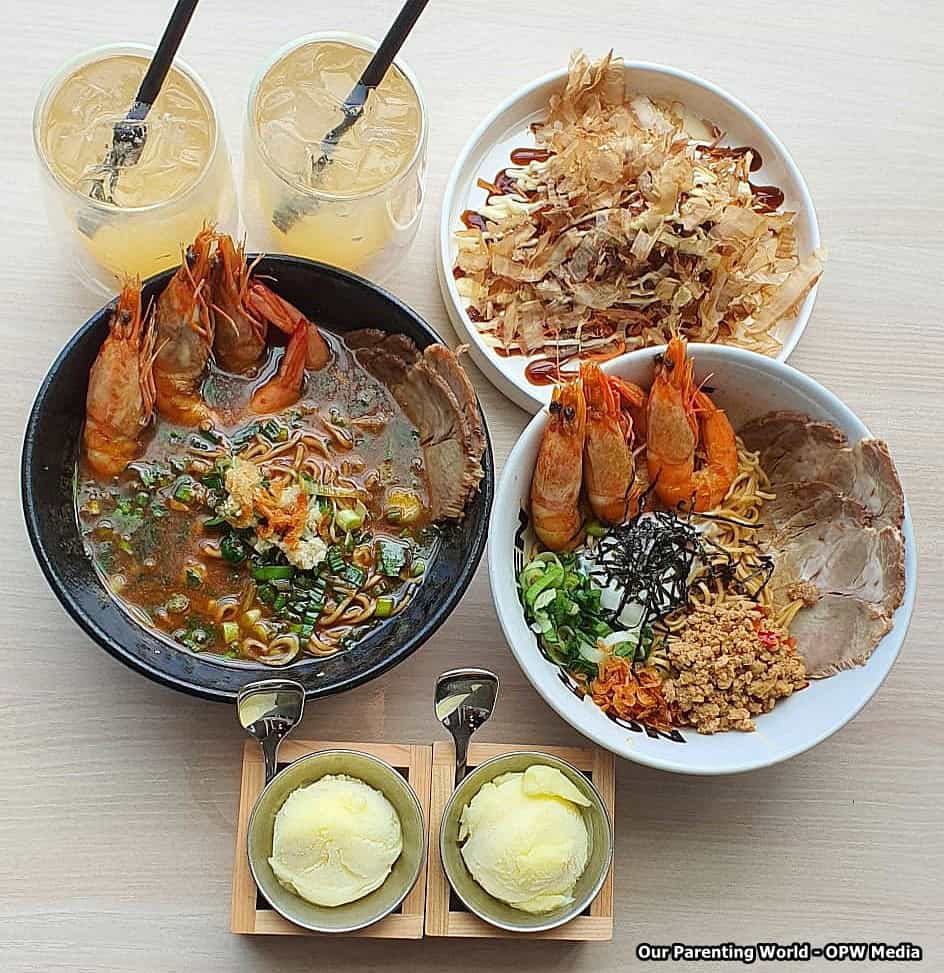 This sumptuous set meal for 2 persons is now at a promotional price of $77.30 for a limited time only! 
Menbaka Fire Ramen Singapore
Address: 8 Grange Road, Cineleisure Orchard, #05-03, Singapore 239695
Opening hours:
Monday to Thursday: 12pm to 3pm; 5pm to 9pm
Friday and Saturday: 11.30am to 3.30pm; 4.30pm to 10pm
Sunday: 11.30am to 3.30pm; 4.30pm to 10pm