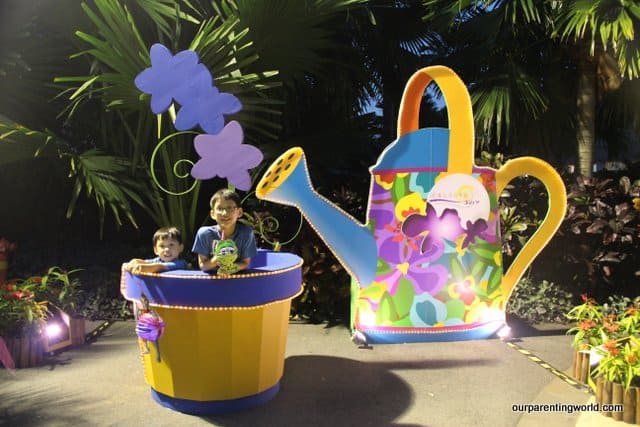 Mid-Autumn Festival is here again and one of the best places to admire the beautiful lantern displays and light-ups will be at Singapore's scenic Gardens by the Bay!

Let Our Parenting World, Gor Gor and Di Di bring you round a tour to visit the Gardens and view Singapore's largest lantern carnival which aims to wow visitors with its magical lantern light-ups and dazzling displays.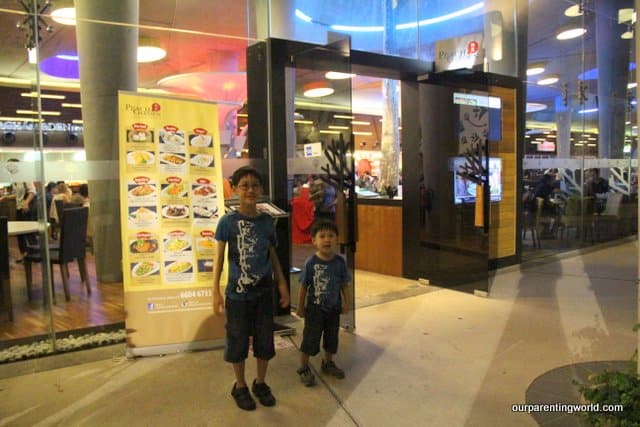 Before we set off to view the lantern displays, we have to fill our stomachs! Many thanks to the lovely organizers, Gardens by the Bay and Peach Garden Noodle House at Supertree Dining for inviting and hosting us to this event. Peach Garden Noodle House is well-known for its signature award winning Chinese cuisine. After a delicious tim-sum meal, we are all ready to start our tour. 
There are a wide range of restaurants and eating places at Gardens. During the lantern festival, most restaurants can be quite packed. If possible, do go early or make a reservation if the restaurants accept booking. Please click HERE to view the list of restaurants at Supertree Dining. There are also other restaurants and eating places conveniently located at other parts of Gardens, please click HERE and scroll down to the bottom of the page to look for other dining options.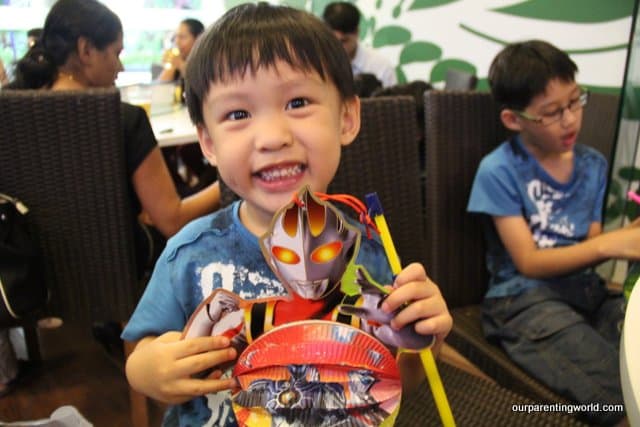 "This is my ultra-man lantern, I am all ready to start the tour!"
Our first stop, the theme is on "Racial Harmony".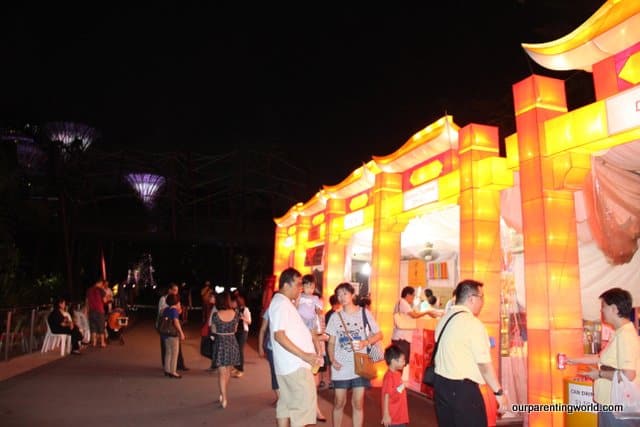 If you are hungry and or thirsty from your walk, fret not, there is a Asian Food Street that serves a wide range of food from China, Taiwan and Singapore at Palm Court near to the Planet Baby sculpture.
There is a stall that sells smelly tofu, try it if you don't mind the smell…
Next stop, we embark on a world tour with lantern displays that comprise of iconic and cultural landmarks of global cities in seven countries.
Can you recognize the above lantern displays represent which country?
There are also other categories of lanterns:
Thematic lantern set pieces like sedan bearers, dragon dance performers etc …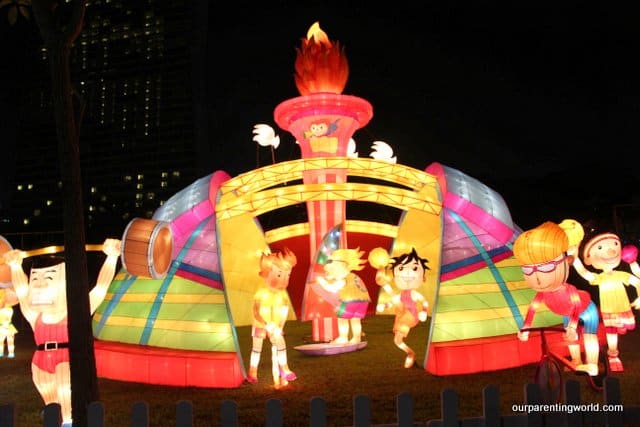 Lantern displays on athletes and about SEA Games 2015.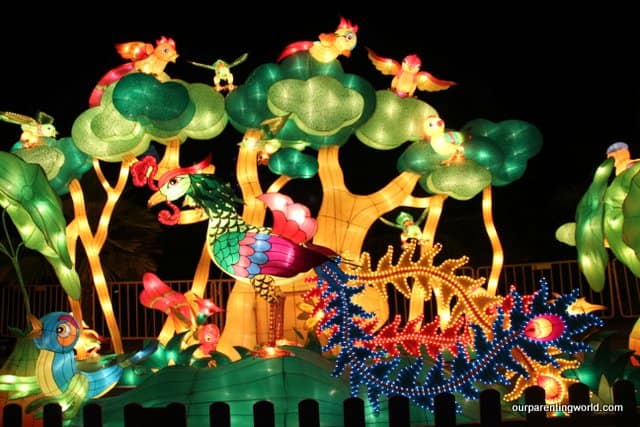 Lantern display theme on Birds of Paradise. 
Lantern displays on 12 Chinese Zodiacs. 
As you stroll along the Dragonfly Lake, look out for the majestic water lantern displays floating along the lake featuring Chinese themes.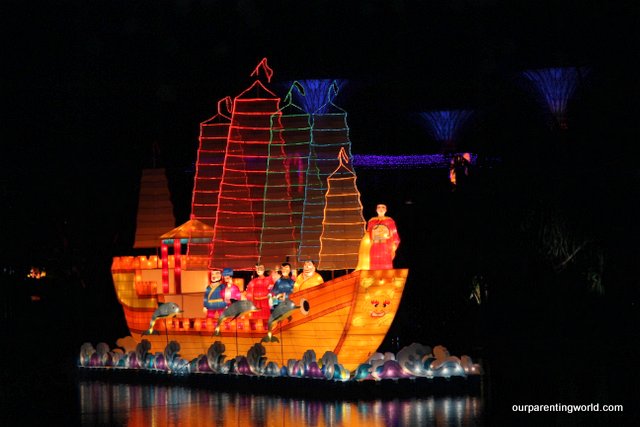 The Treasure Voyages of Cheng Ho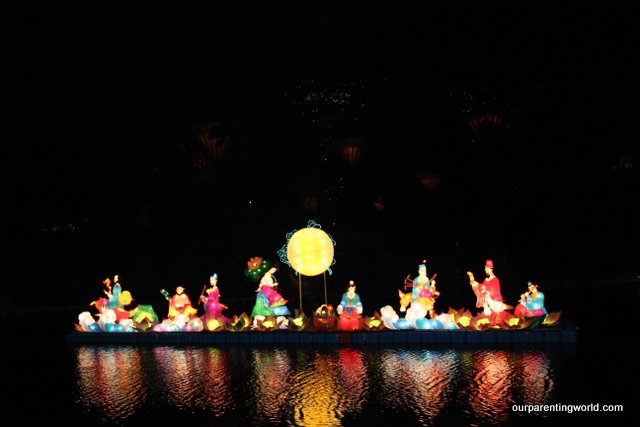 The Eight Immortals Crossing the Sea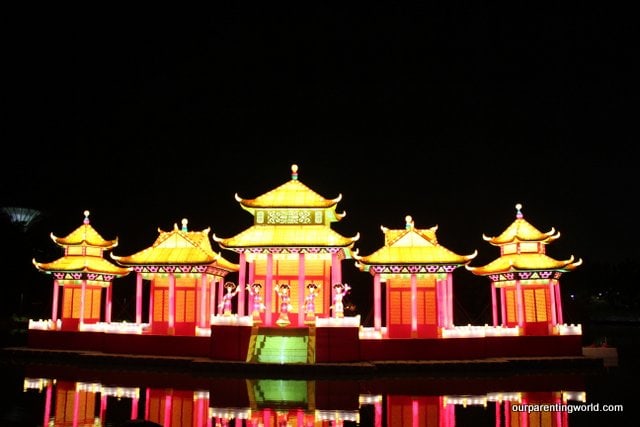 The Ancient Chinese Palace.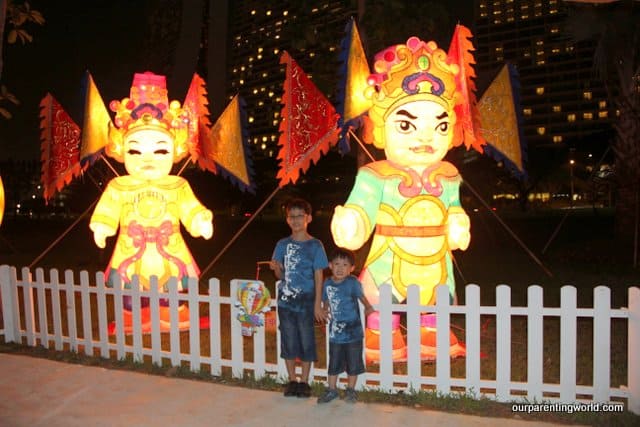 The Mid-Autumn lantern display is from 4 to 14 September 2014. This is a FREE event and we strongly recommend you to visit this stunning displays of lanterns spectacular. It is a good way to celebrate mid-autumn festival and also get to know more about the Chinese culture.
In addition, there are cultural performances, activities, exhibitions and demonstrations by China, local group performances and other artistes. Please click HERE to find out more.
Look out for the Instagram Competition, share your best night shot with the hashtag #GBnight by 15 October, and stand a chance to win some fabulous prizes! Please click HERE to find out more.
There are lots to see, remember to bring your camera and wear comfortable shoes. Most importantly enjoy and have a fabulous time at Gardens by the Bay!
Happy Mid-Autumn Festival! 中秋节快乐!
Additional Information:
Dates: 4 to 14 September 2014
Hours: Monday to Friday 5pm to 11pm and Saturday to Sunday 3pm to 11pm
Venue:
Golden Garden
Silver Garden
Dragonfly Lake
Scented Walk
Baby Planet surrounding
Supertree Grove
Supertree Grove Colonnade
Free Admission; Entrance fees to the Cooled Conservatories apply.