It is very important to keep our children safe when they are seated in a moving car. Nowadays with so many cars on the road, accidents can happen so easily and quickly. To keep our child safe, parents and caregivers must get a good booster seat to protect the young ones for any possible accidents. There is a saying, Prevention is better than cure! But how do we know what is a good booster seat and how do we choose one?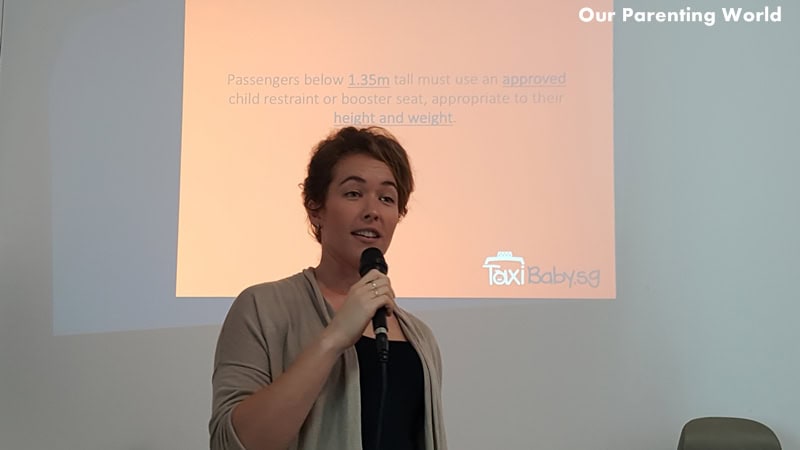 Our Parenting World team attended the launch of the mifold Grab-and-Go® car seat booster by Taxi Baby. It is a revolutionary child car seat booster which is the most advanced, compact and portable car seat booster that you can easily carry around to keep your child safe and secure.
At the launch, Elise Mawson, the founder of Taxi Baby and Singapore's only Certified Child Passenger Travel Safety Technician gave us an insight into children's vehicle safety in Singapore. Singapore's Road Traffic Act states children under 1.35 metres in height are legally required to be in an appropriate child restraint when travelling in vehicle. However, this law does not currently extend to taxis. 
Taxi Baby Singapore, the country's leading online marketplace for children's travel safety solutions, has introduced the mifold Grab-and-Go® booster seat to Singapore in its ongoing efforts to educate, inform and assist local parents with simple and safe travel solutions for their children. Elise stressed that "In Singapore, we unfortunately still see far too many parents assuming their child is safe being held on their laps or strapped to them using the adult seatbelt. Many parents see bringing a car seat with them in and out of taxis as an inconvenience – but the argument that a car seat is inconvenient only works until something bad happens. And no parent wants to be in a situation where they have made the wrong decision."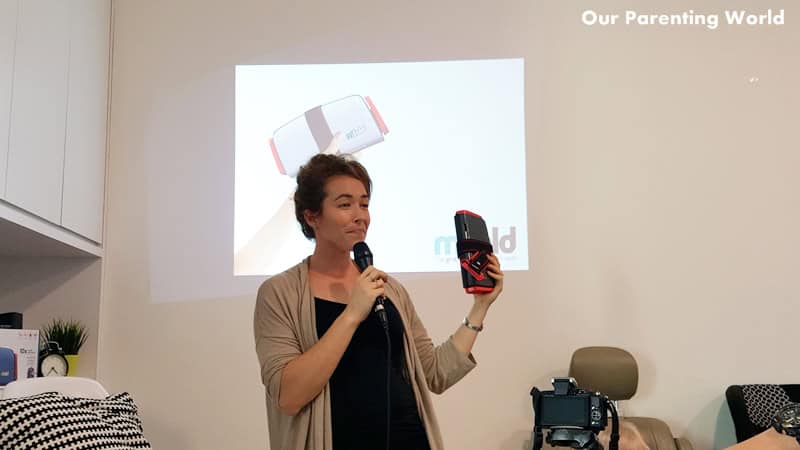 Elise did a demonstration of how to use the mifold Grab-and-Go, it is a revolutionary invention that is so easy to use and best of all, it is compact and very easy to carry around. mifold Grab-and-Go® car seat booster will help to prevent accidents for children ages 4 and above, meaning children can stay safe no matter whose car they are in mum's, dad's, or their grandparent's. Besides mifold, Taxi Baby provides a range of car seat and other vehicle child restraint options that are suitable right from birth. 
The mifold, retailing at only SGD $99, is the world-leading portable booster seat suitable for children aged 4 and above. Only a tenth of the size of a regular child booster seat and adhering to strict European crash test regulations, the mifold can easy fit in a parent's handbag or pocket, making it even easier for mums and dads to ensure their children are properly restrained in taxis, ride-share vehicles, private cars and even school buses.
While a regular booster seat lifts the child up to fit an adult seatbelt, the mifold's unique technology brings the seatbelt down to the child's height and fits the lap belt snugly against the upper thigh bones and away from the stomach, making it more comfortable and safer in the case of an accident.  
Additional Information: 
About Taxi Baby Singapore
Taxi Baby is an online marketplace providing travel safety solutions to parents and families. Founded in 2015, Taxi Baby provides safe and convenient travel products, as well as expert advice to support families in Singapore and abroad, no matter how they choose to travel. Taxi Baby is the official distributor in Singapore for innovative child safety travel products such as the mifold Grab-and-Go booster seat, the Cosco Scenera NEXT travel car seat, and the RideSafer Delight travel harness, on top of other products. www.taxibaby.sg
About Elise Mawson
Elise Mawson founded Taxi Baby in 2015 in a flurry of frustration at not being able to find the necessary products in Singapore to safely travel with her son, Peter. Leveraging her engineering background, Elise retrained as a Child Passenger Safety Technician in Australia and now dedicates much of her time to supporting parents in Singapore, providing a much-needed source of expert advice and information unique to Singapore and South East Asia. Dedicated to spreading accurate information and educational awareness about child vehicle safety in Singapore, Elise is a strong believer that even though it can seem more efficient to take shortcuts when travelling, parents should never compromise their children's safety. As a certified child passenger safety specialist, the only one operating in Singapore, Elise offers expert advice through private consultations, group workshops, car seat installations and training courses for helpers.