MODESTyle is proud to launch and spearhead the first ever online MODESTyle Raya e-Fest, First Online Raya Bazaar In Asia! This will change the practice of traditional shopping during the month of Ramadan. Braving traffic jams, huge crowds, scorching temperatures and snaking queues at Ramadan bazaars will now be a thing of the past with this inaugural launch! Consumers can shop in the comfort of their homes, get better discounts and enjoy next-day delivery. It will run from June 12 to 24, 2017.
In addition, Our Parenting World team is pleased to interview Raudhah Rosli (RR), she is the brainchild of Raya e-Fest. About Raudhah Rosli, she is the Merchandising Manager of MODESTyle GRP, the leading marketplace for modest fashion. She started her career in the retail merchandising industry since 2008.             
From 2008 to 2016, Raudhah was a Buyer for over twenty local and international brands at Zalora Singapore, the fastest growing online retailer in Asia. Prior to that, she has worked with the leading multi-brand sports retailer, Royal Sporting House and handled various brand portfolio namely JanSport, Vans, Quiksilver & Roxy.                     
Raudhah studied Apparel Design and Merchandising at Temasek Polytechnic and is currently pursuing her Bachelor Degree in Marketing at Singapore University of Social Sciences.                   
Aside from her passion in promoting modest fashion in her current profession, Raudhah is pursuing her interest in kidswear collection that she will eventually want to explore business opportunities in the near future.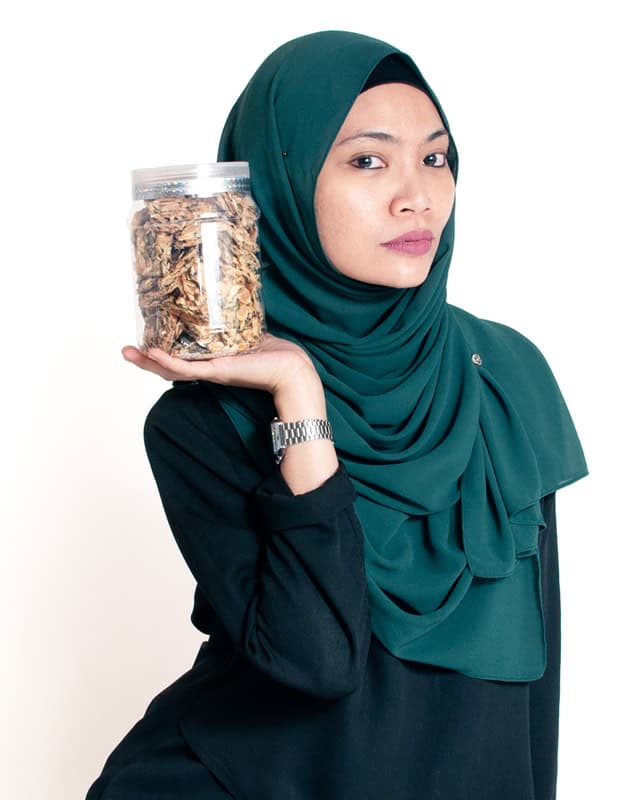 1. Can you share with us more about your background, when and how did you get started in the retail merchandising industry?
RR: It started out during my school days working as a part-time retail personnel and liaising closely with merchandisers and buyers in understanding the market trends and product cycle, my interest for the retail merchandising industry gradually developed.
2. What do you enjoy most about your work?
RR: The thing that I enjoy most about my work is the opportunity to connect with new people from different levels and the chance to make a difference in someone's life in a good way, be it towards my superiors, assistants or retail personnels.
3. What do you consider most challenging about being a buyer?
RR: The most challenging part about being a buyer is juggling with buying budgets and ensuring that your selected purchased products are in-trend and most importantly, it generate sales.
4. Can you tell us more about MODESTyle Raya e-Fest?
RR: MODESTyle Raya e-Fest is the first-ever online Raya bazaar in Asia that gives opportunity to our consumers to shop the top merchants from the comfort of their home and offering next day delivery. Raya e-Fest provides an unconventional lifestyle bazaar experience as compared to the traditional Geylang bazaar.
5. What are some of your favourite items found at MODESTyle Raya e-Fest?
RR: A lot of favourite items! But namely, my top favourite will be in the Food category. Oven-baked cashew nuts from Nutchies that comes in wide variety of flavors like Creamy Mayo and Wild Garlic. Aside from that, Raya Fashion and Accessories products like floral pants suit from the MANJA collection and fashionably chunky necklaces from Geraldine.
6. What can shoppers expect when they do their shopping at MODESTyle Raya e-Fest and what are some of the current promotions they can look out for?
RR: Shoppers can expect great discounts across all categories – Fashion, Beauty, Accessories, Home Decor and Food. During our 2 weeks event, shoppers can look forward to daily flash sales, additional discounts for sales items, bundle buy special and Free Delivery over $250 spent.
7. Any fashion tips and advices that you would like to share with women and how they can shop for their clothing online?
RR: You don't have to spend on expensive items to look fashionable and stylish. Spend on items that you can mix & match to create a refreshing look. Basics clothing are important especially on a lazy day, and all you need is some layering and accessories to add on. When you are shopping for clothing online, it is mandatory to ensure that the measurement provided fits you right and understand the fabric materials. This is to avoid any disappointment and the hassle of exchange or refund.
8. What's your favourite Muslim cuisine and places to eat that you would like to recommend?
RR: I am a food lover. My favourite Muslim cuisine has to be Nasi Ambeng (Ambeng Rice). Some places to eat that I would like to recommend will be Ambeng Cafe by Ummi Abdullah at East Village for the Nasi Ambeng, Warong Nasi Pariaman at North Bridge Rd for the Nasi Padang (Padang Rice) and Warong Wak Nakem for the Nasi Rawon (Rawon Rice).
9. Can you share with us, what's your next plan?
RR: My next plan is to continuously assist our local modest brands to take a step in creating an international presence as the modest fashion industry is growing rapidly in the global market.
10. Lastly, do you have anything you would like to add on and share with our readers about MODESTyle and MODESTyle Raya e-Fest?
RR: MODESTyle is a leading marketplace for modest fashion. Our mission is to connect international and local modest brands with customers globally through technology. And, MODESTyle Raya e-Fest was created as we see the need to provide our consumers the convenience to shop for their Raya preparations even at the very last minute. With huge discounts and next day delivery service, consumers can conveniently shop online to avoid the crowds and hassles. Our aim is definitely to make Raya e-Fest a yearly event that gives shoppers a memorable Raya shopping experience.
Thank you Raudhah Rosli for taking our interview!

Time- starved consumers can log on to www.modestyle.asia/RAYAe-fest to browse through the selection of merchandise from 20 popular vendors. Not only will consumers be able to shop in the comfort of their homes, they can also expect to receive better discounts from these vendors compared to those found at traditional Ramadan bazaars, as well as enjoy next-day delivery of their purchases.
The 20 vendors offering quality merchandise span five different categories to cater to diverse needs: Fashion, Beauty, Accessories, Home & Decor and Food. These include household names such as Manja for chic fashion wear, Hipvan for Home & Décor, Geraldine for trendy bags and accessories, Kaisyahs Closet for halal fragrances, haircare and skincare products, and Nutchies for oven-baked cashew nuts in multiple flavours. Other merchants include Adrianna Yariqa, Papillon, Ayra Safiyyah, Budi Nadia, Rosita Hussin, Sulastri Hasshim, Silk Studio, ZenRock and more. Consumers will also be given the option of ordering the products online and picking up their purchases directly at the stores.
For more information and to do your shopping, please go to www.modestyle.asia/e-Fest