MoguShop is a new one-stop online Japanese-centric grocer that seeks to bring in the best and high quality Japanese-focused products at great prices to food lovers in Singapore. You can find a wide variety of authentic and popular Japanese treats, beverages, fruits, alcohol, seasonal and even limited-edition Japanese products. 
MoguShop was founded by two good friends, Rebecca Kwan and Lavender Chia when they realised how hard it was to get authentic Japanese products to be delivered to their homes at the start of the COVID-19 pandemic period. The two young entrepreneurs were determined to fill this gap for Japanese grocery delivery in Singapore, they went straight to work right after graduating from the Singapore Management University and started MoguShop in April 2020. Today, MoguShop offers more than 500 products, such as air flown Japanese Unagi, Miyazaki Japanese Wagyu Beef, Sashimi-Grade Hokkaido Scallops as well as top-grade Japanese seasonal fruits.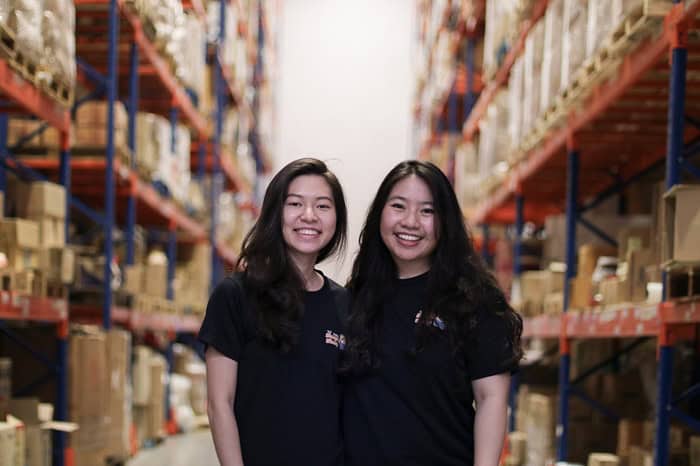 (From left)  Rebecca Kwan and Lavender Chia, Co-Founders of MoguShop
Our teams speaks to Rebecca Kwan and Lavender Chia where they share more about MoguShop and their entrepreneurial journey with us. Read on to find out more. 
Exclusive Interviews with MoguShop's Co-founders Rebecca Kwan and Lavender Chia
1. Please share with us more about your background.
Hi, we are Rebecca Kwan and Lavender Chia. Both of us are 25 years old this year. We knew each other when we were 18 years old through various inter-school track and field competitions, and immediately hit it off despite being competitors.
We later met again in Singapore Management University (SMU) and joined the track and field club together. We became even closer as we participated in the same events and were literally passing the relay baton to each other during the practices and competitions.
Both graduates of SMU, Rebecca graduated with a double major in Marketing and Psychology whilst Lavender graduated with a double major in Finance & Operations. Our complementary expertise makes this partnership extra special – Rebecca takes lead in design-related matters such as website design, taking photos of the products as well as the marketing whilst Lavender handles the sourcing of new products, overseeing daily operations, customer service and also our finances.
2. What made you decide to become an entrepreneur? What inspired you to set up MoguShop and how did you start up your business?
Both of us share a huge love for Japanese treats and food, occasionally taking to the kitchen to experiment simple Japanese recipes. However, especially during the height of the pandemic, we found it challenging to order Japanese snacks and ingredients online or to have them delivered to their homes quickly, especially during the Circuit Breaker period. The bigger supermarkets carry limited Japanese products, while specialised Japanese grocers can be slightly overwhelming with no proper categorisation, or guidance on how to use certain items. The two of us often need to visit and place orders from different shops, just to obtain our desired mix of Japanese ingredients and items.
Seeing this gap in the Japanese grocery space, we started to scour for Japanese ingredients from various suppliers and did intensive research online. We soon realised how we could do things differently and started visiting the different supermarkets across Singapore to identify the distributors and contacted every potential lead that we could find.
In March, we pitched in our concept for a one-stop online Japanese-centric grocer, so that shoppers in Singapore can now conveniently access a wide range of quality Japanese groceries online and have them delivered right to their doorsteps. The proposal was well-received, and we secured several partnerships including the Kokubu Group, one of the largest wholesalers of Japanese foods and liquors. MoguShop was later born in April 2020 where we have since expanded our offerings to more than 600 products, such as air flown Japanese Unagi, Miyazaki Japanese Wagyu Beef, Sashimi-Grade Hokkaido Scallops as well as top-grade Japanese seasonal fruits.
3. What are the challenges you faced when setting up MoguShop and how did you overcome them?
We actually registered MoguShop the day Prime Minister Lee made the announcement of the Circuit Breaker and our official incorporation date was on 7th April – the first day of Circuit Breaker!
Although this makes for a great narrative, it also meant that all our original plans of marketing ideas to create awareness for MoguShop had to be readjusted or paused to fit the restriction guidelines. Some ideas we had were pop-ups at shopping malls, and mobile convenience shops around the neighborhoods.
In addition, we also faced difficulties in obtaining supply for imported goods such as air-flown produce. There was also a sudden influx of wholesalers that went online – reasons could be due to restaurants or corporate clients not placing more orders due to dine-in and office restrictions – and we saw more online competitors pushing out attractive deals.
We had no choice except to charge forward bravely. Some immediate changes that we had to make:
• Instead of installing pop-up stores, we amped up our online efforts such as online marketing, digital advertising and created more content to engage with our customers, so as to continue reinforcing our presence and driving growth for the brand.
• During the Circuit Breaker period, securing a grocery delivery slot at any online supermarkets was highly competitive and almost impossible for many. We had a brainwave and decided to collaborate with community group buys (where a group of residents within the same neighbourhood consolidate their orders to enjoy bulk pricing and free/lower delivery fee) to collate purchases on MoguShop, and we will deliver directly to the customers' homes.
• In order to differentiate ourselves from the competition further, we also worked with other local brands such as Udders and Baker & Cook, to list their products on our platform. This allows customers to order more varieties under the same order with just one delivery fee whilst also helping these local brands sell their products online when they previously weren't able to.
• Lastly, we had to swiftly apply for the business exemption application in order to return to our office and warehouse. Luckily, the application was approved.
4. MoguShop has also recently started bringing in artisanal Japanese products from Ibaraki and Saitama – two prefectures located in the Kantō region of Honshu. Is the team implementing a new business strategy?
As most of the Japanese trade conventions had moved online, we had the opportunity to meet many Japanese manufacturers and farmers from all regions of Japan. Through these calls, we realised that many of them, some even multi-generational companies that are over a few hundred years old, were greatly impacted by the travel restrictions imposed due to the COVID-19 pandemic coupled with the fact that their domestic market is also shrinking due to an aging population. To survive, they would have to bring their products out into the international market. Seeing this opportunity to collaborate, MoguShop is now focusing on working with smaller, artisanal manufacturers to expand their reach outside of Japan and into the growing markets of South East Asia with our first project being the product showcase from both Ibaraki & Saitama prefecture.
To bring in this selection of products, we have been working closely with these local manufactures to bring in quality delicacies that represent Ibaraki's and Saitama's own unique culture, heritage, and flavour. At the same time, expand Singapore's food scene and the locals' taste buds.
It's been more than a month and we are glad to see positive responses from our customers! Currently, we are working on a new project with an established confectionery manufacturer and are looking to bring in a selection of products. Do keep a lookout for them in the months to come!

5. What are some of your personal favourite products at MoguShop and why? Any key and/or signature products at MoguShop that you would like to highlight and recommend to our readers?
Our top-selling products are Japanese unagi, wagyu, uni and sake! For snacks, the popular ones are Ante Yuzu Cider, Japanese Pocky Flavours, Doutor Black Coffee, and Calbee Limited Edition Potato Chips. Our customers know that they are able to get high-quality and fresh products here at the best value.
However, for personal favourites –
Rebecca: I have a big sweet tooth, so my favourites are our mochi ice cream, wafer ice cream and teh chia seed jellies! 🙂
Lavender: Intensely-flavoured Japanese manufactured instant noodles and our heavenly pure apple juice!
6. What's your advice for those who want to start their own business? Any tips on how one can be a successful entrepreneur and succeed in the competitive market?
Don't be afraid to get your hands dirty. Only by trying it on your own and making mistakes will you learn many important lessons that will help you grow and flourish as an entrepreneur. We started off wearing many hats, and that enabled us to experience the whole suite of responsibilities in running our business.
Find a great partner that will complement each other's strengths and weaknesses. Both of us have different passion points – Lavender enjoys building positive rapport with customers, understanding what makes customers tick, and researching the latest consumer trends within the F&B industry. On the other hand, Rebecca loves designing, digital campaigns and brand marketing. Our responsibilities and tasks are split clearly – so although we often give each other suggestions, we respect one another's role and leave the final decision in the hands of the 'expert'.
At the end of the day, our goals are aligned and that enables us to better MoguShop hand in hand.
7. Lastly, what do you see for your business in the next 5 years, and does it include any plans for expansion? Any current and coming promotions at MoguShop?
We hope MoguShop will be recognisable household name, and that we are known for our unique products, especially Japanese items, sold at great prices with incredible customer service.
We also aim to expand our reach across Japan, working with these artisanal manufacturers to take their items into Southeast Asian markets such as Indonesia, Malaysia, Thailand and Vietnam. We can't wait, and we hope that you can join us on this journey!
Visit MoguShop and get your hands on your favourite and popular Japanese items, to find out more, please go to https://mogushop.asia/