Photo credit: Lifetime
Our Parenting World is pleased to introduce Mom's Time Out, Lifetime's first Asian Production premieres 28 August 2014 on Thursday at 9pm at Lifetime (StarHub TV Ch 514).
About Mom's Time Out is a series that features three frazzled mothers in Southeast Asia who get an all-expenses paid holiday to Angsana Spa Lang Co, Vietnam, leaving their husbands to look after the house and kids. Starring families from Singapore, Malaysia and The Philippines, chaos ensues as the dads struggle to take on the mother's role—a role they always took for granted.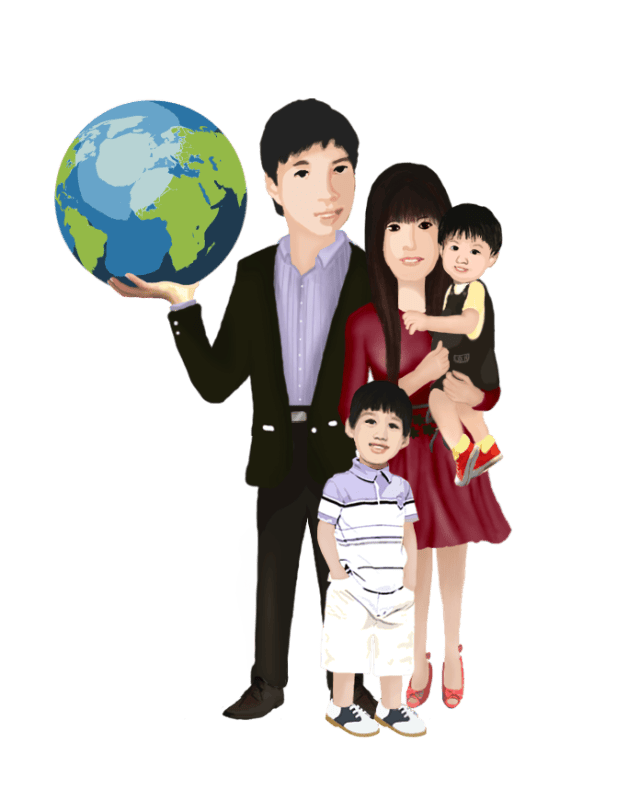 Caricature portrait of Our Parenting World family
Our Parenting World's Daddy is asked to share some of my own 'Dad-vices' which I am happy to do so. Many asked me how I managed to juggle with my busy career, family responsibility and even finding the time to blog. Most importantly, I must give credit to my dear wife. I am very fortunate to have a lovely and capable wife who is able to help and support me in all areas. This Mom's Time Out program is a timely reminder to us, Daddies, to give Moms time out to relax and have fun! 
It is important that Daddies play an important role in nurturing your child's life in order for your child to grow up to be a happy, healthy and smart kid.
Spend Quality Time with your child
I do different things with my boys to bond with them and here are some of the things that I do with my boys. With my older boy, I would bring him to do sports like cycling, running and playing badminton together. We will also spend father and son time hiking as my older boy likes to explore nature and enjoys spotting monitor lizards and monkeys.
With my younger boy who is in nursery class before I send him to his school every morning, we will have the "Let's explore different hawker centres for breakfast" session as he enjoys eating. Our favorite breakfast dishes include roti prata, nasi lemak, curry noodle and you tiao (Chinese doughnut). I try to expose him to different ethnic dishes in Singapore to make him understand we live in a multi-ethnic society. We would also visit a nearby playground near the hawker centres for him to play for a while after breakfast. It is our exclusive father and son bonding time.
Find out what your child likes and spend quality time doing things together to establish a strong bond with him/her. When your child grows up, he/she will always remember these bonding times fondly.
Establish habits/traditions that are shared exclusively between you and your child.
Habits/Traditions can be small things that mean nothing to anyone beyond you and your child. Here's an easy ritual to start, even with kids as young as three for example, is to create a secret handshake. It can be anything that develop from a clap or a special high-five.
The key is that only you and your child know how to do it. It may evolve over the years, but you'll always have your secret ritual like for us, it is a handshake. Use the handshake to seal deals between you and your child, you can use it as a way to say good night when they hit the age where they are not as eager to give hugs and kisses and or as a way to celebrate big achievements. 
Come up with your own version of habits/traditions that is shared just exclusively between you and your child. 
Encourage and Praise your child's effort
It is not the outcome that matters always encourage and praise your child for his/her effort, however do take note not to overdo it as it may spoil your child. Praise is a simple and yet effective strategy to discipline your child. It encourages and reinforces positive behavior, it gives your child motivation to behave well. When my younger boy cleans up the table each time after eating, we will praise him for his good behavior. Our little boy is so pleased whenever we praise him for his good behavior that he feels good and continue to do it right. Praise must be sincere and related to the specific task that your child has done it right.
Be a Good Role Model for your child
Your child learns from you and if you want your child to grow up well. Parents, you are your child's first teacher in life. We have to lead by example and practice what we preach to our child. A simple example is if you want your child to eat vegetables, you have to show your child that you like to eat vegetables and eating a lot of vegetables is good! The same goes to junk food, if you don't wish your child to eat that, you can't be seen eating junk food infront of your child.
As our bond grows stronger, my boys will always share with me their daily happenings in school and their personal thoughts. As a father, I cherish these sharing sessions and hold them close to my heart. You do not need to do special and or expensive stuff like going for a tour overseas for bonding, all you need is to find time to walk with your children, talk to them and listen to them every day and you will be their Super Hero. These are the things that I do for my boys and hopefully to create long-lasting traditions and to make lasting memories. 
In addition, Our Parenting World is pleased to feature three Daddies from Mom's Time Out show, Singapore's Daddy, Christopher Pang, Malaysia's Daddy, Jason and Philippines's Daddy, Kenneth.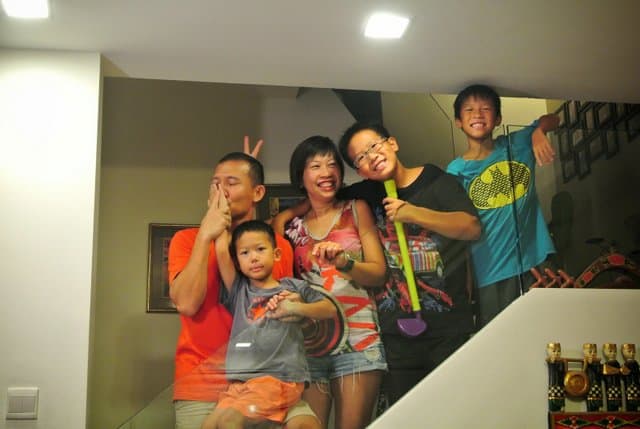 Photo credit: Lifetime
The Singaporean Family – The Pangs
Christopher & Julie Pang, with Marcus (12yo), Michael (8yo) & Matthew (4yo)
From Singapore, meet the Pangs… Dad Christopher and Mom Julie run a successful boutique real-estate company and have 3 boys (12-year-old Marcus, 8-year-old Michael and 4-year-old Matthew). Christopher and Julie often quarrel about their differing parenting principles – Dad is more for corporal punishment  while  Mom  is  all  about positive  reinforcement.
Photo credit: Lifetime
The Malaysian Family – The Kalaichelvams 
Jason & Leishia Kalaichelvams, with Arianna (4yo) & Olivia (2.5yo)
From Malaysia, meet the Kalaichelvams… Dad Jason is a motivational speaker who is a self-confessed workaholic who totally loves his job and probably often prioritizes it above his family. Mom Leishia is a homemaker and freelance writer who cares for their two daughters (4-year-old Arianna and 2.5-year- old Olivia). 
Photo credit: Lifetime
The Filipino Family – The Baileys
Kenneth & Emerald, with Briah (2.5yo)
From the Philippines, meet the Baileys… Dad Kenneth and stay-at-home Mom Emerald have a 2.5-year-old daughter Briah who is adorable but can be quite a handful! With Dad being  the  sole  breadwinner  of  the  family  working  night shifts since Briah was born, he now has to take on one of the toughest challenges of his life to care for his daughter while Mom is away.
What will happen when Mom is away? 
Tune into Mom's Time Out series to find out more: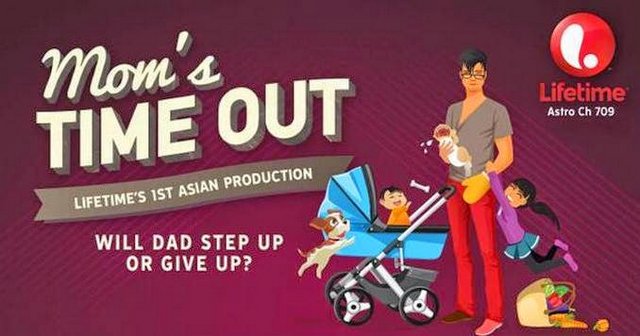 Photo credit: Lifetime
Mom's Time Out
Lifetime (StarHub TV Ch 514) 
For more information about #MomsTimeOut, check out: