Godzilla: King of the Monsters is stomping into Singapore and arrived at Monster Curry!
From 18 May 2019 until 15 July 2019, diners can enjoy Monster Curry's Japanese curries that have been transformed into the Godzilla Combo Curry and the Godzilla Katsu Curry, featuring unique combinations of their signature toppings like the Pork Katsu and Premium Beef Steak, complete with fluffy Japanese rice shaped like the creature's silhouette at all its outlets.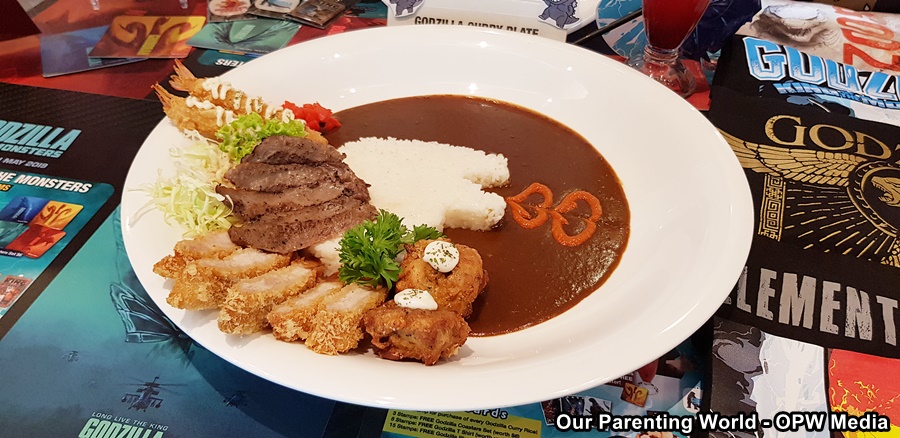 Godzilla Combo Curry ($28.80, good for two to share)
Diners will be pleased with this sumptuous combo with toppings such as the freshly-prepared breaded Pork Katsu, crispy Fried Shrimp, moreish Tori Karaage (Japanese-style fried chicken) and Premium Beef Steak. Wonderfully garnished with traditional Japanese pickled radish and served with the restaurant's signature demi-glace Japanese curry sauce.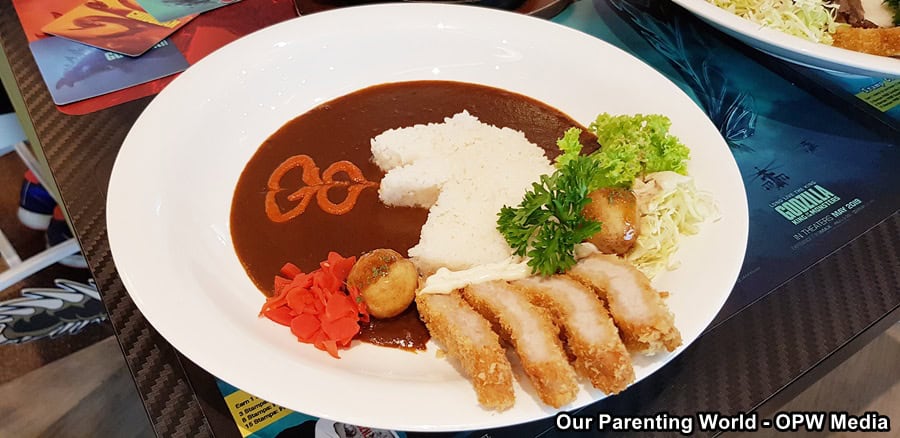 Godzilla Katsu Curry ($14.80)
This delightful massive 34-cm diameter plate consists of Japanese demi-glace curry and two of the restaurant's most popular toppings: Pork Katsu and two pieces of Takoyaki (Japanese octopus balls) is good for one.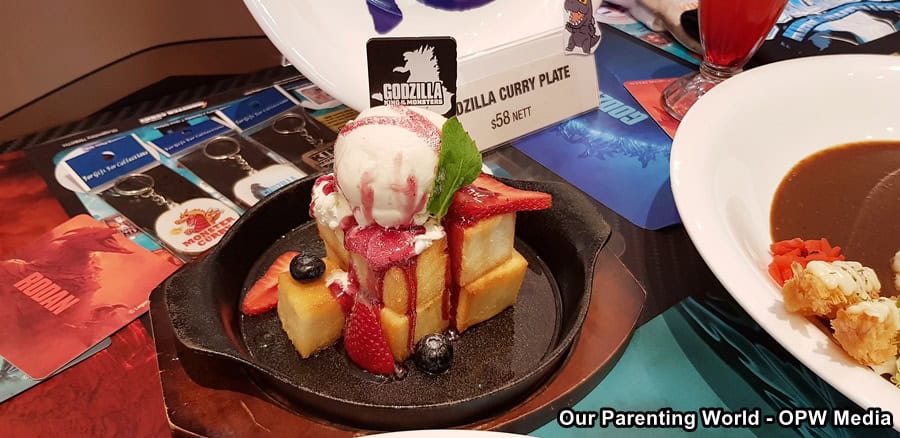 Godzilla Volcano Honey Toast ($12.80)
Dessert lovers will be impressed with this Godzilla inspired creation consisting of large cubes of crispy bread slathered with honey and butter, then topped with mixed berry sauce, fresh strawberries and blueberries, and a scoop of Häagen Dazs vanilla ice cream. Godzilla will perch on top of this 'volcano' in the form of a specially designed dark chocolate topper.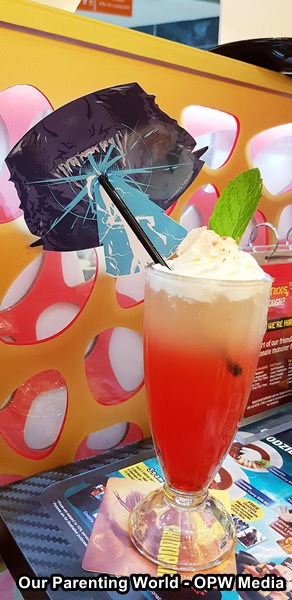 Godzilla Shiquasa Fizz ($7.20, with Godzilla straw prop and coaster)
The Godzilla Shiquasa Fizz is a refreshing and tasty drink that is especially good in this hot, sunny weather in Singapore. The drink consists of Shiquasa lime specially grown in Okinawa, Japan, the fruit is known to be the secret of longevity and good health for the people in Okinawa, the longest living people in the world. It has other health benefits like Vitamin C that is good for our skin and immunity system. 
In addition to the exclusive menu, Monster Curry also bring in exclusively designed merchandise featuring the creature in various incarnations will be available for purchase and redemption. Products will include T-shirts (from $23.00), Keychains ($4.50), Coasters ($6.00 for a set of four designs), Monster Curry Plates ($58.00) and Menko cards. While enjoying the delicious meal, you can bring home a pack of three custom-designed Menko cards with every order of Godzilla Combo or Katsu Curry. Menko is a traditional Japanese card game often featuring pop culture images. Monster Curry will launch 29 designs of the cards portraying the evolution of Godzilla's appearance since it first started in 1954, to its most recent rendition in Hollywood blockbusters.
Don't miss the opportunity to collect these exclusive Godzilla merchandise!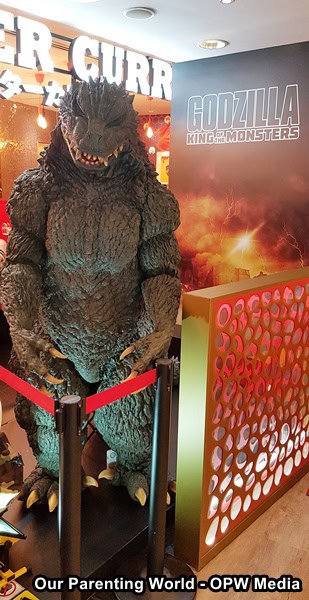 That's more, fans can look forward to come up close and personal with a 1.8-metre Godzilla mascot has been specially brought in from Japan. 'Meet-and-greet' sessions as well as photo opportunities with the formidable creature will be available at selected Monster Curry outlets island-wide from  from 23 May 2019!
Godzilla: King of the Monsters from 18 May to 15 July 2019 
Promotions
With every order of the Godzilla Combo or Katsu Curry:
1. Receive one pack of custom designed Menko cards (three pieces per set)
2. Receive one stamp for the Monster Curry Godzilla Stamp Rally Card. Collect stamps to redeem:
a. Godzilla Coaster Set (three stamps)
b. Godzilla T-shirt (eight stamps)
c. Godzilla Monster Curry Plate (15 stamps)
3. Be the first to collect all 29 designs of Menko cards to win a trip to Japan with a stay at The Godzilla Hotel 
Specially designed merchandise for sale
Promotion details can be found at http://www.monstercurry.com.sg/godzilla
1. Godzilla T-shirts (4 designs available): from $23.00
2. Godzilla Keychains (3 designs available): $4.50
3. Godzilla Coasters: $6.00 (one set of four designs)
4. Godzilla Monster Curry Plate: $58.00
Locations:
ION Orchard, Nex, Vivocity, Jurong Point, Suntec City, Jem, Bugis Junction, Tampines One (re-opening in mid-2019), Downtown Gallery, Northpoint City, Novena Square, Waterway Point, 100AM
Opening hours: 11am to 10pm daily
Instagram: https://www.instagram.com/monstercurry.sg/
Facebook: https://www.facebook.com/MonsterCurrySingapore/
Website: http://www.monstercurry.com.sg/
Hashtag: #MonsterCurryGodzilla #MonsterCurrySG #MonsterCurry