The day has finally arrived and we are so excited to catch Monster Jam for the first time in Singapore tonight! Monster Jam, these colourful and mega trucks came roaring into National Stadium to provide the most action packed family entertainment that everyone can enjoy and have a memorable time together!
Before the start of the show, we head down to the pit party in the afternoon where we can meet the drivers to have their autographs, take pictures with them and coming up close to these famous trucks. This monster truck with wings and horns is called Dragon driven by Chad Tingler.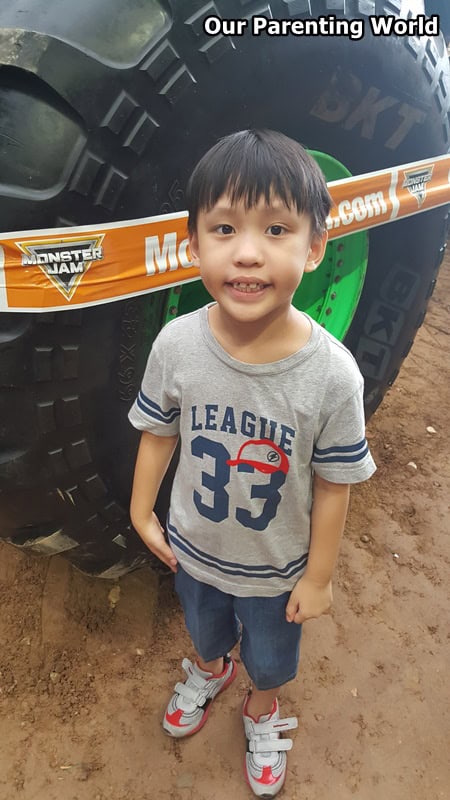 Look at these huge tires, they are taller than me!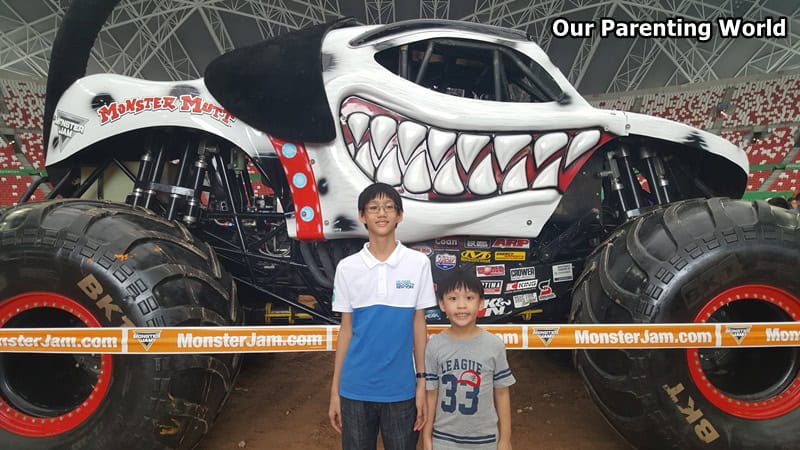 We are at Monster Mutt Dalmatian, this adorable Dalmatian truck with huge ears, a long pink tongue and a tail is driven by Candice Jolly.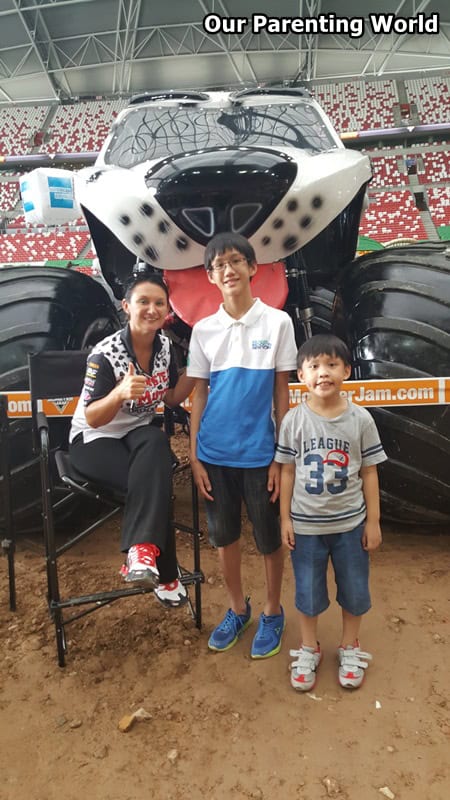 We are thrilled to meet Candice Jolly in person!
Next, we moved on to Max-D driven by Neil Elliott who is married to Candice Jolly and both of them have a 12-year-old son, Chase.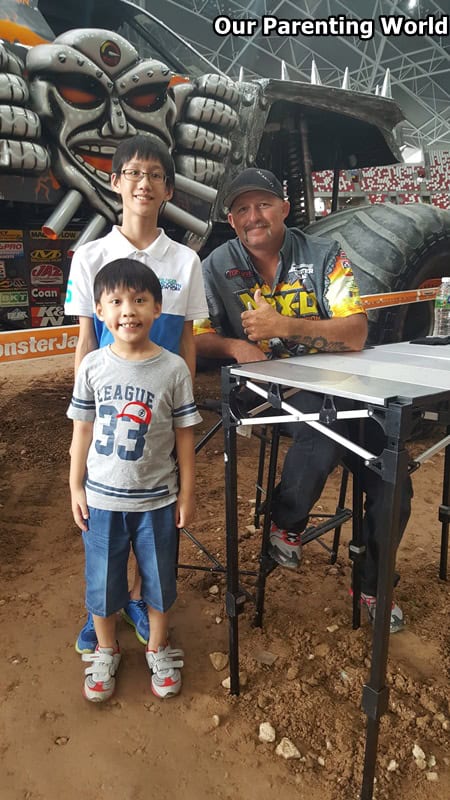 It is such a pleasure to meet the lovely couple in person. Our Parenting World team has earlier interviewed them. To read about our exclusive interview feature with Candice Jolly and Neil Elliott, please click HERE.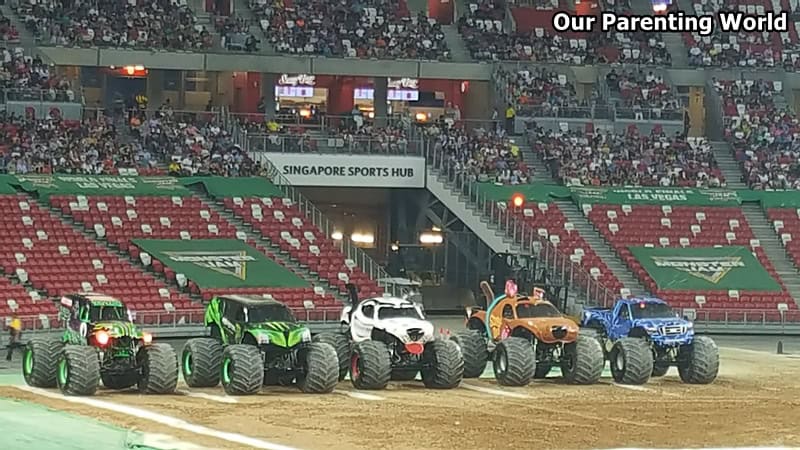 The moment has come at 7pm where the Monster Jam competition starts, audience cheer and look forward to see 10 of the most recognizable and popular trucks in the world including 4-time Monster Jam World Finals champion Grave Digger®, 11-time world champion Max-D™, El Toro Loco®, Monster Mutt Dalmatian and many more. All these trucks are massive, each weighing at least 2,000kg!
This is a 2 and 1/2 hours show where the drivers will drive their mega trucks to perform creative stunts like flip-over, jumps, doughnuts means spinning in circles, flying in the air over the roof of the cars and landing on the ground.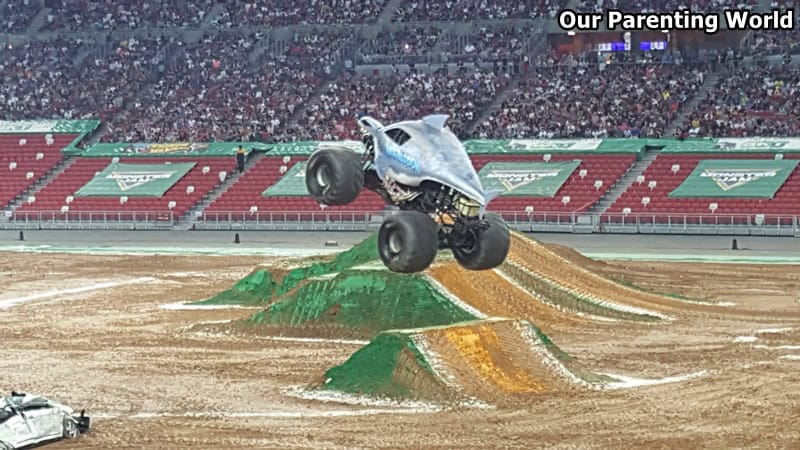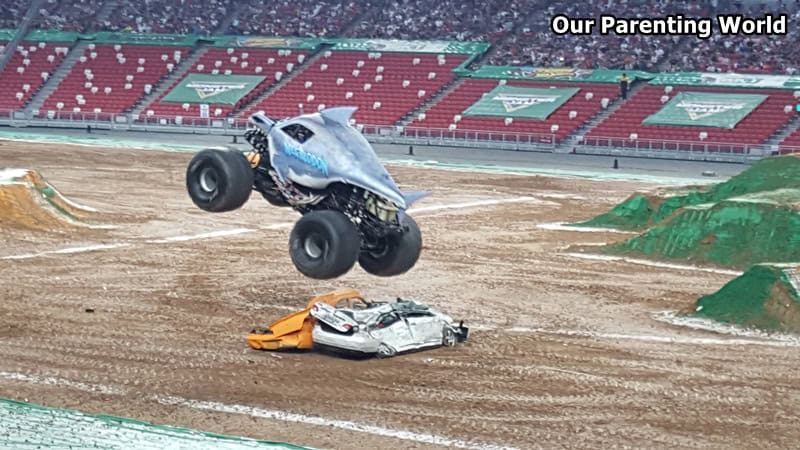 Megalodon is very popular with the audience, the truck in the form of a shark and driven by Alex Blackwell excites the audience performing gravity-defying stunts over the slopes and parked cars. 
Audience applauded enthusiastically when EarthShaker driven by Randy Brown flew into the air and landed safely on the ground. 
Max-D by Neil Elliott came roaring into the Stadium performing thrilling stunts won loud cheers and big applause from the audience!
The crowd went crazy when Grave Digger with images of skulls driven by 39 years old, Jon Zimmer set to thrill and impress fans with high speed, gravity-defying stunts with his neon green and black truck.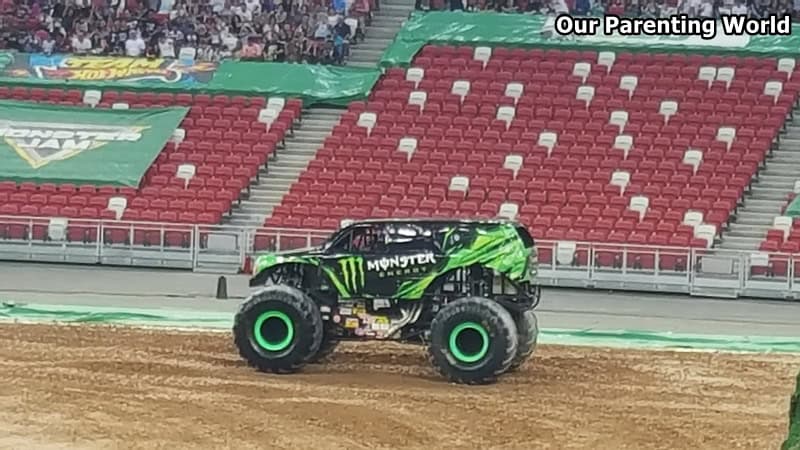 The winner for tonight competition is Monster Energy by Todd LeDuc. Congratulations and Well Done! Todd Leduc is a two time Monster Jam World Finals champion, winning the freestyle championship in 2014 and the racing championship in 2015.
Congratulations to all the drivers for the spectacular performances! Thanks for the amazing show! We have a jaw dropping, electrifying good time at Monster Jam and we hope to see Monster Jam in Singapore next year!
To find out more about Monster Jam, please go to https://www.monsterjam.com/