Omakase in Japanese cuisine simply means leaving it to the Chef to choose and serve seasonal specialties. We always enjoy Omakase and waiting in anticipation of what kind of dishes that the Chef will prepare never fail to amaze us. Monte Risaia is a newly opened 10 months old contemporary Italian-Japanese Omakase restaurant, helmed by Chef Taizo Yamada and managed by the Marusaya group that specialises in Japanese inspired Italian cuisine, meticulously prepared using premium and seasonal ingredients from Japan.
At Monte Risaia, each creation is delicately crafted, showcasing the dexterity, creativity and dedication of the culinary team. Chef Taizo enjoys marrying Japanese and Italian ingredients and herbs together to achieve a delightful harmony of flavours. We are so excited to try out this new restaurant. Here's the highlight of some of the dishes that we have tried as follows: 
Antipasti – Antipasti -Prawn, Tuna and Scallop in Frutti di Mare Sauce topped with Ikura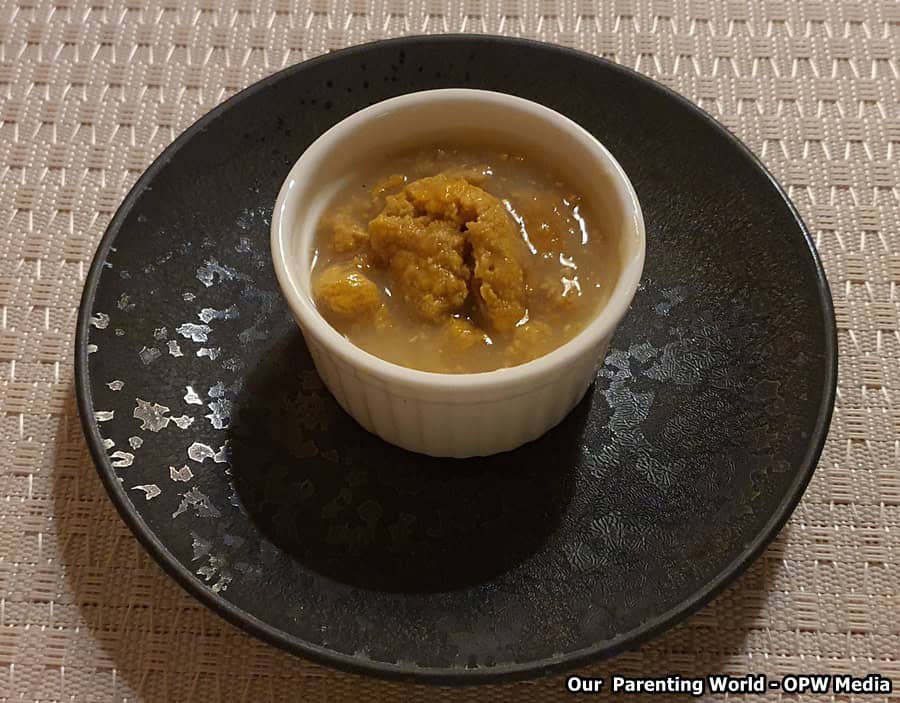 Antipasti -Uni Chawanmushi
For a start, we were served Antipasti which is the traditional first course of a formal Italian meal. We started with the first Antipasti consisting of prawn, tuna and scallop in frutti di mare sauce topped with ikura (salmon roe). It is very refreshing, filled with fresh seafood and juicy ikura that popped in your mouth. The second Antipasti is Uni Chawanmushi which is silky egg custard topped with sea urchin. The egg custard is so savoury and smooth and filled with rich creamy sea urchin.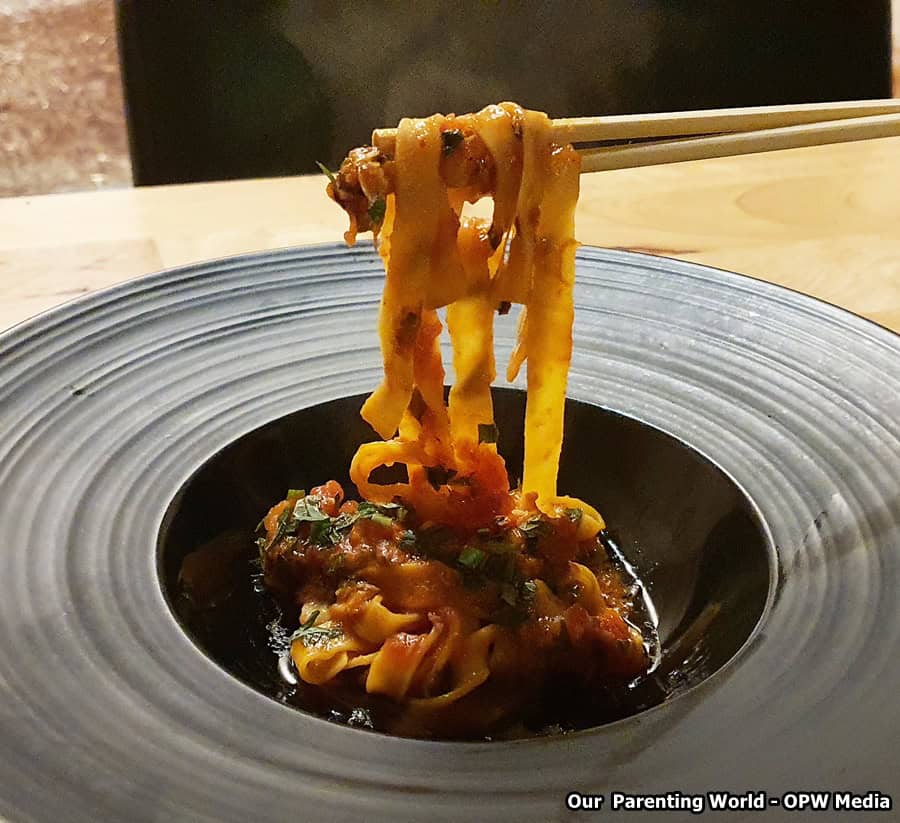 Pasta
The main dish pasta consists of Tagliatelle with Shiso Leaf (Broad, Flat Drum Wheat Pasta in Robust Tomato and Crab and Clam Dashi Broth garnished with Perilla). 
Tagliatelle is a kind of broad, flat strip of durum wheat pasta. It is a traditional type of pasta from the Emilia-Romagna and Marche regions of Italy. This is a simple and yet flavourful dish coming from the robust tomato sauce and delicious crab and clam dashi broth. Topped with lots of finely chopped Perilla commonly used in Japanese cooking as a garnish that makes this dish looks even more appetising. 
Carne (Meat)
Carne consists of Iberico Pork and Maple Duck, if you are a meat lover, you will adore this dish. The Iberico Pork comes from Spain, its meat is red to bright red that looks almost like beef. The marbling of fat in the meat makes this dish very juicy and tasty. The Maple Duck meat is so tender and succulent that it melts in your mouth. Chef handled both types of meat and seasoned them really well, you can taste the distinctiveness of each meat.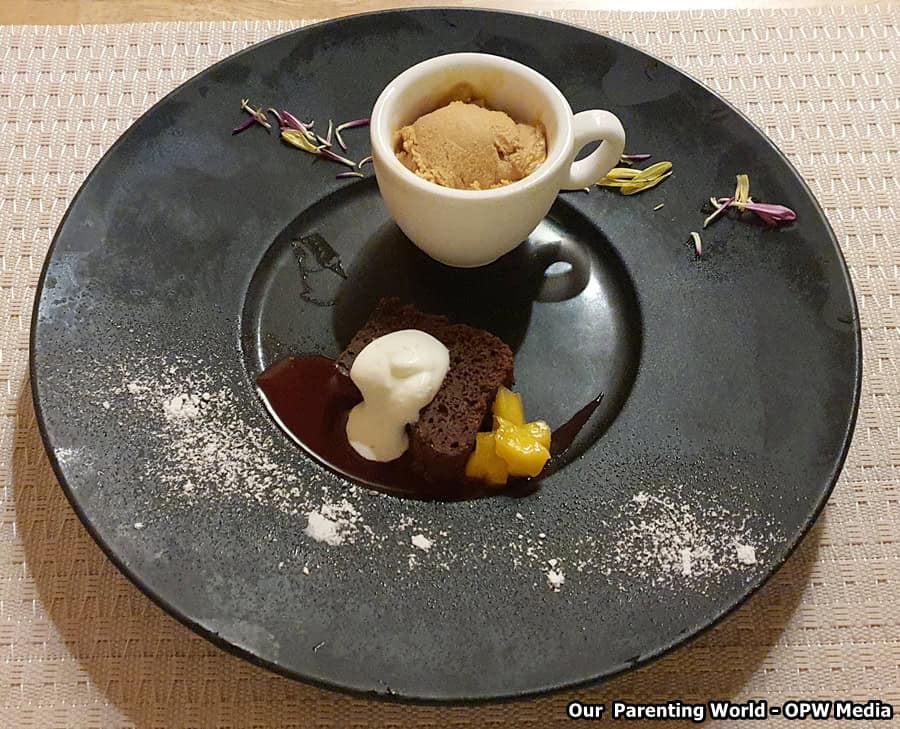 Dolce (Dessert)
Dolce consists of Chocolate Cake with Caramel Ice Cream with Raspberry Sauce and Cream and accompanied with Diced Mango. What a good way to end off a satisfying meal with dessert that comes with full of rich chocolate goodness, chocolate cake and delightful, sweet caramel ice cream. The Omakase Course also comes with a choice of coffee or tea. 
Monte Risaia is a great place for you to enjoy Italian-Japanese Omakase Dinner at affordable place. The above Lunch Omakase Course is priced at $79. 
If you are looking for a quick and delectable lunch, you can opt for its affordably priced lunch menus which include Signature Omakase Course at S$79, Omakase Pasta Course at S$39 and Omakase Carne Course at S$49. For dinner, take your palate on an epicurean journey with its specially curated Omakase Course Dinner comprising premium ingredients handpicked by Chef Yamada. Dinner Omakase starts from S$68 per person.
More details as follows:
Lunch Set Menus
Signature Omakase Course at S$79
(includes appetiser -Chef's Selected Antipasto Misti), Uni (Sea Urchin) Chawanmushi, pasta, meat and dessert, coffee or tea)
Omakase Pasta Course at S$39
(includes 2 kinds of Antipasto Misti, pasta, dessert, coffee or tea)
Omakase Carne Course at S$49
(includes 2 kinds of Antipasto Misti, meat, dessert, coffee or tea)
Dinner Set Menus
Japanese Seasonal Omakase Course Dinner at S$138
(includes 3 antipasti, pasta of the day, 2 types of meats including Wagyu beef and dessert.)
Omakase Pasta Dinner at $68
(includes 3 antipasti and 2 pastas)
Omakase Main Dinner $80
(includes 3 antipasti and 2 types of meats)
Omakase Dinner Course at $98
(includes 3 antipasti, pasta of the day and 2 types of meats)
Prices above are subject to 10% service charge and 7% GST.
Monte Risaia
Venue: 59 Duxton Road, Singapore 089523.
The restaurant is open from 12pm to 2.30pm for lunch and from 5pm to 10.30pm on Mondays to Saturdays. Restaurant is closed on Sundays.
For reservations, please call 6970 0067