Our Parenting World is delighted to discover another great dining place conveniently located at Orchard Road. Montreux Jazz Cafe introduces The Jazz Brunch, a new weekend brunch experience happening on every Saturday and Sunday from 11am to 3pm. Diners can enjoy live music featuring Singapore's Jazz talents that will entertain diners with great songs and relaxing music.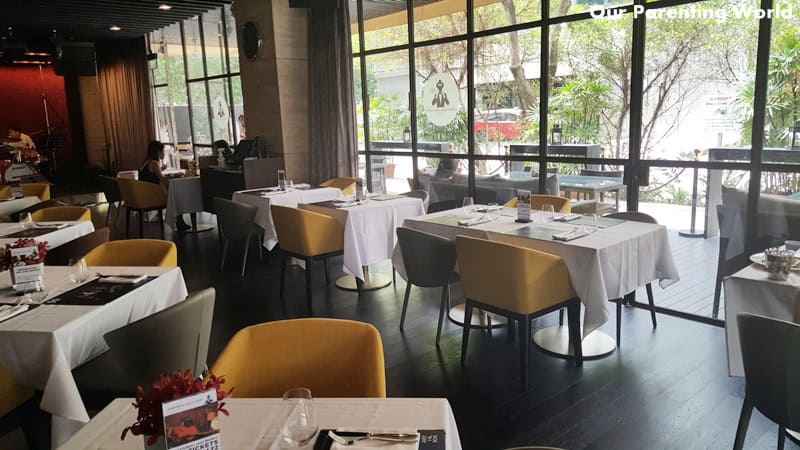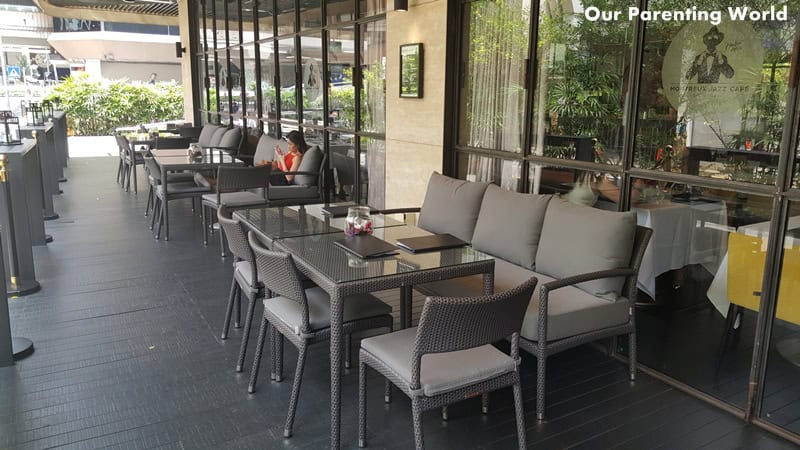 Montreux Jazz Cafe has both indoor and outdoor seating that you can choose your preferred area to dine and enjoy your meal.  
Montreux Jazz Cafe's The Jazz Brunch consists of a choice of starter, main, and dessert, and you can indulge on free-flow of Champagne, selected wines and spirits, and draft beer for adults.
Kids can choose from a wide selection from the kids menu that consists of starter which is soup of the day, a choice of main dish, and a choice of sweets: Mövenpick ice creams.
Diners can enjoy their sumptuous meals accompanied with live music performances.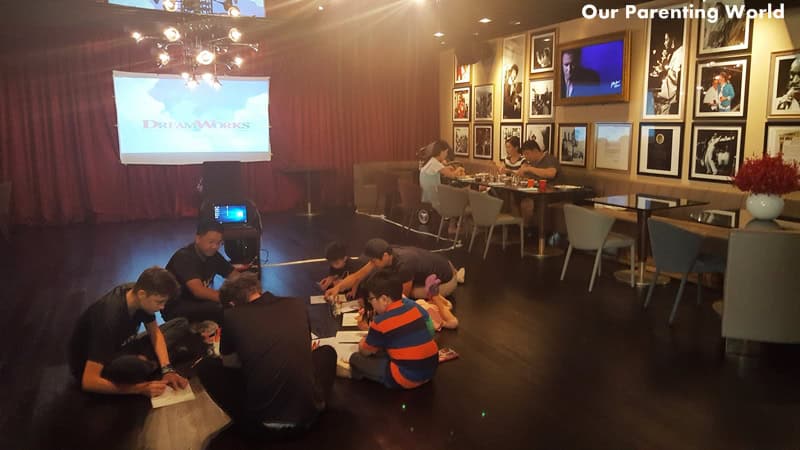 Parents are able to unwind and relax while their kids are well taken care of by dedicated kids' entertainers at a separate room where they have a host of fun-filled activities to engage the kids and include watching a movie to keep them occupied. Kids entertainment will happen on Sundays only.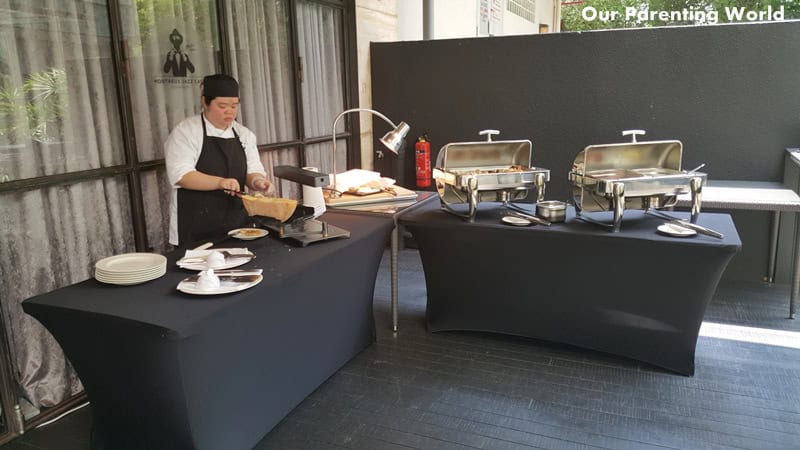 While waiting for your meal to come, meanwhile, check out the Live Station located at the outdoor dining area. Diners can savour on Citrus Roast Chicken with wild forest mushroom cream sauce and sides dishes, consisting of steam carrot, roasted cherry tomatoes and garlic mashed potatoes. Look out for the main draw at the Live Station, its Raclette Cheese Melting Station.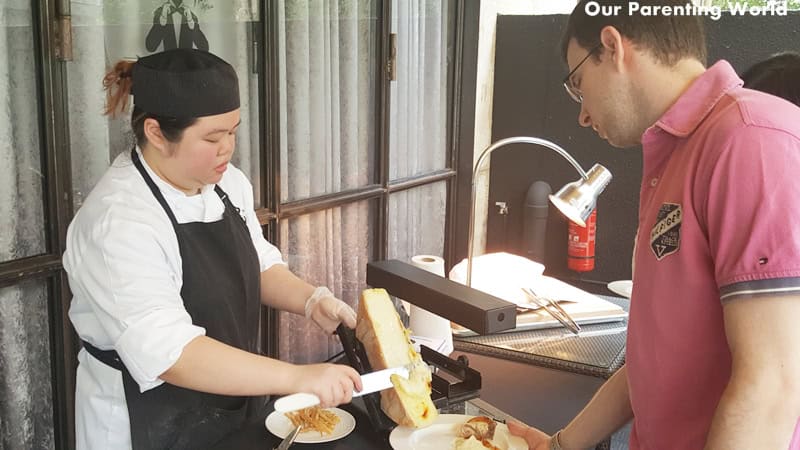 The staff will warm up the cheese, watch the gooey cheese melting and flowing down to your plate. Enjoy the generous amount of melted indulgence on the assorted breads provided or spread it on your food or you can just eat it on its own.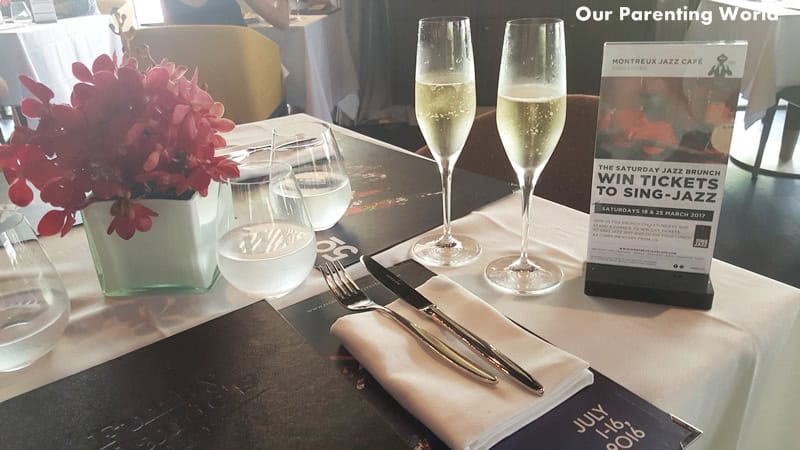 Cheers to the free-flow of Champagne! 
Enjoy Free Flow Beverages including Free flowing Champagne, House Wines, House Spirits, Draft Beers and Soft Drinks with The Jazz Brunch.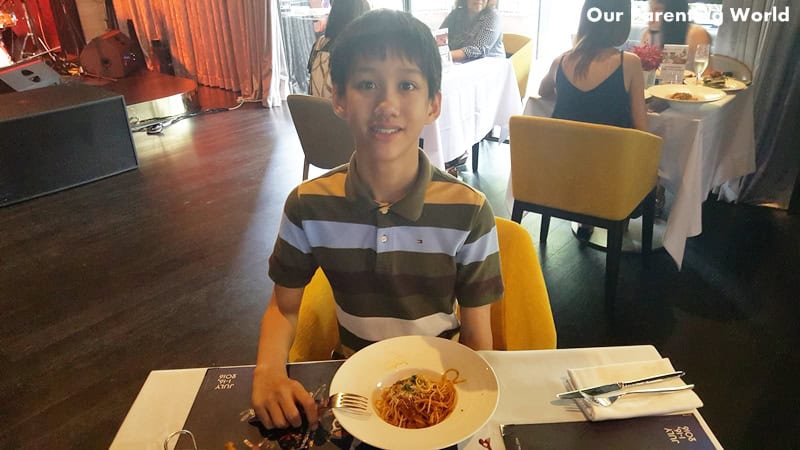 My kid's meal has arrived! It looks delicious and I can't wait to start eating!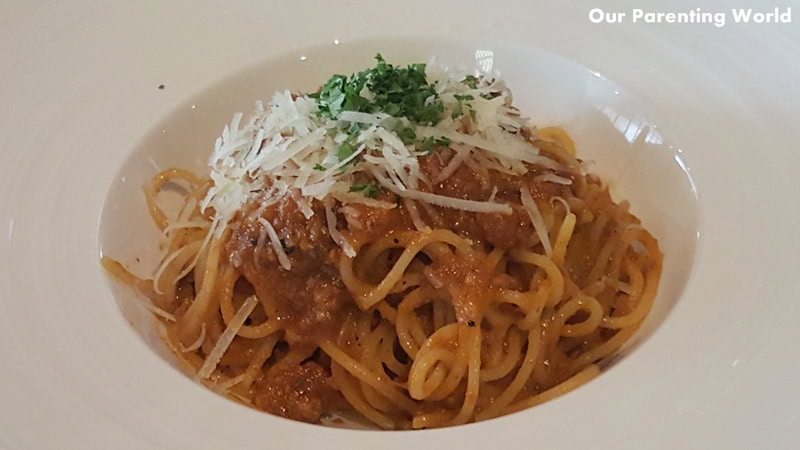 Beef Bolognaise with grated parmesan cheese and tomato sauce
Being a Pasta lover, this beef bolognaise has certainly satisfied my cravings for a delicious pasta meal.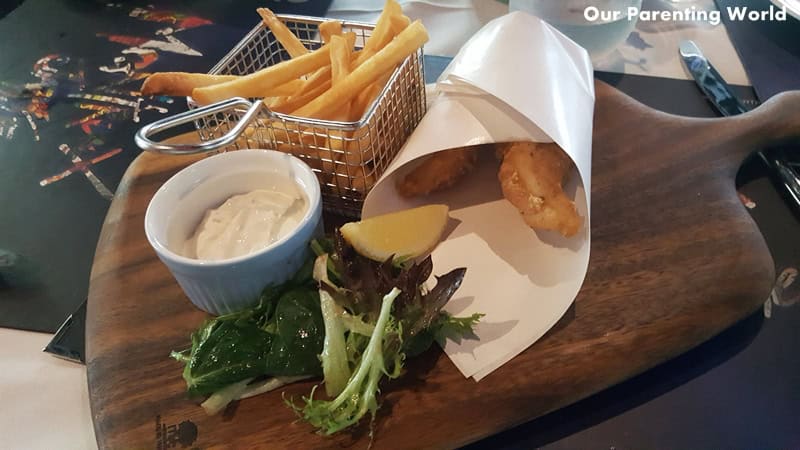 The second kid's meal that we tried is Fish & Chips with homemade tartar sauce. It looks so appetizing!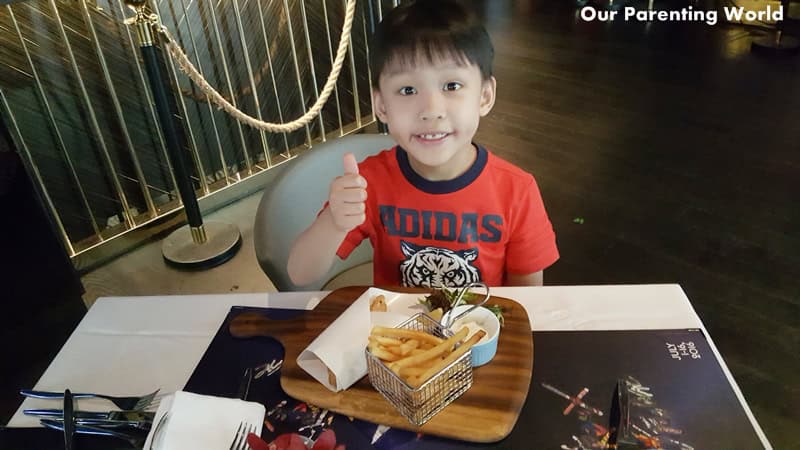 I like this soft, deep fried fish that is even more tasty when I dipped the fish in the creamy tartar sauce and it comes with crunchy French fries. Yummy! 
All Kids Menu comes with a Starter which is the Soup of the Day, A Choice of Main Dish which consists of Beef Bolognaise, Fish & Chips, Mini B.B King Burgers of 2 pieces, Crispy Chicken Tenders and Crispy Straight Cut Fries. To end of the meal, children will get to enjoy a Choice of Sweets which consists of Mövenpick ice creams, choose from Chocolate or Vanilla Ice cream with Mixed Berries. 
The Kids Meal is priced at $16++ including a starter, main dish and ice cream.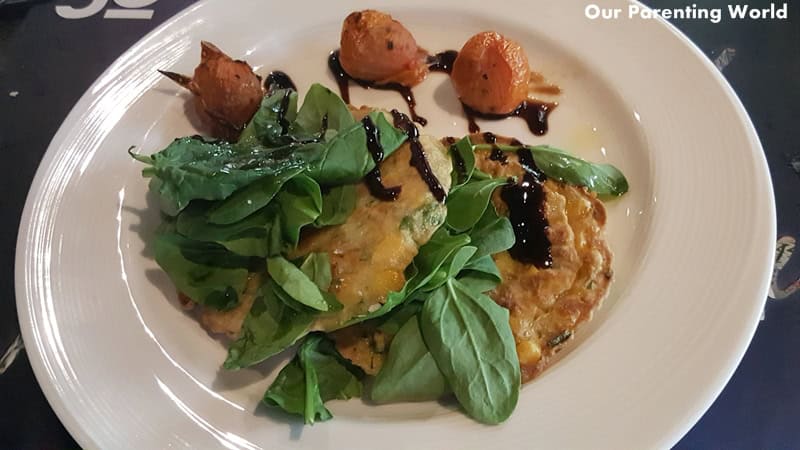 Opening Act (Starter) – Corn Fritter
Opening Act (Starter) – Breakfast Salad
For the adults diners and parents, you can enjoy a choice of Starter, Main Dish, and Dessert.
For Starter, we tried Corn Fritter consists of baby spinach, roasted tomatoes, balsamic vinaigrette and Breakfast Salad consists of hard boil eggs, shredded chicken, cherry tomatoes, avocado, purple onion, croutons. Even though they are starters, the portion is hearty and fulfilling.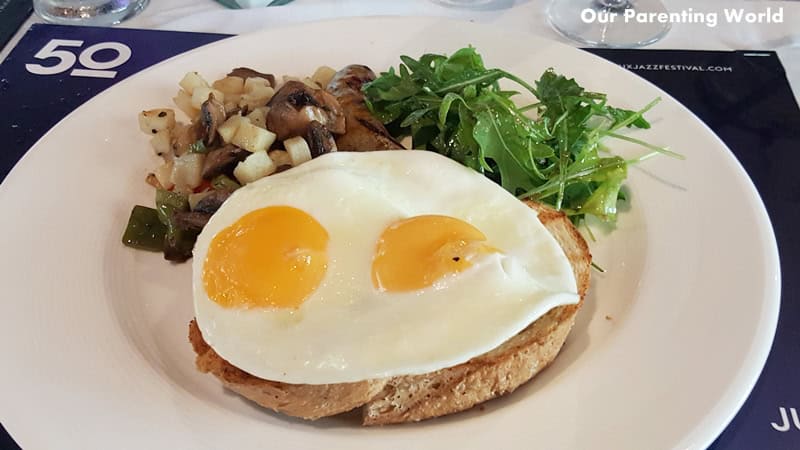 Main Act (Main Dish) – Breakfast Hash & Hen Egg Sunny Side Up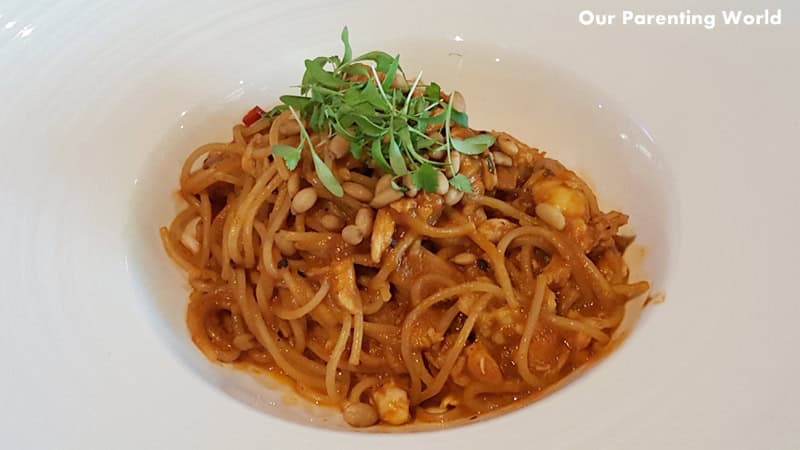 Main Act (Main Dish) – Spanner Crab Spaghettini
For Main Dish, Breakfast Hash & Hen Egg Sunny Side Up includes bell pepper, potatoes, button mushrooms, arugula salad, chicken sausage, wholemeal toast. The eggs are well made, everything with the salad and mushrooms are very fresh and really delicious! 
Spanner Crab Spaghettini includes mild spicy tomato sauce, pine nuts and coriander. If you like to eat spicy food, you should try this. The sweetness from the crab meat is a perfect complement to the spiciness from the tomato sauce.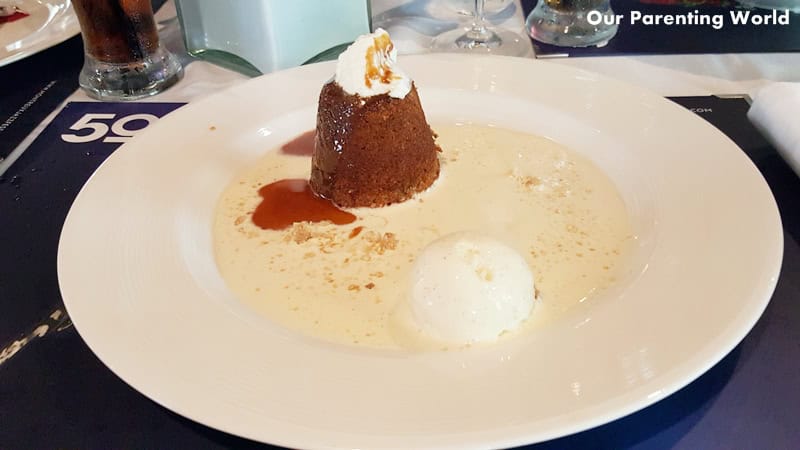 Final Jam (Dessert) – Sticky Date Pudding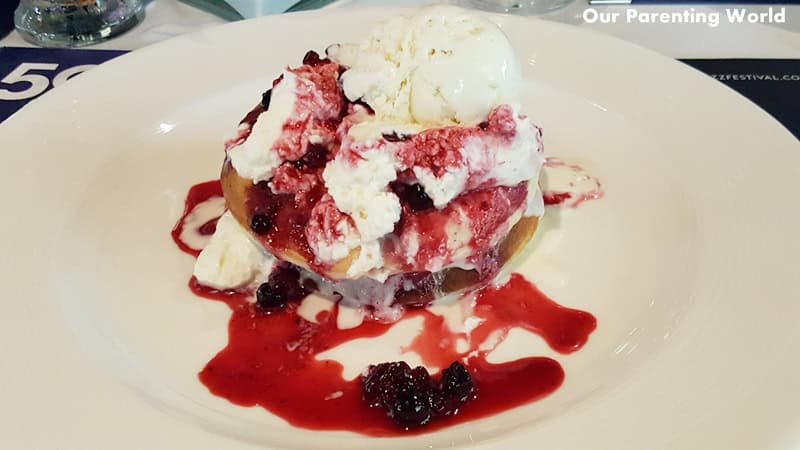 Final Jam (Dessert) – Fluffy Pancakes
Its dessert time! Make sure you have enough stomach space for desserts. We tried Sticky Date Pudding with salted caramel, vanilla sauce, whipped cream and vanilla ice-cream. Both desserts are absolutely divine and come highly recommended! The sticky date pudding is served warm, moist and so full of flavour. Next, Fluffy Pancakes with mascarpone cream, caramelized mix berries and vanilla ice-cream. The pancakes are so light and fluffy and generously drizzled with lots of cream, sauces and mix berries. A selection of tea and coffee are available for you to enjoy your desserts with. 
The Jazz Brunch is priced at SGD98++ per person including free-flow of alcoholic beverages and soft drinks, and without alcoholic beverages, it is priced at SGD78++ per person. 
Montreux Jazz Cafe is a kids-friendly restaurant that the whole family can enjoy a good meal and relaxing time together. Kids will be kept busy with activities and happy with its dedicated kids' entertainers. Parents can chill out and enjoy good food and music. 
Montreux Jazz Cafe, The Jazz Brunch is available every Saturday and Sunday from 11am to 3pm. Kids entertainment is held on Sundays only.
Montreux Jazz Café
Pan Pacific Orchard
10 Claymore Road
Singapore 229540
For reservations, details as follows:
Tel: +65 6733 0091
Email: [email protected]