This March, look forward to enjoy a unique, the first-of-its-kind lava cookie snack, "Mr. Kun Lava Cookie Ball," which was specially curated by fine dining veteran, Huang Yen Kun. This lava cookie is distinct from others due to its premium ingredients and inspiration drawn from gourmet desserts. The cookie comes in two delightful flavors – strawberry and yogurt, both exhibiting nuanced tastes.
Huang Yen Kun is a Taiwan-born restaurateur who owns several esteemed restaurants. He drew inspiration from the world of fine dining and aspired to craft a dessert snack that would be accessible to everyday people at an affordable price point. He envisioned creating a snack that would provide a "fine dining like" experience and could be easily purchased at supermarkets. His aim was to make this snack a household staple that could be enjoyed not only during special occasions but also on a daily basis.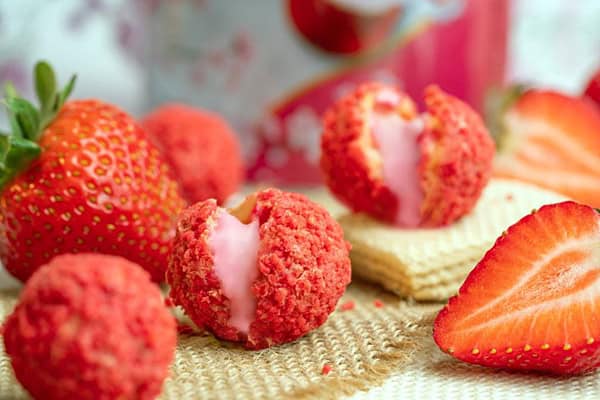 (Above: Mr. Kun Lava Cookie Ball in Strawberry Flavour)
The luxurious Mr. Kun Lava Cookie Ball is a three-layered treat that features a crispy, buttery texture that dissolves in your mouth. It took three years of research and development to create this delectable snack, which combines premium ingredients with baking techniques widely used in high-end restaurants. This bite-sized dessert offers a superior level of richness and distinctiveness, with a sweet and nutty undertone that adds to its appeal.
Launched in November 2022, the Mr. Kun Lava Cookie Ball is a one-of-a-kind specialty snack that blends the elements of fine dining and snacking. This delectable snack, which comes in two flavors – Yogurt and Strawberry – is the first lava cookie snack of its kind to be introduced in Singapore. With more flavors in the pipeline, the Mr. Kun Lava Cookie Ball is created using only premium ingredients and innovative fine dining techniques to produce its three-layered texture and burst of flavors. It makes an excellent gift for any occasion and is suitable for people of all ages.
To purchase and find out more, please visit https://www.mrkun.com.sg/.