For the very first time, Cultural Medallion Recipient and Singapore Chinese Orchestra Music Director Tsung Yeh conducts for Ding Yi Music Company in collaboration with Esplanade -Theatres on the Bay for a delightful evening of Chinese chamber music!
Music from Turn of the Century 《琴箫钟鼓笙》 conducted by the reputable maestro Tsung Yeh (葉聰), will be held on 20 July 2018 (Friday) at the Esplanade Recital Studio. This concert features renowned Chinese cellist Chu Yi-Bing's (朱亦兵), China's "First Chinese Cellist" to receive awards and recognitions from various reputable international music competitions, debut performance in Singapore as well.
The programme features an elaborate selection of Chinese chamber music works composed from 1990 to 2004, the period where the former is deemed as the "turning point" of Chinese music compositions. These works represent the three odes of traditional Chinese poetry; Odes of Chinese social custom or traditional folk music (风), odes of the kingdom or court music (雅), and odes of praising in ancestral temple or spiritual paeans (颂). Premiering repertoire by well-known composers like Wang Xilin's (王 西麟) Lamentation 《殇 I》, Jia Daqun's (贾达群) Three Movements of Autumn 《秋三阕》and Dr Chen Yi's (陈怡博士) Song of Five 《琴箫钟鼓笙》, performed by cellist Chu Yi-Bing.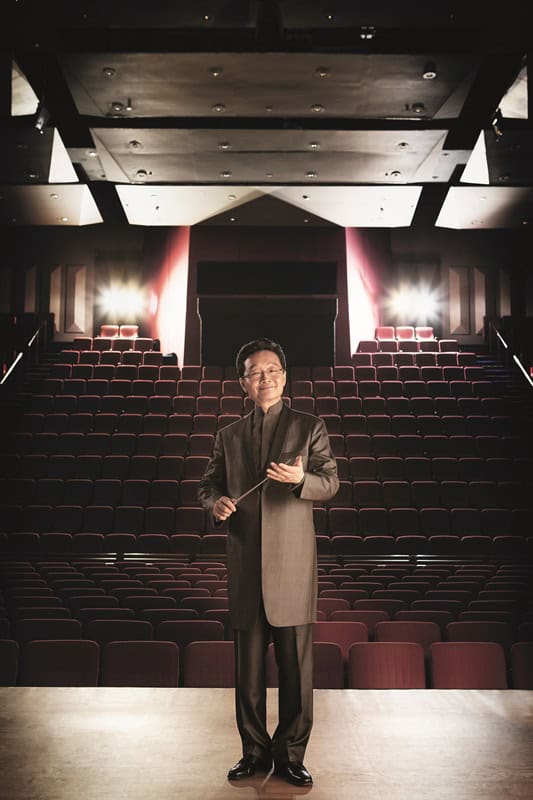 Image credit to Singapore Chinese Orchestra
Exclusive Interview with Cultural Medallion Recipient and Singapore Chinese Orchestra Music Director Tsung Yeh
Our Parenting World team is pleased to be able to interview Cultural Medallion Recipient and Singapore Chinese Orchestra Music Director Tsung Yeh (TY) to find out more.
1. Please share with us more about your background, who and what inspired you to take up conducting and pursue a career in music?
TY: I grew up in a family where my mother is a vocal professor in the Shanghai Conservatory of Music and my father had been a professor in the Shanghai Institute of Foreign Trade. I was influenced by my mother who got me into music profession. I started piano at 5 years old and entered elementary school, middle school and college division of the Shanghai Conservatory of Music. 
Upon graduation, I taught and performed piano in China widely. The person who brought me into my conducting career is my uncle, my mother's brother-in-law, who is one of the pioneers in China Symphonic Development Foundation. His name is Han Zhongjie, one of the chief conductors of the China National Symphony Orchestra in Beijing. That was towards the end of the 70s. Recognising my talent in conducting, he encouraged me to take up conducting lessons, at that time he said China needed a lot of good young conductors. That's how I started to study conducting in the late 1970s.
My biggest breakthrough was in 1981 when I left China to study in the United States (USA). I remember I arrived in New York City that same year and studied in Mannes College of Music and later Yale University. In 1983, I was the first China-born Chinese conductor, to win the top prize in a competition organised by the Exxo Company and National Endowment for the Arts. After the competition, I was engaged immediately as the assistant conductor for the St Louis Symphony Orchestra (SLSO), assisting Maestro Leonard Slatkin. That was a big breakthrough point in my conducting career.
2. We understand that you are the father of three, can you share with us how do you manage your conducting career as well as your family at the same time? Any tips?
TY: In the 1980s, after I entered my career as a professional conductor in USA, I've observed many of my colleagues, not just the conductors but others too, had to travel around due to the nature of their career and it was very difficult to raise a family. Hence, I made a very strategic decision at that time after SLSO and the Florida Orchestra, to relocate to a middle-side city, South Bend in the Indiana states. That is where I became the music director of the South Bend Symphony Orchestra in 1989. Despite the heavy responsibility as the music director of the orchestra, I am also able to raise a wonderful family – my wife and three children. Two of them were born in South Bend Indiana. The environment then, gave me the ability to hone my conducting skills and raised a family.
3. What are some of the joy and challenges that you faced in your conducting career, conducting western music to Chinese music?
TY: Yes, I have some great joyful moments as a conductor – As I mentioned earlier, 1983 was my first breakthrough point. A few years later, I was one of the three selected young conductors to be featured with San Francisco Symphony by the League of American Orchestras, under the guidance of Michael Tilson Thomas. In 1990s, I was selected as the guest conductor to replace Daniel Barenboim, conductor of the world-famous Chicago Symphony Orchestra.
As an Asian conductor in Western world, whether it's America or Europe, obviously we faced a lot of challenges. First of all, you have to work very hard and even if you're as good as the other conductors in the country, you're not good enough. You have to be better to win a job and recognition. This wasn't a challenge for me, because I have always been a hard worker. In addition, as a foreigner then, I have to get myself familiarised with the Western social custom and other things when I first arrived America. The biggest challenge was managing and leading a western symphony orchestra in USA as an Asian conductor in the 1980s. You need to know how to conduct and improve the orchestra, deal with musicians in union, know the repertoire, plan the season and also understand the business part of an arts company which we have no idea in Asia for many years. For example, selling tickets and making your programme popular. I am very glad that I had the chance to do so while I was in South Bend Indiana.
Another challenge for me was connecting with Chinese music. I started with the western piano and a conductor for symphony orchestra in USA. I took a drastic turn in 2001, when after one of my guest conducting engagement with Singapore Chinese Orchestra, they asked me to be their music director. Since 2002, I faced many challenges which encouraged me to learn new things as there are many differences between conducting a western and a Chinese orchestra.
4. What are some of the music pieces that you would like to highlight and share with the audience on the coming concert?
TY: For Ding Yi's upcoming concert title Music from turn of the Century 《琴箫钟鼓笙》- Just like the title suggests, all five pieces I selected were composed during the period between 1990s and 2004. I chose that period because it was when the particular music style written for Chinese instruments went through a huge change, with many great characteristics. First of all, in all of these music, the thesis in that period's compositions, the composers tied their hearts to go back to the Chinese tradition and roots. Hence in these five compositions, they covered three major categories of Chinese traditional music. The first piece Shao I, the second piece Late Spring and the third piece Three Movements of Autumn are considered scholastic music. The fourth piece Lamentation is ceremonial music and the fifth piece, Sound of the Five is a mix of the folk, ceremonial and scholastic music.
For me, the highlight is the last piece of the concert, Sound of the Five, as it mixes all three ancient characteristics with a very modern outlook. It's a wonderful combination of modern texture and traditional Chinese sources. The composer Dr Chen Yi, who is a Chinese American composer based in Kansas now, did a great job.
Another highlight for this piece is that, it is the only piece with a solo cello concerto with the Chinese chamber ensemble. That's why I put this piece as the finale as it is the highlight of the whole concert. The solo cellist, Chu Yi-Bing is also a wonderful virtuoso.
5. Can you share with us about your collaboration with Ding Yi Music Company and what goes into preparing for this concert?
TY: Ding Yi is very dear to me because majority of the Ding Yi musicians actually played in the formal SYCO (Singapore Youth Chinese Orchestra) and I know them very well as I used to be the music director of SYCO. Another thing that I like about them is that they are not a big Chinese orchestra which consists of 60-80 people. They are an ensemble of 18 people which offers a different and intimate music that you will feel very close to it.
6. What's your drive as a conductor to be where you are now? Do you have any advice to someone who aspires to be a successful conductor like you?
TY: What drives me as a conductor for all those years? Well first of all, I always feel that I want to and need to be a conductor. With that, I'm capable of making orchestras better in quality, performance and in repertoire. Secondly, I would love to bring a good orchestra to the people around that area. Thirdly, I also want to bring this orchestra to the world and share our great music with other countries.
My advice to young conductors – always have a very strong desire to be against all odds and keep working hard.
7. Lastly, what can audience expect when they come and watch Music from Turn of the Century 《琴箫钟鼓笙》?
TY: To the audiences interested or coming for this concert, they should first understand that this is a concert about music with very deep roots into Chinese culture. In addition, it is also a combination of compositional techniques between the new and traditional Chinese Music. That is the characteristic of the music pieces which will be performed in Music from Turn of the Century.
I hope you will abandon whatever concepts you already have, just open out and let the music flow into your heart. I wish you will enjoy the concert. Thank you!
Thank you Tsung Yeh (葉聰) for taking our interview!