Do you know of anything well-known from Sweden? Most of us in Singapore would be able to quote Volvo cars and Ikea furniture. For those of you who are in the mid-40s or older, you may have quoted "ABBA" too. ABBA is a well-known Swedish pop group formed in the 70s. You would probably heard of their popular hits like "Super Trouper", "Dancing Queen", "Take a Chance on Me" etc. This "Mamma Mia!" musical is actually based on their 1975 chart topper "Mamma Mia".
Mamma Mia! is a lively and fun musical. The musical started off with Sophie, a 20 year old lady who is going to marry her fiancé, Sky. She told her friends that she has invited her mother's three former boyfriends to attend her wedding as she thought one of them could be her father.
The day before her wedding, all the three gentlemen arrived. There were, Sam who was an architect and had designed the hotel which Sophie's mother was managing, Harry who was a banker and Bill who was an adventurer. Sophie convinced them not to tell her mother, Donna that she invited them but eventually Donna saw all of them and she was shocked.
Initially Sophie hoped that when she met all the three men, she would know who her father was. Unfortunately, even after talking to each of them, she was confused and did not know who her father was. To make matters worse, all three of them wanted to give her away during her wedding as her father.
During the wedding, when Donna walked Sophie down the aisle, all three gentlemen were unsure who was Sophie's father and they all agreed that it did not matter which one of them was her biological parent, as Sophie loves all three and they were all happy to be "one-third of a father" and a part of her life. But Sophie suddenly changed her mind about the wedding and said she was not ready to get married and wanted to go travelling with her fiancée instead. One of the men, Sam revealed to Donna that he still loved her and proposed to her. Donna accepted his proposal and they decided to get married. The wedding ceremony became theirs instead of Sophie and Sky.
The musical ended with the cast singing "Mamma Mia", "Dancing Queen" and "Waterloo". The tight fitting colourful "ABBA" inspired costumes of Donna and her lady friends were also the highlight of the musical. The musical ended on a high note with most of the audience standing up and dancing to these lively songs.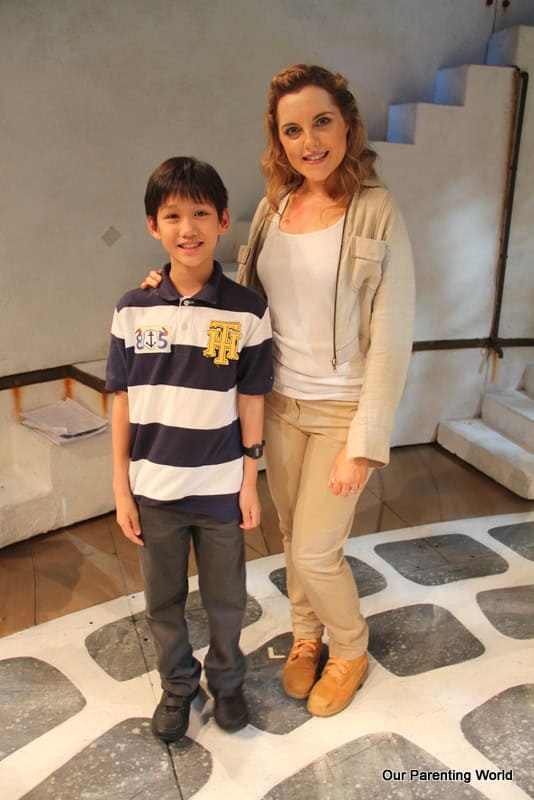 Our Parenting World is pleased to be able to interview the lovely "Sophie" brilliantly portrayed by Niamh Perry whom she shared with us that Mamma Mia! the musical is suitable for both children and parents. It is fast tempo like a whirlwind with gorgeous sparkling costumes and great dance routines. It is really a musical for the whole family. When we watched the musical, we totally agreed with what she said!
Niamh mentioned that this is the first time she has been to Singapore and she is looking forward to explore and try out the spicy local food which is her favourite and also other popular Singapore dishes like barbeque stingray.
Thank you Niamh Perry for taking our interview. We wish her, everyone from the Mamma Mia! cast and team all the best and have a great time in Singapore! 
Overall, this is an excellent production. We had watched the movie version featuring Meryl Streep as Donna and Pierce Brosnan (former James Bond actor) as Sam. If you have seen the movie, you will enjoy the musical even more. In this year-end holidays, if you are looking for a cheerful and light-hearted musical with fabulous music of the 70s, look no further, this Mamma Mia! Musical is a must watch on your list. We love the music, dancing, superb performances by the cast and thoroughly enjoyed this lively and highly entertaining musical. Hurry, catch the musical before and by 14 December 2014!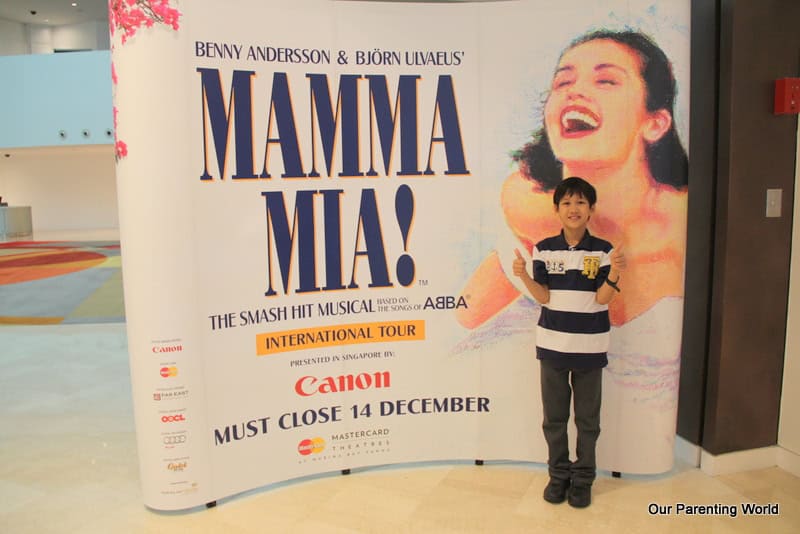 Thumbs up to Mamma Mia! for the spectacular show!
With an international cast from the UK, of which some are direct from the West End, Mamma Mia! is the ultimate feel-good show that has returned to Singapore after its successful run in 2004. This award winning musical features music & lyrics by Benny Andersson & Björn Ulvaeus, Mamma Mia! is written by Catherine Johnson, directed by Phyllida Lloyd and choreographed by Anthony Van Laast. The production is designed by Mark Thompson, with lighting design by Howard Harrison, sound design by Andrew Bruce & Bobby Aitken and musical supervision, additional material & arrangements by Martin Koch.
The International Tour is produced by Judy Craymer, Richard East and Björn Ulvaeus for Littlestar in association with Universal, Stage Entertainment and NGM, is presented in Singapore by BASE Entertainment Asia, Lunchbox Theatrical Productions and David Atkins Enterprises. As part of its 35th Anniversary celebrations in Singapore, Canon has also formed a partnership with the smash hit musical. 
TICKETING AND SHOW INFORMATION
MAMMA MIA! International Tour
Season:           13 November – 14 December, 2014
Venue:             MasterCard Theatres, Marina Bay Sands
Cast:                The International Tour features a cast from the UK's West End
PERFORMANCE TIMES:                     
Tuesday – Friday 8:00pm; Saturday 2pm and 8pm and Sunday 1pm and 6.00pm

TICKET PRICE:                                   
From $95*
* Excludes the booking fee of SGD$3 per ticket
BOOKINGS:
THROUGH INTERNET:           
www.BASEentertainmentasia.com,
www.MarinaBaySands.com/Ticketing or www.sistic.com.sg
BY PHONE:   +65 6688 8826
IN PERSON AT:                      
Marina Bay Sands Box Offices (Museum, Theatres, SkyPark, Retail Mall and Hotel Tower 1 Lobby). For more information please log onto – www.MarinaBaySands.com
For exciting ticket package options including accommodation at Marina Bay Sands please visit: www.marinabaysands.com/packages. Corporate and Group Bookings are available via Showbiz.  Email: [email protected] or call 6688 1029