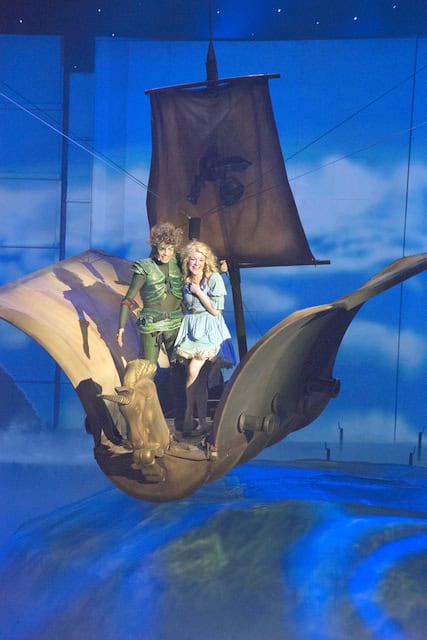 Photo Credit: Photographer Luk Monsaert
When we were young, we have heard of many bedtime stories, and one of the most popular one has to be Peter Pan.
Peter Pan is the story about a mischievous and magical boy who can fly and he never wants to grow up. He spent his never-ending childhood adventuring on the small island of Neverland which is his dwelling place as the leader of his gang, the Lost Boys, interacting with mermaids, Native Americans, fairies and pirates. One night, Peter visited Wendy and her brothers in their London nursery and took them on a magical flight to Neverland where the Lost Boys, Indians, mermaids and pirates await them in adventures beyond their wildest imaginations.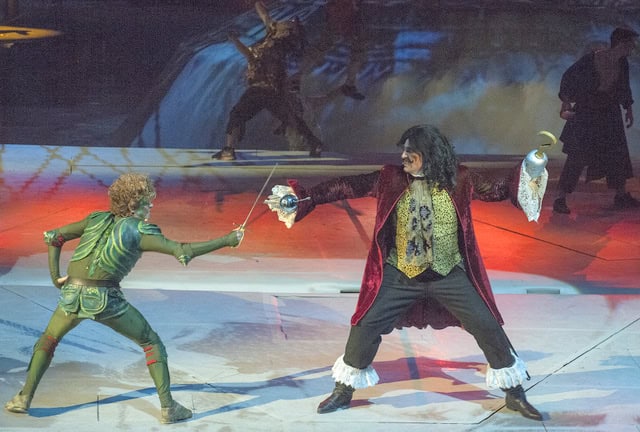 Photographer Luk Montsaert
In Neverland, they met with a group of pirates led by Captain Hook. Captain Hook gained that name because one of his hands was replaced by a hook. He was nasty and the enemy of Peter Pan. Captain Hook and his pirates captured Wendy and the boys and wanted to poison Peter Pan when he was asleep. When Peter woke up, he learned from the fairy Tinker Bell that Wendy has been kidnapped. Peter headed to the ship and fought with the pirates and Captain Hook. He eventually defeated them and kicked Captain Hook to the jaws of a huge crocodile. Peter save Wendy and the boys.
In the end, Wendy decided to go back to her home in London with her brothers. Peter promised to return for Wendy every spring. The end of the play found Wendy looking out through the window and saying into space, "You won't forget to come for me, Peter? Please, please don't forget."
This is a family-friendly musical that the whole family can enjoy and for the adults, this musical will make you remember your childhood days especially if you have read the story and or watched the Disney animated features of Peter Pan, we are so excited to watch the show live and to see our favourite character, Peter Pan in action!
Children like Gor Gor and Di Di needless to say, they enjoyed the musical very much. It is packed with thrilling action-packed swordplay, acrobatic stunts, choreography and dancing. There are so many surprise elements in the musical that excite the boys especially when the cast, Peter, Wendy and Tinker Bell flew over them, the adorable dog and when the huge green Crocodile first appeared and then swallowed Captain Hook towards the end of the musical. The children were squeaking in delight! 
We also love the memorable songs that were sang throughout the musical like "Forever Young" by Alphaville, "You Raise Me Up" by Josh Groban, "Angels" by Robbie Williams, "Kiss From a Rose" by Seal and many more. We were still singing and humming to the songs even after the musical.
The show was engaging that kept us captivated from beginning to the end, bravo to the cast for their brilliant performances and we totally enjoyed the whole musical! 
Thank you to the lovely organisers and Resorts World Sentosa for having us. We have met many of our friends with their families at the show. Congratulations to the winners of our Peter Pan Musical giveaway, we hope you and your family enjoyed the show as much as we do!
During this year end school holidays, if you plan to watch a family musical, this will certainly be the one that suits the whole family. It is a beautiful, enjoyable and magical timeless tale that comes alive with chart-topping hits. We believe at the end of the show, everyone believes in fairies now. Don't miss this spectacular show direct from Europe from now till 20 January 2015.
For ticketing details, please see below:
Date: 27 November 2014 – 20 January 2015
Show Times: Monday, Tuesday, Thursday, Friday: 8pm
Saturday & Sunday: 3pm & 8pm
Venue: Resorts World™ Theatre, Resorts World Sentosa
Prices*: Premium: $168 (comes with one glass of wine) 
Standard: $138, $108, $78, $58 (Restricted View)
Get your tickets at SISTIC or Resorts World Theatre.
*Prices exclude ticketing fee. Terms and Conditions apply.
Please click HERE for more information. Have a great time at the show!