Resorts World Sentosa (RWS) (圣淘沙名胜世界)'s latest end-of-year original production – Musical TARU (恐龙复活了) will be showing at Resorts World™ Theatre from Friday, 7 December 2018 till Sunday, 13 January 2019! 
Musical TARU took close to two years to create in South Korea and is dubbed as one of the most-loved family entertainment musicals in Korea, will take the stage at RWS with a localised Mandarin spin-off consisting of star-studded local and regional cast.
The story is about Nala, Paul and Albert were visiting the museum when a mysterious lunar eclipse occurs. Before they know it, the museum's exhibits come alive and the fossil of a baby T-Rex named TARU is stolen! Teaming up with the newly animated exhibits, can our daring trio save baby TARU in time?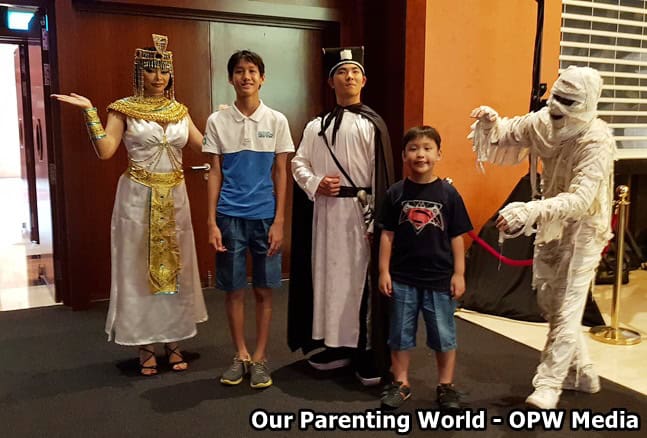 Audience can look forward to see a 2.5-metre tall T-Rex fossil life-sized dinosaur puppetry coming to live on stage. Discover the natural history museum's latest attraction, a rare and fascinating pair of mother and child T-Rex fossils, be in awe and watch the magic of the museum comes alive as the musical reveals even more surprise with its resurrected residents like the Mummy, a suave sidekick of Cleopatra, Admiral Zheng He as they joined forces and travelled through familiar Singapore's landmarks such as Bukit Timah Hill and Changi Point to recover baby T-Rex TARU's stolen fossils.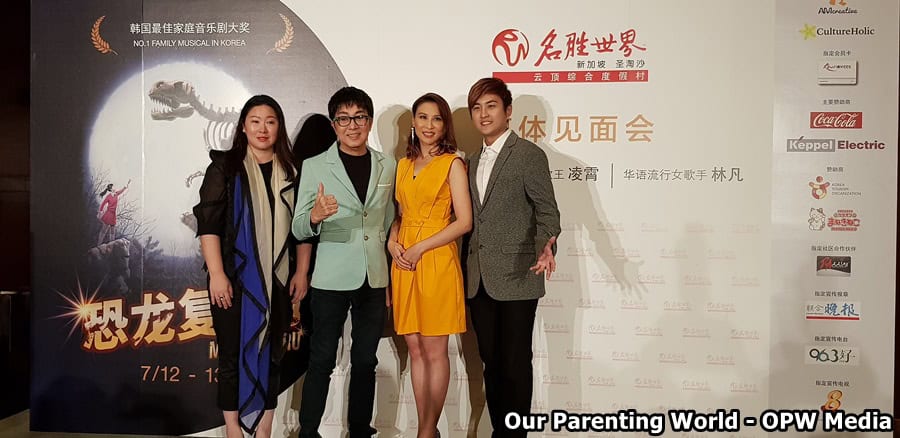 The Singapore version of Musical TARU has assembled an accomplished local and regional cast as follows: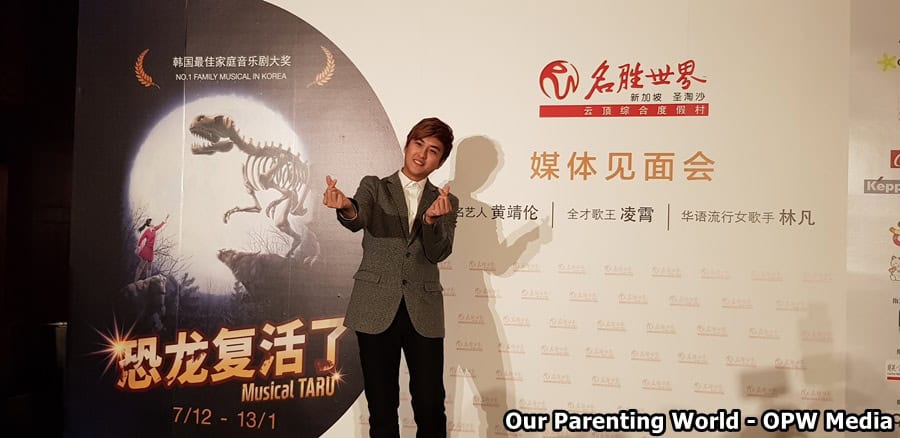 One of the main leads is Wong Jinglun (黄靖伦), famous for his participation in Singapore's Project Superstar, and Taiwan's One Million Star, where he was notably voted the most popular contestant of the show.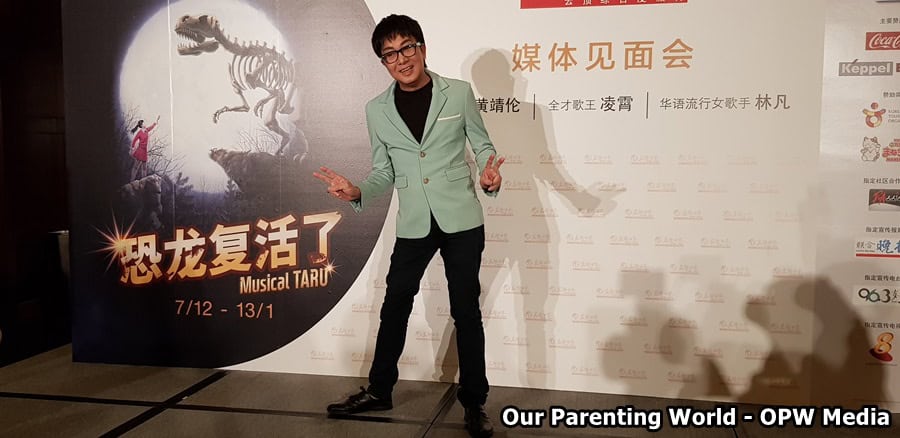 Accompanying him is Ling Xiao (凌霄), a local award-winning veteran singer who has released more than 100 albums to his credits and was crowned one of the Top Ten singers in both Singapore and Malaysia.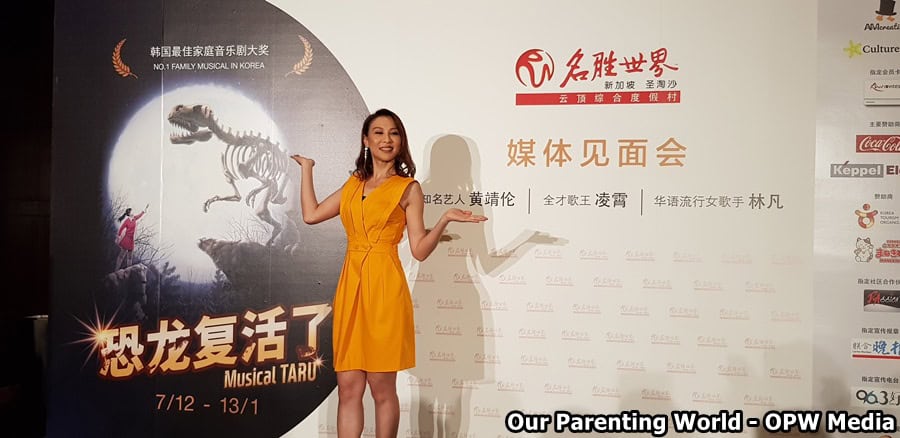 Adding female spunk to the cast is Freya Lim (林凡), a Taiwanese singer who was born in Taiwan with family lineage in Malaysia. Freya, also a multiple award-winning songbird, has released more than six albums to date.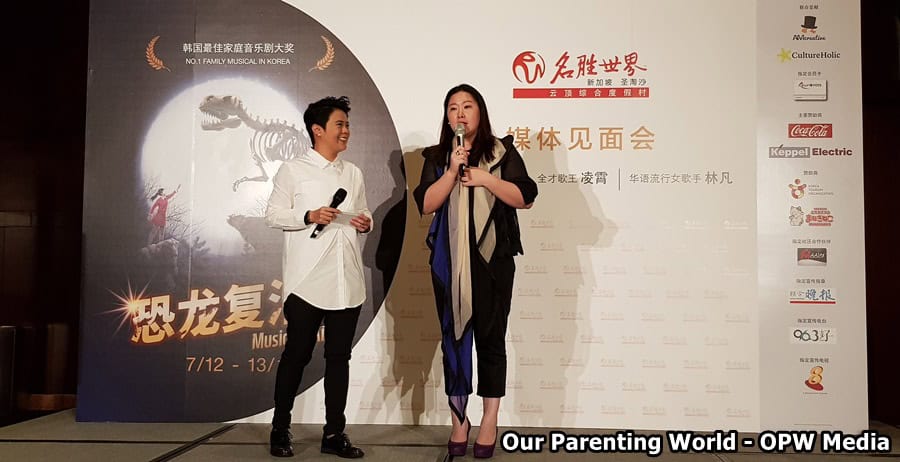 Our Parenting World – OPW Media team is pleased to meet and interview Ms Vanessa Lin (林奕君), Chief Executive Officer and Founder (创办人及行政总裁) of AM Creative and Executive Producer (音乐剧制作人) for Musical TARU to share more about her thoughts of the musical. She shared that selecting for the cast is such a big challenge as they have to find actors who can sing, act, dance with high energy and also able to perform for a long period of time. The cast also need to carry the puppets which can be very heavy with some weighing about 20kg! She is confident of the cast that they will be able to perform their roles well. 
Since young, Vanessa likes to visit the museum and she always wonder what if one day the exhibits will come alive and what will happen? This musical will be attractive to families and children who are curious and to satisfy their fantasies of seeing the museum exhibits coming to live! It is a entertaining musical that everyone will enjoy!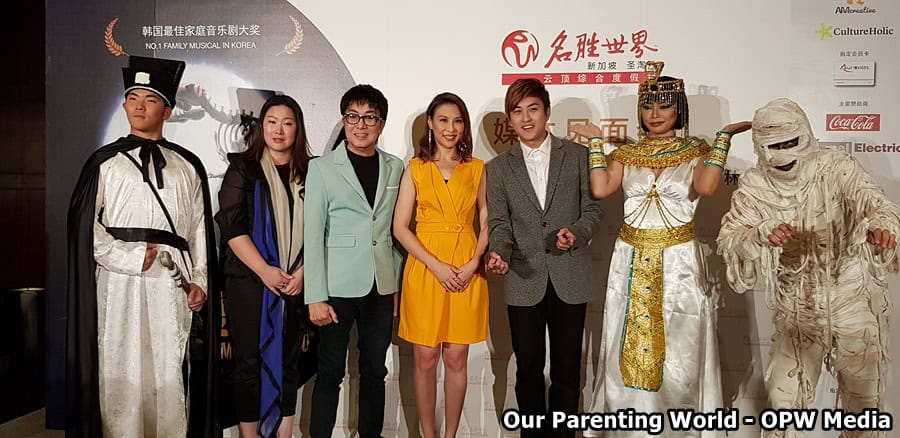 Musical TARU is one big adventure musical which promises plenty of laughs, tears and drama that you should not miss!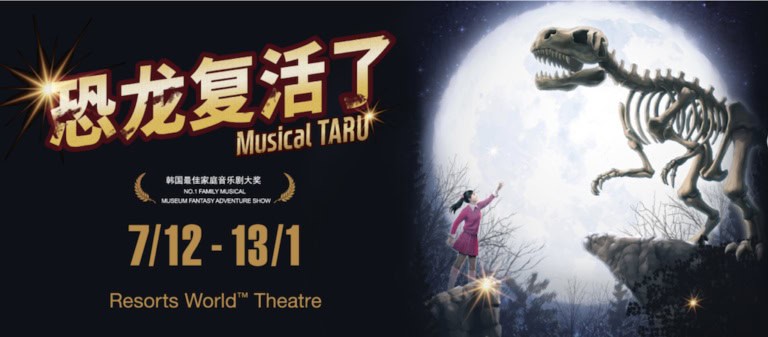 Musical TARU
Show Dates and Time: 
Friday, 7 December 2018 – Sunday, 13 January 2019
Tuesday (Christmas Day): 8pm
Tuesday (New Year's Day): 2pm
Thursday (10 Jan 2019): 11am
Thursday – Friday : 8pm
Saturday: 2pm & 8pm
Sunday: 2pm
9 December 2pm (SOLD OUT)
Venue:
Resorts World™ Theatre, Resorts World Sentosa
Ticket Pricing:
(Excludes Booking Fee)
Standard:
S$108 (VIP), S$88 (Cat 1), S$78 (Cat 2),
S$58 (Cat 3), S$38 (Restricted View)
Child/Senior Citizen*:
S$86 (VIP), S$70 (Cat 1), S$62 (Cat 2),
S$46 (Cat 3), S$30 (Restricted View)
*Child (4 – 12 years old / Senior Citizen (age 60 yrs old and above)
To find out more and to purchase the tickets at SISTIC, please go to https://www.sistic.com.sg/events/taru0119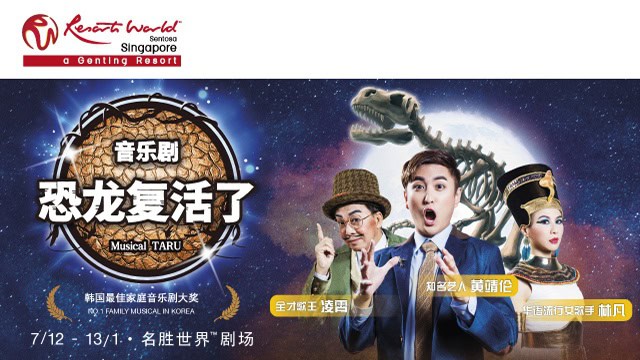 Good News! Giveaway Alert!
Thanks to Resorts World Sentosa, we are giving away 2 pairs of Category 1 tickets to 2 lucky readers for you to bring your partner to watch Musical TARU. 
Each winner will receive a pair of tickets worth $176! Resorts World Sentosa's organisers will liaise with the winners on the date and time to watch the musical. 
Facebook and Instagram Contests:
Here's how to win the giveaway:
1) LIKE and FOLLOW Our Parenting World Facebook Page and Resorts World Sentosa Facebook Page
2) FOLLOW our Instagram at @opwmedia and @rwsentosa
3) LIKE, SHARE and TAG 5 family and friends or more to share this Facebook Giveaway Post
4) LIKE, SHARE and TAG 5 family and friends or more to share this on @opwmedia Instagram Giveaway Post 
Hurry, giveaway will close on 26 December at 23:59Hr. 
Thank you and Good Luck! 🙂 
Giveaway Closed and Winners Announced, for winners' details, please visit Our Parenting World Facebook Page at https://bit.ly/2AnQzDt
Terms and Conditions 
Entry into the giveaway contest will be deemed as acceptance of these terms and conditions. The rules of the giveaway contest and how to enter are as follows:
1) The prize is as stated, subject to change and fulfillment by the sponsors. Winners are not allowed to change the prizes. The prize will be non-transferable, non-refundable and non-exchangeable for other dates/times. The sponsors reserve the right to amend the competition, substitute any prize or with another of equivalent value without giving notice.
2) All participants have the opportunity to win as long as you have completed and fulfilled all the steps required by the giveaway contest. Please make sure your likes and shares are set to public for verification purposes. Incomplete entries and fake accounts will be disqualified at the discretion of the organisers.
3) Winners of past giveaways in the last one month will not qualify for this giveaway, please wait till after one month from the date that you have won to participate in the current giveaways. 
4) Giveaway contest is open to all Singapore residents with a valid Singapore mailing address
5) The organiser (ourparentingworld.com) is not responsible for inaccurate prize details supplied to any entrant by any third party connected with the giveaway contest by the sponsors.
6) Winners will be notified by email /Facebook/Instagram after the contest has ended. If the winner cannot be contacted or do not claim the prize,  we reserve the right to withdraw the prize from the winner and or pick a replacement winner. 
7) The organiser reserves the right to cancel the contest if circumstances arise outside of its control.
8) The sponsor's and the organiser's decision in respect of all matters to do with the giveaway contest will be final and no correspondence will be entered into.
9) Other terms & conditions applied.