Mustela, the skincare expert for babies and mothers-to-be with a history of nearly 70 years aims to educate consumers about their ingredients, encourage transparency, provide parents with the necessary tools on how to care for their baby's skin.
Mustela introduces a range of products that address four different skin types, a test to help parents determine their baby's skin type, provide comprehensive details about their extraction process and ingredient choices so that parents will have a better idea and a peace of mind when buying the products for their little ones. 
We have Denise Ang, Managing Director Dynamic Resources Pte Ltd, Mustela Exclusive Representative, Singapore to share with us more about Mustela, how to build good skincare habits for newborns and more. 
1. Can you share more with us about Mustela range of products that are suitable for babies and mothers to be? What's so unique about Mustela?
Denise Ang: Mustela has developed lines of targeted dermo-cosmetics products that can be used with the very delicate skin of babies and young and expectant mothers.
These two lines namely, Mustela Bebe and Mustela Maternite, not only meets the requirements of babies and expectant mothers and new mothers, they have been developed in collaboration with pediatricians and dermatologists.
As a leading French brand in the European market, we are committed to ensuring our products meet the toughest requirements in terms of quality, safety and efficacy. All the ingredients that go into our products undergo a rigorous selection process that guarantees the tolerance and safety of each one of our products. Tolerance is systematically assessed in the laboratory using reconstructed skin models, then in adults, and finally in children in actual usage conditions under dermatological supervision.
The safety of Mustela products has been our top priority for 70 years.
EV.E.I.L.S – EValuation of Early Infant Life: the Skin
For Laboratoires Expanscience, the producer of Mustela, babies' skin has always been a fascinating field of research. In partnership with a number of renowned dermatology researchers, they have carried out the first study into children's skin from birth onwards.
Our researchers began by analysing the physiology of a baby's skin from the cutaneous barrier right down to the cellular level and the lowest-lying layers of the epidermis.
They discovered that babies' skin was richer than they could possibly have imagined at birth: a wealth of cells that remain unique throughout life.
Avocado plant
Having made the discovery of EV.E.I.L.S, they have delved deep into nature and designed and patented a brand-new active ingredient – Avocado Perseose® – which works in complete harmony with babies' skin, protecting this precious cell stock against outside attacks.
This programme, which is the fruit of 13 years of research and which has resulted in 14 patents and 59 scientific publications, has resulted in the Mustela Bébé-Enfant range being completely reformulated.
This revolutionary generation of products is even more effective at meeting the specific requirements of babies' skin with:
Avocado Perseose®, a patented natural ingredient which protects the skin, strengthening its cutaneous barrier and preserving its wealth of cells.
2. What are the common skin problems in babies? How can parents solve them?
Denise Ang:
(1) Cradle Cap
(2) Baby acne
(3) Diaper rash
(4) Minor rashes and irritations such as heat rash, drool rash,
(5) Eczema
In the first few months of a baby's life, minor skin problems are common and there are creams or ointments readily available in pharmacies to treat minor issues.  Always ask a pharmacist for help.
Mustela has an ointment, Cicastela, a safe and effective multi-purpose remedy that delivers soothing relief and provides hydration to ease minor irritations such as drool rash, prickly heat, minor cuts and abrasions as well as insect bites.
That said, any rashes associated with other symptoms (such as fever, poor feeding, lethargy, or cough) need to be evaluated by a doctor as soon as possible. 
3. How can parents cultivate good skincare habits for newborns and why would it be beneficial in the long run?
Denise Ang: A baby's skin is delicate because it hasn't fully developed its protective barrier. Because of this, it's essential to carry out cleaning with the utmost hygiene and to make sure you are using the most suitable products for your baby.
Taking care of baby's skin is straightforward – bath, hydrate and protect baby's diaper area.  In our hot and humid climate, a daily bath with a gentle cleanser is important. After daily bath, carefully moisturize your baby's entire body and face using a moisturizing cream or body lotion formulated according to the baby's skin type. In general, babies have four skin types: normal, dry, very sensitive and eczema-prone skin.  Products that are formulated for each skin type contain ingredients that are targeted to suit the skin condition.
Hydration protects the skin barrier, strengthening its cutaneous barrier and preserving its wealth of cells.  In the long term, the skin is healthier and better quality as the child grows up.
Lastly, take good care of baby's diaper area by using a barrier cream that prevents diaper rash.
To summarize, you have a responsibility to take care of the health of your baby's skin and reduce the risk of allergic reactions or infections.
4. What should mothers look out for when buying skin care products for their babies?
Denise Ang:
Ingredients
Look for brands that are selective in their ingredients and have strict safety guidelines. This is helpful in the process of eliminating various questionable and unnecessary ingredients.  Ingredients to avoid include alcohol (ethanol), essential oils and certain preservatives.
The possibility of an allergic reaction occurring dramatically decreases when most of the ingredients are plant-based. Also, the smaller the ingredients list the better. So pay attention to the label and avoid products with a long paragraph of ingredients.
The Importance of research
Testing
Do your research on the type of testing administered when searching for the right product for your baby's skin care needs. Some products only go through light testing, while others go through rigorous testing. You'll want a product that has been well tested to reduce the risk of an allergic reaction.
Environment
In addition to rigorous testing, find a product that's safe for the environment. Again, do a little research to determine whether the skin care product you're using is helpful or harmful to the environment.
5. Lastly, what are your favourite beauty and skin care tips that you would like to share with our mummy readers?
Denise Ang: It is believed that our skin has been predetermined by our genetics and since my late mother has exceptionally youthful skin, I can hope for the same. Despite this, it is also well documented that most common signs of aging can be determined by our lifestyle. For example, sun exposure is the number one cause for premature skin aging, as well as skin cancer. I'm a firm believer of using sunblock daily.
Other environmental factors such as smoking, poor diet and exercise can drastically increase wrinkles, pigmentation, and a dull complexion. And I believe in abstaining from these poor habits, and follow a quality skincare routine morning and night – proper and gentle cleansing, moisturize using products formulated with effective and targeted ingredients such as Vitamin C. These are my personal opinions.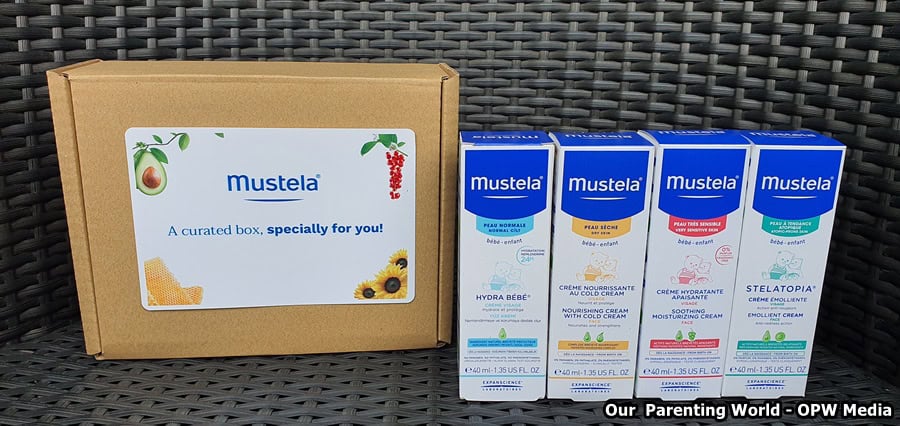 In addition, Mustela Singapore has send a curated media kit to us consisting of the following products: 
1.    Hydra Bebe Facial Cream
2.    Nourishing Face Cream with Cold Cream 
3.    Soothing Moisturizing Face Cream
4.    Stelatopia Emollient Face Cream
Hydra Bebe Facial Cream is suitable for daily use on normal skin. This light-weighted moisturizing lotion upon applying on the skin makes the skin feels so silky-smooth and supple. It also leaves a nice scent on the skin.
Nourishing Face Cream with Cold Cream is particularly useful for dry and flaky skin, it comes with added ceramides to nourish and hydrate the skin leaving it feeling soft and smooth. Skin doesn't look so dry after application.  
Soothing Moisturizing Face Cream is fragrance-free and comes with added schizandra. Upon applying, it provides immediate relief, able to soothe and calm irritated skin. It also helps to protect the skin.  
Stelatopia Emollient Face Cream is fragrance-free and comes with added sunflower oil distillate. This is great for extremely dry and eczema-prone skin, use the cream daily to soothe, replenish and restore your skin balance. It also contains licorice extract to help soothe redness. Upon application, skin feels more comfortable, less irritable and soft to touch. 
Mustela celebrates its 70th anniversary in France this year. The brand was introduced in Singapore in 1995 and its products can be found in hospital pharmacies, baby speciality stores, major department stores and almost all local e-commerce platforms. 
To find out more about Mustela and its range of products, please visit https://www.mustela.com/en