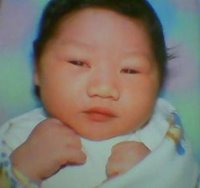 This is one of my earliest photos taken in the hospital by a photographer on the third day I was born. I was sleepy when this was taken. Mummy and Daddy also hired someone to take my foot and hand prints on the same day. The lady doing my foot and hand prints told mummy that I didn't cry when she was doing my prints as most babies will cry. She said I am very good. Maybe the lady said this to make mothers feel good. Hee hee …
Mummy was discharged today after lunch, my grandparents and daddy helped mummy with her discharge and the hospital staff came to send mummy off however I have to stay in the hospital for observation. Mummy cried when she couldn't bring me back when she was discharged. My grandparents, mummy and daddy came back to visit me many times. I was discharged on Sunday after lunch. They were so happy to bring me back home. The next day, my confinement nanny came to look after mummy and me.
Mummy and Daddy are so thankful to the wonderful and dedicated staff at the hospital for taking such good care of Mummy and me during her delivery and after that. Daddy's thank you letter is being published in the hospital's website.