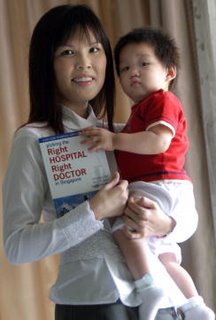 I am ten months old. I am perfect ten 🙂 I would like to thank all my parents' friends and all those who have read Mummy's book. Thank you for your support, the book is doing very well and it has caught the media attention. Thank you once again and may you be blessed by the book. The above picture was taken from the New Paper. Please read the Media Page for more details 🙂
I am so fascinated by everyday objects like remote control, key, pens and anything that the adults are using. I rather play with their toys than mine. I love my parents' laptops. I like to talk a lot and one day, I suddenly called my maid "Jie Jie" which means big sister in chinese to everyone's surprise. My maid is so happy. Mum has asked me to call her "Jie Jie" a few times and I remembered. Hee hee … next, I began to call Papa, Dad and Mama, Mum
.
One thing, I like to cry whenever I see unfamiliar faces. I am sure when I grow older, I won't cry so much, please do bear with me 🙂
I love to play hide and seek, I will hide and wants my family to find me. If they are doing their own things, I will get their attention to play with me. Hee hee … each time they found me, I would laugh and laugh. My favorite game 🙂
I can walk by holding and supporting myself against the furniture or stationery objects. I don't like to be away from my family, I will cry when I don't see them. I like to play with Puffy, my dog and I get excited whenever I see him. He is my friend at home.
Recently I appeared with Mum in the newspaper because of the book. They said the birth of the book is because of me. Mum gave birth to me and the book.
At 11 month, I can stand momentarily without support. I will attempt to pick up a toy or object while standing and put myself back into sitting position confidently. I can repeat sounds and gestures. My personality begins to show, I will protest when I am not happy. I will kick my legs and bang my hands on the floor. To my family, they find it so hilarious when they see me performing this action. They will say, oh baby is angry. I love looking at books, I will take them and flip from pages to pages. My favorite book is the one given by my God-mother, it is called Super Car. It is a 3D move and play book. I will swirl the pictures over and over. Mummy has read the book to me many times.
Recently I begin to dance (move my body from side to side or forward to back in sitting position) when I hear music. That's something new to me. I just don't know why certain music will make me feel like dancing …. dancing …
I love praises and when I do something good, my family will clap and say good!! I will be so happy that I keep smiling and clapping my hands.