National Day is coming! Conrad Centennial Singapore celebrates Singapore's 55th Birthday with 55 Dishes for S$55++ at Oscar's. Now you can enjoy the best and an epic line up of local and international flavours that you can eat to your heart's content with the dishes all served to you at the table. 
55 Dishes for S$55++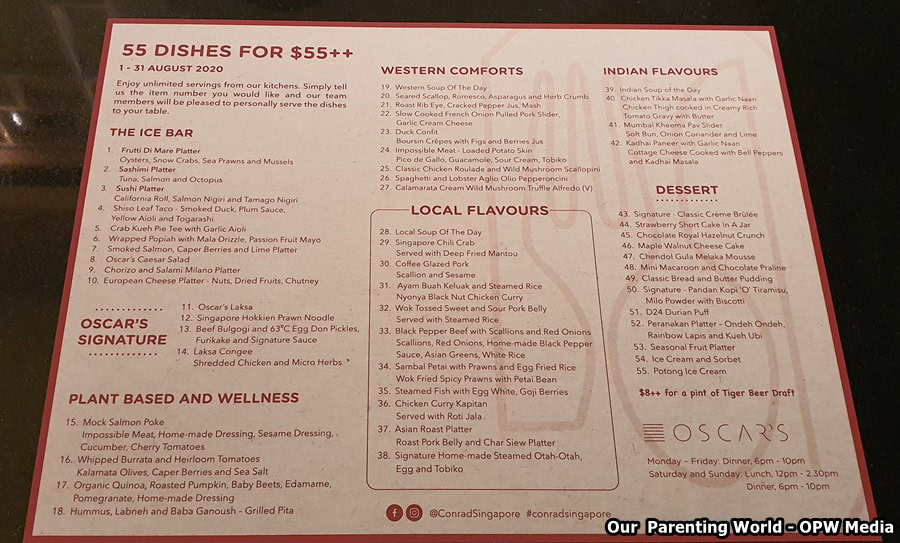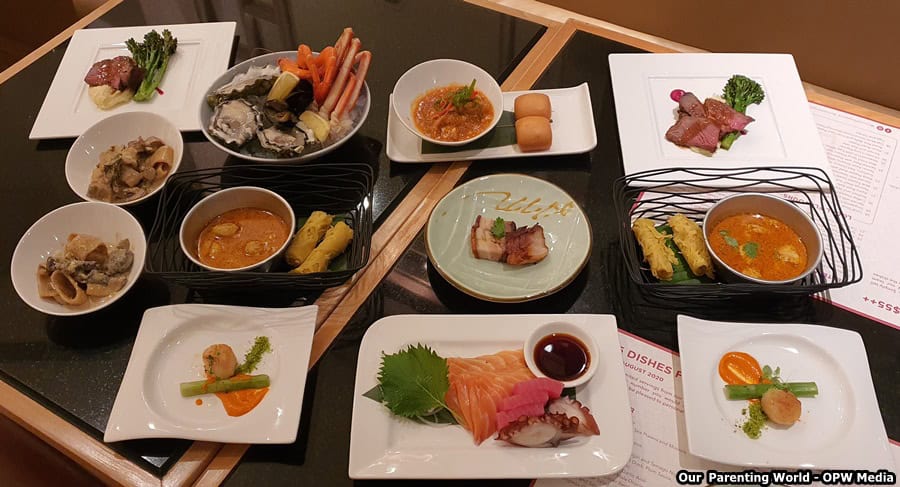 Looking at the extensive range of dishes at the menu, you will be spoilt for choice! You can indulge in unlimited servings, simply place the order and the dishes will be served personally to your table.
Here's the highlights of the delectable spread of dishes that we have tried as follows: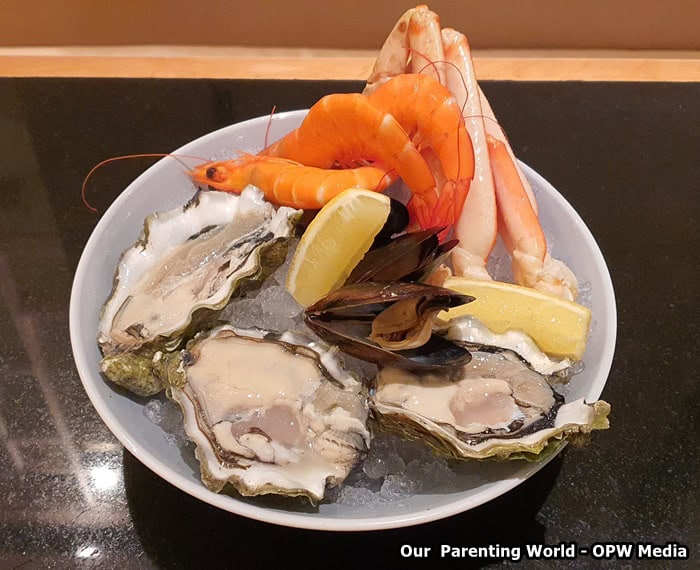 Frutti Di Mare Platter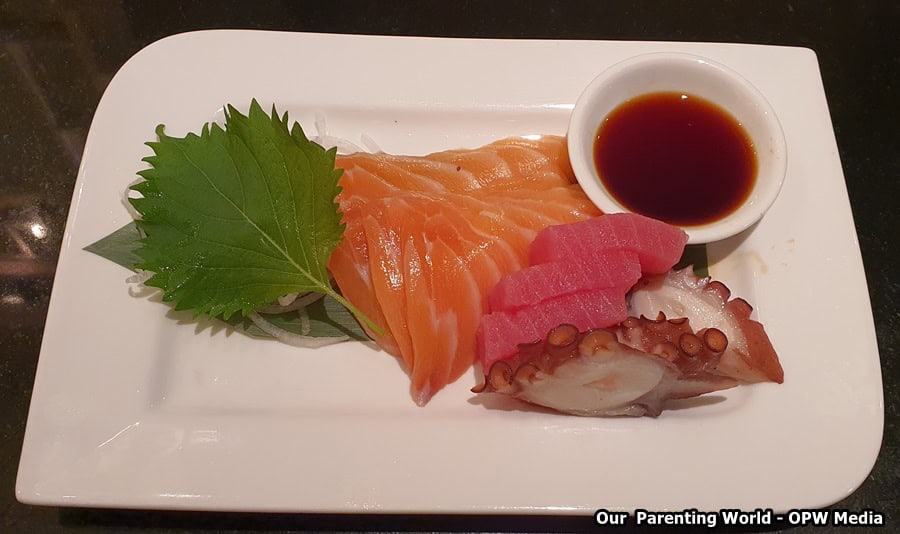 Sashimi Platter
The generous menu features 55 dishes with different categories like The Ice Bar with dishes like the Frutti Di Mare Platter and Sashimi Platter. Frutti Di Mare Platter consists of a selection of fresh seafood with Oysters, Snow Crabs, Prawns and Mussels. Sashimi platter includes fresh and juicy Tuna, Salmon and Octopus.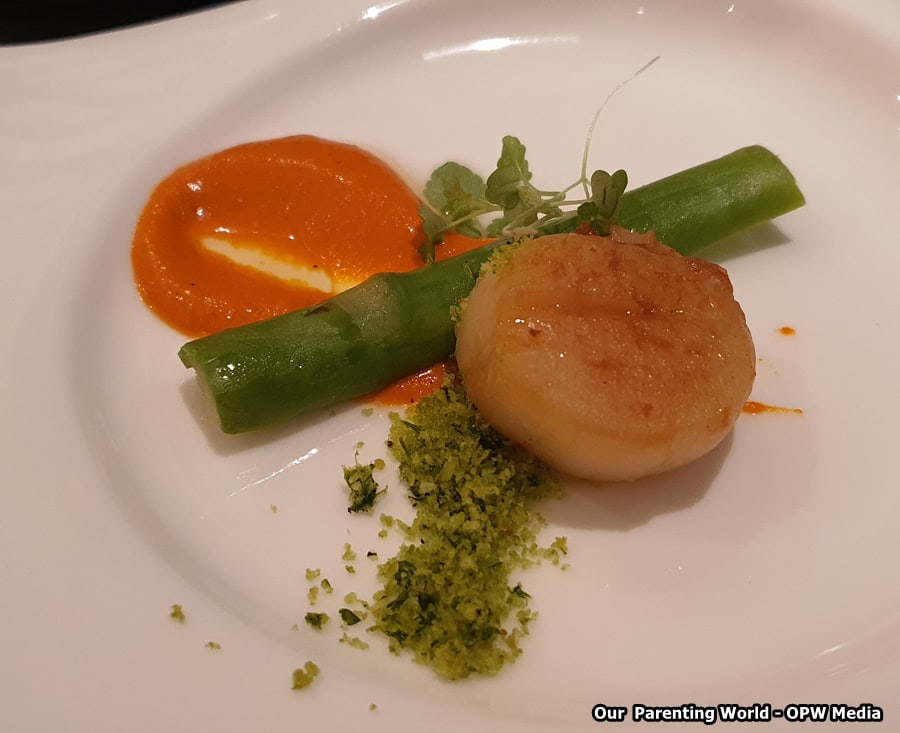 Seared Scallop with a Herb Crumb Crust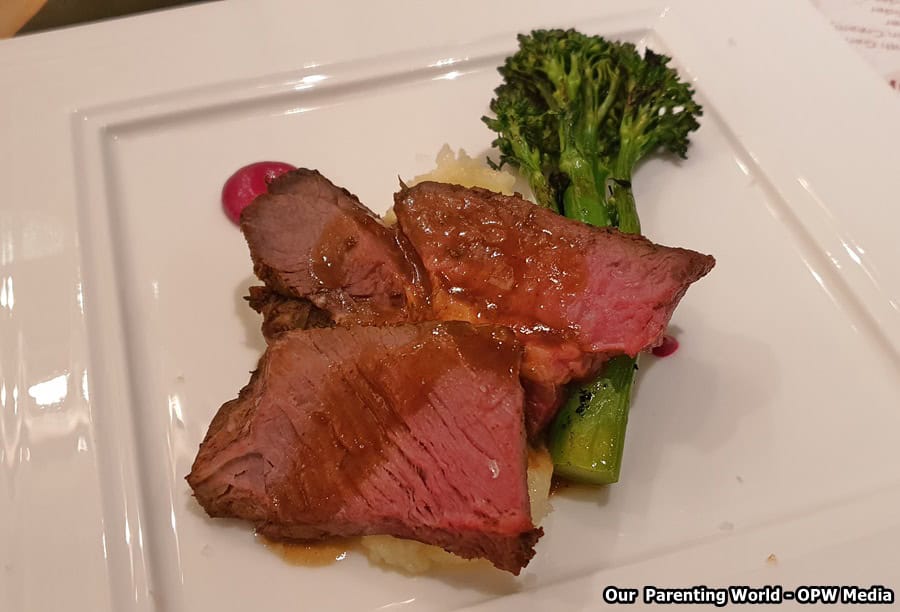 Roast Rib Eye, Cracked Pepper Jus, Mash
For Western comfort dishes, you can indulge in a variety of dishes like succulent seared scallop with a herb crumb crust and juicy and tender roast rib eye, cracked pepper jus, mash.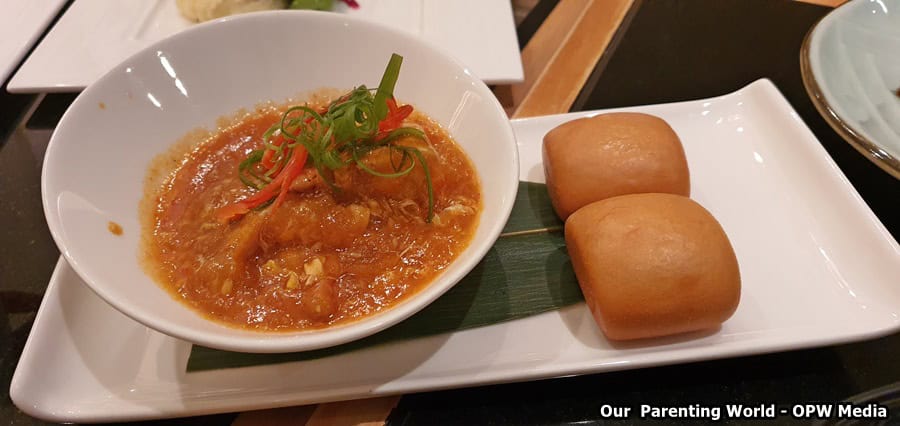 Singapore Chili Crab
Local favourites including Singapore Chili Crab which is stir-fried crab that is coated with sweet, savoury and spicy chili sauce, comes with deep-fried man tou, this is a signature dish that is not to be missed.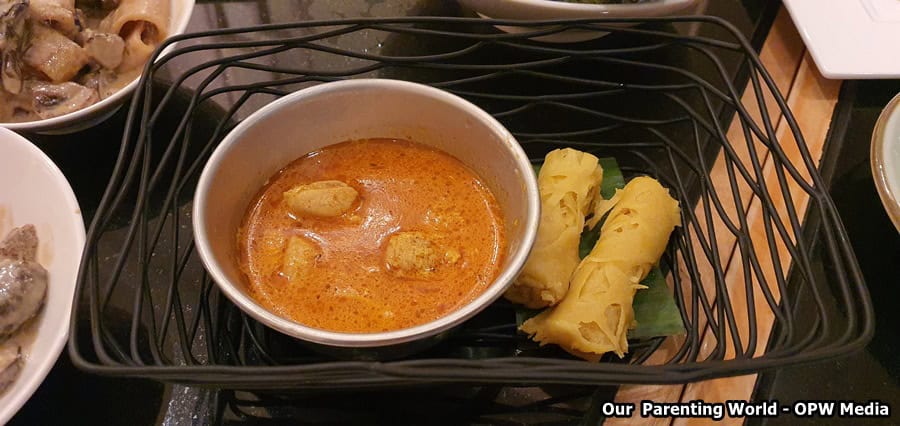 Indian flavours like Chicken Curry Kapitan served with Lacy Roti Jala is a must-try with tender chicken cooked in rich savory curry sauce comes with fluffy pancakes.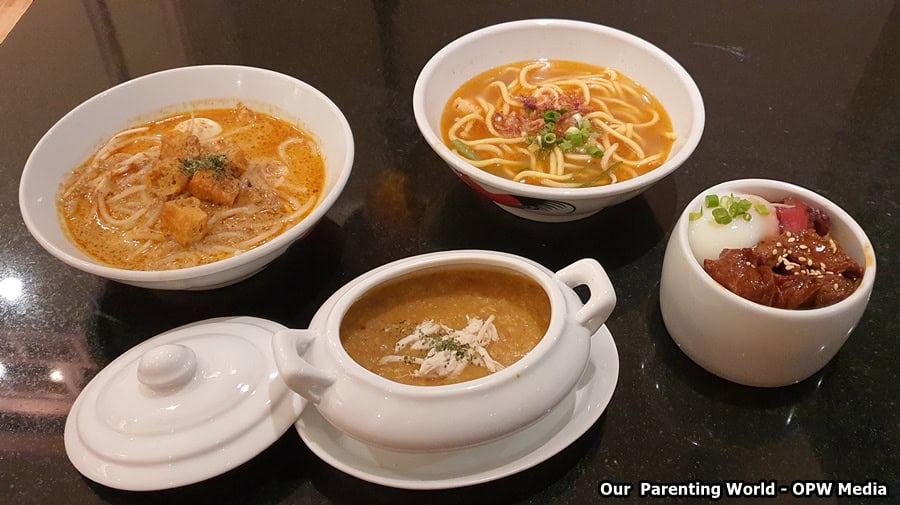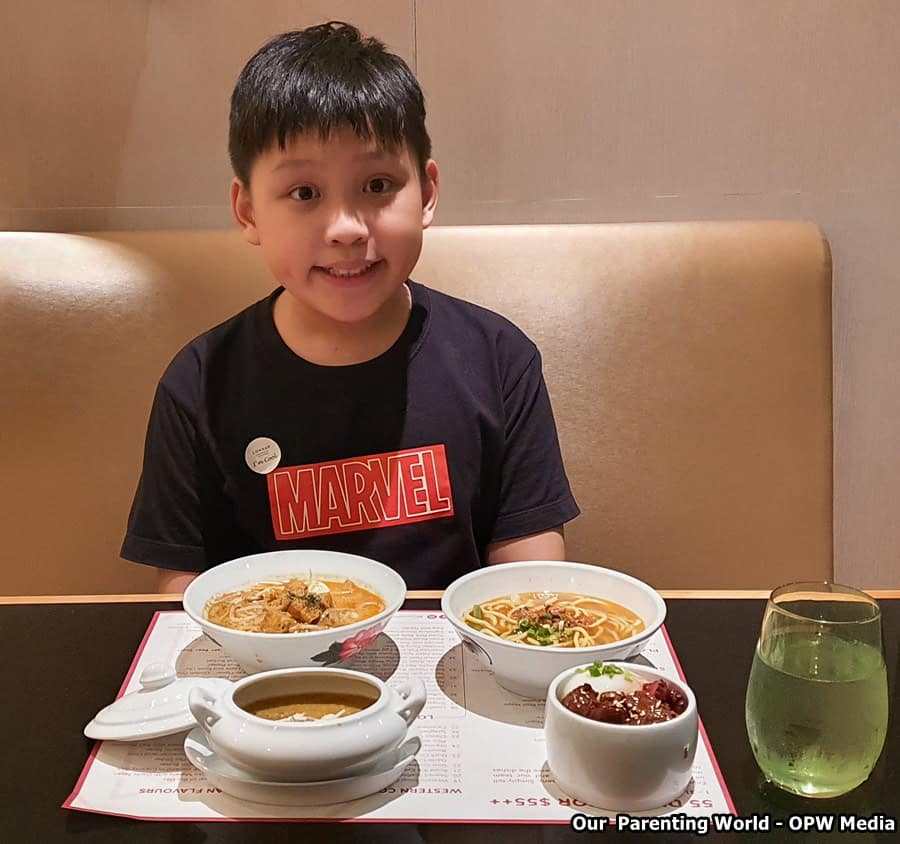 Another must-try is Oscar's Signature consisting of Oscar's Laksa, Singapore Hokkien Prawn Noodle, Beef Bulgogi and 63⁰C Egg Don Pickles with Funikake and Signature Sauce and Laksa Congee with Shredded Chicken and Micro Herbs.
The menu also includes Plant Based and Wellness section consisting of Healthy plant based dishes such as Whipped Burrata with Heirloom Tomatoes as well as Organic Quinoa Salad with Roasted Pumpkin and Pomegranate.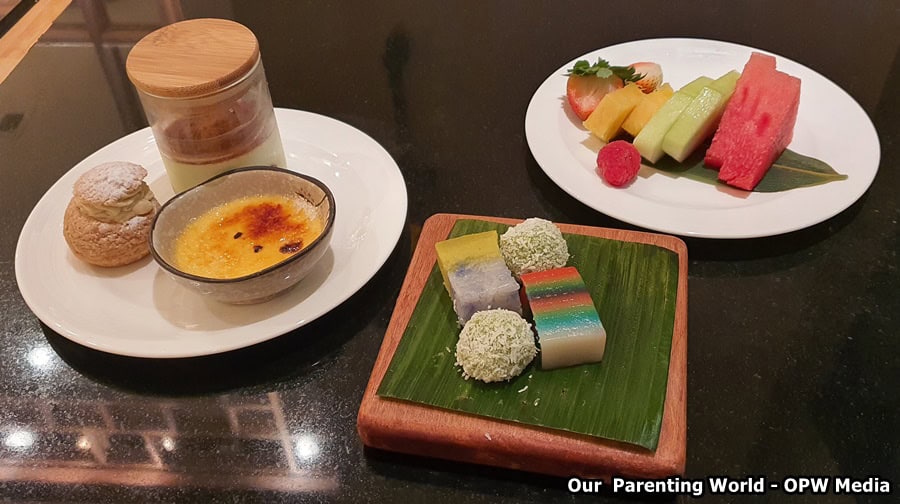 Not forgetting the dessert section where you can satisfy your craving for sweet items like bread and butter pudding and Crème Brûlée to extravagantly instagrammable Strawberry Shortcake in a jar as well as the Peranakan platter with an assortment of Kueh such as Ondeh Ondeh, Rainbow Lapis and Kueh Ubi. Look out for the iconic D24 Durian Puff which has made a comeback!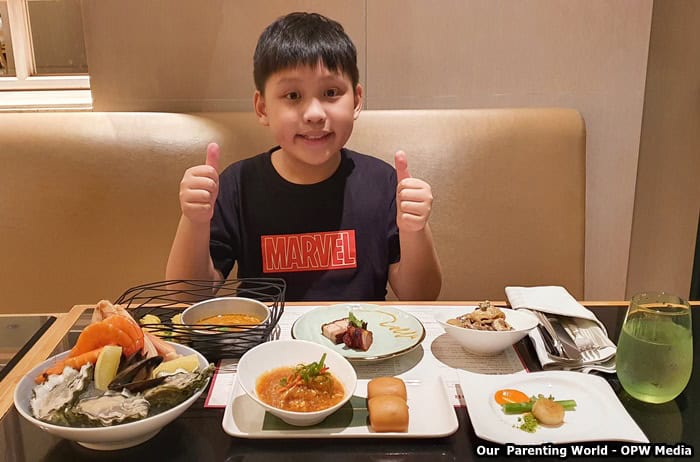 We thoroughly enjoyed the National Day celebration menu at Oscar's! What a sumptuous and delicious spread of dishes covering an extensive range of local and international delights for 55 Dishes for S$55++, it is definitely worth it! Don't miss the opportunity to try out the special National day promotion at Oscar's and have a fabulous dining experiences with your family and friends! Happy National Day Singapore! 
Venue: Oscar's Conrad Centennial Singapore
Two Temasek Boulevard Singapore 038982
Date: 1st – 31st August 2020 
Time: Monday – Friday: Dinner (6:00pm – 10:00pm)
Saturday and Sunday: Lunch (12:00pm – 2:30pm) and Dinner (6:00pm – 10:00pm)
Price: S$55++ per person
Goodnews! Due to overwhelming response, Oscar's a la carte buffet from S$55++ per person has been extended until the end of September! 
Here's the new update as follows: 
Date: 1st – 30 September 2020 
Dinner: Monday – Thursday : Dinner (6:00pm – 10:00pm) at  S$55++ per person
Dinner : Weekdays (Friday) : Dinner (6:00pm – 10:00pm) at S$65++ per person
Lunch: Weekends (Saturday and Sunday) at 12pm – 2:30pm at S$65++ per person
Dinner: Weekends (Saturday and Sunday) at 6pm – 10pm at S$65++ per person
For more information or to make your reservation please call 6432 7481/63 or email [email protected] 
To find out more, please visit http://www.connoisseur.sg/promotion/55-dishes-for-55/
In addition, you can enjoy the following National Day Celebration Specials with Conrad Centennial Singapore as follows: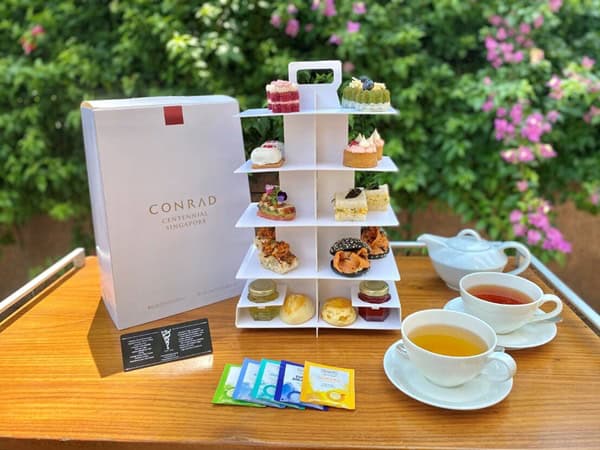 Afternoon Tea Takeaway
Presented in a charming take away that resembles an actual tiered stand, the Charlie Afternoon Tea will feature all the fare required to recreate this traditional pastime at home.
Enjoy a range of perfectly matched delicacies created by the experienced team of pastry chefs. For savoury delights tuck into the Dill Cream Cheese topped with Smoked Salmon and Tobiko Charcoal Bun, Smoked Unagi with Cucumber, Guacamole and Mustard Cress as well as Truffle Egg and Mayo Sandwich. Chendol Gula Melaka Mousse cake as well as the Sakura Raspberry Red Velvet are some of the delectable sweet – toothed showstoppers that will catch your attention.
Exclusive promotion which includes free delivery until 16 August 2020 and a 10% off is applicable for first timers on self-collection.
Venue: The Terrace, Level 1
Collection timings: 12pm – 5pm and Delivery timings: 1pm – 4pm
Price: S$74.90 Nett for 2 persons
For more information or to order please call 6432 7483/87, Whatsapp number +65 8322 9876, email [email protected] or visit http://www.connoisseur.sg/afternoon-tea-charlie-takeaway/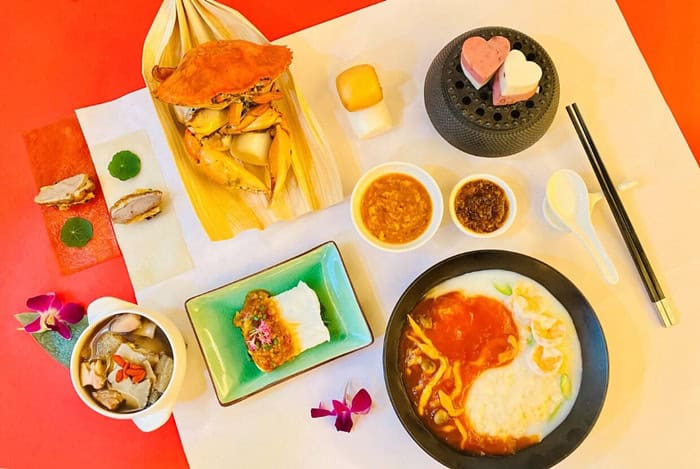 Six Course National Pride
Commemorate National Day with Chinese classics redefined at Golden Peony. Inspired by the country's national emblem and flag, Chef Ku and his team has created a menu of well-balanced flavours with a distinct red and white flair to it.
Whet your appetite with a London Duck Pancake Roll duo before tucking into a nourishing herbal "Bak Ku Teh" Chicken Soup with Sea Whelk and Bamboo Pith.
Celebrating Singapore as an island nation, Chef Ku has devised three seafood dishes in the menu as well. A simple steamed sea perch with preserved chili to symbolize the humble beginnings of the country whilst this is quickly followed by Singapore's iconic contribution to the culinary world – Black Pepper Chili Crab served with Mantou. To add to the list is Chef Ku's signature Yuan Yang Fried Rice Chicken Tomato, Creamy Seafood. Finally, round off your meal with local flavours made of Red Bean and Coconut Pudding.
Venue: Golden Peony
Date: 31st July – 9th August 2020
Time:     Tuesday – Sunday (Closed on Mondays)
Lunch: 11:00 – 15:00
Dinner: 18:00 – 22:30
For more information or to order please call 6432 7482/88, email [email protected] 
For more information, please visit http://www.connoisseur.sg/promotion/six-course-national-pride/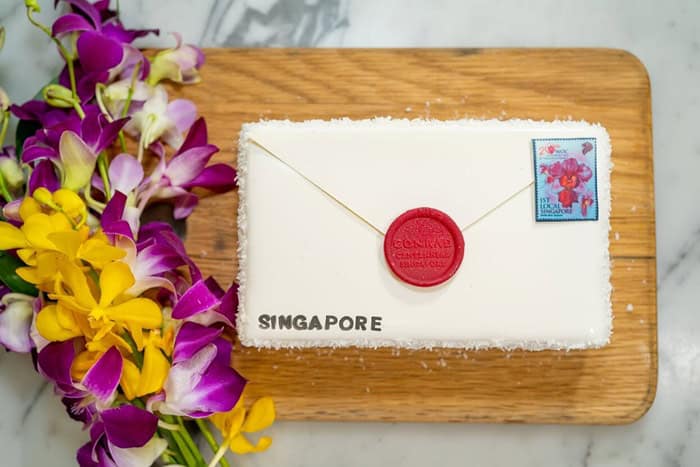 A Slice of National Pride
A birthday celebration without a cake is never complete. Inspired by the local heritage flavours, pastry chefs have created a limited edition Chendol Gula Melaka Mousse delight. Light and decadent, this work of art incorporates Coconut Dacquoise, Gula Melaka Mousse as well as Coconut Chendol Kidney Bean Curd before being finished with a coat of White Chocolate Glaze. To send our love to the country the cake is shaped like an envelope, along with an edible Singapore stamp and the hotel's seal. We hope that as you savor the handcrafted goody this holiday, you will get to create sweet memories and celebrate what makes us truly together a stronger Singapore!
Chendol Gula Melaka Mousse Cake (600g)
S$35 Nett
Available from 1st – 9th August 2020
A 3 days advanced order is required. Cakes are subject to availability.
For more information or to order please call 6432 7483/87, Whatsapp number +65 8322 9876, email [email protected] or visit http://www.connoisseur.sg/promotion/chendol-gula-melaka-mousse-cake/
The Terrace
Lobby Level, Conrad Centennial Singapore