National Gallery Singapore reveals the 4th edition of Gallery Children's Biennale, themed 'Let's Make a Better Place'. Save the Dates: 27 May 2023 to 31 March 2024, as this year's edition showcases 11 mesmerizing art installations by international artists. With the theme 'Let's Make a Better Place,' the event illuminates four core values: Care, Collaborate, Imagine, and Respect.
Drawing inspiration from our observations and insights of the world, every installation is intricately connected to one of the four core values. Through artistic concepts, these installations skillfully bring forth the relevant issues of today in a manner that is accessible and comprehensible for children.
The Gallery is also proud to feature artists from Thailand and Malaysia for the first time at the Biennale,  highlighting its ongoing commitment to showcasing exceptional talents from Southeast Asia. The artists include Kumi Yamashita (Japan/USA), Tawatchai Puntusawasdi (Thailand), Fadilah Karim (Malaysia), artworks from the International Museum of Children's Art (Norway), Arahmaiani (Indonesia), Singaporean artists Chiang Yu Xiang, Izziyana Suhaimi, Ly Yeow, Wang Ruobing, and a collaboration between LittleCr3atures®, Lynette Quek and Jevon Chandra.
Look forward to an immersive experience that will ignite creativity and empowering young minds. Explore a transformative journey that fosters open dialogue, sparks creativity, and encourages thoughtful contemplation about the future. Prepare for an unparalleled experience that inspires children to become catalysts of positive change, both for themselves and the world. Alongside captivating art installations, the event offers an array of engaging activities, including the innovative My Biennale Buddy guidebook, an exciting on-site to online game, and a lineup of enriching on-site programs and performances suitable for all ages.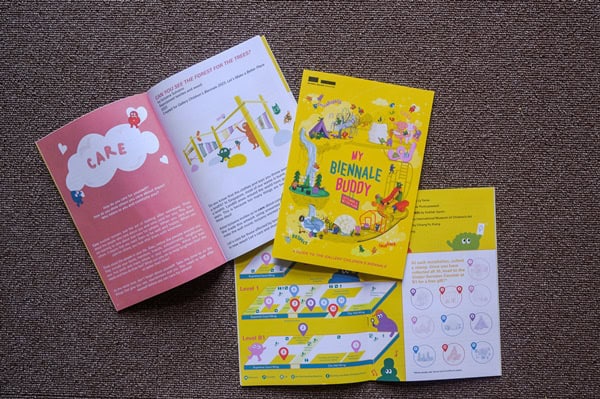 A new edition of the Biennale Art Pack, which includes self-guided activities, will be available for purchase at the vending machines located around the Gallery. Gallery Children's Biennale will open on 27 May 2023 to 31 March 2024 at National Gallery Singapore. The Biennale continues to be free for all visitors to explore, and the online games can be accessible at childrensbiennale.com.