As parents, we are constantly looking for safe, natural and good quality products for our children especially for products that we have to apply on our skins and put into our mouths. We have earlier tried out Dr Bronner's Castile Organic Liquid Soap series and are pleased with its products.
Dr. Bronner's products are brought in exclusively to Singapore by Nature's Glory. They are made combining Mother Nature's resources and technology to derive the full and best benefits from the ingredients for each of their products. Now its range has further extended with the introduction of its latest products.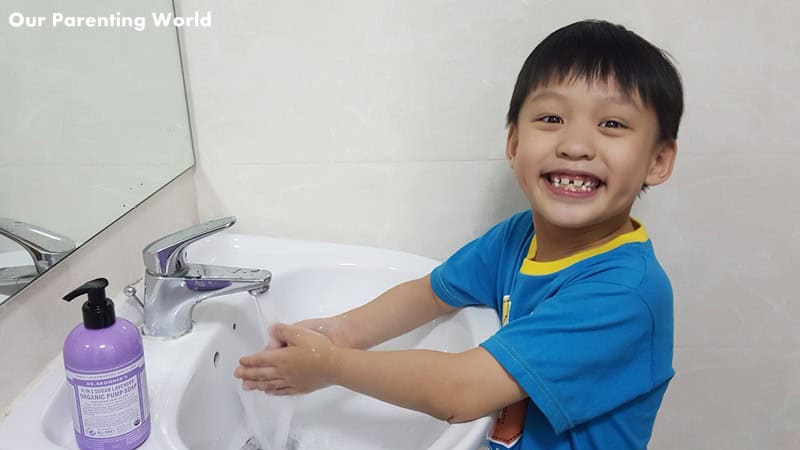 Dr. Bronner's Organic Pump Soaps 12oz $16.90 • 24oz $29.90
Hmm … this soap gives off a really sweet scent! 
The fair trade and organic sugar gives this range of Organic Pump Soaps a rich caramel color and sweet scent. This is actually a 4-in-1 Organic Pump Soaps that are good for washing hands, face, body & hair. It is cost-effective, natural and good to use from top to toe wash. The ingredients in the soaps contain sugar combines with organic white grape juice and it lathers easy into a creamy foam due to the organic coconut-olive- hemp oils. Upon washing, you will find that your skin is smooth, nourished and so moisturised. You can choose from Unscented Baby Mild, Peppermint, Lavender, Tea Tree and Lemongrass Lime flavors.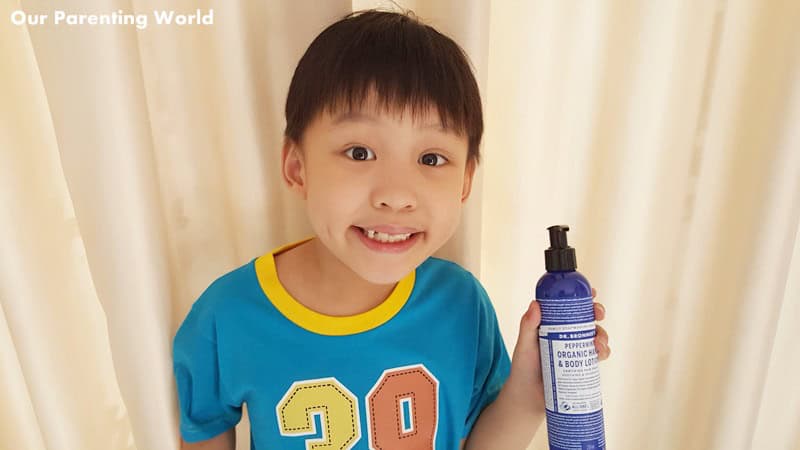 Dr. Bronner's Organic Lotion 8oz $17.50
Need a good moisturizer?
This smells and feels so good organic lotion contains organic jojoba oil to heal and soothe, organic coconut oil to moisturize, organic hemp and avocado oils to keep skin smooth and supple. No worries about dry and cracked skins, apply this gentle and highly emollient lotion regularly for good and better skin. It will help to nourish and hydrate your skin. Only organic essential oils are used for the fragrance and you can choose from Orange Lavender, Peppermint, Lavender Coconut, Patchouli Lime flavors.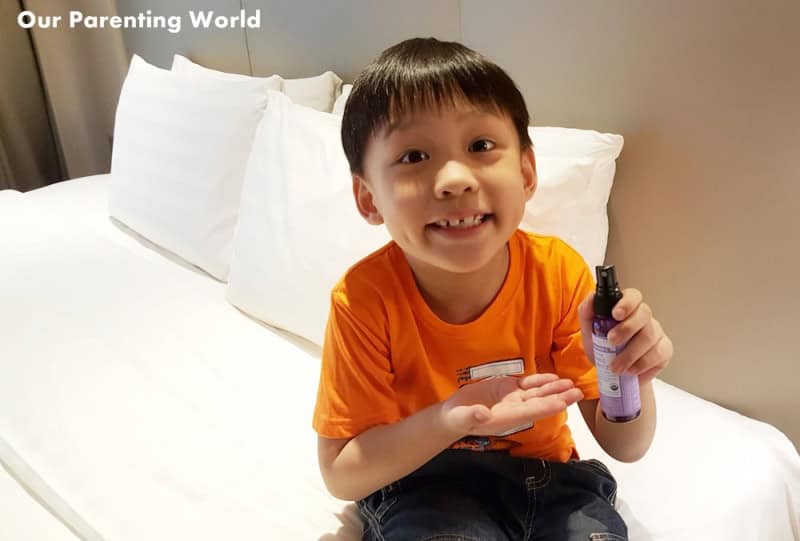 Dr. Bronner's Organic Hand Sanitizer 2oz $7.95
Having a good hand sanitizer is important especially for kids to protect them from germs and various infectious diseases. Toddlers and kids are especially prone to coming in contact with dirty surfaces, when they play, crawl and even pick up food from the floor.
This effective Organic Hand Sanitizer helps to kill germs with just a simple formula containing organic ethyl alcohol, water, organic lavender oil, and organic glycerin. It has none of the nasty chemicals you will find in conventional sanitizers.
It is so convenient to carry and use the sanitizer whenever we need it, you can use it on your kid' sticky hands and face. Just spray to clean up the mess and wipe it clean after that. You can even use it as an air freshener or deodorant.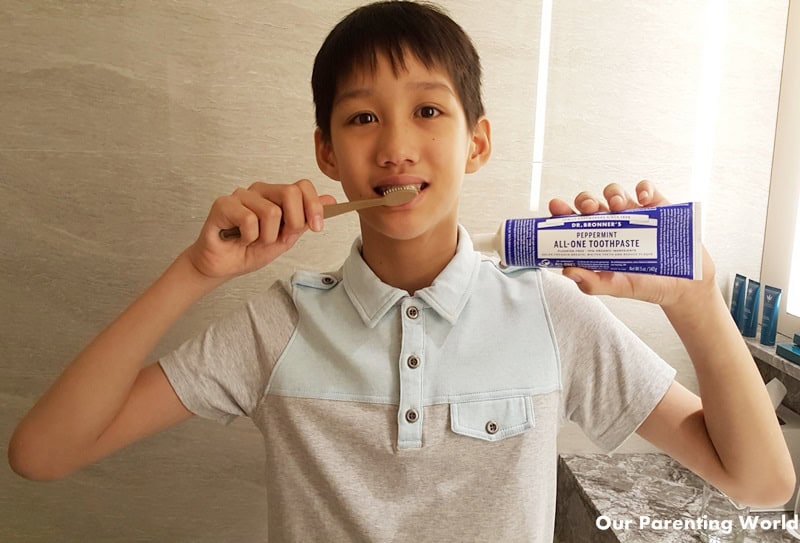 Dr. Bronner's All-One Toothpaste 140g $11.90
This safe and effective toothpaste contain 70% organic ingredients. It does not contain any synthetic detergent foaming agents, it is fluoride-free, vegan and cruelty-free and with no artificial colors, flavors, preservatives, or sweeteners. It comes in a 100% recyclable box and tube. Choose from Peppermint, Cinnamon and Anise flavors. 
We chose Peppermint flavour that will wake up our senses early in the morning when we brush our teeth, keep our mouth smelling fresh and clean!
Good News! Nature's Glory would like to extend its promo code for our readers to try out its range of products. Please see below: 
1. Use this Promo Code "NaturesGloryDB" on Nature's Glory online or retail shop and follow @naturesglorysingapore.
2. Once you have done Step (1), you will enjoy 15% OFF any Dr. Bronner's products, with no minimum purchase.
3. Free bottle of Dr. Bronner's Cherry Blossom Castile Soap 8oz worth S$11.90 when you purchase S$100 or more on Dr. Bronner's products.
Promotion valid till 31 Dec 2016. While stocks last!
Additional Information:
Dr. Bronner's products are available at Nature's Glory retail store or e-shop at www.natures-glory.com.
FREE DELIVERY for purchases S$150 nett & above.
About Nature's Glory, it is formed in 1991 offers a range of products that are truly unique and distinguished. Its organic and macrobiotic foods, health supplements, HiFloAM water systems, beauty and car health products are among the very best in the world, brought about by painstaking research, and with regional and international representations. Prices are very moderate as part of its health mission. The team at Nature's Glory is committed to the excellence of health and the environment. Nature's Glory believes many of the health problems come from nutrition. Prevention is better than cure, and selecting the right food and water helps to restore, maintain and build health, beauty and vigour.
Retail Showroom:
315 Outram Road #01-09, Tan Boon Liat Building, Singapore 169074
Tel: +65 62271318
Email: [email protected]
Nature's Glory is the sole authorized distributor for Dr. Bronner's soaps in Singapore, Malaysia, Indonesia and Brunei.
https://www.facebook.com/NaturesGlorySg https://instagram.com/naturesglorysingapore/
@naturesglorysingapore
#drbronner #naturesglorysingapore