81-year-old guitarist Mary Ho is the oldest performer at NDP 2017
This year NDP 2017 Show segment, audience can look forward to mass displays and performances by over 3,000 committed performers from 13 different Show Partners as well as 38 artistes.
The ages of the performers ranging from the youngest Shaista Eman, who is just 4 years old and daughter of veteran NDP host Nurul Aini to the oldest performer, 81 years old guitarist Mary Ho, affectionately known by many as Grandma Mary.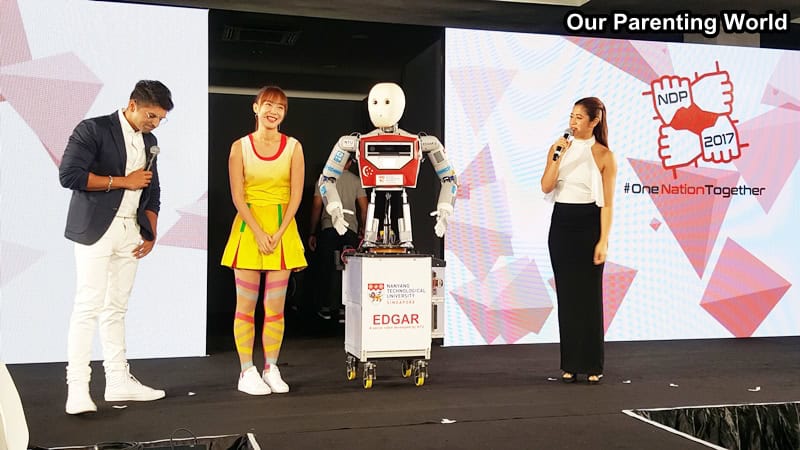 Audience will love Edgar the Robot who will be one of the hosts for NDP 2017
There will be 6 Acts in the show which will represents different issues close to our hearts, rallying families and friends to come together as we reflect on our immediate past, celebrate our present and look forward to the future.
Act 1 – Living Together emphasises that every individual plays a role in shaping the physical environment where we live, work and play.
Act 2 – Growing Together illustrates that beyond our physical homes, the heart of our nation lies in our families, which give us the strength to overcome the odds and progress in life.
Act 3 – Thriving Together acknowledges the need to adapt and learn new skills to overcome our economic challenges.
Act 4 – Celebrating Together celebrates the unity and diversity of our multiracial society.
Act 5 – Progressing Together charts our journey forward as a compassionate society that continues to adapt and innovate.
Lastly, Act 6 – #OneNationTogether celebrates the successes of Singaporeans and confidently looks forward to the future, where we will continue to break new grounds and scale new heights.
Some of the highlights of the show:
300 unmanned drones take to the skies over the Marina Bay to perform the largest unmanned drones display in Southeast Asia. Against the spectacular Marina Bay skyline, the drone performance seeks to inspire Singaporeans to imagine the immense opportunities that our future brings.
This is the first time, audience will be able to see such a grand display of drones up over our beautiful skyline!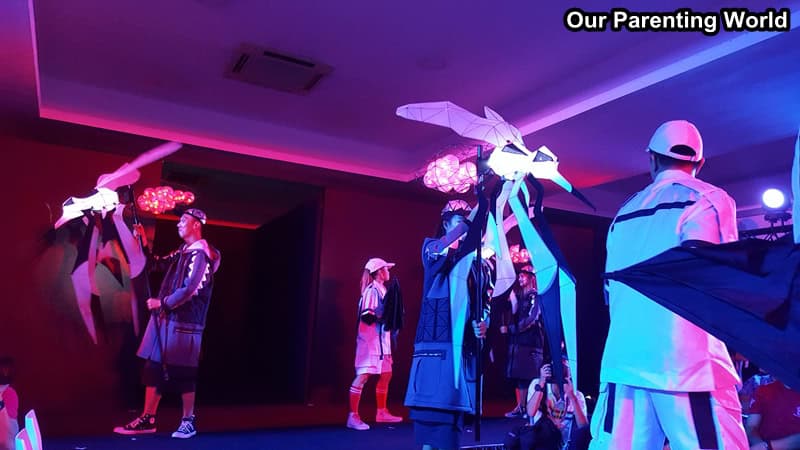 The show will include audience engagement moments that are designed for interaction with the audience where they will join in by doing a simple clap choreography to symbolises the collective effort required to deal with the threat of mosquitoes in Act 1 – Living Together. In Act 4 – Celebrating Together, audiences will be invited to join in and raise their bottles in a hearty toast to our Nation.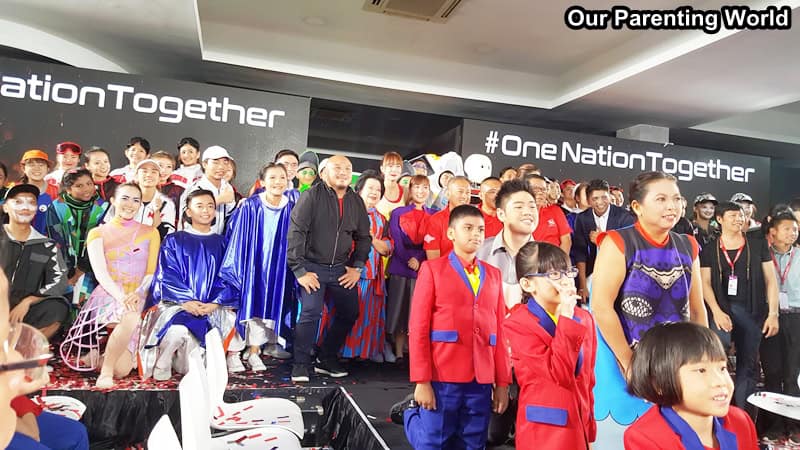 The NDP 2017 Show Committee is led by Colonel Tan Tiong Keat, Chairman of the Show and Dynamic Defence Display Committees. The other key members in the Show team are Creative Director Mr Goh Boon Teck, Technical Director Mr Peter Loh Keng Hong and Music Director Mr Benny Wong. Audience can look forward to a spectacular show that is fitting tribute to our Nation 52th birthday!
Singaporeans are encouraged to join in the celebration by tagging their photos, well-wishes, reflections or stories on their personal social media platforms and/or NDP social platforms as follows:
Facebook (www.facebook.com/ndpeeps)
Instagram (@ndpeeps_2017)
Twitter(@NDPeeps) and with the following hashtags:
#OneNationTogether,
#NDP2017, 
#NDP17, 
#SG52
For information on NDP 2017, visit www.ndp.org.sg or download the official NDPeeps mobile app available in the Apple App Store and Google Play Store.