Neal's Yard Remedies has recently launched a new product, New Frankincense Intense™ Lift Serum in May 2017! Being a woman especially a mother can be really stressful having to cope and deal with so many things like kids, family, work, housework and more. No matter how busy our lives is, we have to take care of our skin, we can all age well by reducing the impact stress has on our skin.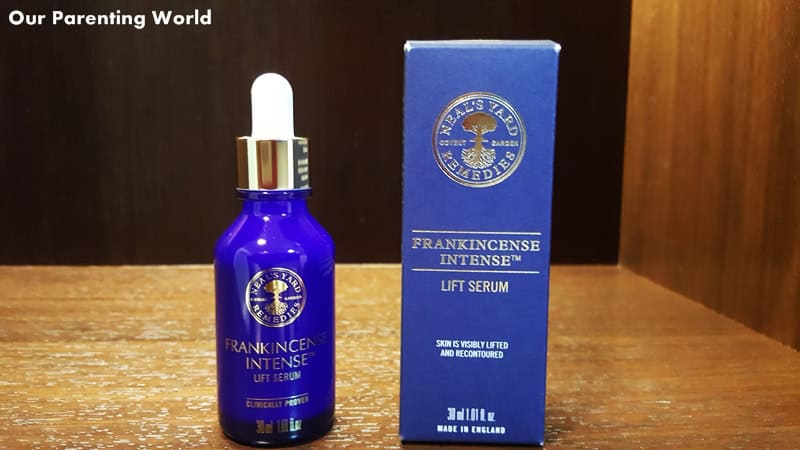 Introducing Neal's Yard Remedies New Frankincense Intense™ Lift Serum, the breakthrough mindful beauty solution harnessing the ancient power of frankincense (sustainably sourced from Oman) and over 15 years of Neal's Yard Remedies research into its amazing properties.
It has been developed by Neal Yard's scientists to release the benefits of frankincense alongside its lifting technology of micro algae, linseed oil and ribose to visibly lift and recontour the skin. Hyaluronic acid also prevents the breakdown of collagen, stimulates elastin production and plumps the skin.
That's good news and we really do need a good and effective serum like this! 
That's more, this super serum is clinically proven to help you stress less by promoting a sense of relaxation and wellbeing through the aromatic benefits of frankincense resin extract and frankincense essential oil. By inhaling the therapeutic aroma as you massage it into your skin, studies show the heart rate lowers and emotional stress begins to melt away. 
BENEFITS:
• Smoothes & reduces the appearance of fine lines & wrinkles within 30 minutes
• Boosts skin's plumpness, firmness & tone in just 7 days
• Instantly hydrates
• Optimises skin's radiance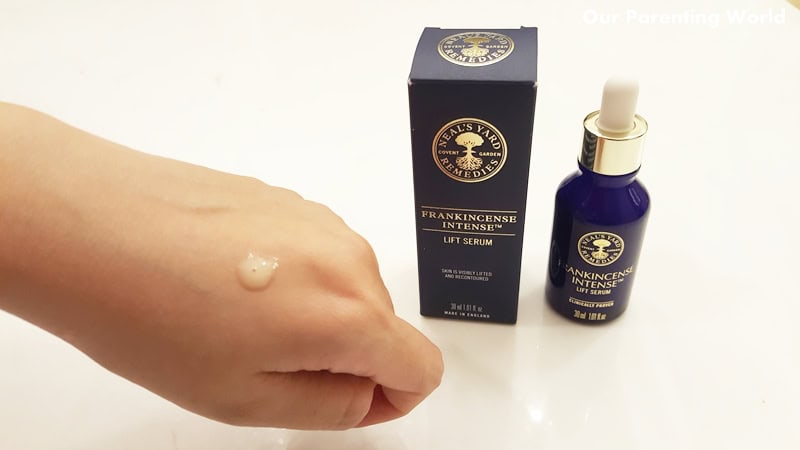 Upon application, this smooth, silky, gel like, white serum cream comes with a pleasant scent easily absorbed into my skin. My skin looks dewy, radiant, fine lines are less obvious and soft to touch. I believe with continued usage, my skin will look even better, more toned and luminous. Good for firming and anti-aging!
The KEY Ingredients in Neal's Yard Remedies NEW Frankincense Intense™ Lift Serum consist of: 
De-stressing frankincense resin extract
Treasured for thousands of years for its rejuvenating properties, inhaling the therapeutic aroma of this sacred ingredient is clinically proven to promote a feeling of wellbeing and relaxation*. The high quality Frankincense resin in the serum is extracted from the Boswellia sacra trees that grow in the Dhofar region of Oman.
Plumping hyaluronic acid
Over time the levels of your body's natural hydrating molecule, hyaluronic acid, gradually decrease. The hyaluronic acid in this serum helps plump deep lines and wrinkles.
Stimulating micro algae
In nature, protein-rich micro algae can protect themselves against harmful environmental stresses. The micro algae in this serum act in a similar way and can help to boost your skin's natural elasticity.
Rescuing ribose
The body's own natural sugar, ribose is involved in improving your skin's cell function. Clinical studies have shown ribose helps with the reduction of wrinkles and provides a radiant appearance.
Redefining linseed Oil
One of the richest plant sources of essential fatty acid, omega-3, this oil hydrates the skin and can help to recontour the face.
Frankincense Intense™ Lift Serum retails at SG$268, 30ml
To find out more and locate the nearest store to get your Neal's Yard Remedies New Frankincense Intense™ Lift Serum and other Neal's Yard Remedies products, please go to: