Have you ever been to the supermarket, picked up a full trolley of food and groceries and then looked at the long checkout queue at the cashiers and wondered if you had to either bear with the long queue or return all the goods and come back another day because the queue was too long?
Now there is another option, the self-checkout counters. For those who travelled out of Singapore for business or pleasure, you may have experienced the Immigration Automated Clearance System at Changi Airport a breeze and a pleasure to use especially when the usual manned immigration checkpoint counters queue are very long.
Similarly for supermarkets, there is the option of self-checkout counters now in many of the supermarkets in Singapore. Cold Storage launched Singapore's first fully integrated self-checkout counters. There are currently about 27 of the 60 Cold Storage outlets in Singapore that offer this self-checkout option.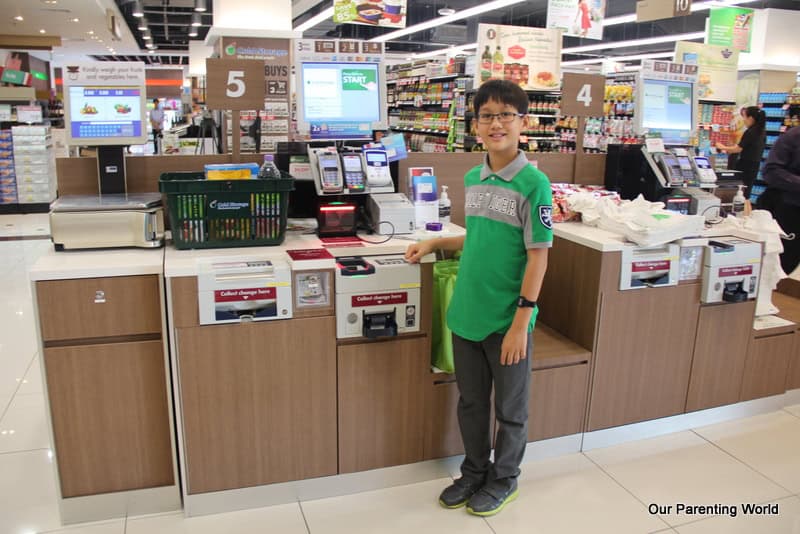 Our Parenting World, young journalist, Vincent was recently invited by the Ministry of Trade and Industry (MTI) Singapore and the National Productivity Council (NPC) to demonstrate how easy it is to use this self-checkout counter at the supermarket to a group of VIPs, led by the National Productivity Council Chairman, Mr Tharman Shanmugaratnam who is also the Deputy Prime Minister of Singapore together with Minister of State Dr Koh Poh Koon, Parliamentary Secretary Low Yen Ling and members from the National Productivity Council (NPC)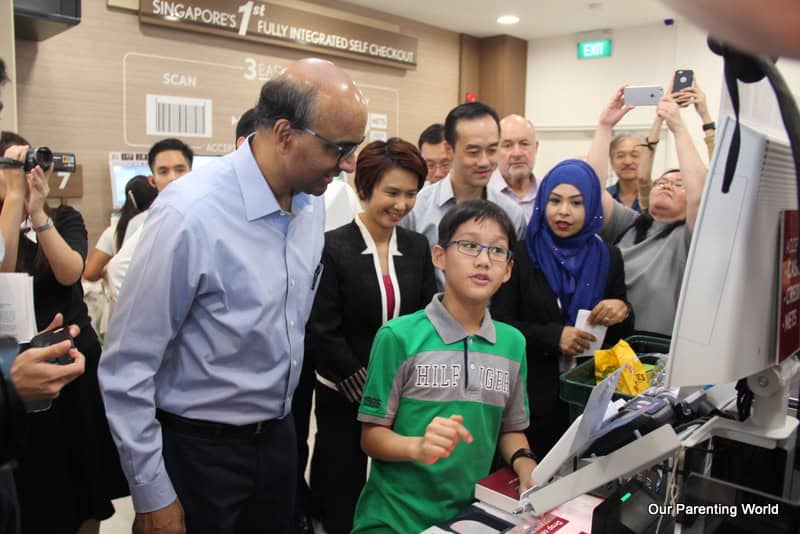 The demonstration was held at the Cold Storage outlet at Sime Darby Centre, Bukit Timah. This Cold Storage outlet not only offer the self-checkout system using credit card and NETS payment like the other outlets, in addition this outlet self-checkout also offers payment by cash.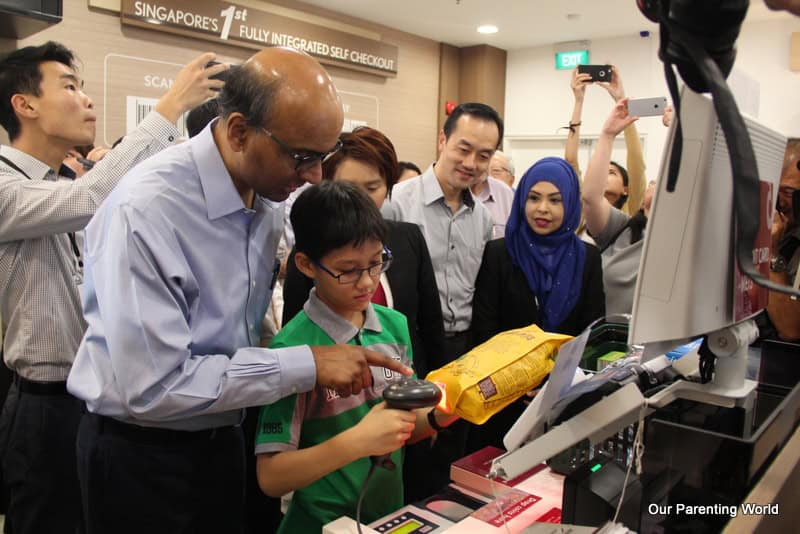 The integrated self-checkout terminals enable customers to scan, pack and pay their grocery items at the counters. Let's hear what Vincent has to say about using the self-checkout. "I started using the self-checkout counter a few months ago at Cold Storage Novena Square Shopping Mall. I observed how my parents do it and it is very easy to pick up. Here are some points to take note while using the self-checkout: 
There are 2 types of barcode scanners, one is a fix scanner and the other one is a hand held scanner. Look for the barcode at each product, use the scanner to scan the barcode, be careful not to scan the same product twice as you will charged more than once. I prefer to use the hand held scanner, it is very light, flexible, easier to scan the barcode located at the products especially those with uneven surfaces or corners. You can try both fix and hand held scanner to find out which one suits you better."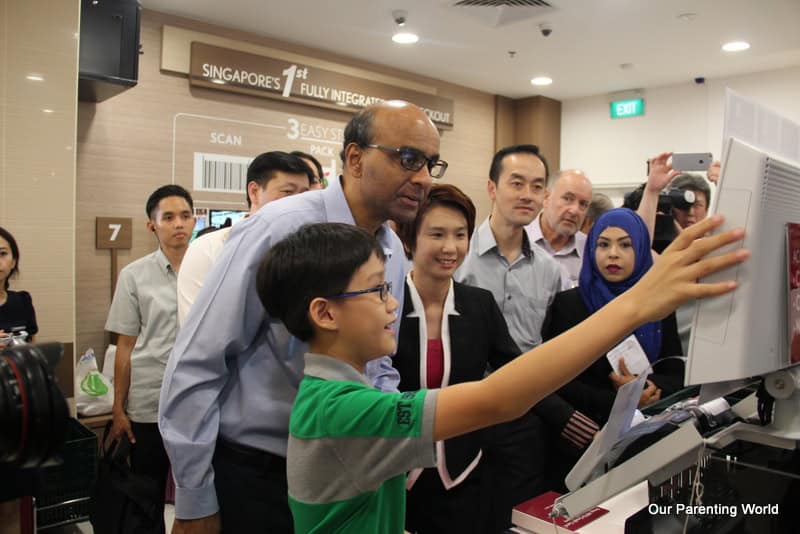 "After scanning all the products, I will pack the products into the recycled bags and if you don't have a recycled bag, you can either purchase one at the store or use the store's plastic bags provided. I will proceed to chose the payment mode, you can chose to pay by credit card, NETS or cash and if you have a Passion card, please remember to tap your Passion card to collect the points. At Cold Storage Sime Darby outlet, you also have the option to pay by cash in addition to NETS and credit cards."
The self-checkout system is very easy and convenient to use. Our Parenting World team has been fans of the self-checkout system ever since we were introduced to it. There is usually no queue at the self-checkout counters compared to the usual cashier manned counters. Cold Storage also has service ambassadors at the self-checkout counters to guide and assist those who are new users or when you need help. 
The advantages of using self-checkout system are it can both improve productivity of the service providers as they now need less staff to manage the checkout counters and it also helps to shorten the queue and customers do not need to wait too long to checkout. 
Deputy Prime Minister, Mr Tharman Shanmugaratnam is very impressed with the demonstration and commented that with this self-checkout system, customers and employee experiences will be enhanced.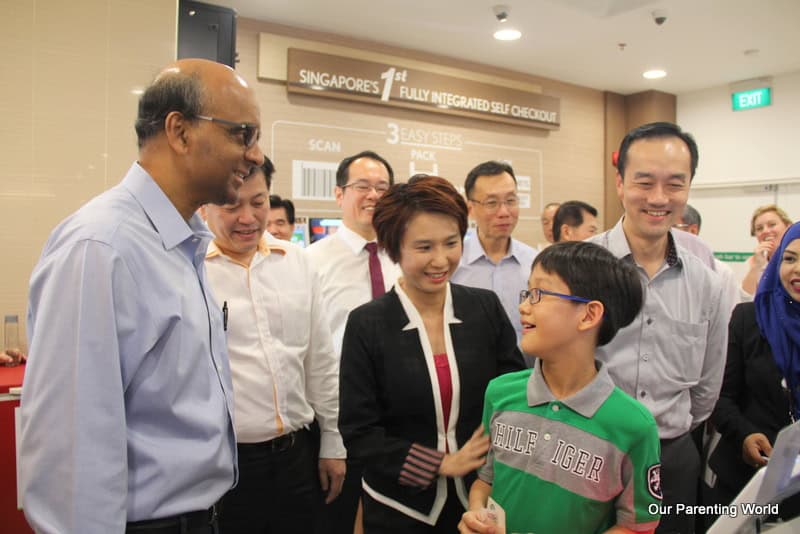 When asked about his opinion on why he chose to use the self-checkout counter, Vincent said "When I go shopping with my parents at Cold Storage, I would help them to use the self-checkout counter for our purchase. It is faster, easy to use and we can complete our purchases quickly. By using the self-checkout counter, we can also help to shorten the queue so that people for example, the elderly who are not so familiar with the self-checkout counter can use the cashier manned counters which will have a shorter queue now. In addition to Cold Storage, I have also use the self-checkout system at the National Library when I borrow and return my library books. I believe self-checkout counters will be the future for Singapore as it can benefit everyone". 
Besides launching its first integrated self-checkout counters at Cold Storage that accept cash, card and NETS payment, some of the key initiatives include an integrated storefront and back-end cash management system to simplify the cash handling process and electronic shelf labelling. 
Automated cash management system improves productivity, accuracy, security and customer satisfaction. The new cash management system is able to automatically calculate and dispense change when the cashier inserts money into the machines installed at the Point of Sales (POS). Cashiers can then focus on scanning, packing and up-selling grocery items, enabling the checkout process to take only 10 seconds per transaction, 60% shorter than the manual process.
At the back-end, the cash management system also automates several cash-related processes. The new cash reconciliation process takes only one minute, and overall, each cashier will save at least 49 minutes daily, increasing the productivity of the POS checkout process by 45%. With the new system in place, new cashiers can now be trained and ready to work independently in half a day, compared to three days in the past where they had to learn the different processes and standard operating procedures.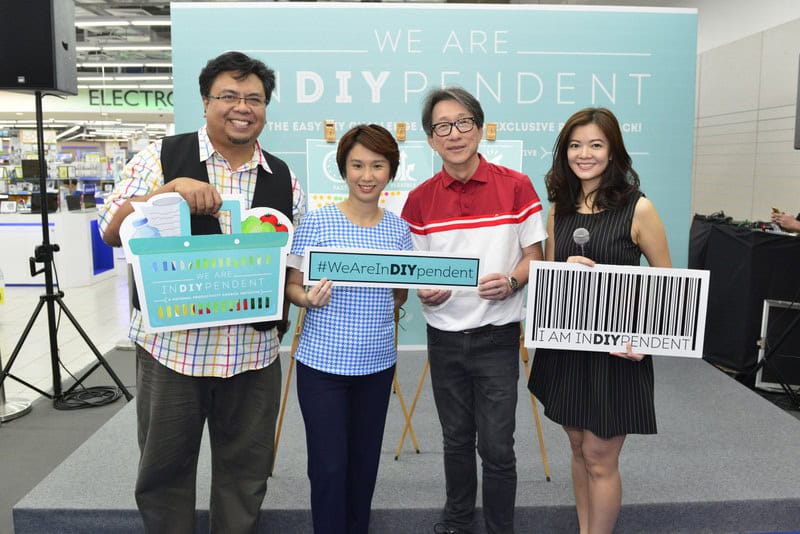 Photo Credit: The National Productivity Council ((L-R) Suhaimi, Parl Sec Low Yen Ling, Minister Lim and Michelle Chong)
The National Productivity Council launched We Are InDIYpendent Campaign on the 8 November at FairPrice Xtra at NEX. The event was opened to public, Minister for Manpower, Mr Lim Swee Say and Parliamentary Secretary for Trade and Industry, Ms Low Yen Ling teamed up with celebrities, Michelle Chong and Suhaimi Yusof in a self-service challenge which they are put into a challenge against each other to get as many shoppers as possible to use the self-checkouts. 
The We Are InDIYpendent campaign seeks to encourage consumers to use self-service facilities. The campaign also aims to feature three key benefits of using self-service facilities which are easy, fast and flexible. This initiative is useful to deal with a tight manpower situation and rising competitive business environment to come up with technologies to reduce manpower and improve their productivity for our local retailers. To enable companies to carry out and implement the self-service options, Government will give out grants and assistances schemes. As for Consumers, we can play our part to use these self-service options so as to spur more businesses to adopt these technologies in their options aggressively.
Look for the self-checkout counters, you will find that it is easy to use and you can complete your purchases quickly, no more being struck in a queue.
It's so easy and simple to use, try it out today! 
Besides the launch event on 8 November, here are some of the highlights of the campaign that public can still take part in as follows:
MYSTERY SHOPPER- SPOTTING (15 NOV – 29 NOV)
 
Celebrities surprise and reward lucky individuals who use self-service facilities while shopping and dining. Venue clues will be seeded on Facebook for those keen to get spotted!
DIY-PROS PROFILING
Read and watch refreshing testimonials and stories of everyday Singaporeans and their reasons for using DIY.
 
"WHY DIDN'T I DO THIS EARLIER?" YOUTUBE VIDEOS
 
Get in on the action! Share videos to allay fears of using self-service facilities in a fun, humorous and engaging manner. 
List of Business Partners including Promotion and Incentives offered to encourage self-checkout as follows:
Cold Storage: 3% direct discount for customers who use self-checkout counters (excluding infant milk formula, tobacco, wine, beer, spirit, newspaper, magazine, concessionaries). No minimum purchase required.
Changi Airport Group: From mid-November to mid-December, passengers checking in using the Fast and Seamless Travel (FAST) check-in kiosks stand to receive travel-related giveaways. Available for selected airlines.
Golden Village: Movie privileges and discounts for DBS / POSB credit & debit card holders at Golden Village's self-service kiosks.
NTUC FairPrice: A free item with minimum $20 spend at the self-checkouts for customers. While Stocks Last.
Old Chang Kee: $1 off for all set meals ordered through Curry Times Tingkat's self-service kiosks.
Sheng Siong: 3% rebates for customers who use Hybrid Self-Checkouts (HSCOs) at newly-implemented stores. Valid for 1 month from the stores' HSCO start dates. Terms and conditions apply.
To find out more, please go to www.mti.gov.sg/indiypendent
 
To see MTI Singapore in action at www.facebook.com/MTISingapore